As POPSUGAR editors, we independently select and write about stuff we love and think you'll like too. If you buy a product we have recommended, we may receive affiliate commission, which in turn supports our work.
The holidays are still a ways away, but it's never too early to get a head start on your gift buying. Sifting through all of the sales and options can be kind of a snooze, especially if you aren't quite sure what to get everyone on your list. If you still haven't quite decided on the perfect present for the beauty aficionado in your life, trust us when we say you can't go wrong with a makeup gift set.
Gifts for makeup lovers can be hard to decide on because there are so many fun options to choose from, but fortunately for you, we have the perfect solution. In an effort to make your holiday shopping as smooth and seamless as possible, we reached out to a few of our most trusted makeup experts and asked them for their top makeup gift set picks, and their answers did not disappoint.
If you're looking for the perfect gift to give (or receive!), you'll find something for everyone on your list, no matter how hard they are to shop for. Ahead, keep scrolling to check out the best makeup gift sets and more, recommended by some of the best makeup pros out there.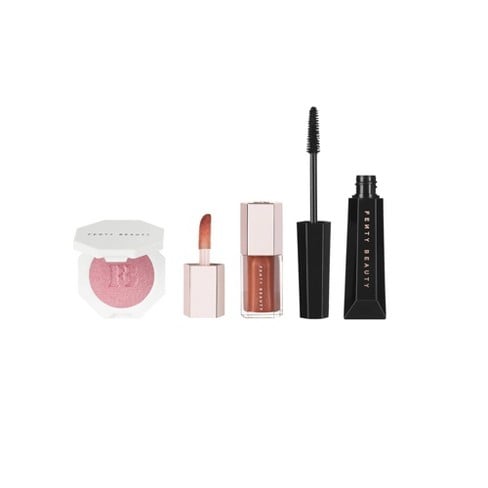 Best Fenty Makeup Gift Set
Fenty Snacks Fenty Beauty by Rihanna Fam Faves Eye, Lip & Highlighter Set ($38)
"This is the perfect simple, essential set. This has all you need for an everyday quick and easy natural look," Lyndsay Zavitz, celebrity makeup artist, tells POPSUGAR. "It includes [Fenty's] signature blush that is great on every skin tone, along with one of my favorite high-shine lip glosses, paired with its mascara that is lightweight and non-clumping. It's such a great way to try some of its top-selling products that you will not be disappointed with. I love these products because they are a great add-on to your existing beauty routine to spice it up a little."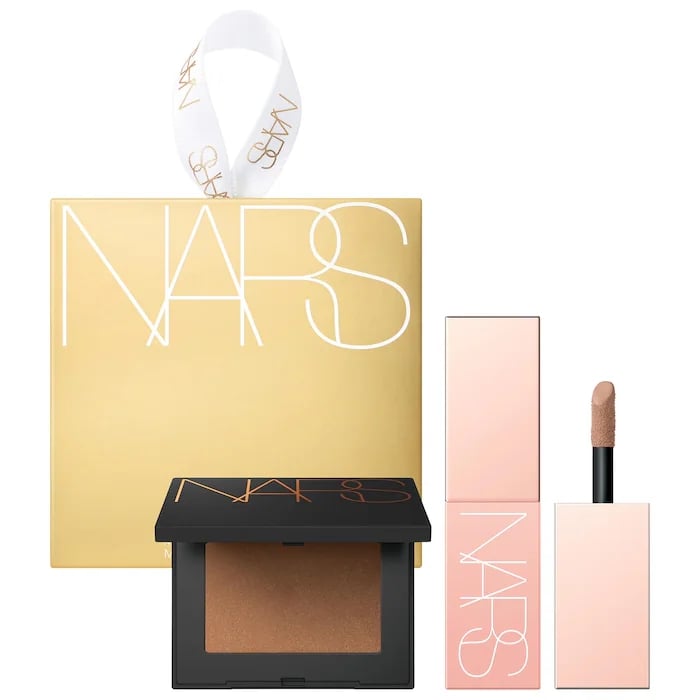 Best Nars Bronzer Gift Set
Nars Gold Star Mini Laguna Cheek Duo ($28)
"This set includes my favorite bronzer by Nars," Zavitz says. "It gives you that perfect sun-kissed look and is great for almost all complexions. It's so lightweight on the skin, and I love the cream version as well. It gives a natural bronzy glow. I love to layer them to intensify the look."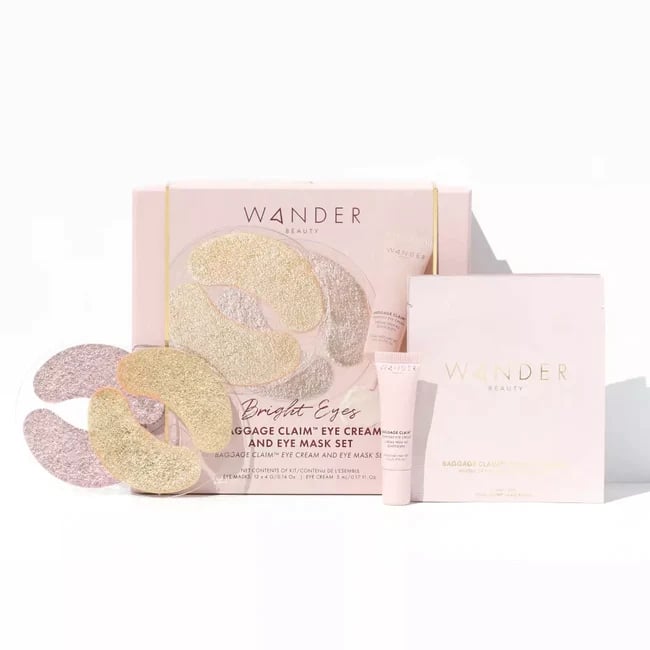 Best Wander Beauty Gift Set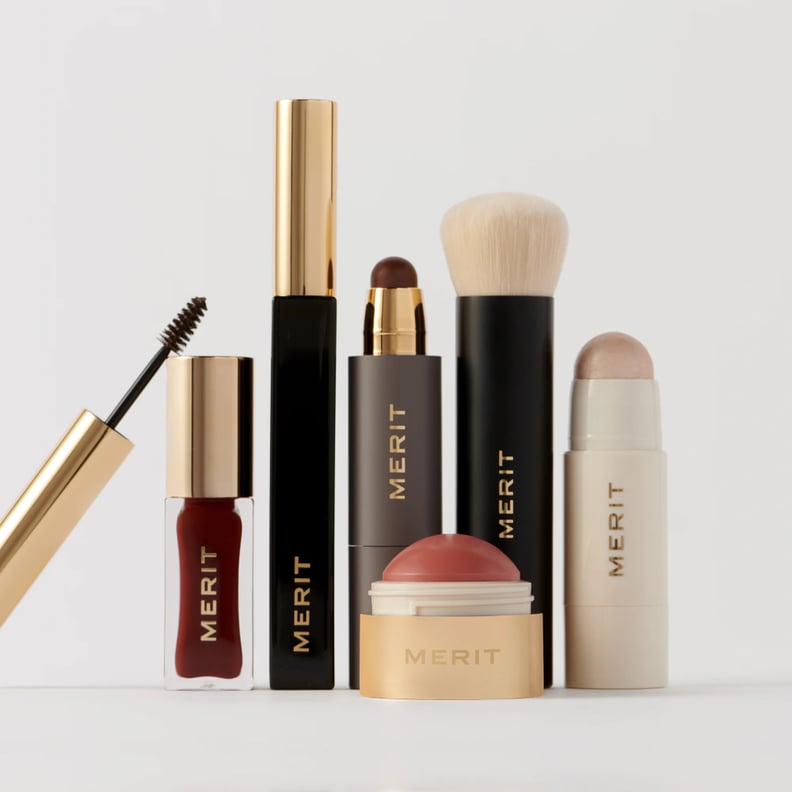 Best Merit Beauty Gift Set
Merit Five Minut Morning Collection ($176, originally $206)
"For the makeup minimalist with five minutes to spare, I would recommend the Five Minute Morning Collection from Merit," makeup artist Avery Golson says. "It has everything you need to keep it simple but walk out of the house with a complete look."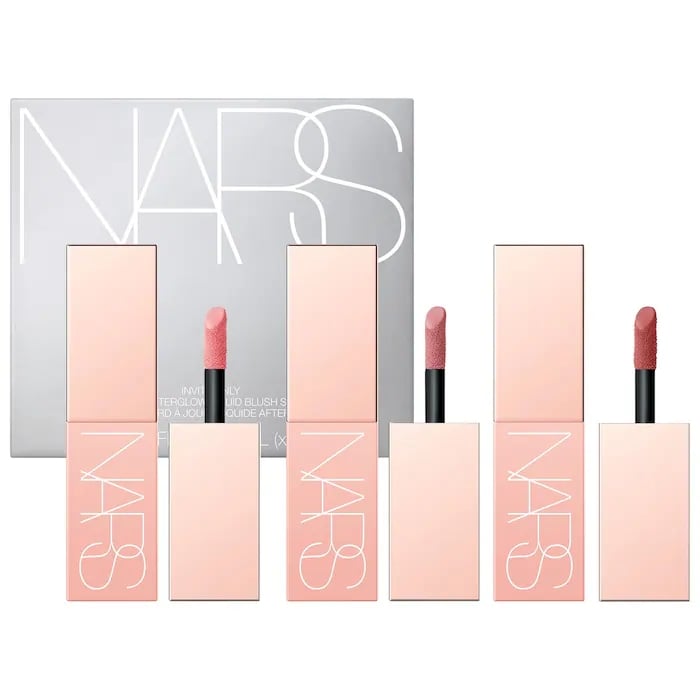 Best Nars Blush Makeup Gift Set
Nars Invite Only Mini Afterglow Liquid Blush Set ($45)
"The Nars Invite Only After Glow Liquid Blush Set is the holiday must have this year as blush is trending hard," makeup artist Janice Daoud says. "This seamlessly silky formula delivers a radiant rush of color that will make any cheek pop. A set of three gorgeous shades of pink, rose, and bronze included."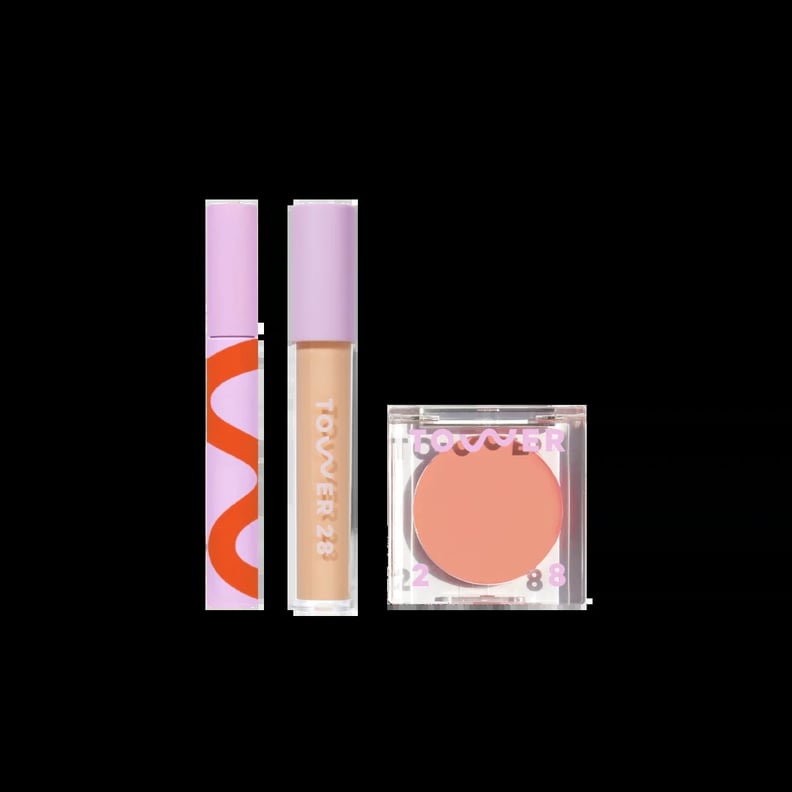 Best Tower 28 Makeup Gift Set
Tower 28 Go-To Set ($56)
"This is literally anything anyone ever needs for a fresh (and quick) face. You get a concealer, a cream blush, and the best mascara," makeup artist Monica Alvarez says. "I keep it in my kit and I buy a second tube of it for myself because I am obsessed. The concealers are radiant but offer a great amount of coverage, the cream blush can be used [on cheeks] but also on the lips and lids for a little monochromatic moment, and I cannot say enough about the mascara formula and the brush it comes with. It's my favorite."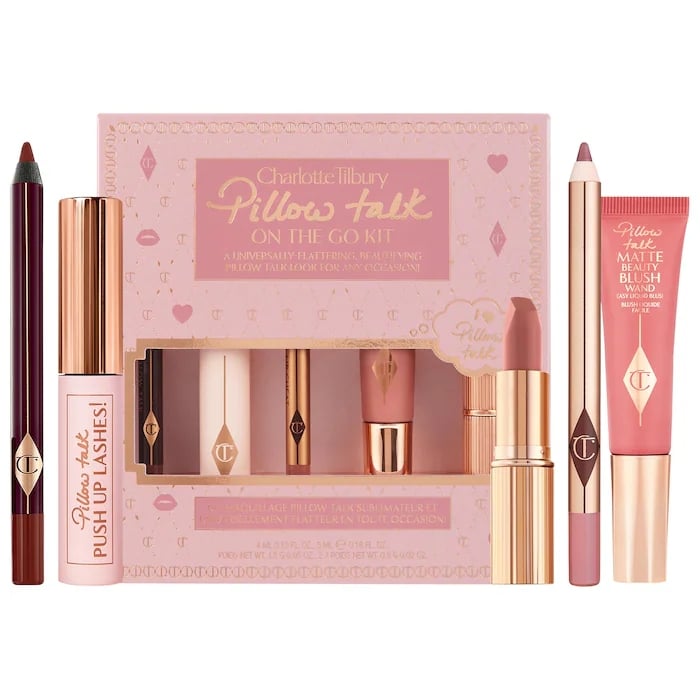 Best Charlotte Tilbury Makeup Set
Charlotte Tilbury Pillowtalk on the Go Set ($54)
"If you haven't already tried Charlotte Tilbury's famous Pillow Talk, now's the perfect time," Zavitz says. "This kit includes the lipstick, lip liner, and blush. You can also use the blush as a matte eyeshadow. It also comes with her famous eyeliner that is so creamy and does not smudge, and the mascara. This kit is one of my favorites because it really gives you a great variety of products to complete any look."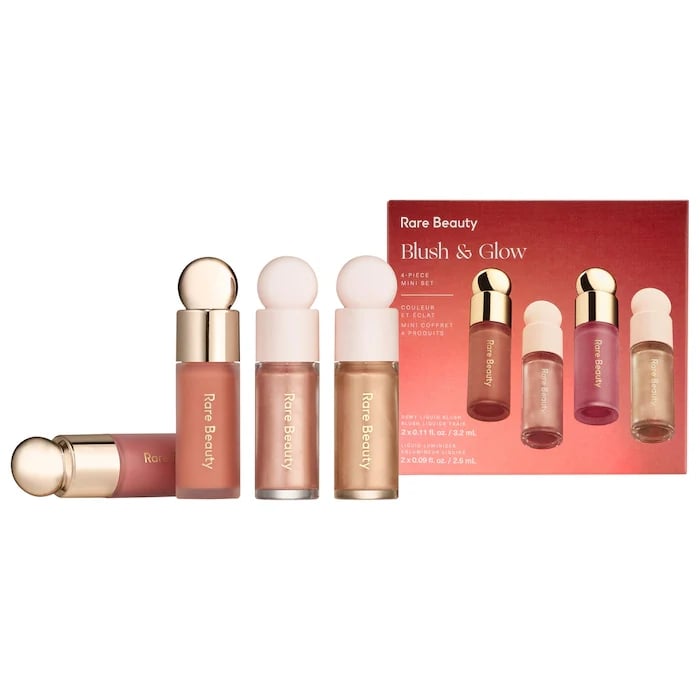 Best Rare Beauty Makeup Gift Set
Rare Beauty Blush & Glow Set ($34)
"The Rare Beauty luminizer and blush set is an exceptional value," makeup artist Angel Gabriel says. "They are incredibly pigmented and a little goes a long way, so these will last you a long time."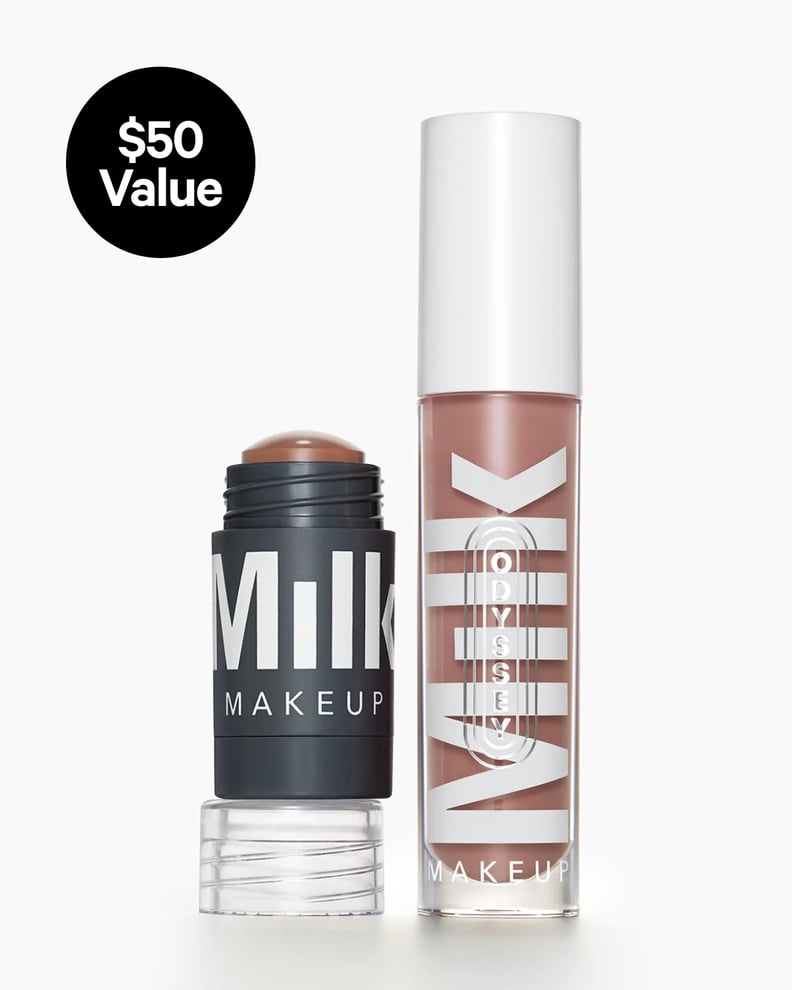 Best Milk Makeup Gift Set
Milk Makeup Brown Spice Lip Gloss Set ($42)
"The perfect duo, you get a Sculpt Stick in Stoked (medium to medium tan) and the Odyssey Lip Oil Gloss in Quest (caramel beige)," Gutierrez says. "These colors are a go-to for fall and for anyone that loves latte-style lips."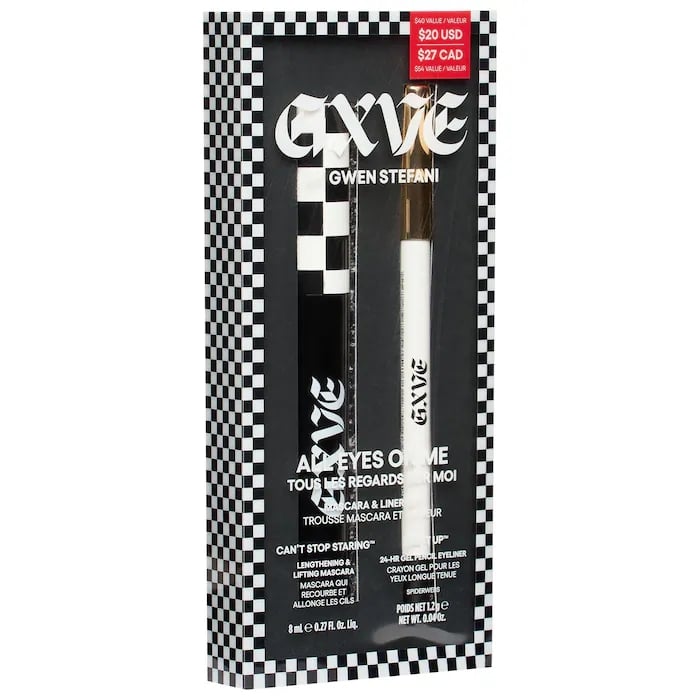 Best Gxve Beauty Makeup Set
Gxve Beauty All Eyes on Me Mascara and Eyeliner Set ($20)
"I'm loving the Gxve Holiday set All Eyes on Me, which includes a mascara that lengthens and lifts and an eyeliner that's bold but smudge- and waterproof to play up the eyes this holiday season," Daoud says.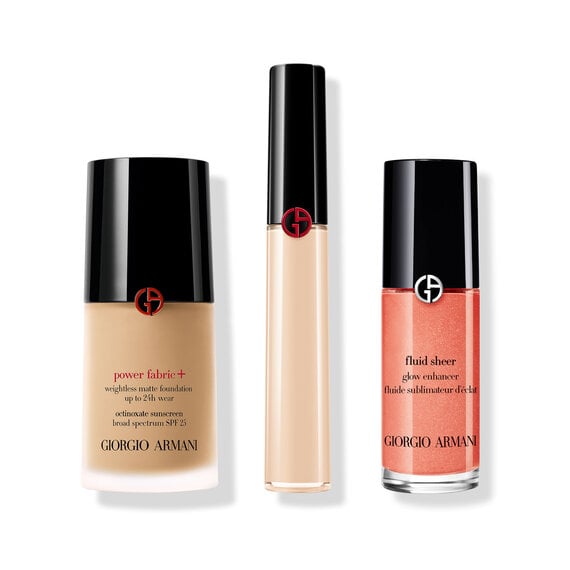 Best Armani Beauty Makeup Gift Set
Giorgio Armani Beauty Power Fabric Trio ($148)
"The best makeup complexion trio from Armani Beauty comes with a full-coverage 24-hour foundation, a multipurpose sheer glow [blush], and a longwear matte concealer," makeup artist Miguel Lledo says. "This pack undoubtedly covers everything the skin will need."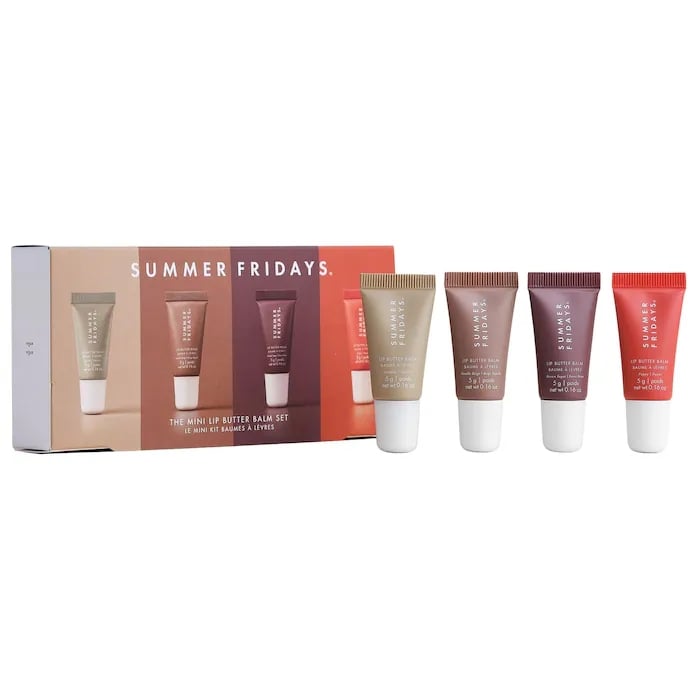 Best Summer Fridays Makeup Gift Set
Summer Fridays The Mini Lip Butter Balm Set ($25)
"I love mini sets like this because they are perfect to split up amongst friends [for] stocking stuffers or keep all to yourself," Gabriel says. "[They'll] keep your lips hydrated all year long."