Here Are the Best Natural and Organic Beauty Brands You Should Know About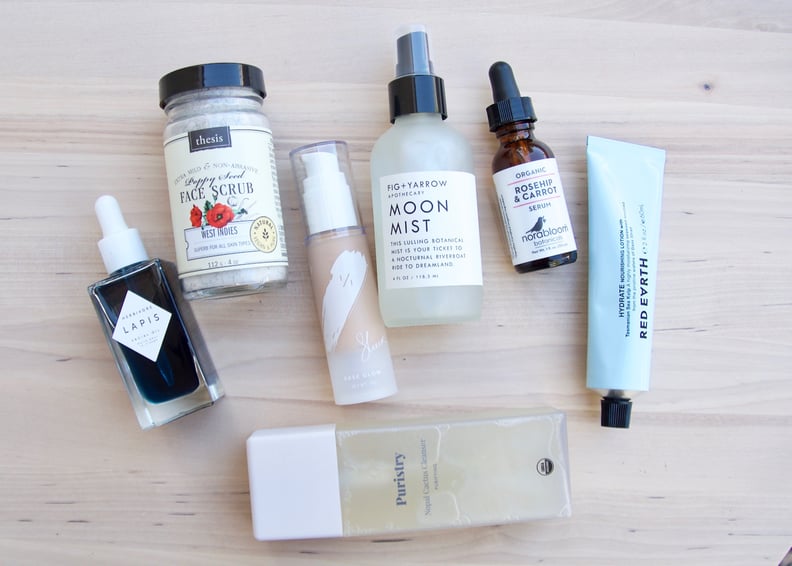 POPSUGAR Photography | Wendy Gould
POPSUGAR Photography | Wendy Gould
As POPSUGAR editors, we independently select and write about stuff we love and think you'll like too. If you buy a product we have recommended, we may receive affiliate commission, which in turn supports our work.
There's a movement afoot that's taking over the beauty and skincare world. Yes, we're talking about the uptick in natural and organic ingredients being utilized in products and the hearty support this change has received from both mainstream and eco-conscious patrons. That's why we're highlighting both new and established brands that boast effective, gentle, and beautiful merchandise everyone — including Mother Earth — can cheer about.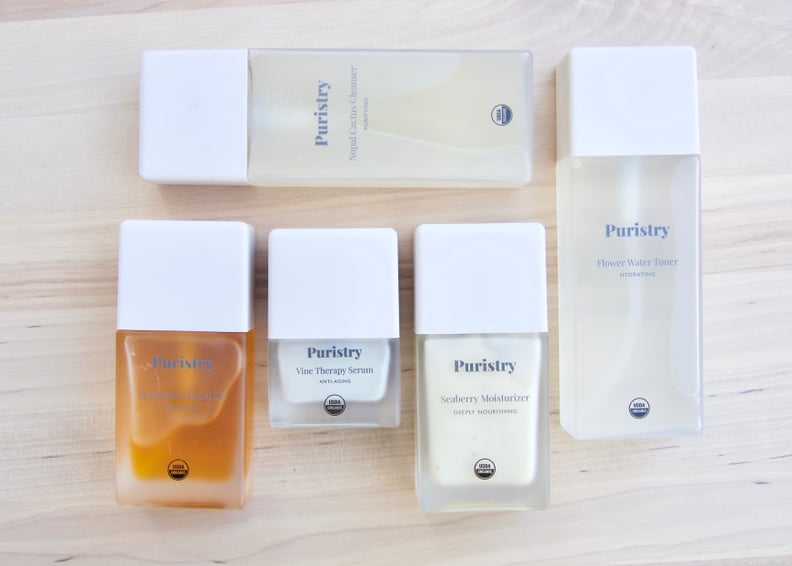 Puristry
If Puristy's elegant, squared packaging doesn't immediately grab your attention, then its clean and abbreviated ingredient lists definitely will. The brand is sold online and at Anthropologie, and was created by Susie Wang, the woman behind the natural beauty store 100% Pure. Her quest for selling natural skin care was inspired by a chemical spill in a beauty lab she once worked in. When the spilled product warped the table within minutes of contact, Wang set out on a mission to investigate common ingredients found in skincare products and made the decision to go clean or go home.
The Puristry line currently consists of six products — each proudly displaying the USDA Organic seal — that focus on simple ingredients in high concentrations to deliver supreme results. There's the Nopal Cactus Cleanser ($29), a gentle face wash made with the desert staples prickly pear and nopal cactus. The Flower Water Toner ($32) is a soothing blend of calendula hydrosols and hyaluronic acid to plump and hydrate, and the Seaberry Moisturizer ($39) contains more than 50 skin-loving phytonutrients to reduce fine lines, brighten, and firm.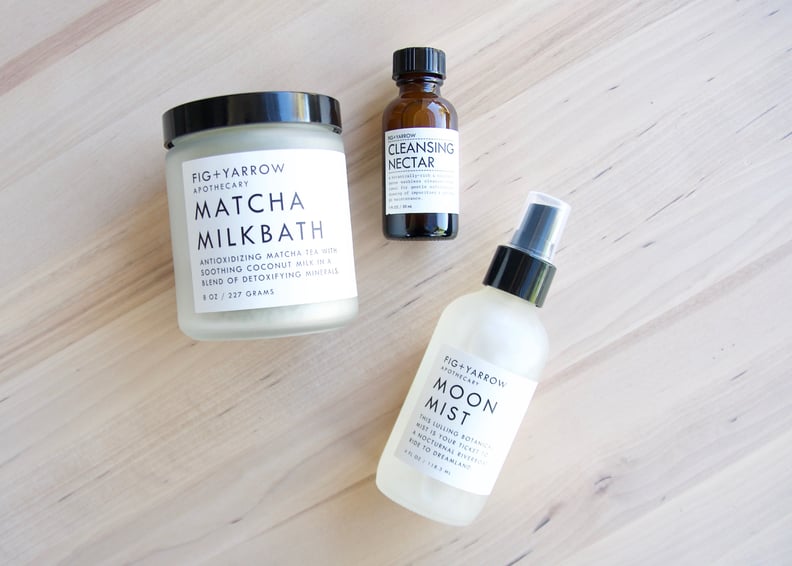 Fig + Yarrow
The ingredients used by Fig + Yarrow are so pure, you can actually eat them (though we recommend slathering on your skin instead of consuming). The brand was founded by Brandy Monique, who not only practices Plant Spirit Medicine (yes, she can speak to the plants) but is also well-versed in herbalism studies and the way natural ingredients affect our internal and aesthetic health.
Her artisanal line of hand-crafted products are organic, virgin, fair trade, and food grade and will cover you from head to toe. We recommend trying the Moon Mist ($24), which is a blend of calming lavendar, chamomile, jasmine, ylang-ylang, clary sage, and marjoram essential oils in crystal water and a bit of shimmery mica. The Matcha Milkbath ($20) — which you just sprinkle into your tub — combines antioxidant-rich matcha with coconut milk, magnesium, dead sea salt, and baking soda. To rebalance your skin to the appropriate pH, gently exfoliate, nourish, and cleanse, try the Cleansing Nectar ($32).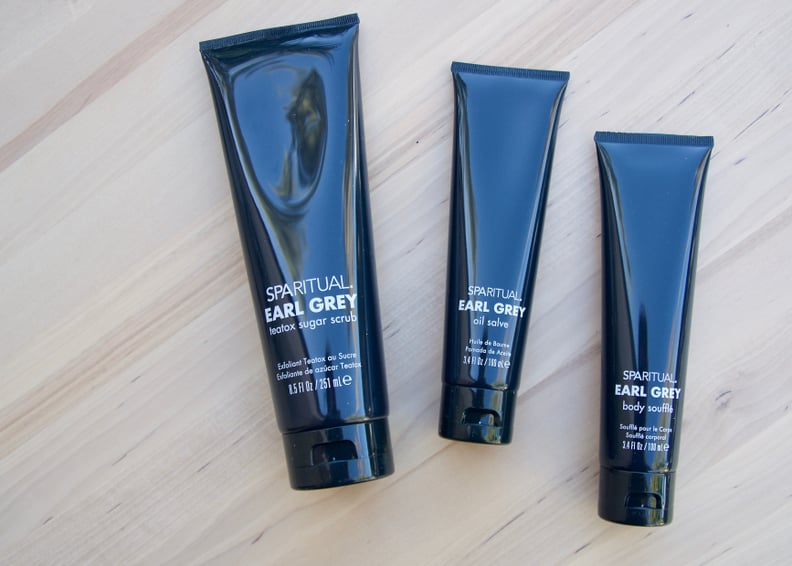 SpaRitual
Who doesn't want to live by the SpaRitual motto, "Slow Beauty for a Fast World"? Shel Pink started this brand in 2004 with a vision of enlightened consumerism that honored body, mind, and spirit. Though you may know SpaRitual for the brand's colorful, high-quality collection of vegan nail color, it's also recently launched an Earl Grey skincare line for the body.
In addition to a gorgeous nail polish that reflects cobalt hues from the sun (talk about earth magic!), the line includes Earl Grey Body Soufflé ($34) to hydrate and nourish skin; Earl Grey Oil Salve ($47), which is a savior for cracked heels; and Earl Grey Teatox Sugar Scrub ($55), a gentle scrub that will make you glow. These three products are all 100 percent vegan, 100 percent naturally derived, and 75 percent certified organic.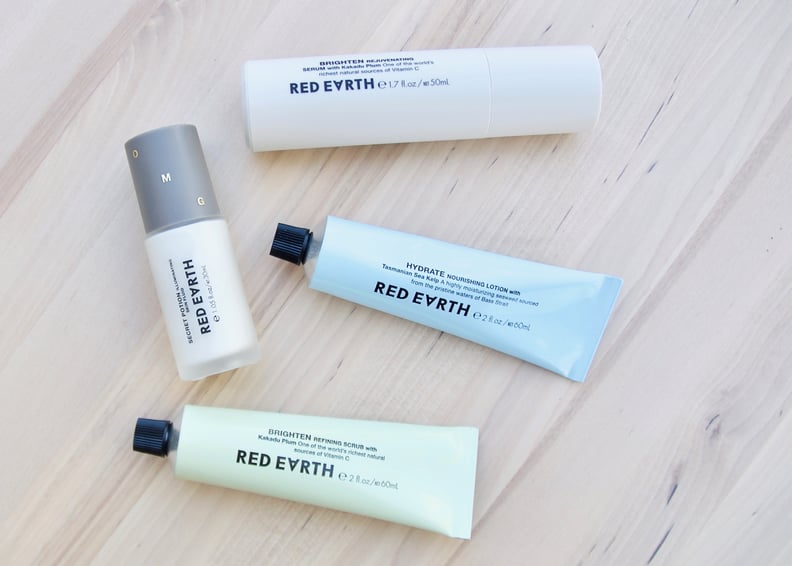 Red Earth Beauty
We adore the simplified, playful packaging of Red Earth Beauty's very Instagrammable products — check out the gilded "OMG" that graces the packaging of the popular Illuminating Skin Fluid ($35). We also love the spirit of Red Earth's products, which boast naturally derived ingredients from all over Australia, where the brand is based.
For example, the Brighten Rejuvenating Serum with Kakadu Plum ($45) is potent elixir that features the brand's own proprietary blend of brightening fruit, seed oils, and extracts, as well as vitamin C from genuine Aussie Kakadu Plums. And the Hydrate Nourishing Lotion with Tasmanian Sea Kelp ($38), which combines marine collagen, refreshing sea kelp, squalane, and macadamia oil to will intensely moisturize and nourish skin.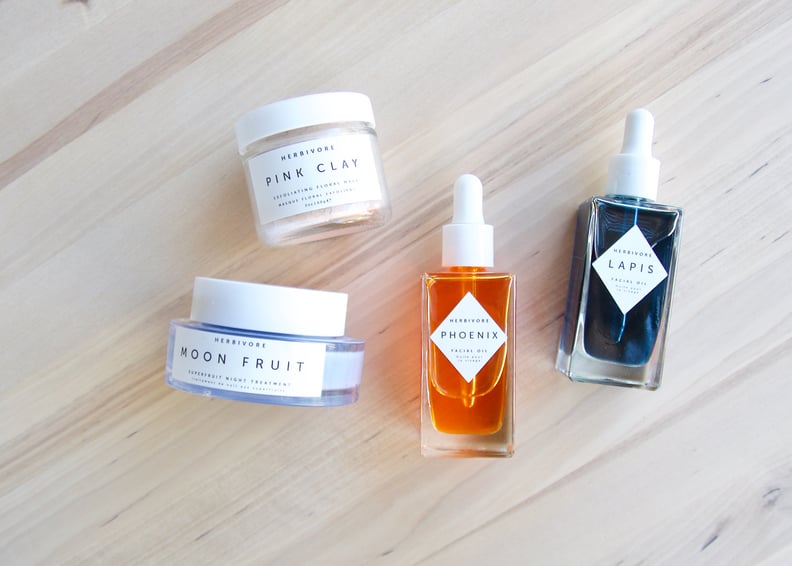 Herbivore Botanicals
You know how sometimes you get lured in by a gorgeous bottle, only to be disappointed with the contents? That will not happen to you with Herbivore Botanicals, founded by Seattle-based husband and wife team Julia and Alex. The assembly of products places an emphasis on organic, food-grade, high-quality ingredients, and each delivers noticeable results — sometimes in as little as seconds.
Though many of its products have received rave reviews, Herbivore's Moon Fruit Superfruit Night Treatment ($58) is a true standout. It feels like a rich and creamy salve on your skin and slightly tingles while fruit enzymes and butters, indigo root, aloe juice, and hyaluronic acid work their magic. The Lapis Facial Oil ($72) — made with azulene, blue tansy, squalane, and jojoba and jasmine sambac oils — is another winner. It's great for oily and acne-prone skin. Those with dry skin can reach for Phoenix Face Oil ($88), a hydrating medley of rosehip, sea buckthorn, neroli, and meadowfoam oils. It also contains CoQ10, a natural substance that stimulates at a cellular level, and chia seed Co2, an alpha lipoic acid that imparts glow while reducing fine lines and inflammation.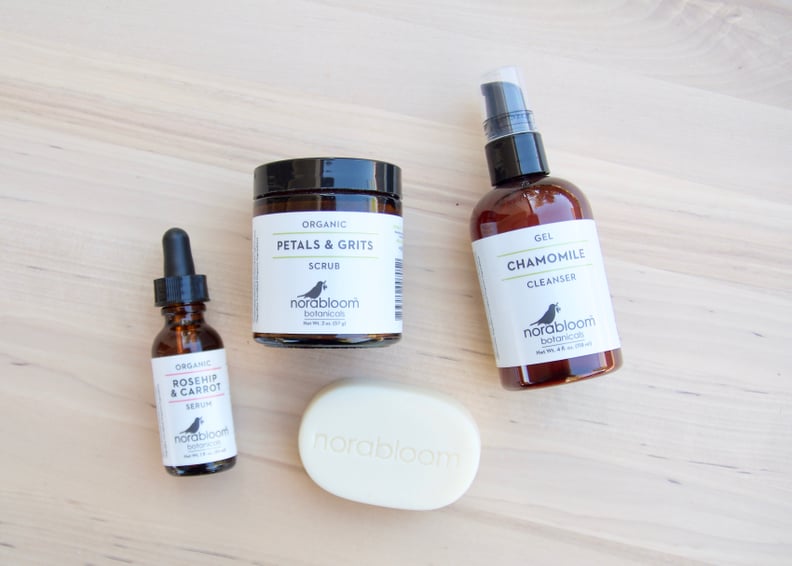 Norabloom Botanicals
Founded by NYC-based esthetician Holly Green, Norabloom Botanicals takes a holistic, individualized approach toward beauty and skin care. Though you can get to shopping the organic line right away, the website also offers you an opportunity to speak with one of the estheticians by filling out a skincare survey asking about your skin concerns, allergies, and aesthetic history.
Approved for all skin types, Norabloom's Chamomile Gel Cleanser ($36) neutralizes free radicals, soothes, softens, and wards off acne. The cleanser is different from others in the sense that it should be left on for a few minutes to really work its magic. It's a great partner to the brand's Petals & Grits Scrub ($32), a gentle exfoliator that channels Green's Southern roots via cornmeal grits and organic flower petals. We're also head over carrot peels (#sorrynotsorry) for its award-winning Organic Rosehip & Carrot Serum ($36), which is a savior to parched, sallow, flaky, sensitive, and/or traumatized skin.
Thesis Beauty
Year after year, Thesis Beauty is consistently recognized in the green and organic skincare world for its outstanding products and affordable price tags. The brand's goal is to make organic beauty accessible and reliable for all skin types, and it utilizes eco-friendly packaging and ingredients that are premium certified organic, cruelty-free, vegan, nonsynthetic, and filler-free.
Perhaps one of the most unique things about this brand is that it offers a generous lineup of unscented products ideal for sensitive skin types, including a Body Oil Unscented For Sensitive Skin ($20). For those who like strong fragrances, you have to try the insanely gorgeous, straight-from-heaven's-flower-patch Dead Sea Bath Salt Rose Garden ($23). Another excellent option is the Mermaid's Cheek Face Mask ($23), ideal for oily and blemish-prone skin and made with organic sea weeds, spinach, and French green clay. For an organic glow-up, try the West Indies Poppy Seed Face Scrub ($23), made with several clays, poppy seeds, rosehips, orange peel, and all spice.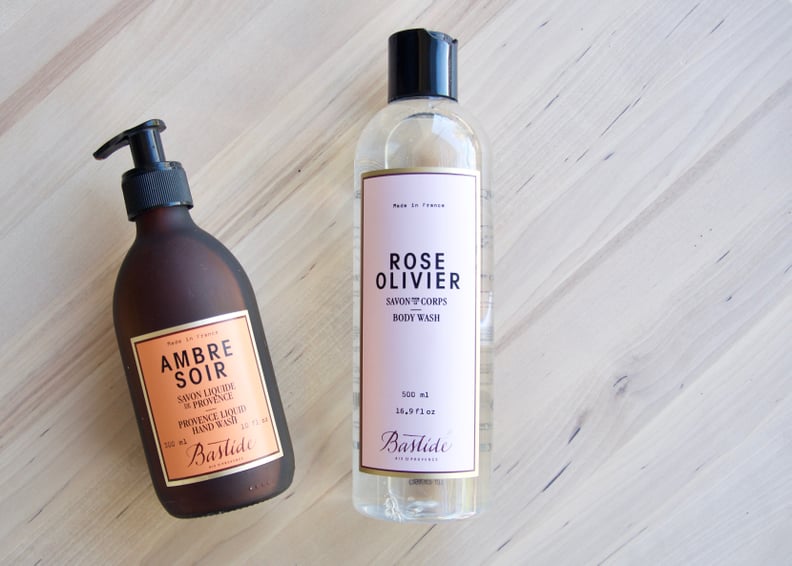 Bastide
The next time you're in a splurge-y, treat-yourself kind of mood, meander over to the Bastide website and fill up your shopping cart. The 25-year-old French brand — recently acquired by Frederic Fekkai and Shirin von Wulffen — lives by the motto "luxuriously simple; naturally potent." In addition to simplified ingredients sourced from Provence, the brand is cruelty-free and refuses to use anything from its self-created blacklist.
The eco-friendly Ambre Soir Artisanal Hand Wash ($35) smells divine and is made with Provence olive oil and coco oil. For a true shower treat, pour some of the Rose Olivier Body Wash ($45) on your loofah. It, too, is made with Provence olive oil and coconut oil, and it smells like fresh rose petals and cashmere.
One Over One
If it's simplified, natural makeup you're seeking, check out One Over One. This minimalist beauty brand, founded by Jen White, trusts nature's ability to make you look and feel your best. White believes in the power of her own body, the efficacy of plant-derived ingredients, and that aging is a privilege that ought to be celebrated.
The line is simple and straightforward and includes the Base Glow Sheer Light ($42), a translucent primer that imparts a radiant warmth and glow that gives skin a radiant warmth. There are also four lip oils to choose from, including the pictured Rose Doree Lip Oil ($28), which shimmers as if it's been made from crushed rose quartz and smells like coconut and rose petals. Finally, the brand sells four Cream Color duos that you can use for lips, cheeks, and eyes. The Alizarin Rose Cream Color ($36), pictured, is a rich shimmery bronze and wine set that's perfect for Autumn and Winter.