The Best Protective Face Masks You Should Wear Based on Your Skin Type
As POPSUGAR editors, we independently select and write about stuff we love and think you'll like too. If you buy a product we have recommended, we may receive affiliate commission, which in turn supports our work.
Just because you have a drawer full of face masks doesn't mean you have the right one. We recently got to thinking, If we all use different skin-care products based on our skin types, why aren't we following this same concept with protective face mask coverings based on our specific skin concerns? If you have acne-prone or sensitive skin, not all fabrics might work for you in the same way they would for people experiencing dryness, and it can make buying the right mask a challenge.
There are a plethora of different brands to shop online, and they all offer unique feature and come in a variety of materials. Sometimes narrowing in on that many choices can be daunting, so we're here to help. We went on a mission to figure out the best fabrics that are good for people with acne-prone, dry, sensitive, and normal skin types, to make your shopping and mask-wearing journey easier. We turned to one of the pros, celebrity aesthetician Natalie Aguilar, for a little guidance on what might work best for you. Keep reading to see exactly what she had to say and shop your skin type.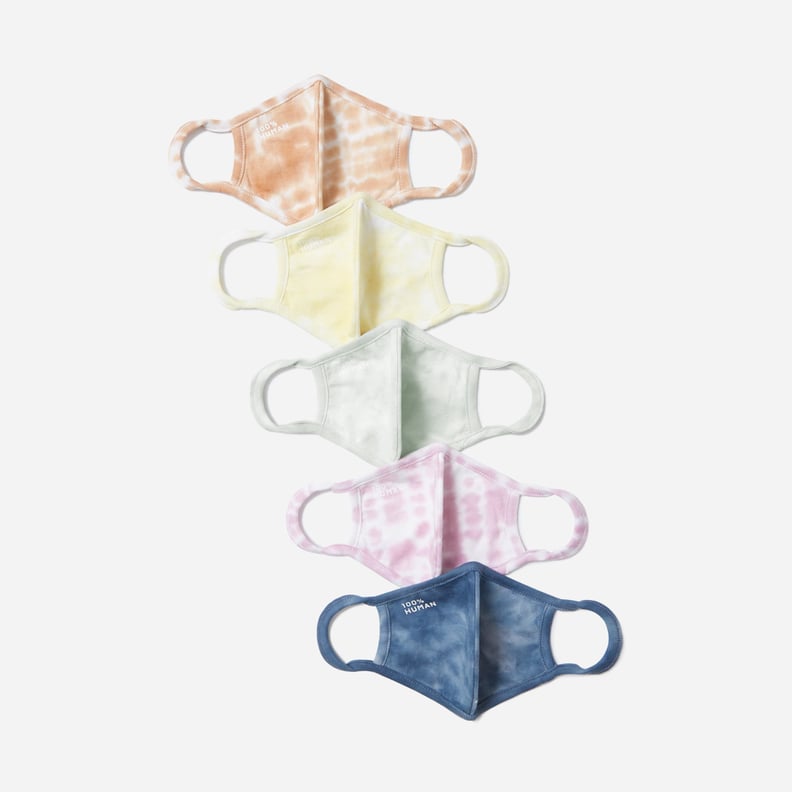 Dry Skin: 100% Cotton Protective Face Masks
Combating dry skin and wearing masks can be tricky, but the key is actually breathability. "Dry skin is easily irritated with face masks," Aguilar said. "For one, dry skin is already dry, and when we get hot wearing a mask we tend to sweat. Sweat contains salts that can further dry out already dry skin."
To make sure you keep your skin moisturized and your face protected, she recommended opting for a 100 percent cotton choice. "Cotton is breathable and gentle, and it will also absorb moisture better than disposable paper masks."
There are a number of cotton masks on the market, so be sure to find one that fits comfortably and feels light yet protective. If you want something cute, don't worry — there are a ton of options out there
Everlane 100% Human Face Masks ($25 for five) come in a set of five. The breathable material and fun pattern sold us.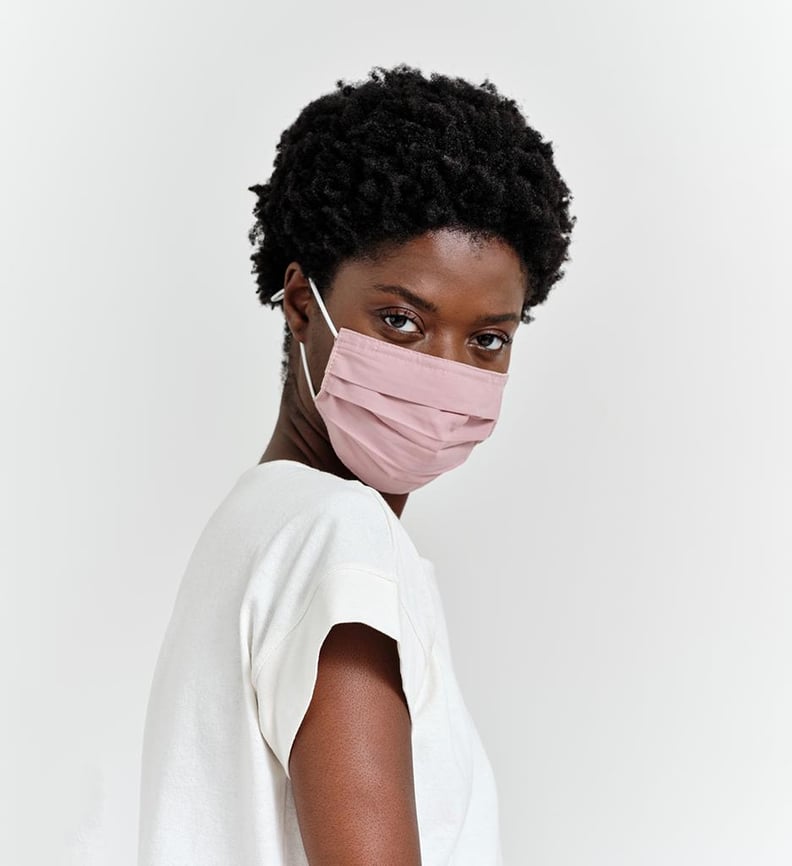 Dry Skin: 100% Cotton Protective Face Masks
Caraa Universal Adult Masks ($25 for five) are dual-layer masks that are 100 percent cotton on the inside and outside. Not only do they offer a comfortable fit, but they're also breathable.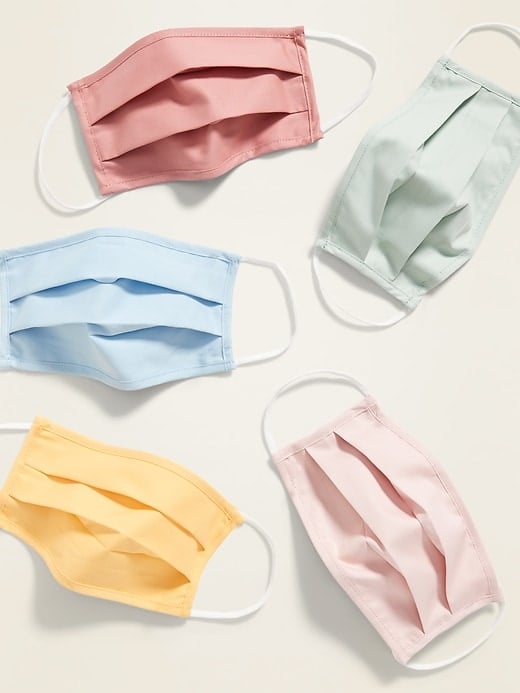 Dry Skin: 100% Cotton Protective Face Masks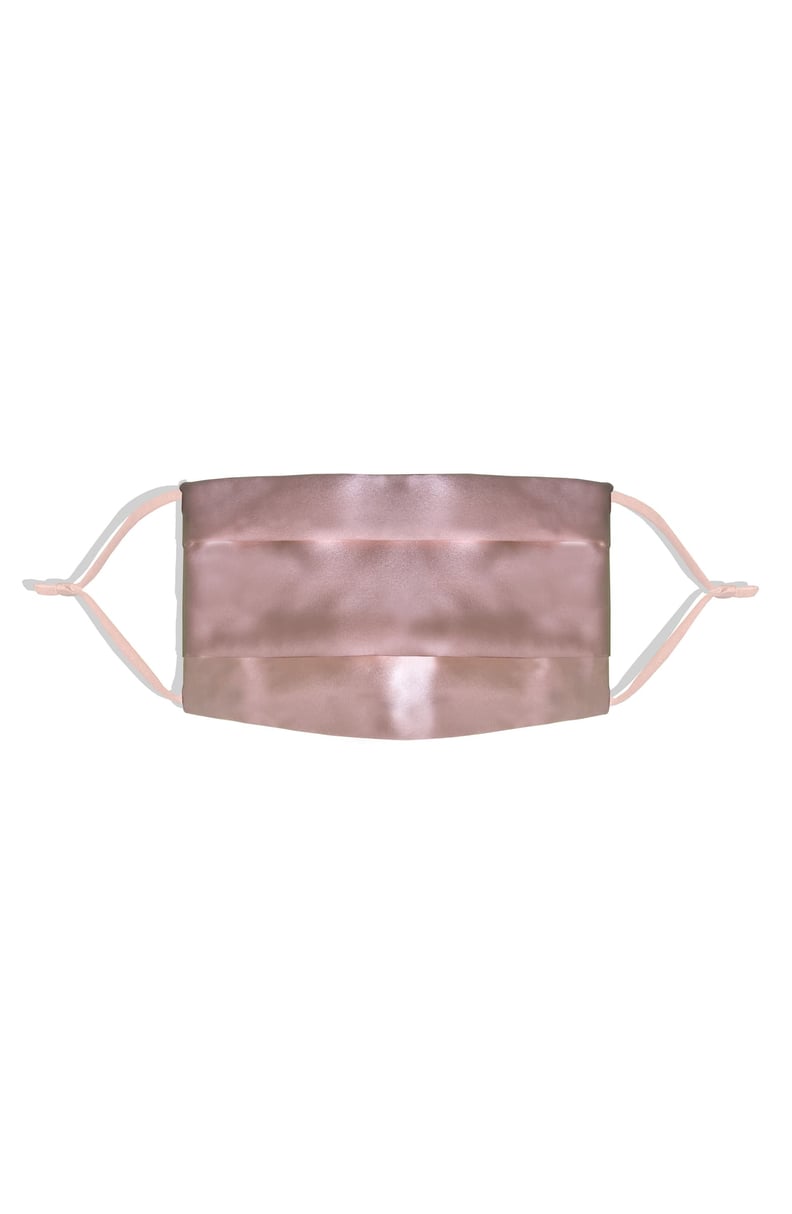 Acne-Prone Skin: Breathable Cotton, Silk, or Rayon Protective Face Masks
If you think masks are contributing to new breakouts, you could be right. Sometimes having the wrong material can not only be irritating to the skin's surface, but also harmful.
To combat flareups, Aguilar suggested: "Look for an ultra-lightweight, soft, breathable, and sweat-absorbing mask, preferably made of natural materials such as cotton, silk, or rayon. They should be free from polyester and synthetic fibers, because synthetic fibers such as nylon, spandex, and latex can irritate the skin and cause even more inflammation to already sensitive skin. These synthetic materials don't breathe as well as natural fibers and can even cause textile dermatitis."
Another tip to keep in mind is to make sure your mask is reusable and washable, because you'll want to change it after using it. This way you can keep your mask clean and it'll help prevent breakouts.
If you love those famous silk pillowcases, then you'll want Slip Pure Silk Adult Pleated Face Coverings ($39 each).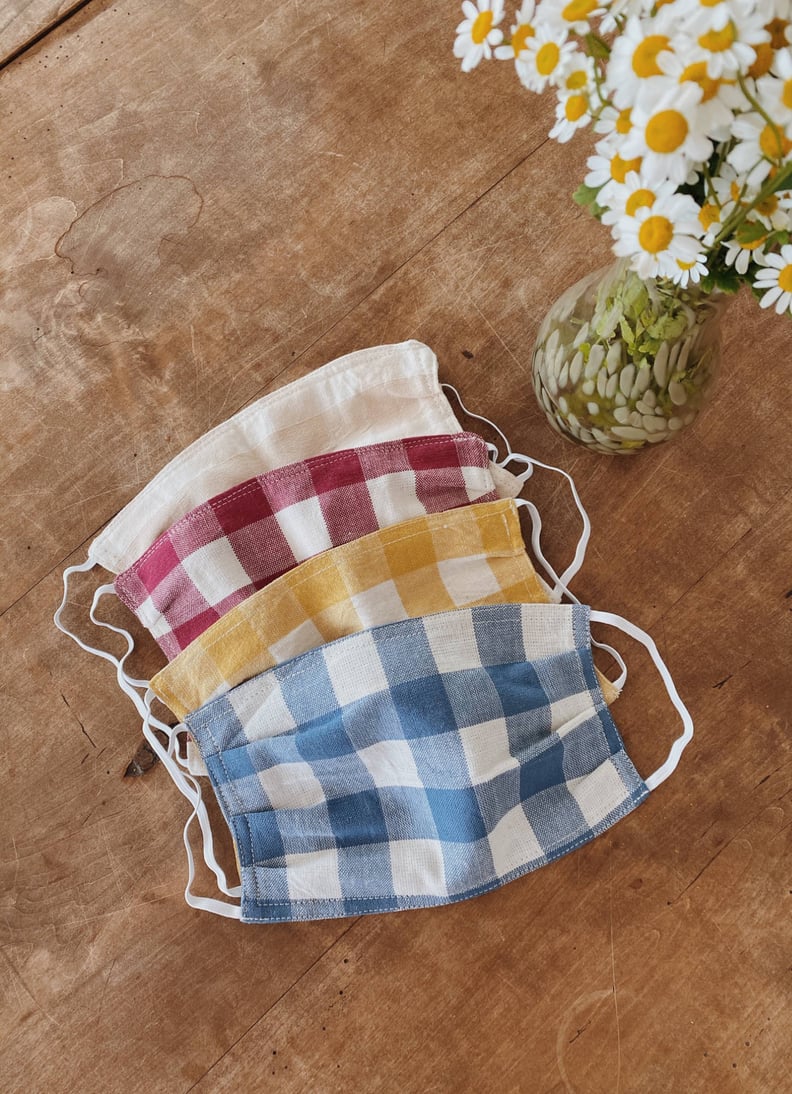 Acne-Prone Skin: Breathable Cotton, Silk, or Rayon Protective Face Masks
These Heather Taylor Home Face Masks ($50 for 10) are super comfortable. They're thick but still breathable, and the elastic is sturdy but not too heavy. Plus, they're big enough to safely cover the entire face.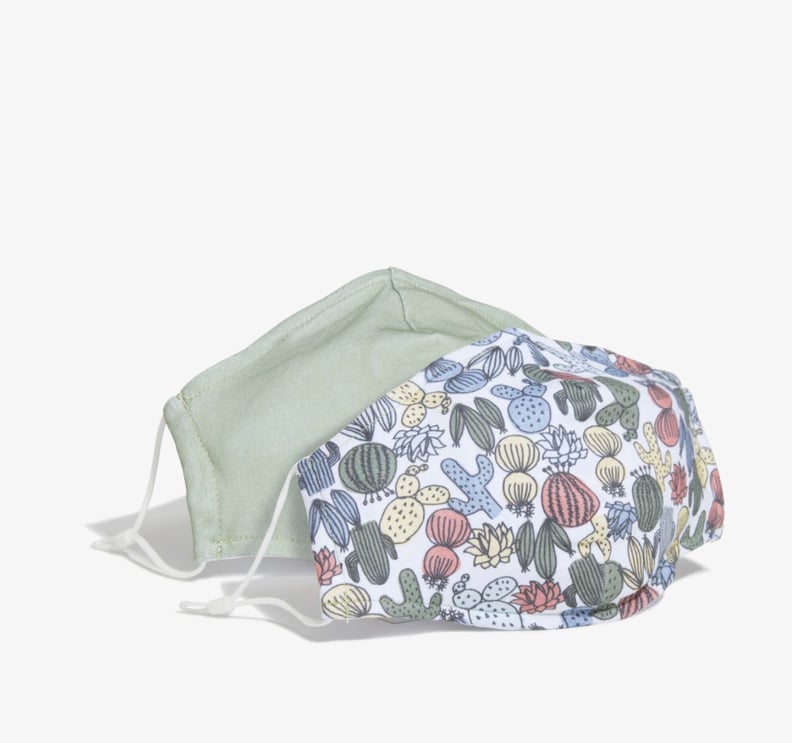 Acne-Prone Skin: Breathable Cotton, Silk, or Rayon Protective Face Masks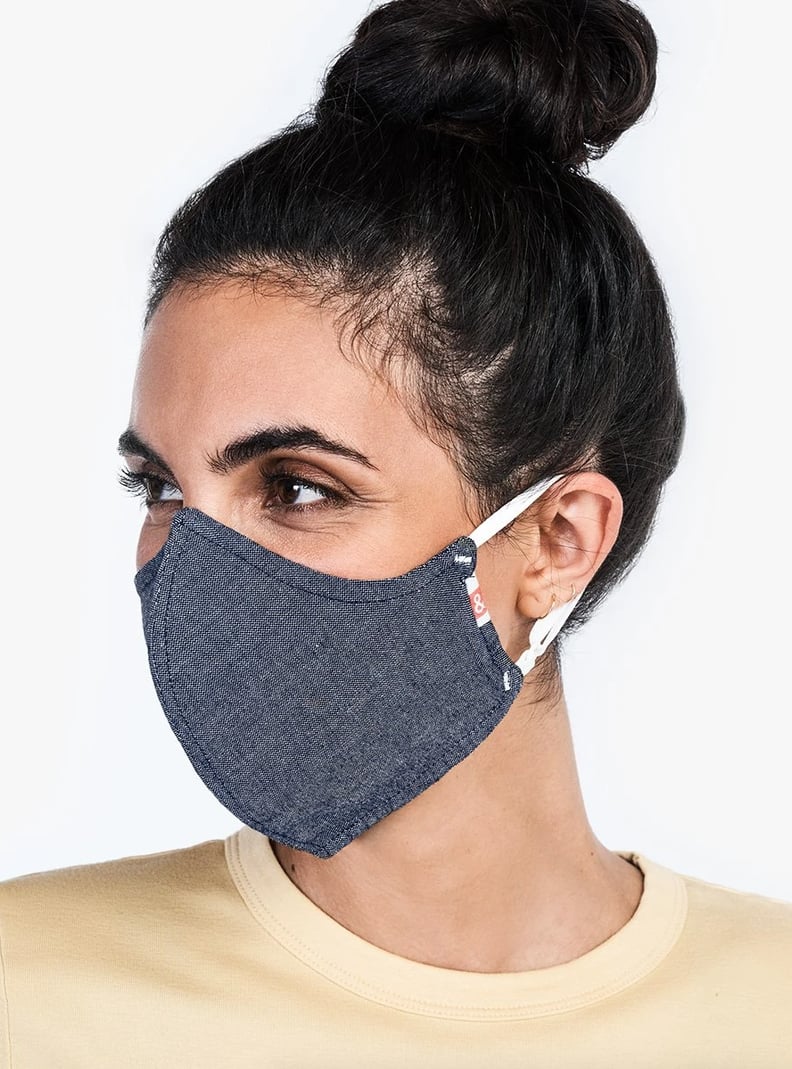 Sensitive Skin: Cotton or Silk Protective Face Masks
Those with sensitive skin know it's easy to get irritated, which is why fit and material are both important. Lightweight and breathable cottons and silks will be your best friends, but make sure to pay attention to the fit as well.
"A mask for sensitive skin should fit perfectly to avoid any irritation — it shouldn't be too tight, too heavy, too thick, or have any pressure marks especially on the bridge of the nose or cheeks," Aguilar said. "Pressure marks can leave those areas of the skin red and tender for hours and even days."
Be sure to look for something that has adjustable options, so you can adjust the ear loops or the nose bridge to your size, making sure it won't slip around and rub against your skin.
These Hedley & Bennett Wake Up & Fight Masks ($22 for three) are no-nonsense masks that feature comfortable ear loops and a fitting nose wire.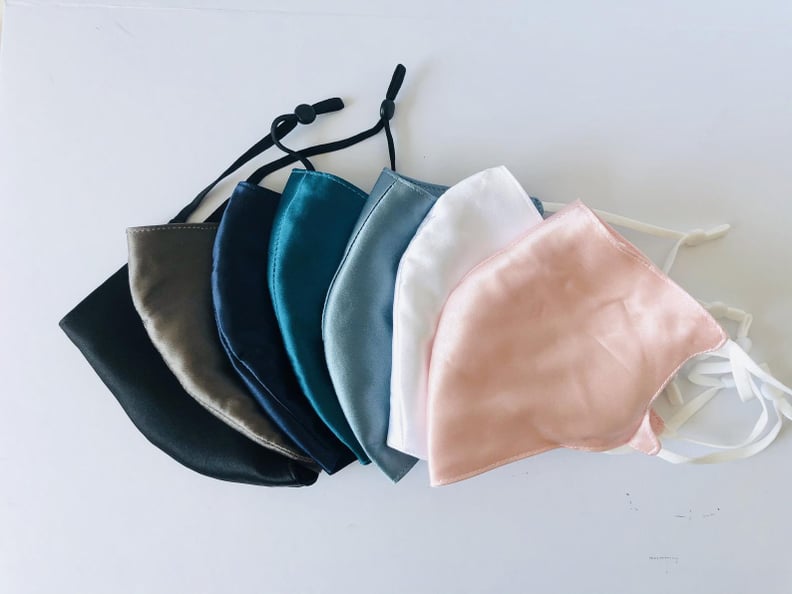 Sensitive Skin: Cotton or Silk Protective Face Masks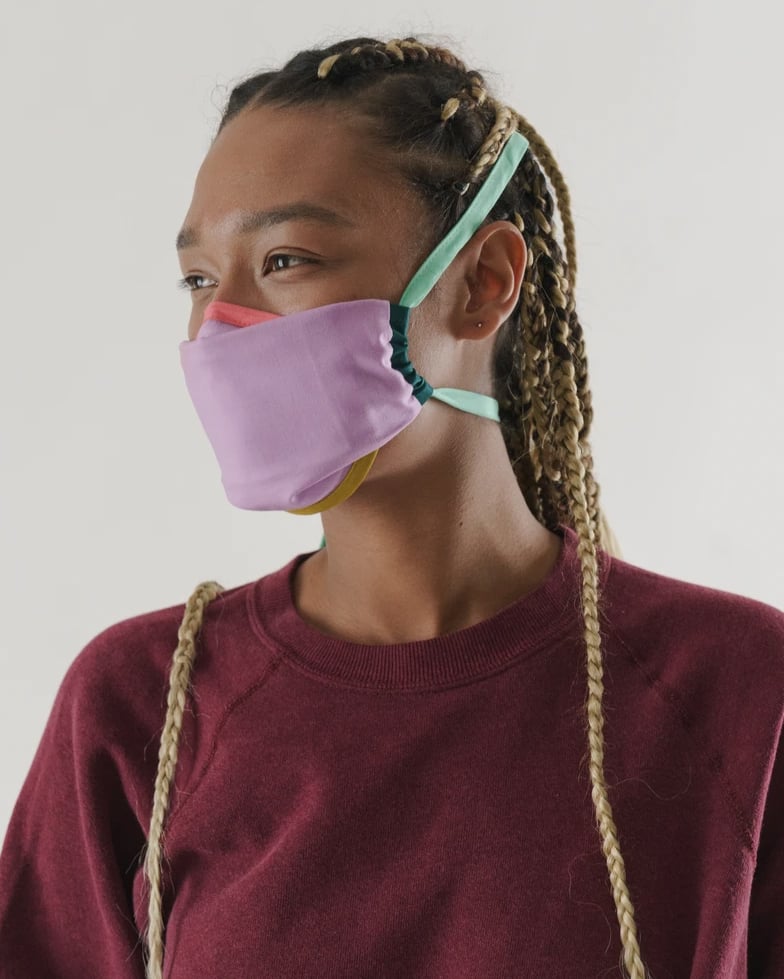 Sensitive Skin: Cotton or Silk Protective Face Masks
If ear loops irritate you and you're looking for a comfortable fit that's a little different, then try these Baggu Fabric Masks ($32 for three). The masks are made with longer adjustable ties that you tie to your head. Not only is this more comfortable for your ears, but it also assures you get a close fit.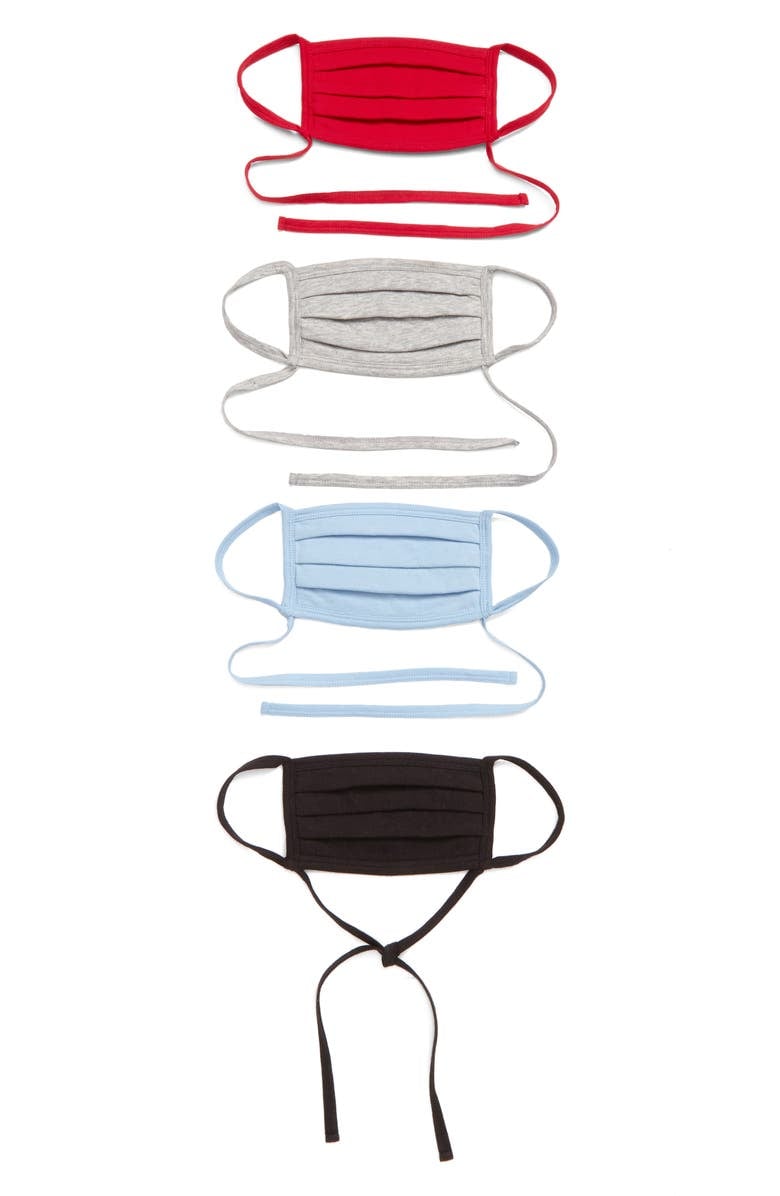 Normal Skin: A Variety of Protective Face Masks
If your skin isn't fussy and you're not combating issues, then your best bet is look for quality and features that benefit you. "Even normal skin can become sensitive, so it's best to choose from natural materials as opposed to synthetic," Aguilar said.
When shopping for a choice, be sure to invest in quality options and materials that won't irritate. These will range in various fabrics, but the key here is to look for features that you find helpful to your day to day life.
Made from 100 percent cotton, these Nordstrom Adult Pleated Face Masks ($7 for four, originally $20) are a great starter pack. We love that these masks also have another strap option, making it easy to wear and keep around your neck when you're able to remove it, for example in the car.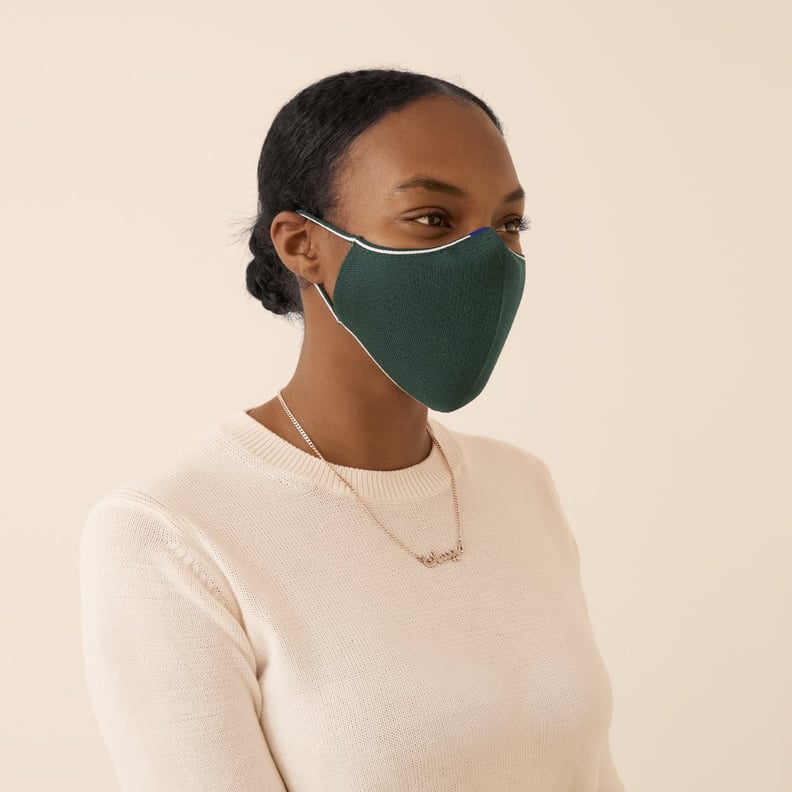 Normal Skin: A Variety of Protective Face Masks
If material isn't your concern, then you'll want to try these Rothy's Masks ($25 for two) made with the brand's signature rPET thread. The material is both stretchy and lightweight, but offers good face coverage. The masks have elastic straps and a shape that fits over your nose without feeling too tight.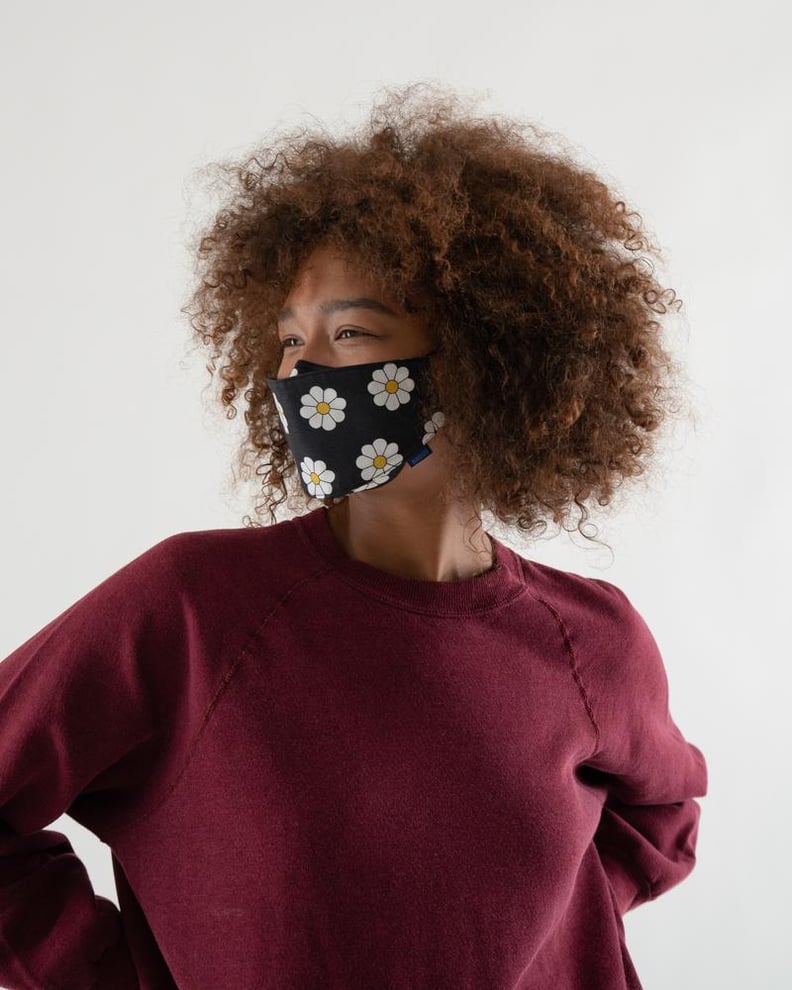 Normal Skin: A Variety of Protective Face Masks
These Baggu Fabric Masks ($32 for three) are a good choice for anyone who wants a cozy fit. The nose and chin sections take a different shape from the front, and this closely aligns to your face for an extrasecure feeling. Plus, these are a great choice for a glasses wearer, as they'll help from fogging up your glasses.