As POPSUGAR editors, we independently select and write about stuff we love and think you'll like too. If you buy a product we have recommended, we may receive affiliate commission, which in turn supports our work.
Getting a tattoo is an exhilarating experience, whether you've been contemplating it for years or you just decided to get one on a whim. Either way, the last thing you want to do after going through the entire process is to ruin a tattoo with improper care. The best way to care for new ink is pretty simple: cleanse, heal, and moisturize. However, there are some caveats when it comes to what you can put on your new tattoo without causing irritation or premature fading. We rounded up the best tattoo aftercare products so you can heal your skin and show off your new ink ASAP.
The tattooed area will feel sensitive, and that's completely normal; just be gentle while cleansing, drying, and applying healing products to the affected area. To reduce your risk of infection, it's best to gently wash your tattoo with antibacterial soap at least twice a day in the weeks following. After washing your tattoo, gently apply a thin layer of ointment over it. Keyword: thin. Applying too much ointment can actually cause the initial scabs to come off prematurely, which could lead to discoloration or inconsistencies in the lines. During the initial healing process, you shouldn't apply lotion on the tattooed area. However, after about a week (or whenever your tattoo starts peeling), you can replace your ointment with gentle, hydrating, fragrance-free lotions.
Ahead, we found the best tattoo aftercare healing ointments, creams, lotions, and more to ensure your tattoo stays in pristine condition.
— Additional reporting by Kelsey Garcia
01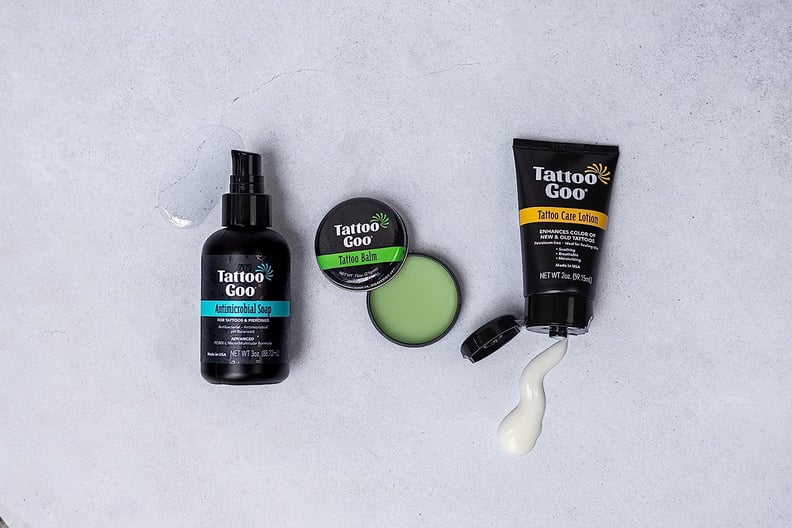 Best Tattoo Aftercare Kit
Tattoo Goo Tattoo Care Kit ($15)
The Tattoo Goo Tattoo Care Kit comes with everything you need to care for your new ink, including antimicrobial soap, a balm, and a lotion. The soap is a gentle pH-balanced formula that is antimicrobial and antibacterial. The balm provides a protective barrier that aids in healing the skin, while the lotion containing vitamins B5 and E helps prevent scabbing, nourishes the skin, and enhances the color of your tattoo. Everything in this kit is vegan, cruelty-free, and petroleum-free.
02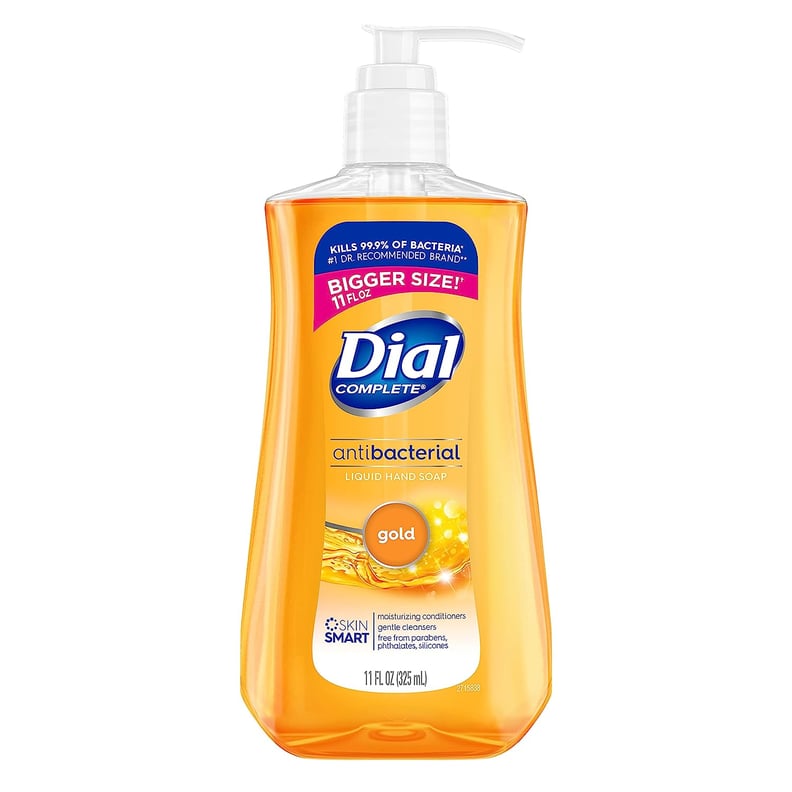 Best Tattoo Aftercare Antibacterial Soap
Dial Complete Antibacterial Liquid Hand Soap ($9, originally $12 for four)
Dial is a tried-and-true brand for antibacterial soaps, and they can kill up to 99.9 percent of bacteria in household settings. This liquid antibacterial soap is both cleansing and conditioning without leaving your skin feeling overly stripped, making it one of the best tattoo aftercare products on the market. This is something you can use for small- to medium-size tattoos.
03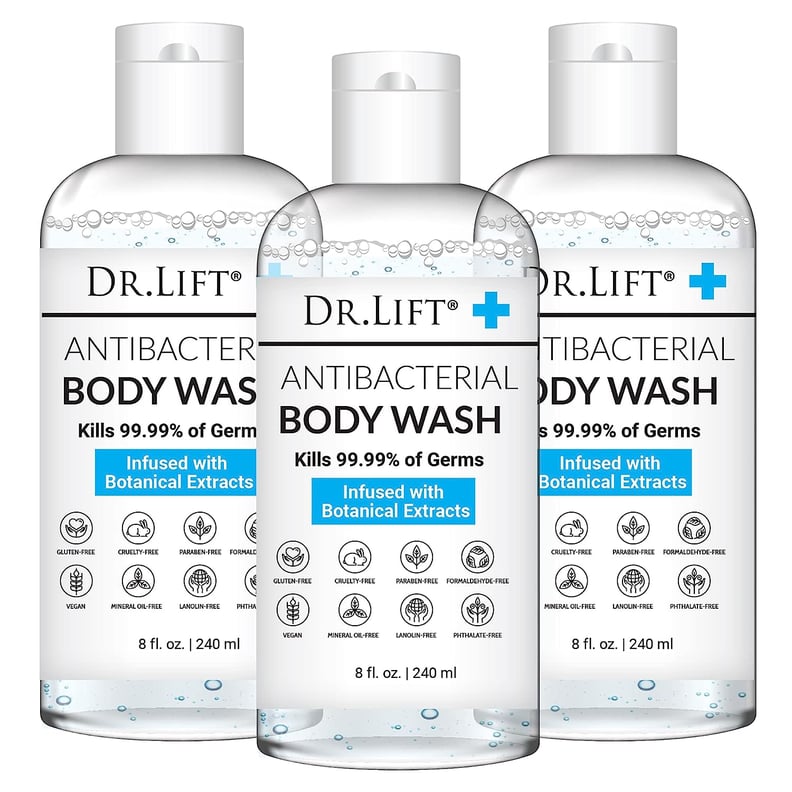 Best Tattoo Aftercare Gentle Antibacterial Soap
Dr. Lift Antibacterial Body Wash ($30 for three)
In the market for something gentle yet effective? Not only is Dr. Lift's Antibacterial Body Wash great for postprocedure care, but it's also perfect for tattoo aftercare. It is unscented and keeps your skin feeling refreshed and hydrated no matter your skin type. This body wash is great for tattoos of all sizes, including large back tattoos and sleeves.
04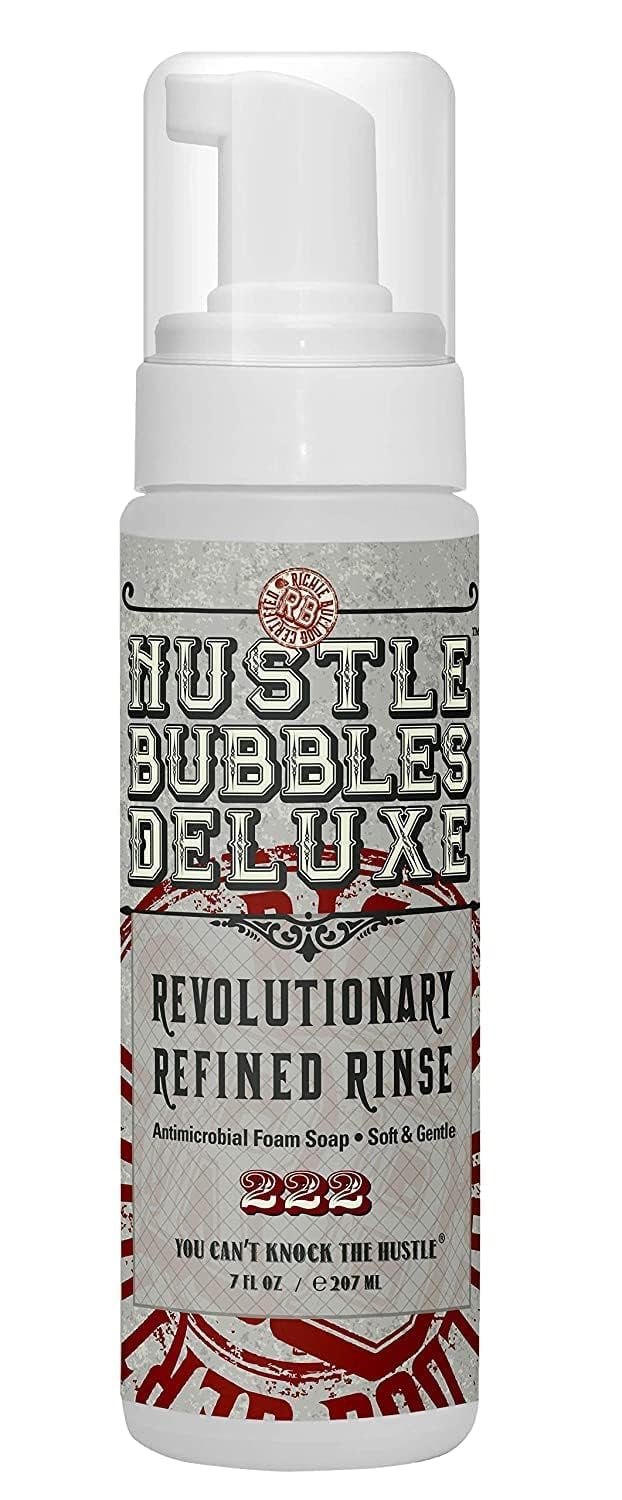 Best Tattoo Aftercare Unscented Antibacterial Soap
Hustle Bubbles Deluxe ($21, originally $28)
Specifically formulated to help heal and clean tattoos and piercings, Hustle Bubbles Deluxe is an unscented antibacterial soap you'll want in your post-ink aftercare kit. This all-natural soap is gentle on all skin types, including those that are more sensitive. It helps to minimize irritation and prevent infection, making this one of the best tattoo aftercare products on the market.
05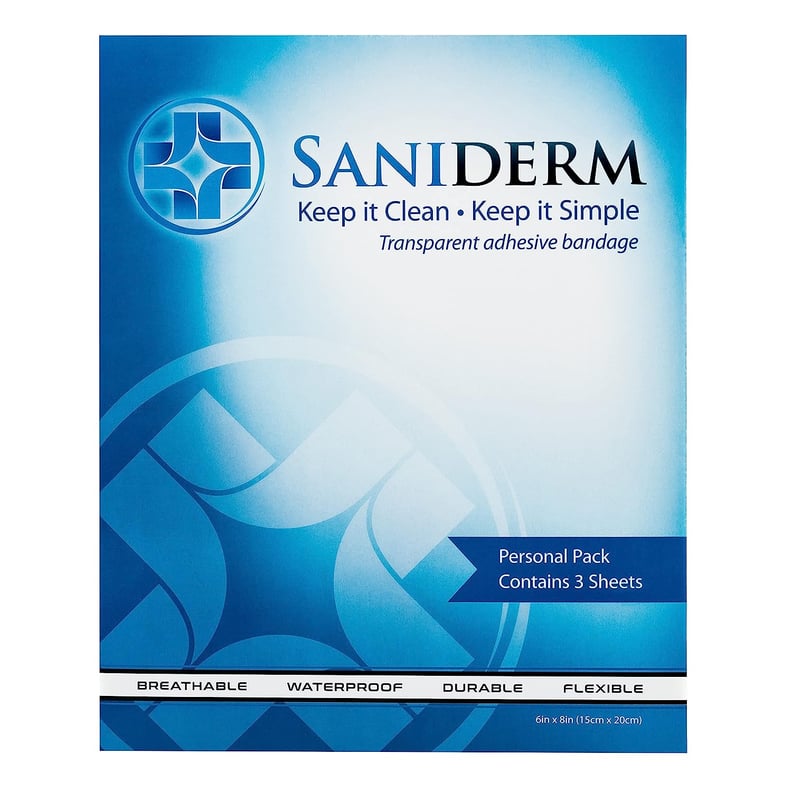 Best Tattoo Aftercare Bandage
Saniderm Tattoo Aftercare Bandage ($13)
To keep your tattoo protected from everyday life, Saniderm Tattoo Aftercare Bandages are something you'll want in your arsenal. These breathable and waterproof bandages help to lock in moisture to reduce and prevent dryness and scabbing on your tattoo. Protecting your ink with a physical barrier like this transparent adhesive wrap also helps to block out germs.
06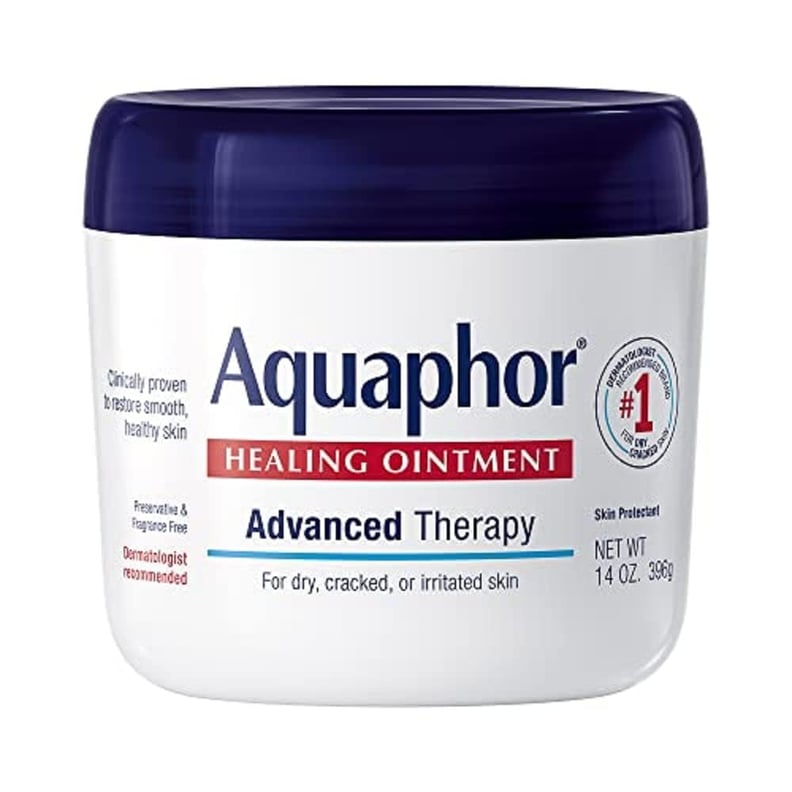 Best Tattoo Aftercare Healing Ointment
Aquaphor Healing Ointment ($16, originally $17)
The Aquaphor Healing Ointment helps with plenty of skin concerns like excessive dryness, irritation, and itchiness (and even burns and cuts), so it's no surprise that it'll come in handy for a new tattoo. This is a water-free formula that forms a protective barrier around the affected area to protect it from the outside environment. It's also pretty breathable, but you should only put a thin layer of this on your new tattoo.
07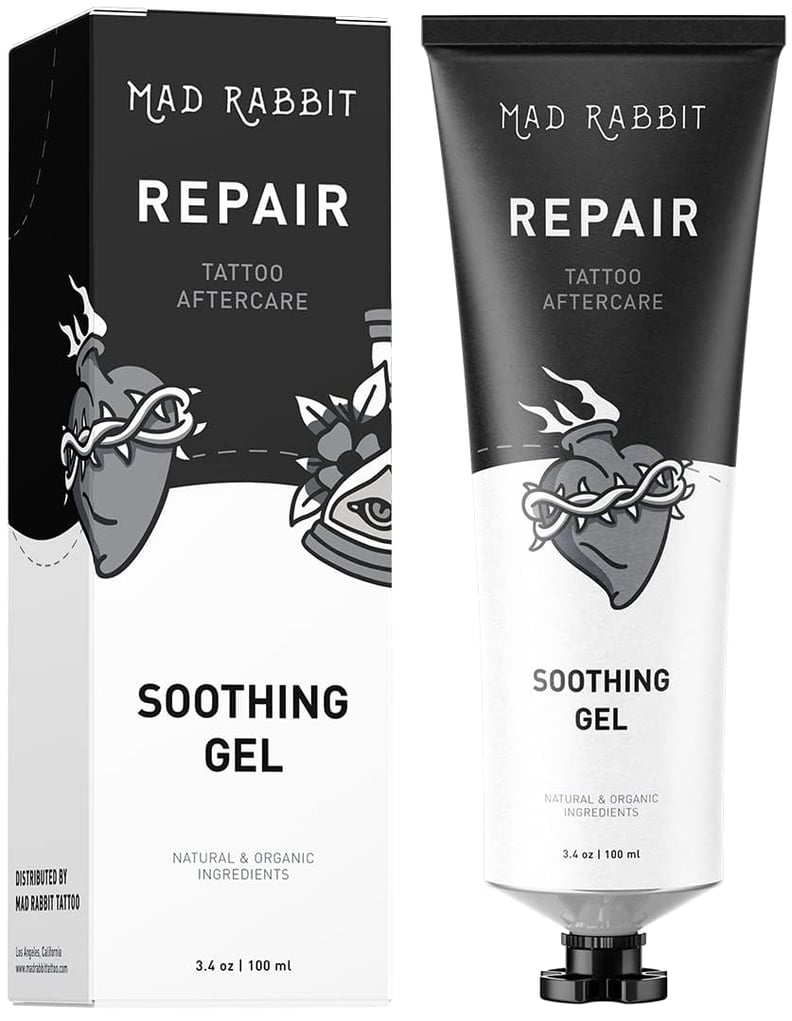 Best Tattoo Aftercare Product For New Tattoos
Mad Rabbit Repair Tattoo Aftercare Soothing Gel ($22)
The Mad Rabbit Repair Tattoo Aftercare Soothing Gel is specifically formulated for new tattoos. It contains botanical oils like sweet almond and argan to moisturize the skin without suffocating it. This hydrating formula soothes and cools the skin with aloe vera, allantoin, and bisabolol to help reduce irritation and itchiness of the tattooed area.
08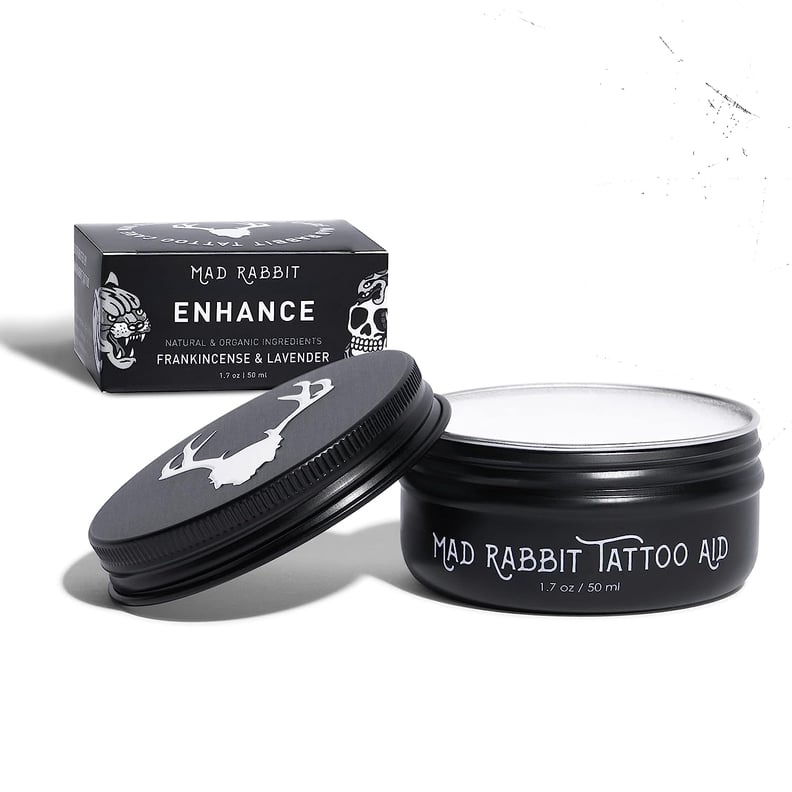 Best Tattoo Aftercare Product For Color Enhancement
Mad Rabbit Tattoo Tattoo Aid ($18)
The Mad Rabbit Tattoo Tattoo Aid is great for older tattoos that require a refresh and also works as a postcare treatment for maintaining your new ink. Containing a blend of fatty acids, antioxidant-rich butters, and lightweight oils, this moisturizing balm can help brighten the color of your ink and make your tattoo look less dull over time. Plus, it keeps the skin moisturized and hydrated.
09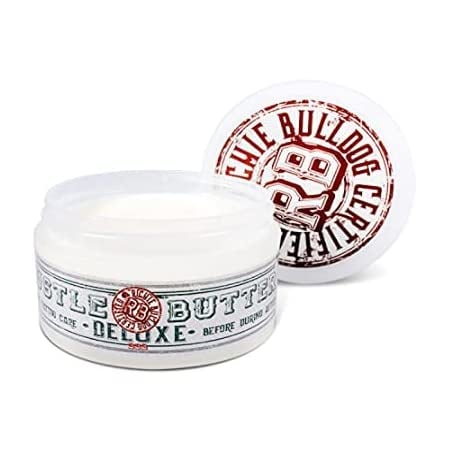 Best Tattoo Aftercare Balm
Hustle Butter Deluxe ($22, originally $27)
Great for both newer and older tattoos, Hustle Butter Deluxe heals and protects your skin while maintaining and enhancing the look of your ink. It's formulated with shea, mango, and aloe butters; green tea; vitamin E; and other skin-nourishing ingredients. The 100 percent vegan balm prevents fading as well. This is something you can carry in your handbag or pocket for tattoo care on the go.
10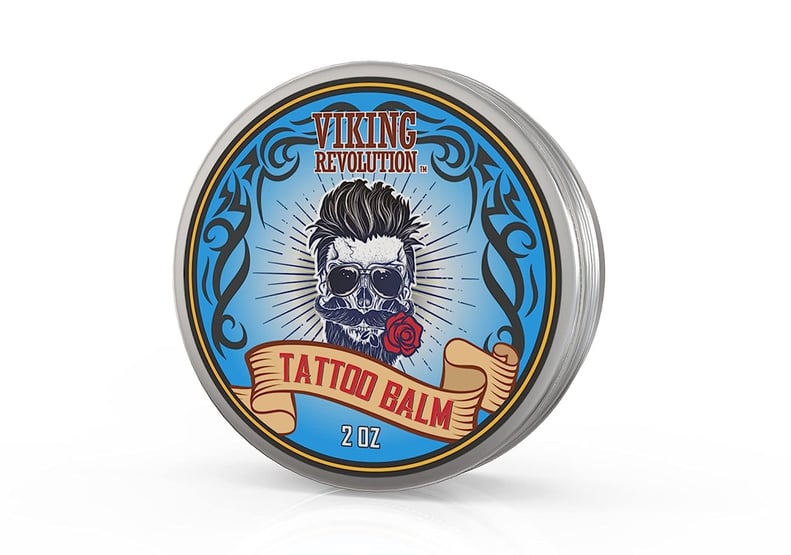 Best Natural Tattoo Aftercare Cream
Viking Revolution Tattoo Balm ($10)
Thinking about getting new ink? You can use the Viking Revolution Tattoo Balm to prepare your skin for a new tattoo as well as care for it after the fact. The soothing tattoo aftercare cream helps reduce soreness and redness while speeding up the recovery process. You can also use this to brighten up older tattoos.
11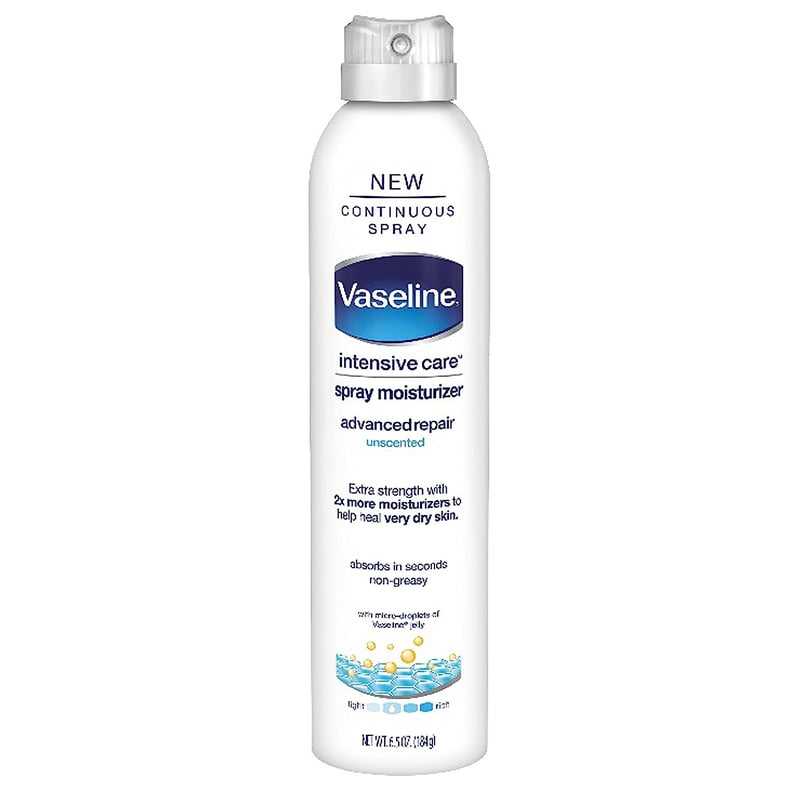 Best Tattoo Aftercare Lotion Spray
Vaseline Intensive Care Spray Moisturizer ($16)
If you have a tattoo in a hard-to-reach spot like your back or shoulders, getting a spray-on lotion like this one from Vaseline will help. It's a lightweight moisturizer with a nongreasy and nonsticky formula that will leave your skin conditioned without feeling too heavy. The continuous spray is able to dispense the lotion evenly across your skin. You can use this right after you shower, or when the area feels extra dry.
12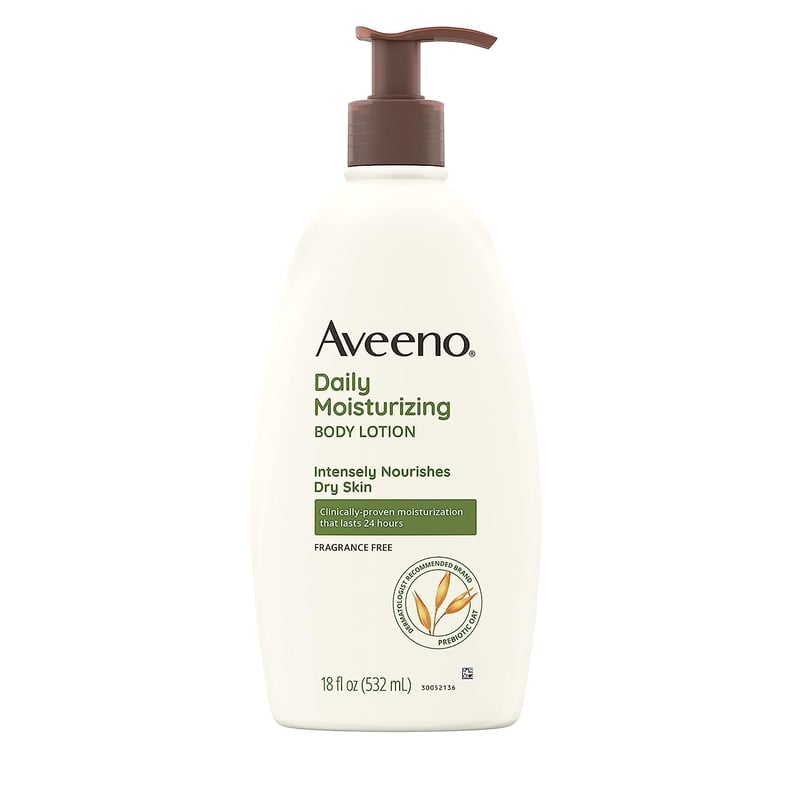 Best Tattoo Aftercare Lotion For Sensitive Skin
Aveeno Daily Moisturizing Body Lotion ($10, originally $14)
The Aveeno Daily Moisturizing Body Lotion has a prebiotic oat formula that is soothing to the skin and helps improve your skin's moisture barrier. It's nongreasy and free of fragrances, and it absorbs quickly while deeply hydrating the skin, giving it a healthier look and feel. For those with sensitive skin, this is a great tattoo aftercare product.
13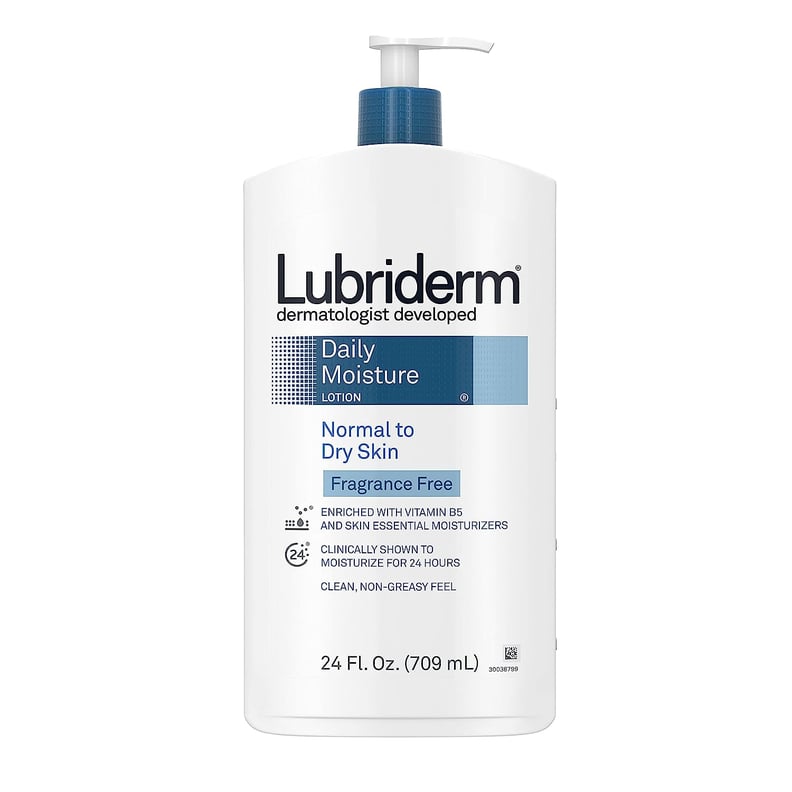 Best Tattoo Aftercare Cream For Dry Skin
Lubriderm Daily Moisture Lotion ($10, originally $12)
If you're prone to having drier skin, getting a tattoo can make the area even more parched. Getting something thicker in consistency like the Lubriderm Daily Moisture Lotion can help relieve dryness and itchiness. The fragrance-free and nongreasy formula contains vitamin B5 to help nourish your skin. According to the brand, it's recommended by tattoo artists for tattoo care and aftercare.