Nope, You Were Not Ready For These Hair and Makeup Moments From the Billboard Awards
Fashion might have the Oscars and the Golden Globes, but the best beauty moments come in hot at the Billboard Music Awards. Year after year you'll find stars pulling out all the stops in the hair and makeup department to celebrate the biggest night in music — and 2021's red carpet did not disappoint.
If the show's beauty looks are any indication, the early aughts are back with a vengeance. From Gabrielle Union's Bring It On-looking ponytail to Saweetie's electric pink nail art to Alicia Keys's braided hairstyle inspired by her very first album cover and so much more, the entire night screamed early 2000s in the very best way possible. (The only thing missing: Juicy Couture tracksuits and a Paris Hilton appearance.)
There was hair and makeup inspiration to last for days, and we can't pick just one favorite. Don't worry, once you see the Billboard beauty looks ahead you'll understand why.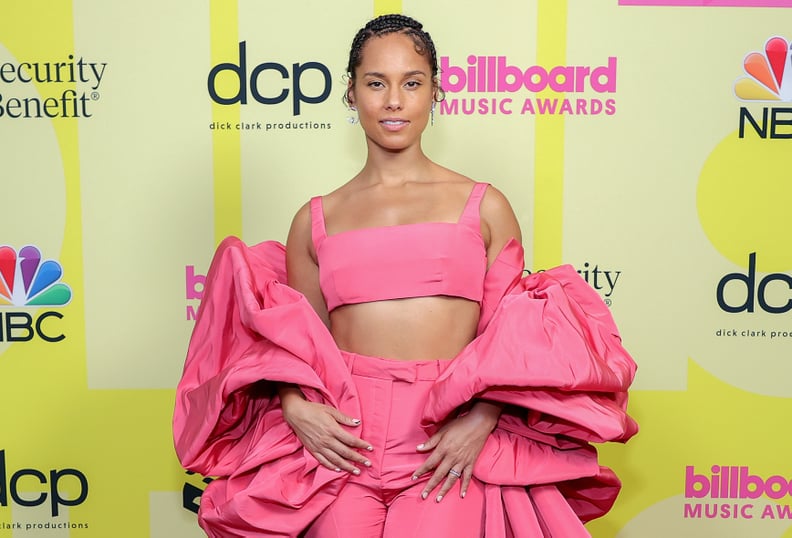 Alicia Keys's Braids and French Moon Manicure
It wasn't just Keys's french moon manicure we couldn't stop looking at; we also loved her braided hairstyle — which held more significance than you might originally think. Celebrity hairstylist Kendall Dorsey said, "In celebration of the 20th Anniversary of Songs In A Minor, Alicia's Billboard look is a reinterpretation of the iconic album cover. We were inspired by the idea of a crown and elegance."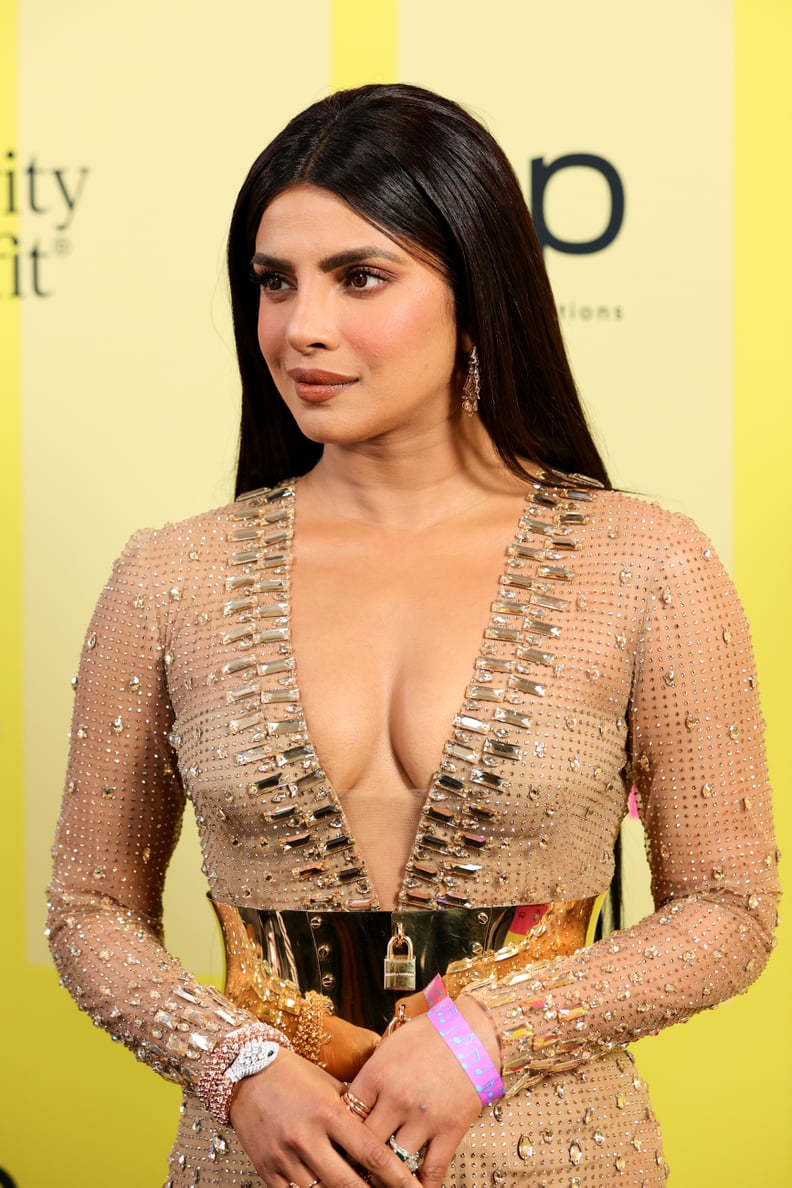 Priyanka Chopra's Monochromatic Brown Makeup
Chopra walked the red carpet looking classic as ever, with monochromatic mauve hues on her eyes, lips, and cheeks.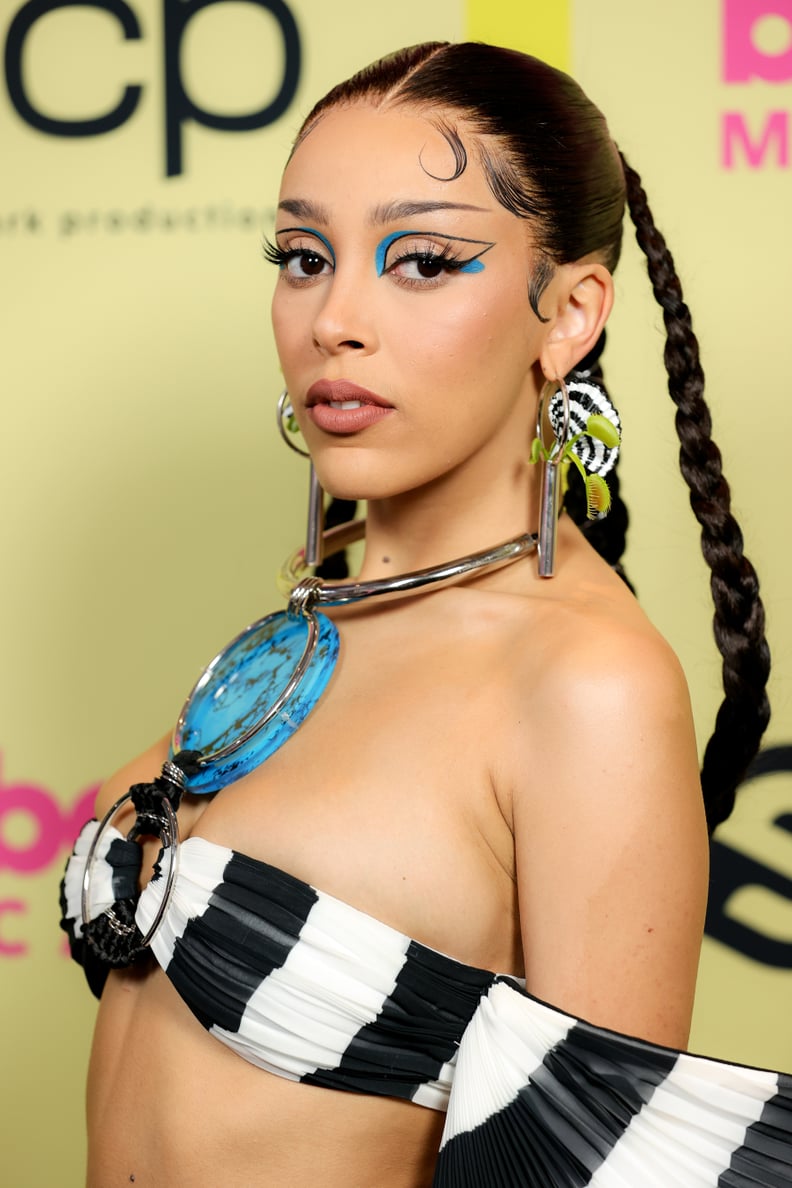 Doja Cat's Graphic Eyeliner and Braids
The inspiration behind Doja Cat's braided hairstyle, according to her stylist Jared Henderson was "Afrocentric Futurism, so I wanted to incorporate braided elements in our hairstyles while also pulling the hair out of her face so that the outfits really shined."
She finished the look with graphic eyeliner that floated above the crease with abstract pops of blue eyeshadow.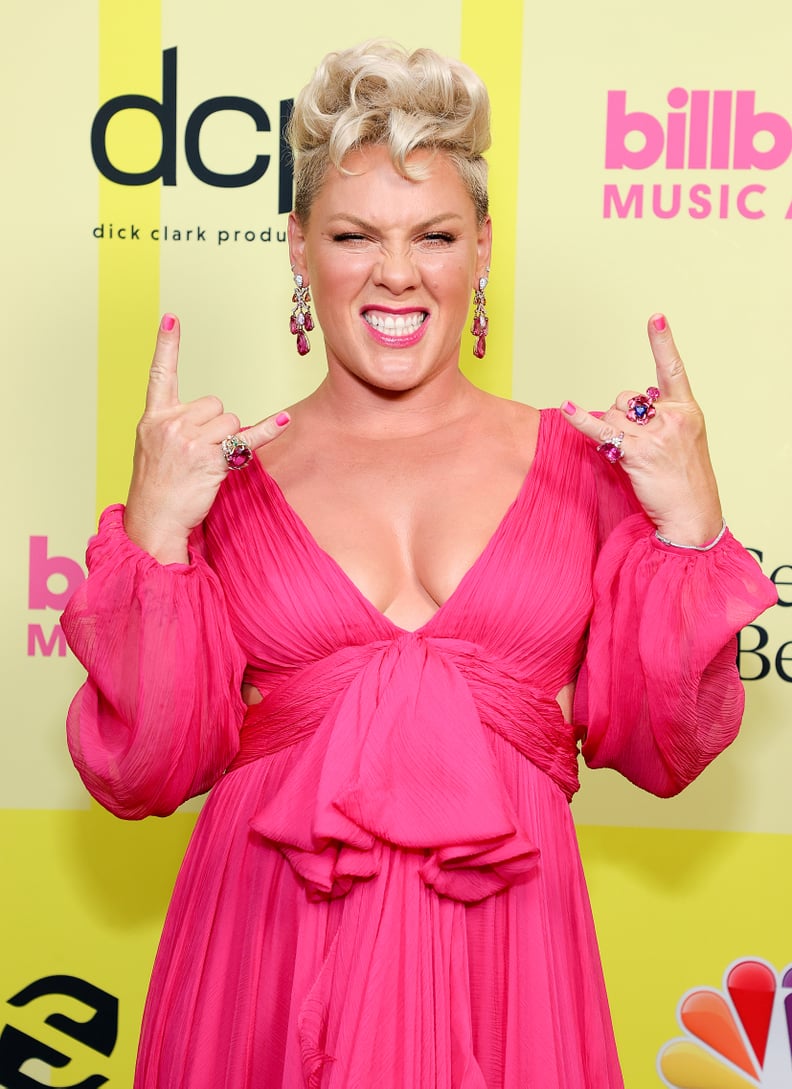 Pink's Monochromatic Pink Makeup and Nails
We know, we know: Pink (the artist) wearing head-to-toe pink (the color) — revolutionary. But considering she rarely steps out in the hue these days, the bright pop of fuchsia on her lips, cheeks, and nails was a nice chance of pace.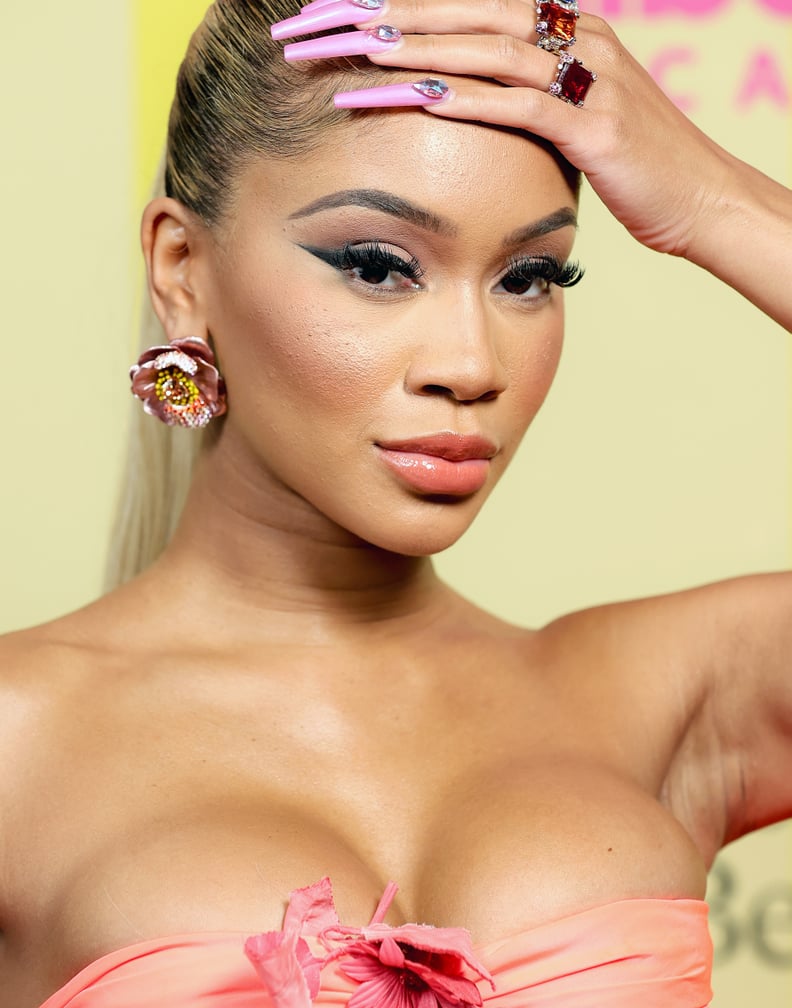 Saweetie's Bubblegum Pink Nail Art
The biggest star of Saweetie's look? Her three-inch nails, which screamed extravagance. Frosty like the "ice princess" herself, each finger was topped with a pink color and glimmering rhinestone.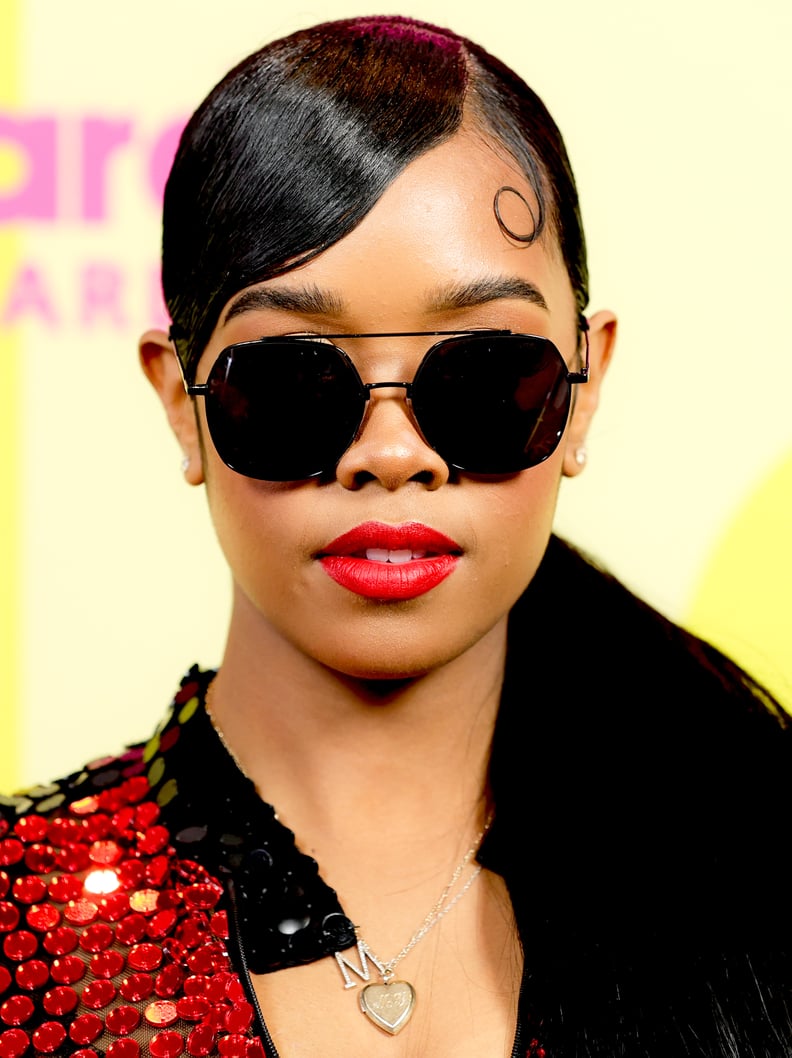 H.E.R.'s Red Lip and Slick Ponytail
H.E.R. does not disappoint on the red carpet — ever. Exhibit A: this simple but powerful look, featuring a sleek pony and bright red lipstick.
Gabrielle Union's Flipped-Up Ponytail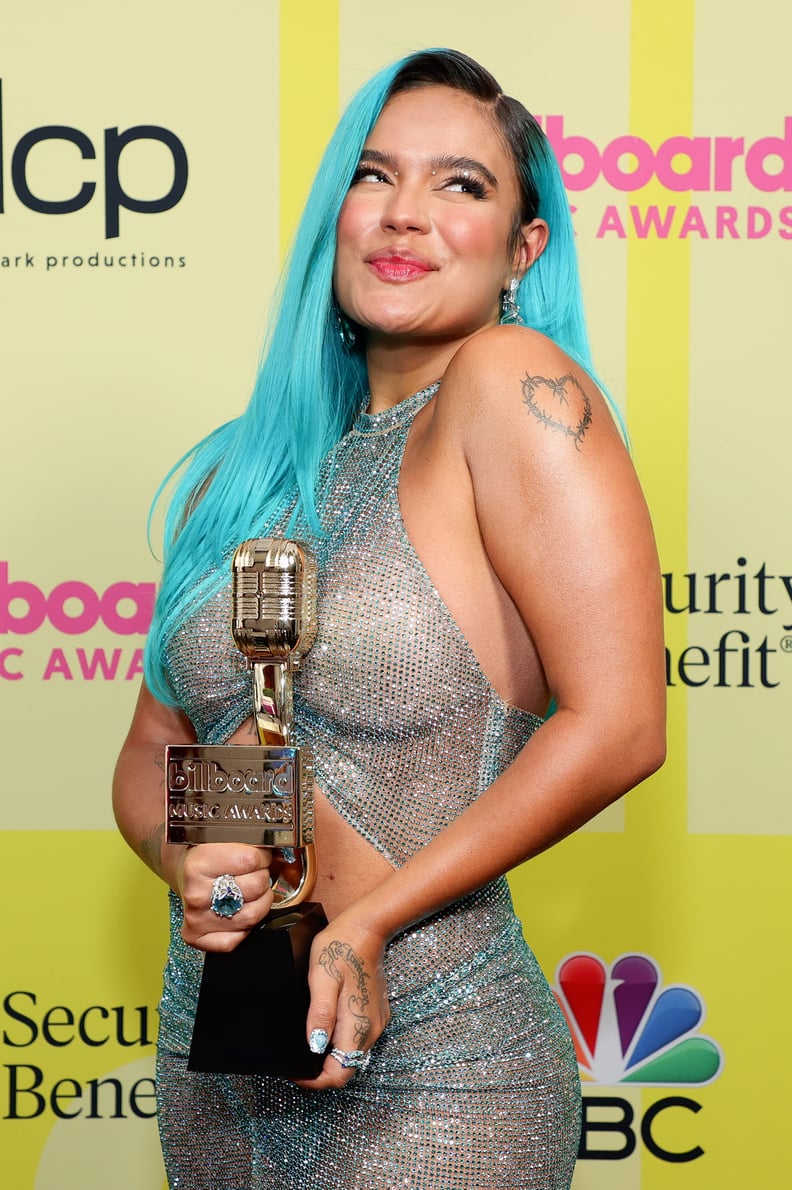 Karol G's Electric Blue Hair Color
Karol G was blinged out from her eyelids to her her fingertips — check out that bedazzled manicure — but we think her electric blue hair color stole the show.
Kelsea Ballerini's Purple Eyeliner
Ballerini kept her hair and makeup minimal, with the exception of one minor detail: her purple eyeliner. The artist added a punch of color to her upper and lower lash lines.