The 2 Makeup Products Billie Eilish Avoids Wearing on Stage
As POPSUGAR editors, we independently select and write about stuff we love and think you'll like too. If you buy a product we have recommended, we may receive affiliate commission, which in turn supports our work.
Billie Eilish is a 17-year-old child prodigy who, as an artist, seems to know who she is better than some performers who have been in the pop culture zeitgeist for over a decade. Her haunting melodies and angelic voice make it seem as if she's lived a hundred lives before, manifesting into a teenage songstress. Listening to the phenom's music, you learn quickly that Eilish isn't playing by the rules of conventional pop artists. In fact, she's changed the face of what Top 40 radio play sounds like, and looks like for that matter — from her outfits to her pared-down makeup look.
It's worth noting that she isn't dressing in midriff-baring getups; typically, she's in the opposite, wearing oversize shirts and pants. But she doesn't skimp on luxury, either — she's often decked out in head-to-toe Louis Vuitton, MCM, or Gucci. And when it comes to her beauty looks, she's fresh-faced and natural, but has fun playing with different hair colors.
Eilish performed to critical acclaim at the Coachella Valley Music and Arts Festival the past two weekends. We spoke with Eilish's makeup artist, Rob Rumsey, who got her ready for her performance on the second weekend of the festival, and his main focus was her full brows and glowing skin. "Billie is really clear when it comes to her makeup," said Rumsey. "She knows exactly who she is. She likes it very natural — clean skin with a slight glow — brushed up, bushy brows, separated lashes, and a well moisturized lip. Polished but not precious."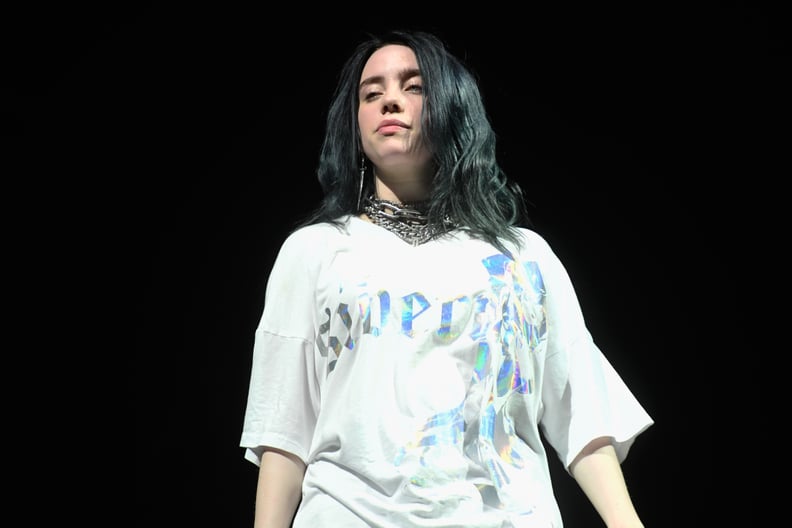 Taking 30 minutes to create the look, Rumsey used the Precisely My Brow ($24) pencil and 24-Hour Brow Setter ($24) from Benefit Cosmetics to draw in a few hairs, then brushed the hair up to keep it in place. He avoided two products, given Eilish's onstage performance. "Lip gloss and sticky highlighter. Billie has long hair and I don't want it sticking to her face," he said.
Eilish is now embarking on the When We All Fall Asleep tour, kicking off April 24 in New Zealand.