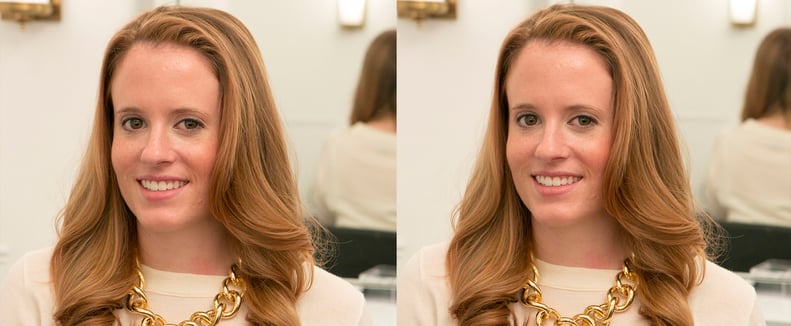 As POPSUGAR editors, we independently select and write about stuff we love and think you'll like too. If you buy a product we have recommended, we may receive affiliate commission, which in turn supports our work.
Blowout bars (and not to mention, Kate Middleton) have made women everywhere appreciate the art of a good blow-dry, but you can still create that hair magic without setting foot out of your own bathroom. We headed to DreamDry (aka Rachel Zoe's salon), where stylist Olivia Halpin showed us the steps to a classic blowout. Now's the perfect time to start practicing, so you can wow the New Year's Eve crowds with your enviable mane.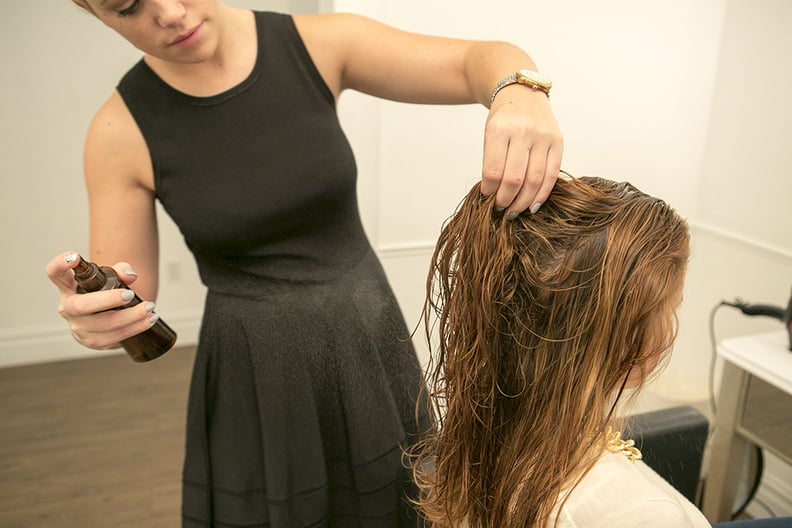 After a good shampoo and conditioner, Olivia Halpin recommends using a volumizing spray like Oribe Maximista ($28) from roots to ends to give your hair added body.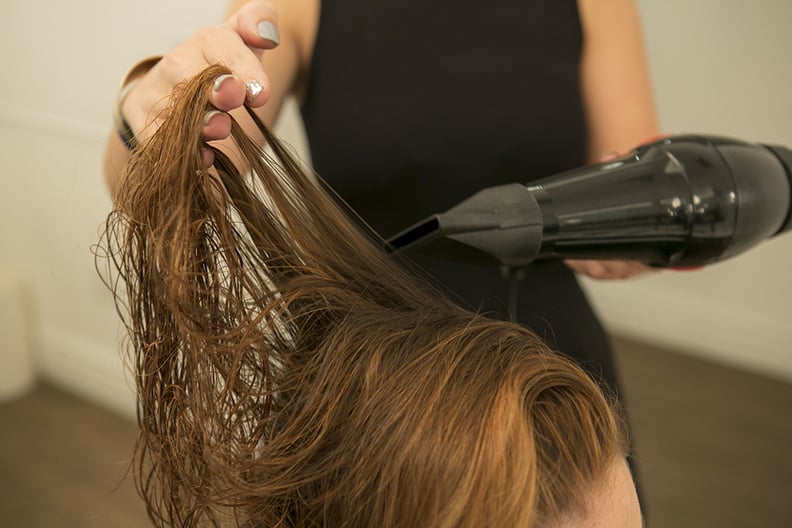 "Make sure your hair is 90 percent dry before you use a brush," Halpin says. "It'll make it easier for you to work with the brush later." She used her hands to get most of the moisture out of our model's hair. You can also turn your head upside down while you're rough-drying to get added lift at the roots.
If you have thicker, curlier hair, Halpin says you'll actually need to start drying your hair with a brush from the start to get that sleek blowout.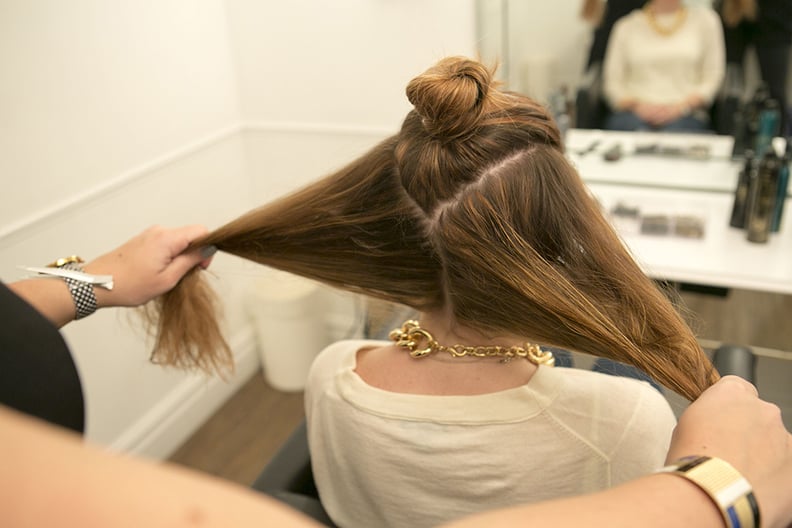 Once your hair is mostly dry, section the top of your hair in a V-shape, and then separate the bottom section in half, as shown. You don't have to worry about the parts being perfect.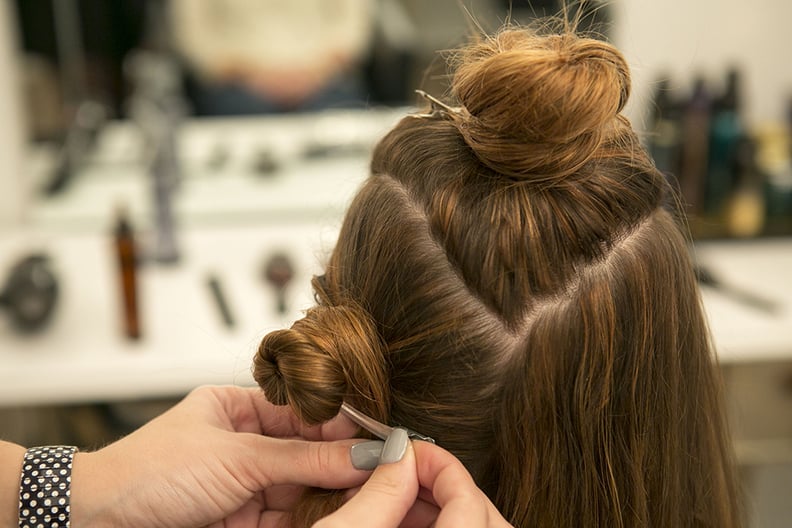 The top section can be twisted on top of your head, and then twist one of the side sections, only leaving one section out. Because your hair is mostly dry, you can work in bigger sections, like Halpin did.
Make sure you smooth the hairline by blowing the section away from your face and wrapping it around the round brush. Halpin likes using a ceramic brush because it heats up while you blow-dry, which helps create waves.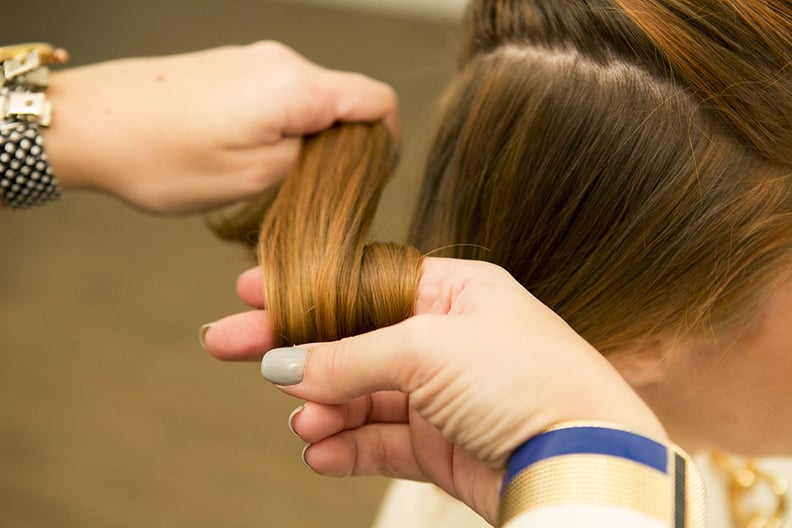 Once the section is completely dry, wrap it around your fingers while it's still warm to create a pin curl.
Repeat blow-drying the other section the same way, and secure into a pin curl. Before you start on the top section, your hair should look like this.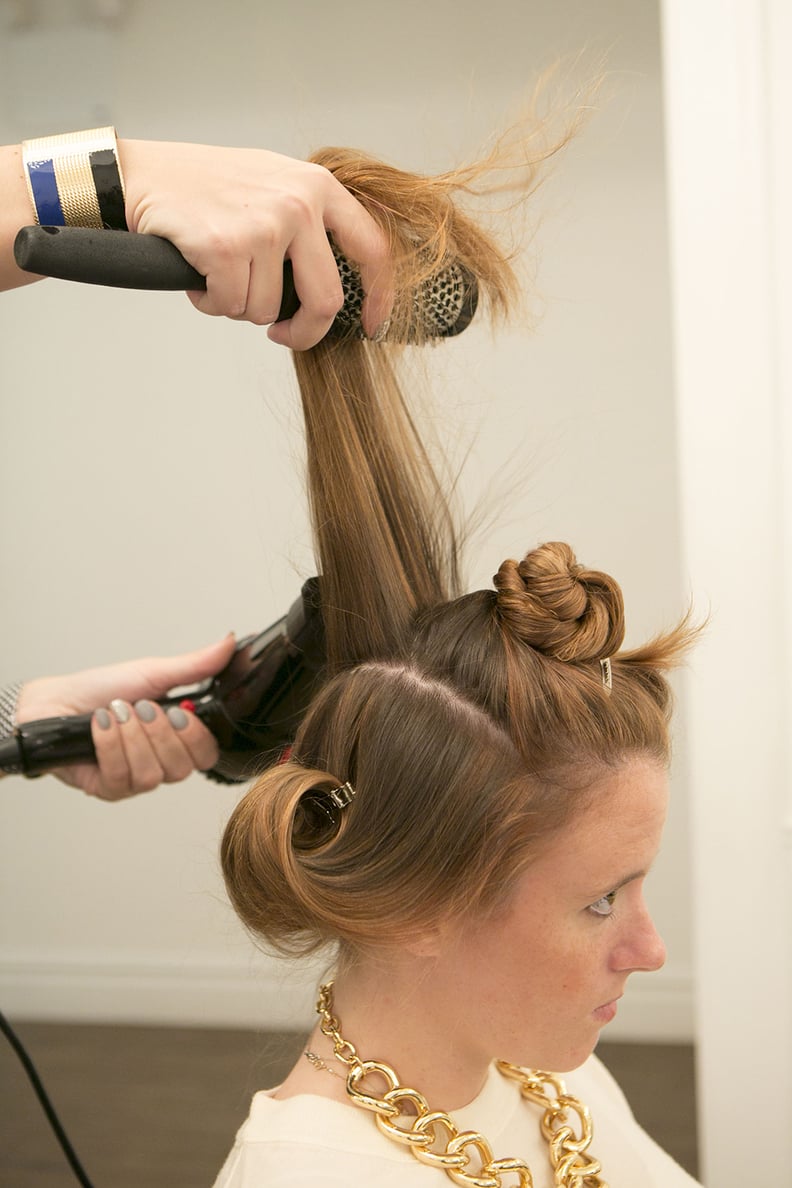 As you move on to the top section, Halpin likes to start from the back and work to the front. She likes to pull the hair upward while drying to blast in some added volume.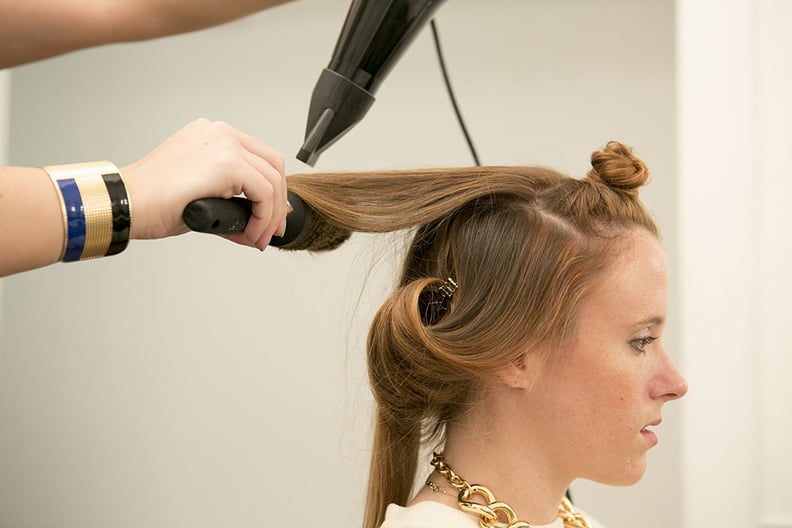 Be sure your roots are dry before moving to the midlengths and ends to smooth away frizz.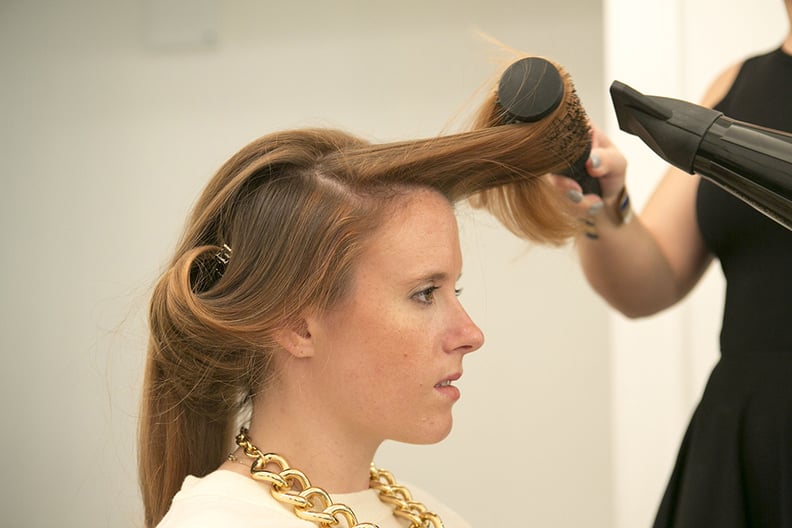 When you're blow-drying the top section that frames your face, you'll want to keep the section of hair curled away from your face. Don't forget to smooth the strands along your hairline before moving to the ends.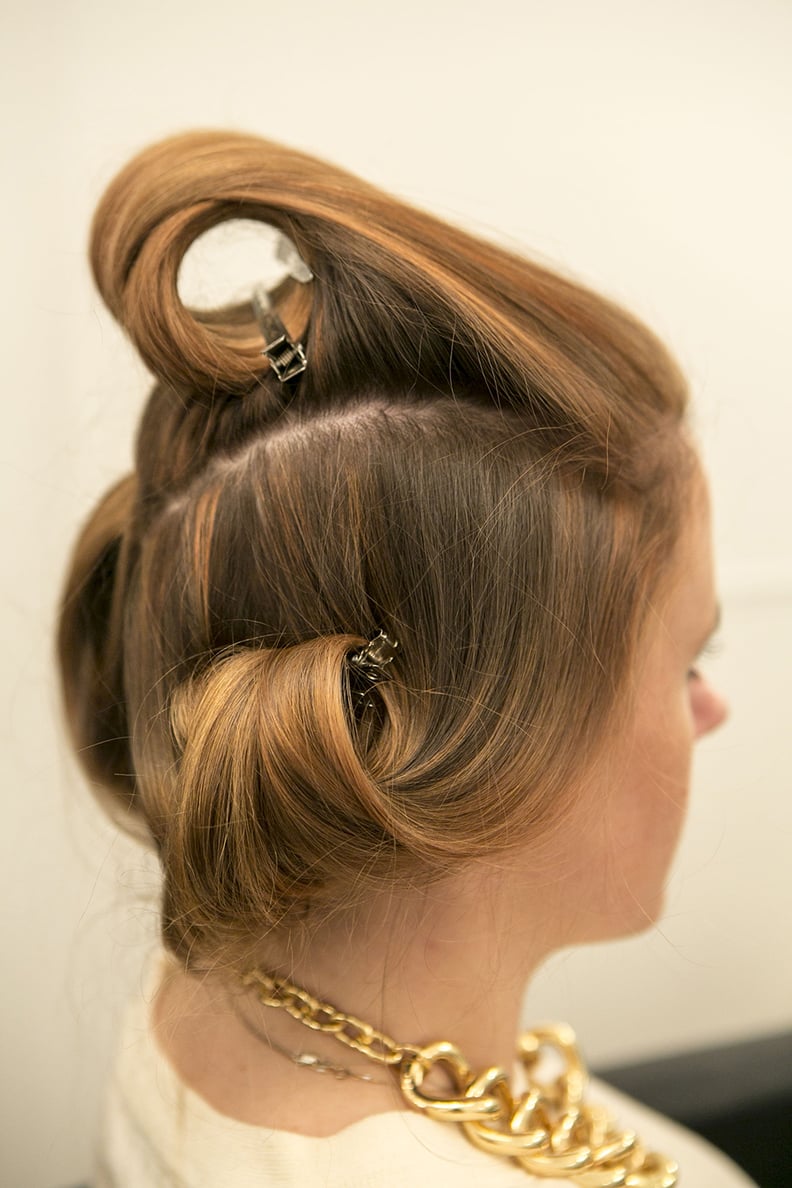 Twist the top section away from your face, and set the curl with a pin. Let your hair set while it cools — this is the perfect time to do your makeup! Halpin sprayed the pin curls with a flexible-hold hair spray, Oribe Superfine Hair Spray ($36).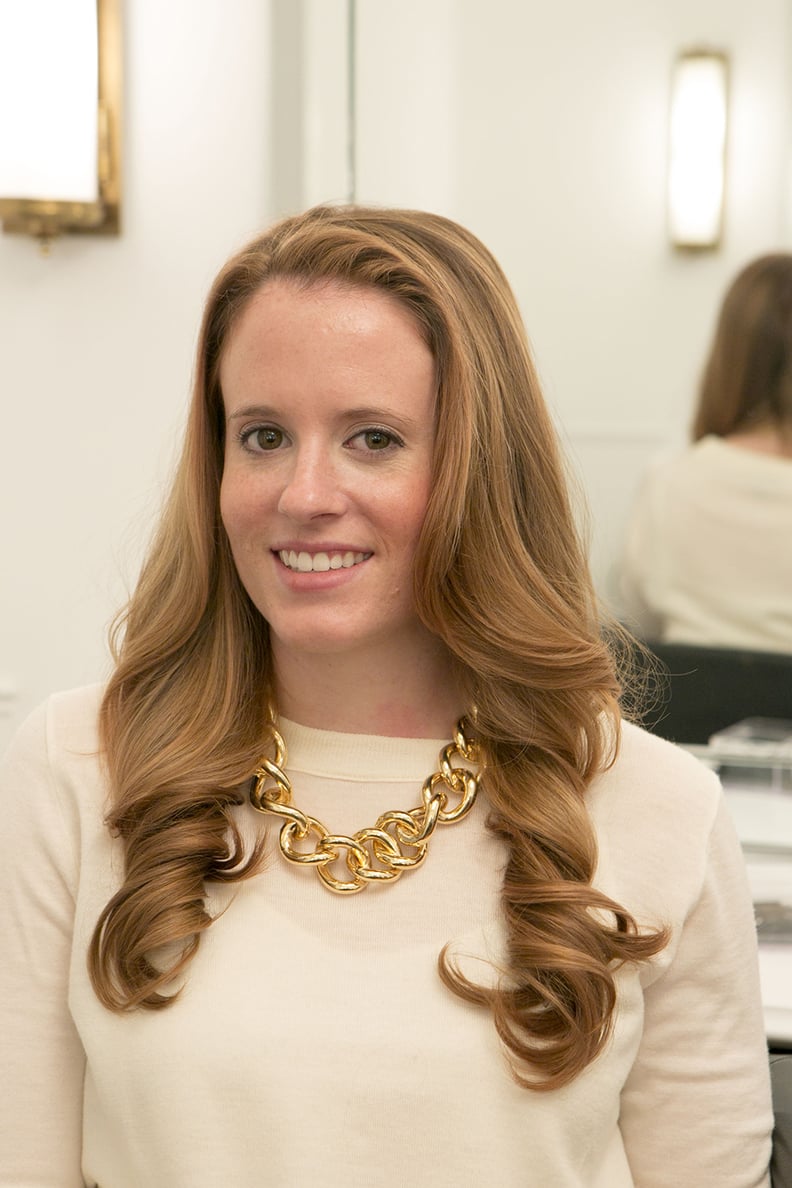 Take out the pin curls and massage your hair at the roots, but don't brush out the waves. Part your hair and twist it away from your face for a final look that would leave Kate Middleton with a little hair envy!