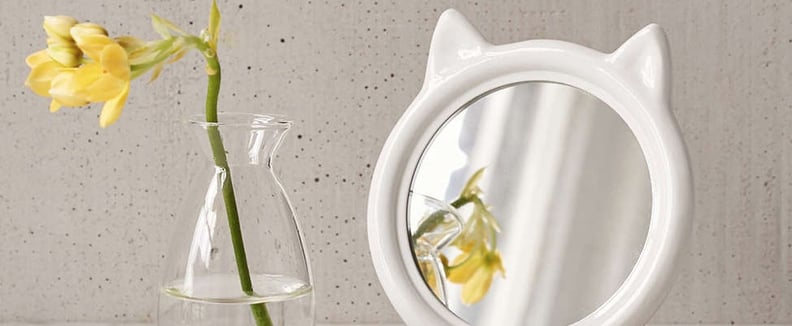 Every editorial product is independently selected by our editors. If you buy something through our links, we may earn commission.
For the record, I have always been a dog person. But I'll admit, an impromptu cat adoption led by my boyfriend two years ago quickly turned into an absolute cat obsession. Drizzy (named in honor of the lyrical genius, Drake/not my idea) has been the gateway cat that opened my eyes to the daily cuteness overload that my cat-loving friends and co-workers would regularly gush over.
I finally understood. The obsession is real. Sometimes serious. And it's true that just about anything cat-related gives us the warm fuzzies inside. So in preparation for holiday gifting season, here's your cheat sheet for any of the cat-lovers on your nice list.
Take it from a recent cat-convert and professional beauty product tester: these are the holiday beauty gifts that will make your feline-loving friends' hearts melt. Every single time they use them. Which basically makes you the greatest gift giver of all time.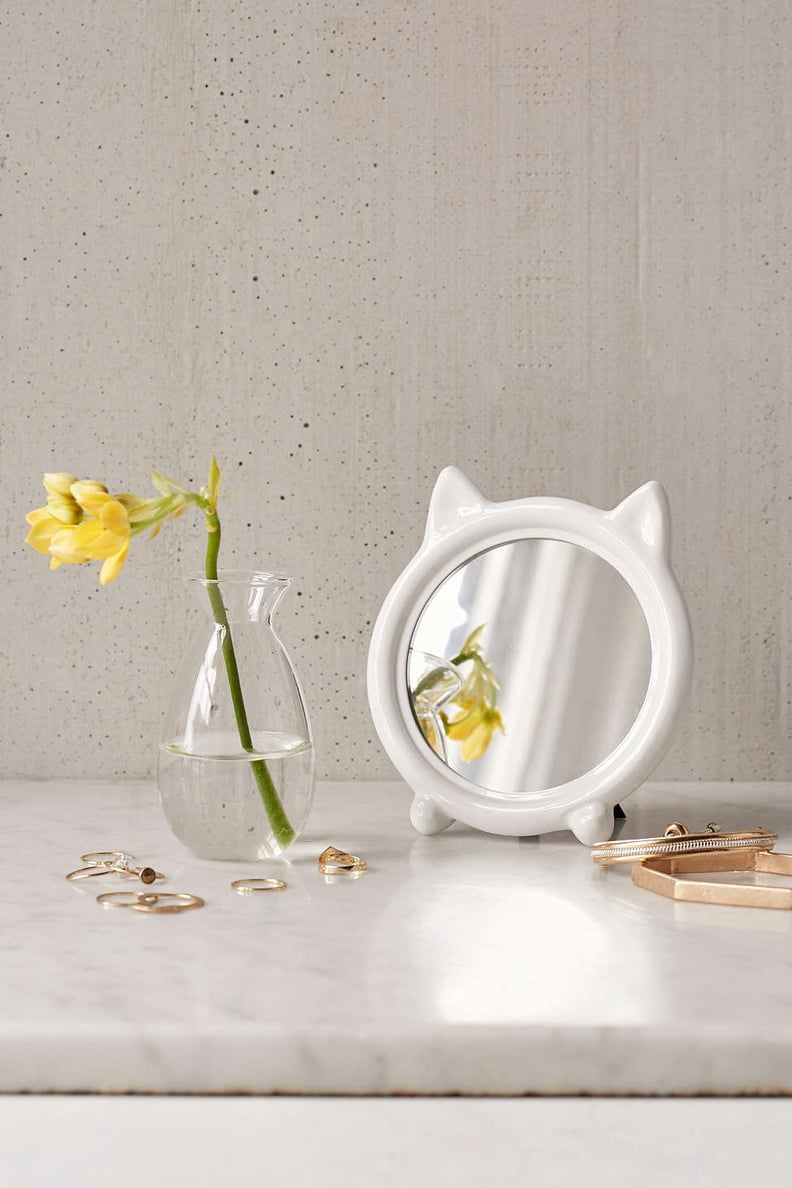 Tabletop Cat Mirror
Tabeltop anythings are a risky move with a nimble, ninja kitty patrolling (and destroying) your home, but this low vanity mirror ($16) with cat ear and paw accents miraculously defies the odds.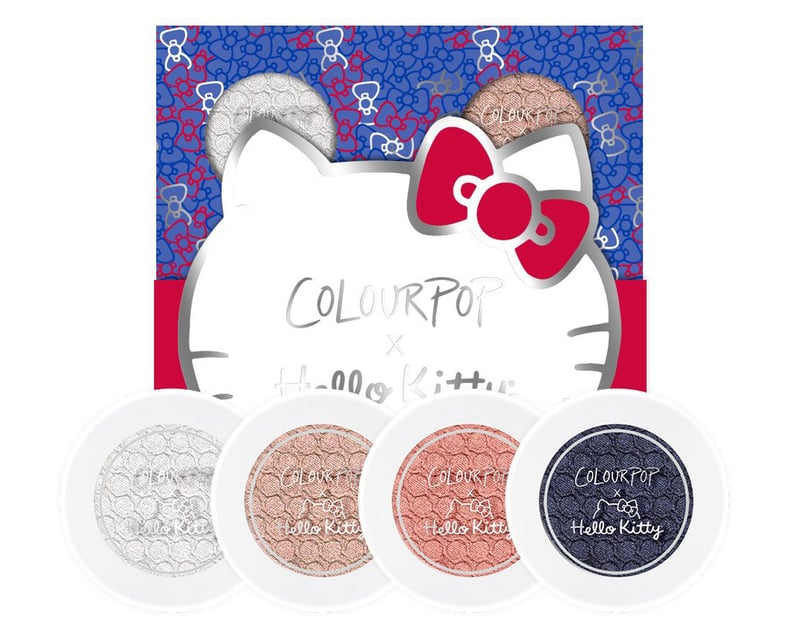 ColourPop x Hello Kitty Mama's Apple Pie
These four shimmering shadows ($18 for the set) are enough to get excited about all on their own — the mix of glittery, metallic, and satin finishes are a holiday smoky-eye dreams come true. But dress them up in iconic kitty packaging and they instantly become a keepsake, (almost) too pretty to use.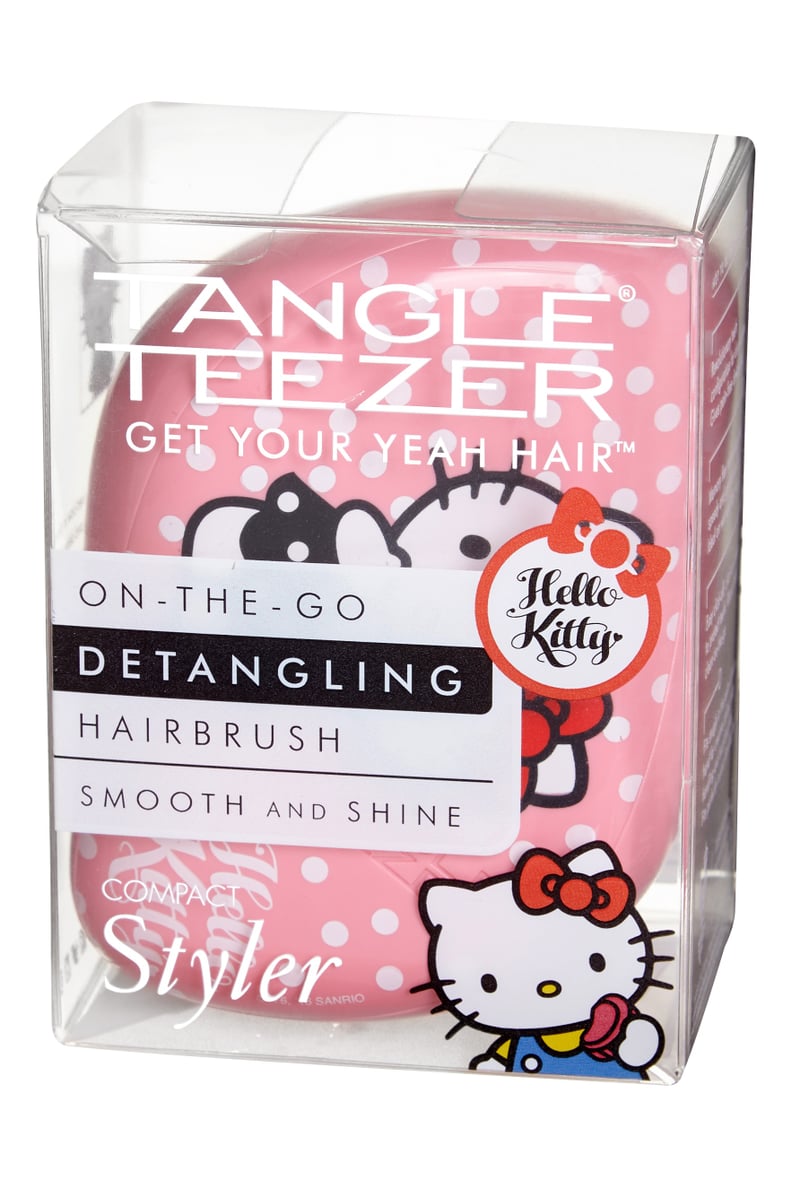 Hello Kitty Tangle Teezer Compact Styler
A word of caution: cats love these gentle massaging bristles almost as much as humans do. This knot-combat brush ($21) will comb through the longest, tangled head of hair without so much as a tug or snag, and the adorable kitty icon will make you nostalgic every time you look at it.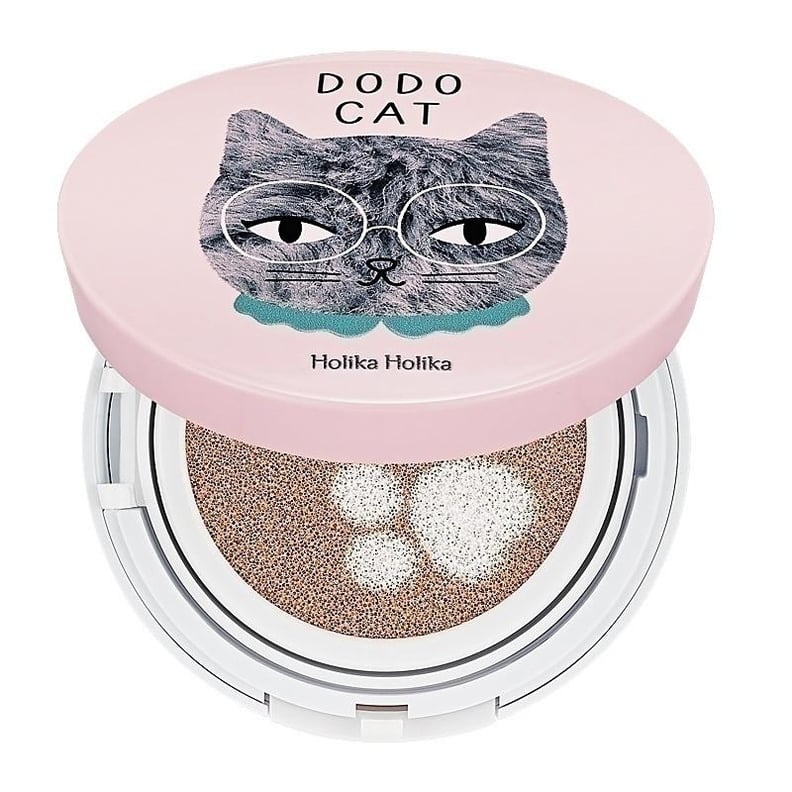 Holika Holika Face to Change Do Do Cat Glow Cushion
The image of a cat in glasses plastered on the front of this compact ($40) will make you instantly light up and the unexpected paw print found inside will make you squeal with I-can't-even cuteness. But it's the combination of brightener and moisturizing base inside that really make your complexion glow.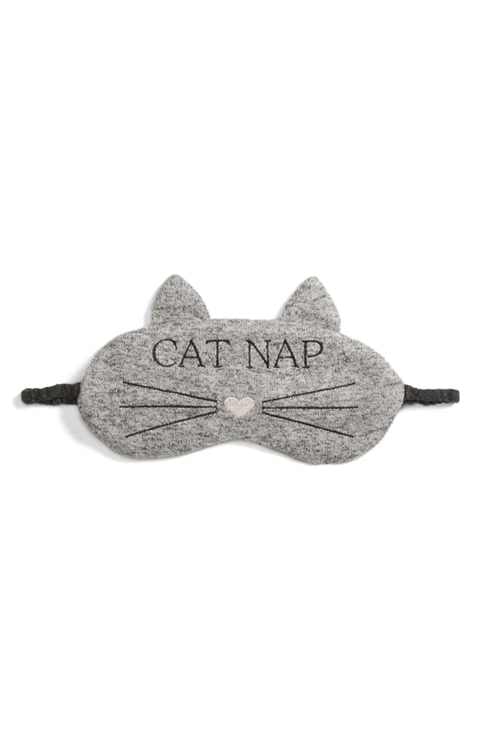 Make + Model Knit Eye Mask
Giving this cozy, padded sleep mask ($25) is really like giving a friend a lifetime of the snuggliest, dreamiest cat naps imaginable.
Meow Meow Bar Soap Party Pack
The small-batch vegan skin care company speaks to the crazy cat lady in all of us. There are cute cat-themed sketches on all of the packaging and a website that actually greets you with "Hi Cats" messages when you visit. This delicious soap trio ($28), formulated with skin-loving coconut, olive, and avocado oils and shea butter is a welcome alternative to the moisture-stripping hand cleansers found in most guest bathrooms.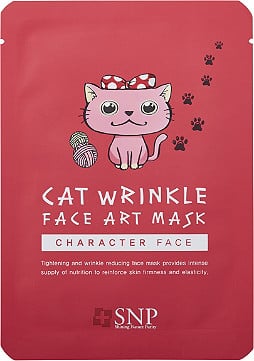 SNP Cat Wrinkle Face Art Mask Sheet
This tightening and wrinkle-reducing sheet mask ($5) not only helps improve the overall texture and appearance of skin, but it also uses your lips to complete this creepy-cute image of a cat. Yes, it will require necessary selfies and snaps making those 20 skin-perfecting minutes go by in a flash.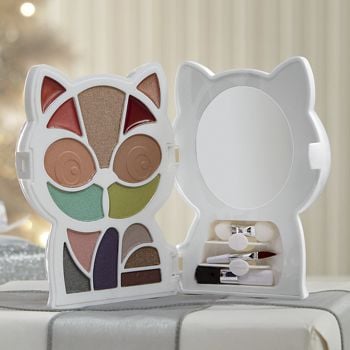 Tilly Cat Makeup Kit
It wouldn't matter if this adorable case ($15) were empty, we'd still love it. But the fact that it's packed with eight different eye shadows, two blushes, four lip glosses, and a face powder makes it something of a cat-lover's beauty dream come true.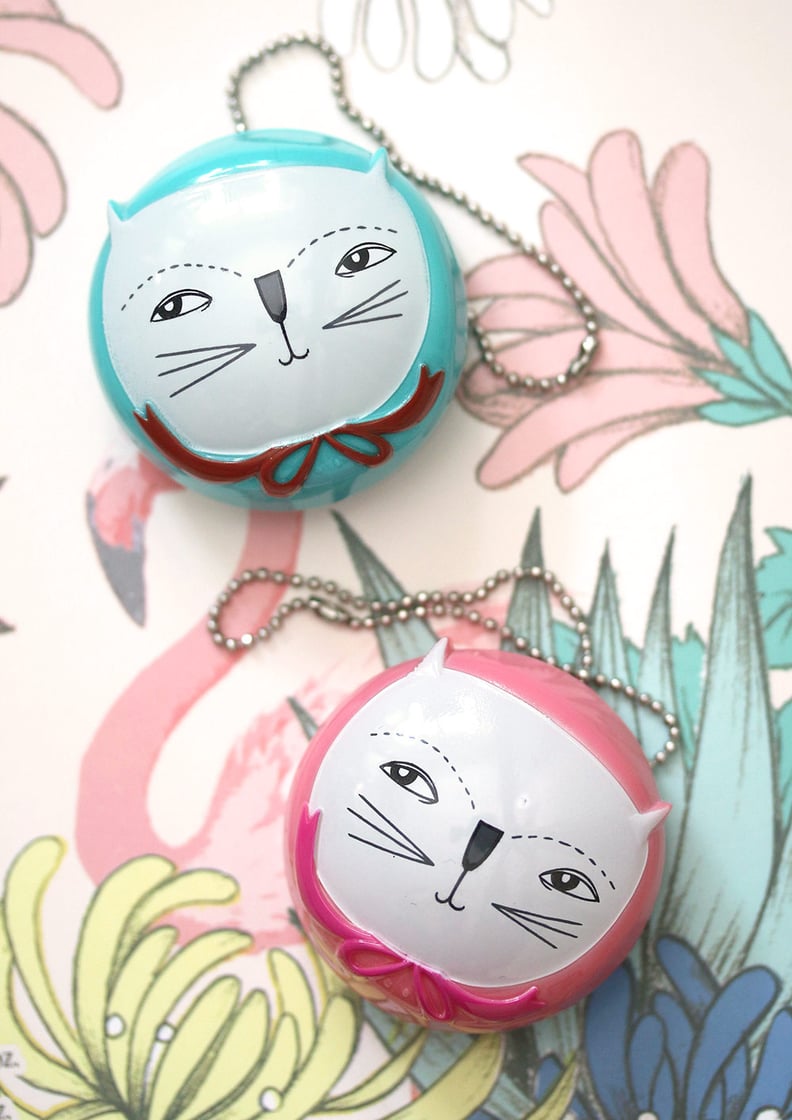 Too Cool For School Max in Pocket Lip Balm
This creamy, ultrapampering lip balm ($12 each) keeps lips doused in glossy, conditioning shea and mango seed butter for hours. And the kitty compact is so cute you'll want an excuse to take this out every few minutes to reapply (and show it off). It also comes with a convenient clip so you can snap it onto your wallet or keychain and avoid the inevitable scavenger hunt inside your bag when you're in need of another swipe.
ASOS Metallic Cat Makeup Bag
For those nights away from your furry friend, this shiny metallic cosmetic bag ($13) (chock-full of your favorite beautifying goodies) makes even an empty hotel room feel a little more like home.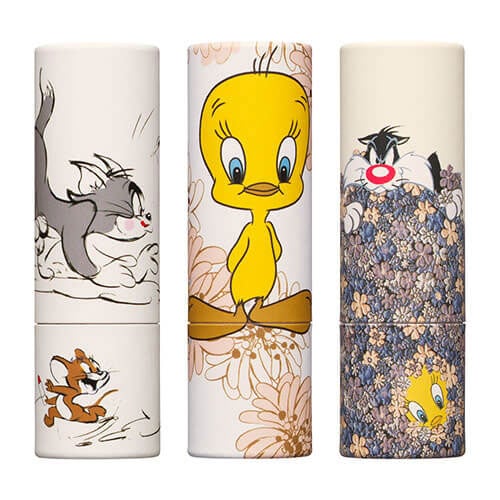 Paul & Joe Looney Tunes Tom & Jerry Lipstick Case
Does your lipstick really need its own decorative case ($8 each)? No! But are ones covered in Looney Tunes illustrations with Tom & Jerry and Sylvester & Tweety Pie some of the cutest you have ever seen? Yes! Precisely what makes this the world's most adorable stocking stuffer.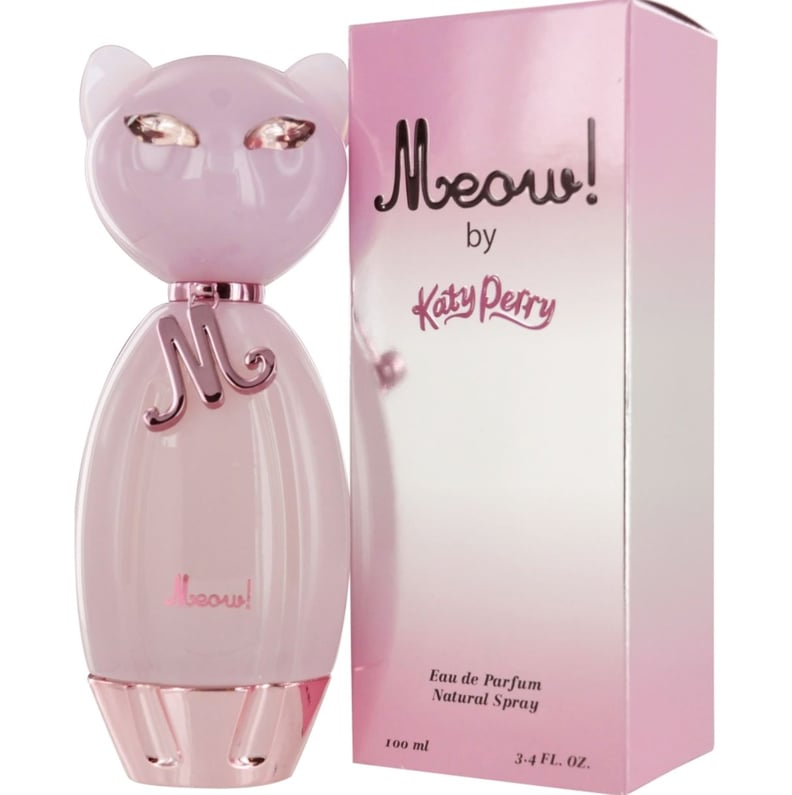 Meow! by Katy Perry Eau de Parfum
Quite possibly the sweetest gift you can give your cat-loving friend, in more ways the one. For starters there's the tangerine, pear, vanilla scent that is as sugary as they come. But it's the colorful creator — thank you, Ms. Katy Perry — and the pink cat-shaped bottle ($17) and that make this fragrance an instant pick-me-up whether you spritz it on or keep it perched on your vanity for show.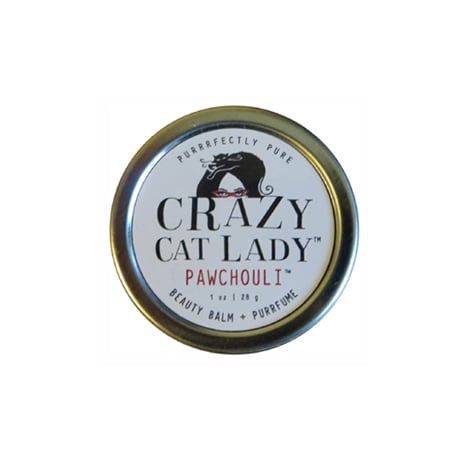 Crazy Cat Lady Pawchouli Beauty Balm and Purrfume
I'll admit, it was the name that first grabbed my attention. But it was the pampering
all-natural essential oil blend ($24) that made it a staple on my holiday wish list. The coconut oil formula left my dry, parched lips, cuticles, and hands conditioned and perfumed in the most calming floral-citrus scent that any cat-lover (or soft-skin-lover) could appreciate.
Private Label Cat and Fish Style Paper Lashes Paper False Eyelashes
It's hardly a beauty go-to, but one look at these handmade cat-inspired false lashes ($3) and you'll know they are completely necessary for the (crazy) cat lady in your life. Take it from a cat-lover: it's the gift that will most definitely be remembered.