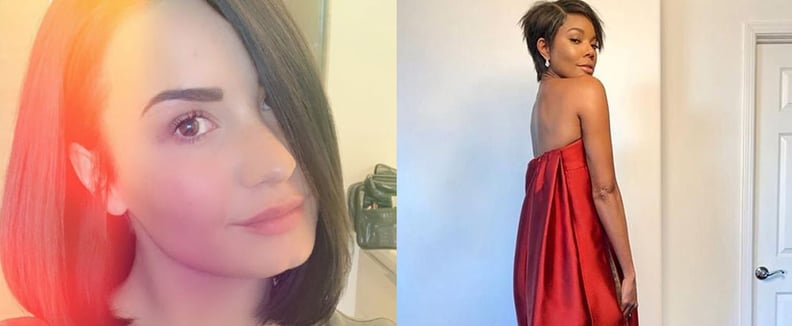 If you're looking to switch up your hair for the Summer, just look to your favorite celebrities, who, in the past few months alone have completely transformed their looks with the help just a few scissor snips. We've seen Katy Perry achieve the prettiest beachy waves, Gabrielle Union shed her layers, and Demi Lovato get a blunt bob that's cool for the Summer. Even Jason Momoa has chosen to join in the Summer fun with an unexpected cut.
See our favorite celebrity hair transformations ahead.
Jada Pinkett Smith: Before
Jada Pinkett Smith's warm brunette hues got a new look a couple months into 2019.
Jada Pinkett Smith: After
She took to the lighter side and went full-on blond. Although she sported light highlights earlier in March, she decided to take the plunge and dye it all.
Ayesha Curry: Before
Ayesha Curry rocked long, dark hair until she shed some major length.
Ayesha Curry: After
The cover girl showed off her sleek, short lob in mid-February in this ice-blue pantsuit.
Khloé Kardashian: Before
Khloé Kardashian wore her platinum hair past her shoulders earlier this year.
Khloé Kardashian: After
Kardashian went for the big chop — cutting her hair into a blunt bob.
Ashley Tisdale: Before
Ashley Tisdale's signature dirty-blond hair got a (major) pop of color.
Mädchen Amick: Before
Mädchen Amick's hair was previously medium-length, and often worn in loose curls.
Mädchen Amick: After
Amick cut her hair short for the warmer months.
Gabrielle Union: Before
Gabrielle Union's curly, shoulder-length hair transformed into a cute cut.
Justin Bieber: Before
Justin Bieber's hair was previously long and worn straight.
Justin Bieber: After
He and wife Hailey Baldwin posted photos of his new haircut — which is long at the top and shaved on the sides — on Instagram.
Jason Momoa: Before and After
Taylor Schilling: Before
Taylor Schilling had medium-length hair before periodically cutting it shorter.
Taylor Schilling: After
The actress chopped her hair into a chin-length, blunt bob haircut. We've never seen Schilling's hair this short!
Katy Perry: Before
Katy Perry's hair was previously cut into a short pixie haircut.
Katy Perry: After
Perry's blond hair now extends past her shoulders.
Alison Brie: Before
Alison Brie's hair was previously a deep, chocolate brown.
Demi Lovato: Before
Demi Lovato's medium-length hair had highlights at the ends.