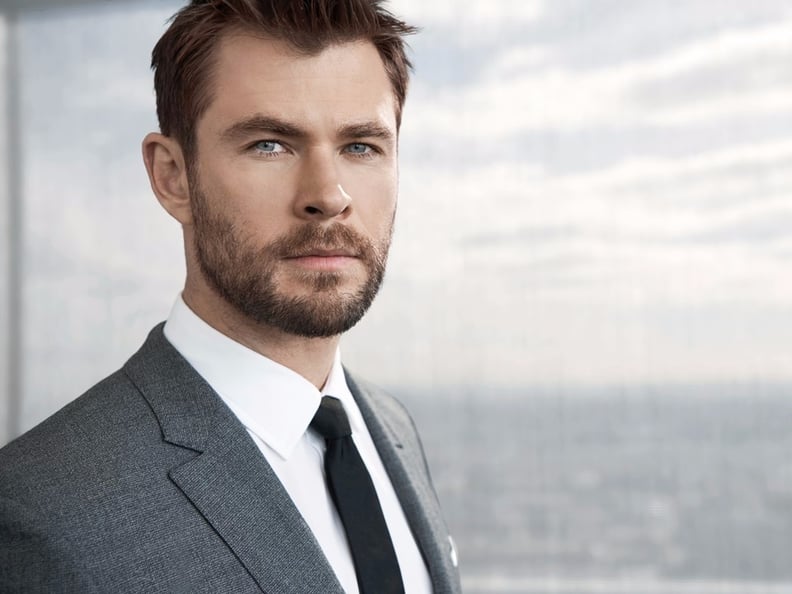 Courtesy of Hugo Boss
Courtesy of Hugo Boss
If it's 5 a.m. and Chris Hemsworth has a movie to shoot that day, he may have already dunked his head in ice water and played with his three children. The gorgeous Australian actor (seriously, he is stunningly handsome in the flesh!) is just another hardworking father and husband.
When I chatted with him in NYC to celebrate his new campaign with Hugo Boss fragrances, it was weird how human this god of guy seemed. Just like any other 33-year-old husband and brother (you may have heard of Liam and Luke), he has to work hard to plan date nights with his wife (actress Elsa Pataky). Plus, his career is demanding — you can't sit around twiddling your thumbs to play superheros like Thor or The Huntsman.
As mentioned, Hemsworth can now add "dapper fragrance spokesman" to his résumé. He is the new face of Boss Bottled Tonic Fragrance Eau de Toilette Spray ($119), which smells as fresh as the cool blue bottle looks. The modern scent features notes of citrus (grapefruit, bitter orange, and lemon), spices (clove, geranium, and cinnamon), and woods. Ginger is the star spicy ingredient, giving it energizing aromatic benefits. Chris also stars in the fragrance's ads, dubbed the Man of Today campaign, featuring the rugged surfer in an elegant Boss suit against an urban skyline.
Keep reading to see close-ups of Hemsworth . . . plus what it was like growing up in a household of boys, his advice for new dads, and how he looks so damn hot everyday.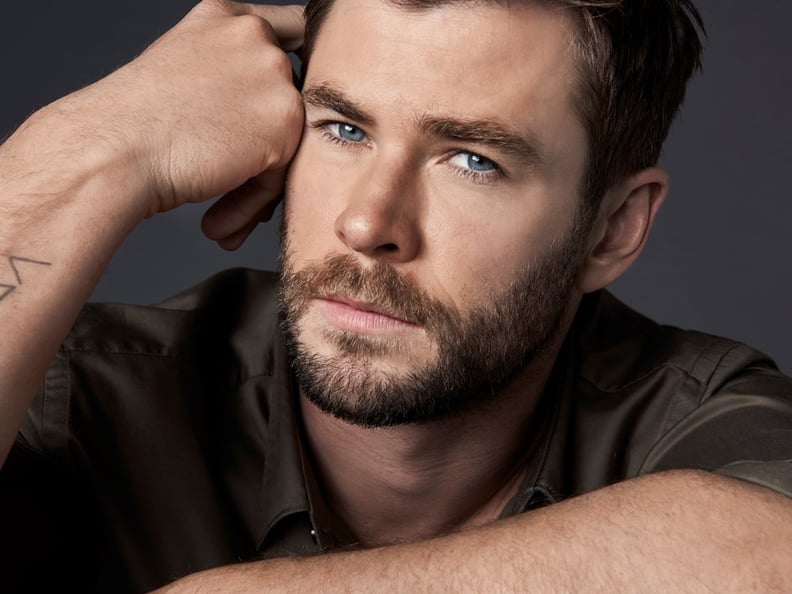 Chris's First Fragrance Memory
"I had a Hugo Boss. It was the one with the green and red writing on it. My mom got me it, funny enough, when I was maybe 15 or 16 for Christmas one year. I never wore a whole lot of cologne as a kid. I was surfing and doing other things. So this has been a bit of an education for me. It's been grand."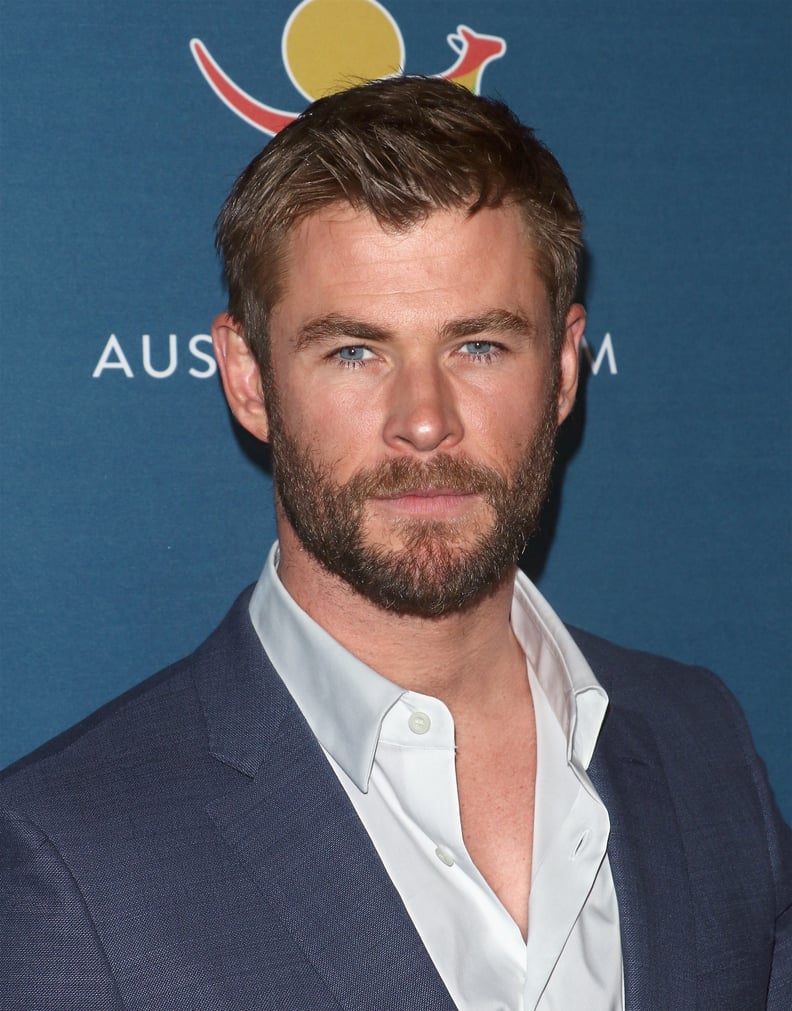 Where He Sprays Cologne
"[I spray it] just around my chest. Two sprays. Maybe a little on the forearm. Usually, when I've got a premiere or am going out, I put some on — that kind of thing."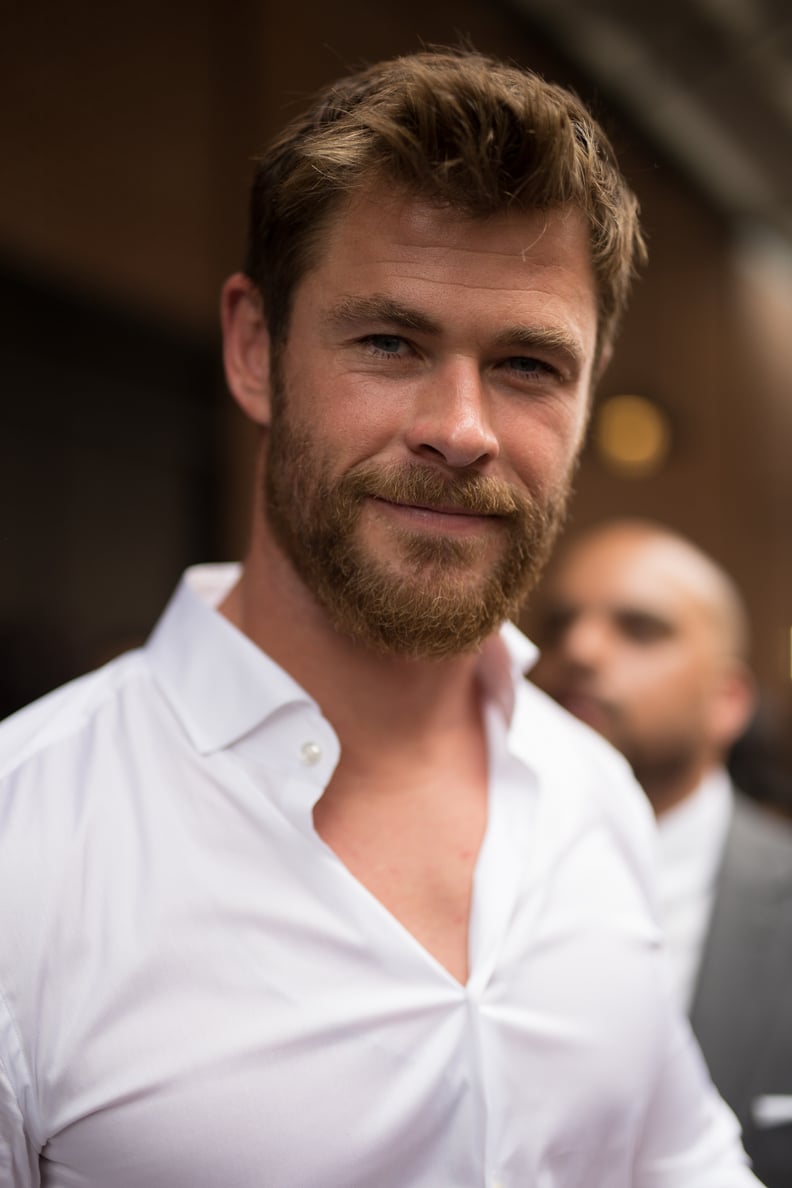 What Hugo Boss Tonic Smells Like to Chris
"I like it because it's versatile; it's not overpowering. I don't like a cologne where I can smell it from six feet away. . . . It's got a citrus-y, Summer kind of feel to it, which is nice. It's not too heavy."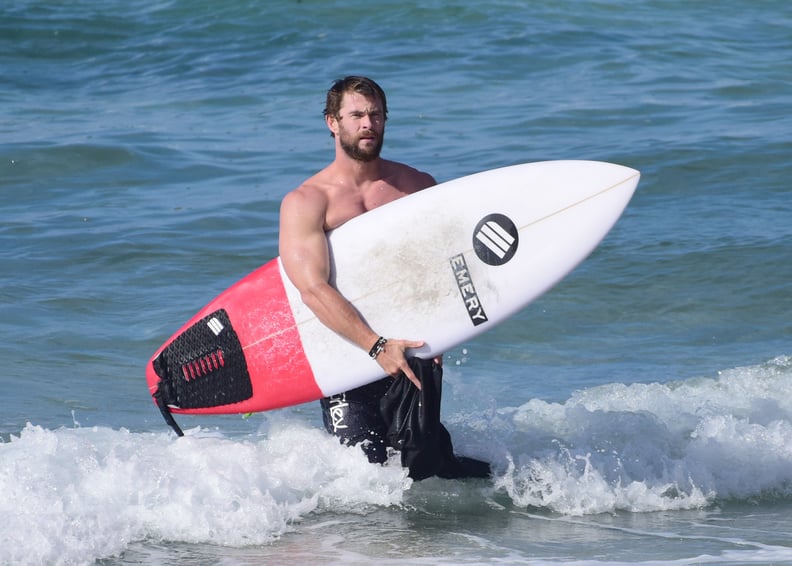 How He Does His Hair
"Well, I surf a lot with a lot of salt water and sand. The elements kind of get involved and dictate what my hair does. I prefer a kind of drier, clay kind of style. So [putting] wax in it gives it a bit of texture, a bit of grit. Because my hair is pretty thick and straight, I manipulate it into some controlled-mess sort of look. I say controlled mess because that's what I am."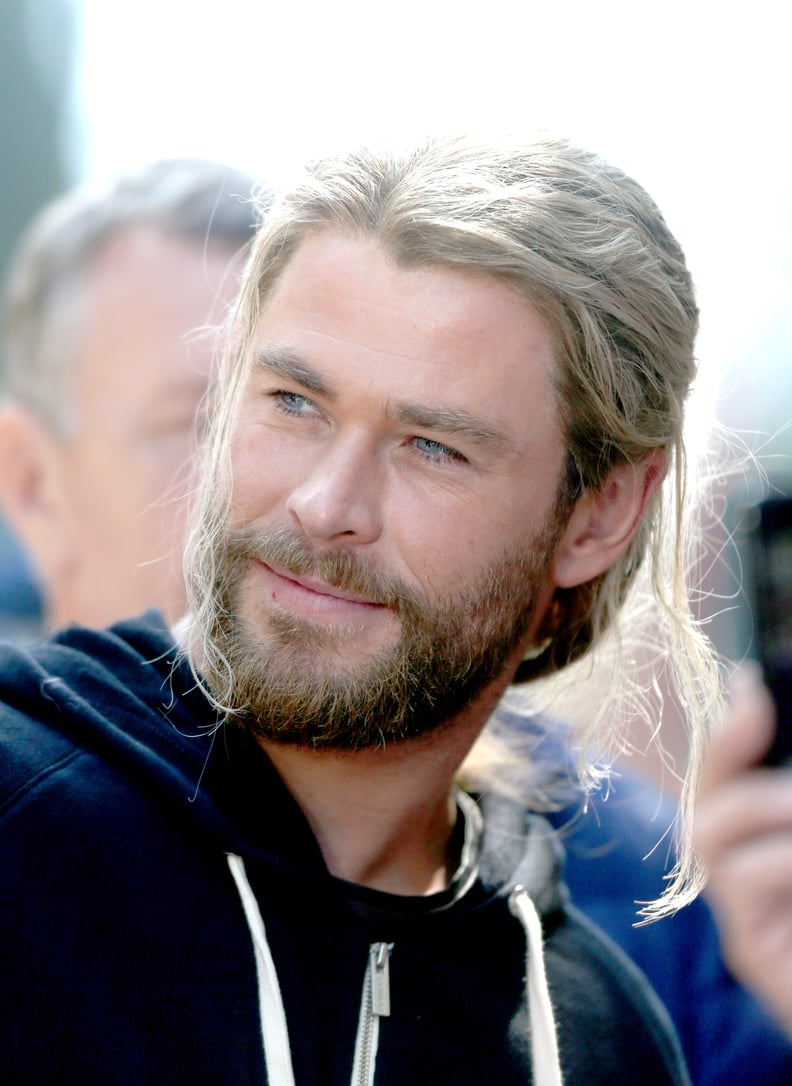 How Chris's Grooming Routine Changes When He Is Thor
"I don't really have much of a grooming routine [when I'm] Chris. My hair or my beard is determined by what kind of movie I'm doing. So I get up in the morning, and my kids are my alarm clock. I wake up to them jumping in my hair, and then I . . . yeah, there's not much of a routine. On-set though, I come in and sit in the chair. If I've got the wig on, it's all assembly and setting the wig up and makeup and whatever. And trimming the beard."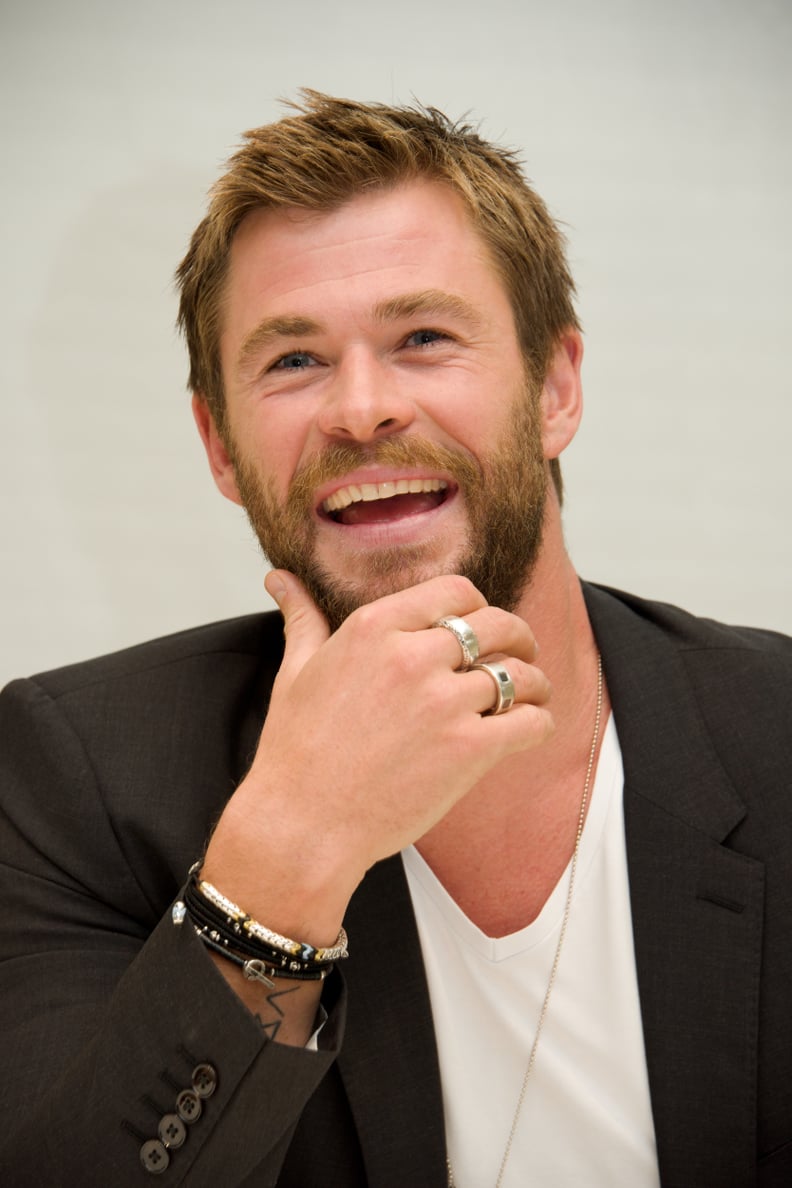 How He Wakes Up in the Morning
"If it's a very early morning, I put my face in a big bowl of ice. Paul Newman used to do it, and it looked cool. I think it sort of tightens everything up. It just wakes me up more than anything. It's a shock to the system. It gets me ready for the day if it's four in the morning and I've got to be on."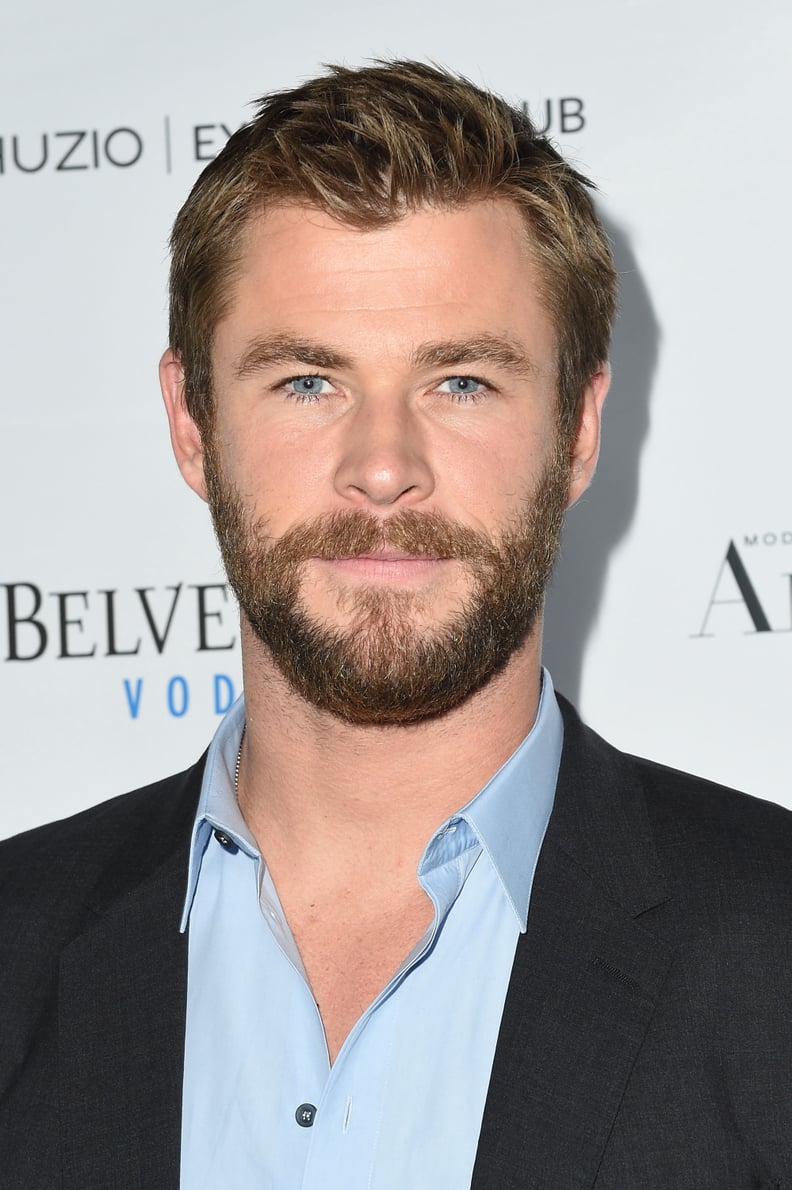 How Fatherhood Changed His Grooming Routine
"Yeah, it's kind of made it nonexistent. I never really had much of a grooming routine. . . . My kids sleep pretty well. They do wake up early, like all kids, but they kind of sleep through [the night], which is the main thing."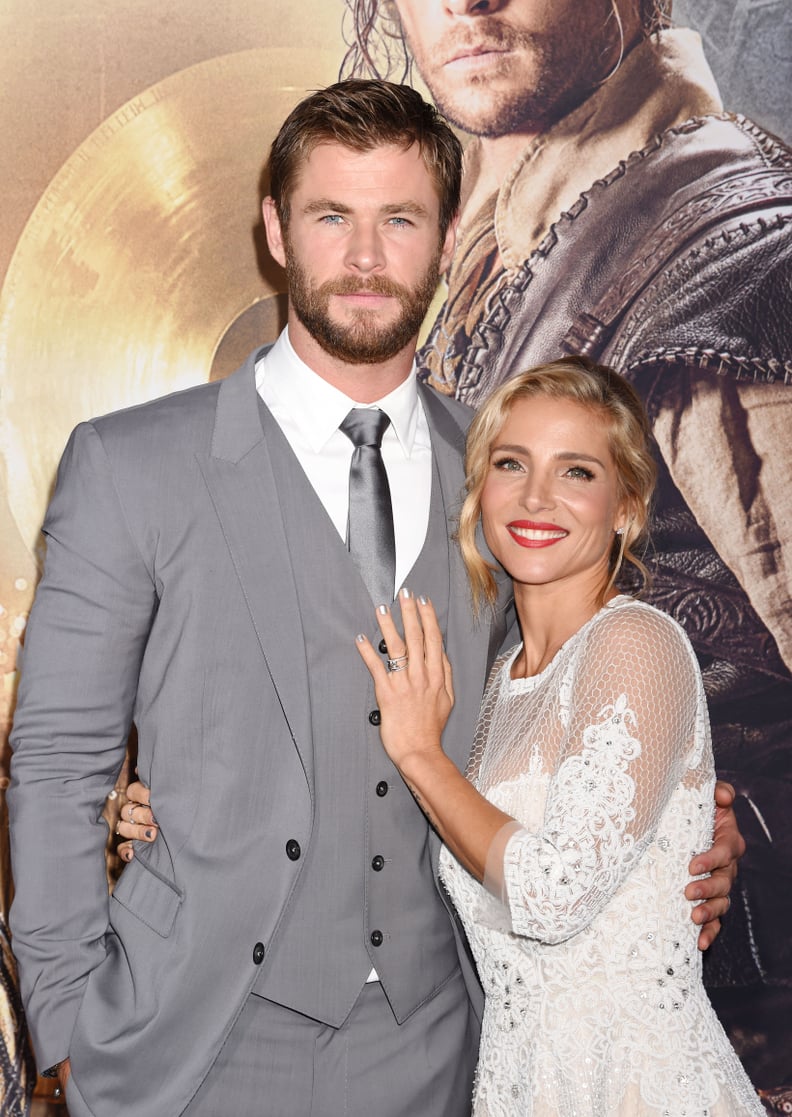 Chris's Advice For New Dads
"My tips for new dads would be get some rest before you have the kids because they are true creatures of their own, and they do whatever they want. And they tend to dictate the scenario and the day's events.
"Get a good babysitter so you can go out with your partner — have a break, get some rest, and do something different. It's very easy for the weeks and months to roll by, and before you know it, you've done nothing but be with your kids, and you've lost time with your loved one. . . . Yeah, I'm like, 'Should we do date night or have a night set aside just for us?' But very often that comes and goes, by the way, so you've just got to stick to that plan."
His Favorite Australian Beauty Brands
"I use Kevin Murphy a lot — the wax. That's kind of it. I use a lot of sunscreen since I spend a lot of time outdoors, which is the key. I think prevention is the key. Good sunscreen, good zinc. Use anything that's water-resistant and four to five hours' worth [of wear]."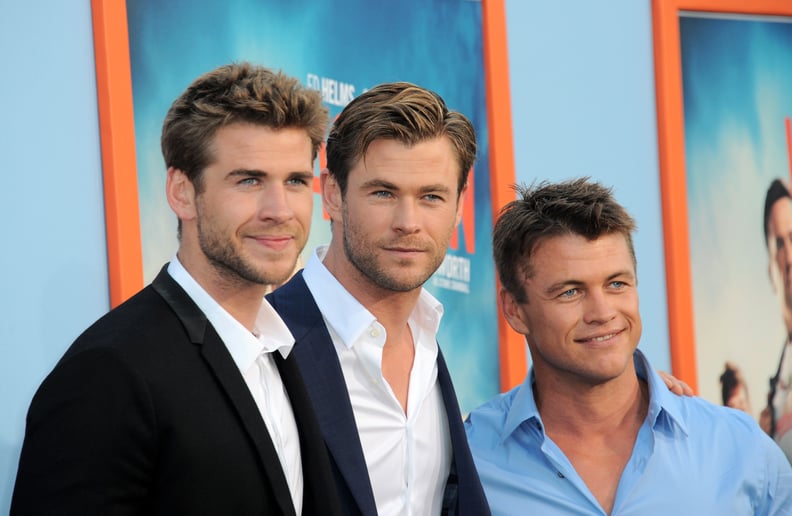 What It Was Like to Get Ready With the Hemsworth Brothers
"Well, we had one shower that we'd all have to share — one bathroom. So a lot of banging on the door like, 'Hurry the hell up! My turn.' But none of us were overly well-groomed or kept. We were out there, you know, doing whatever we were doing."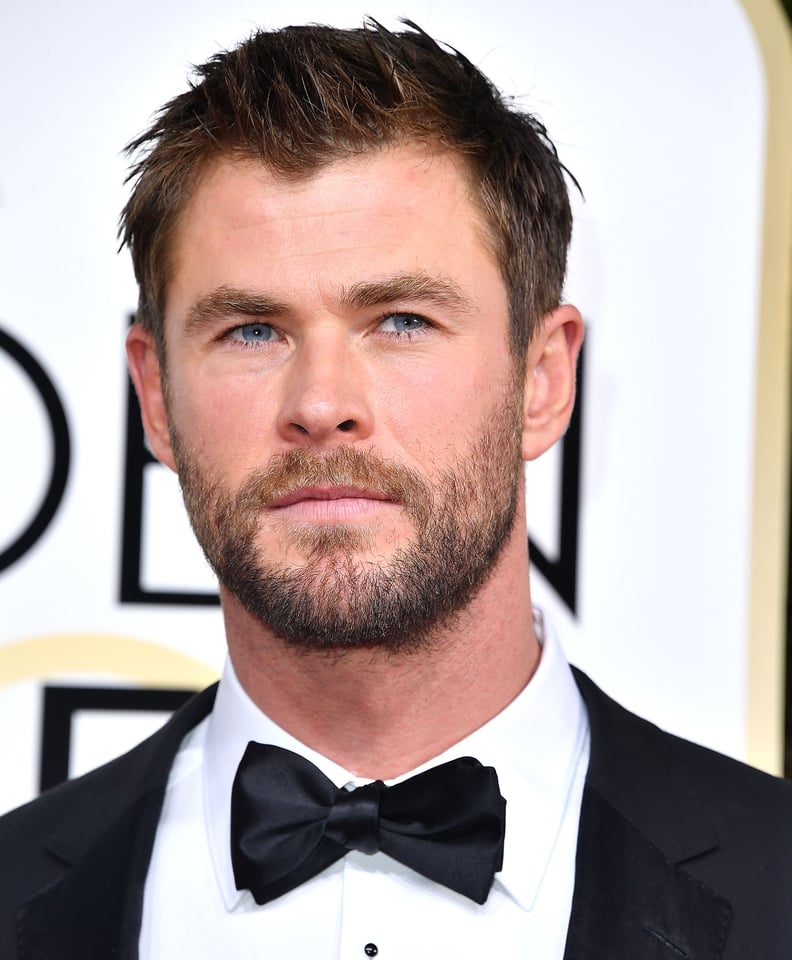 Grooming Secrets From the Avengers Set
"[Robert] Downey [Jr.] has a whole lot of great vitamins, herbal teas, and health tips that he told me about one time. And he looks incredible for his age . . . doesn't seem to age, actually. But apart from that, we didn't often — as the Avengers — sit around and talk about beauty advice."