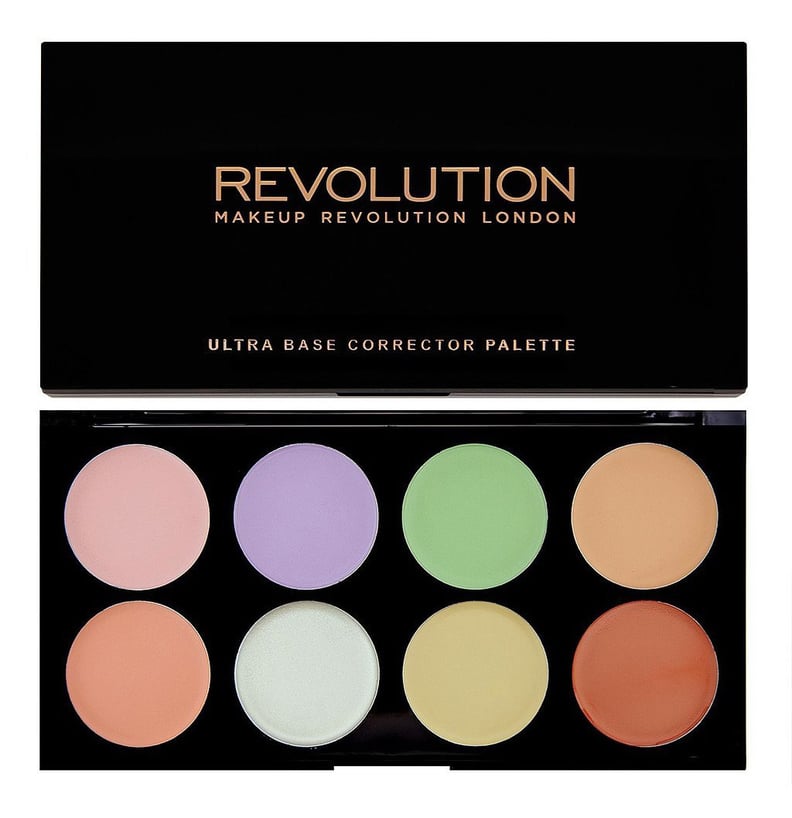 As POPSUGAR editors, we independently select and write about stuff we love and think you'll like too. If you buy a product we have recommended, we may receive affiliate commission, which in turn supports our work.
By now, you have probably heard of color-correction makeup: a technique of using different shades to even out the pigments in your skin. The result is a smooth, even, and overall gorgeous complexion — the kind you see on celebrities or Instagram stars. And while we can all appreciate the flawless look that color correcting helps to achieve, it can a bit intimidating to try. Perhaps you take one look at a palette of bright, pigmented greens, blues, and reds, and think: you want me to put that all over my face? It does take research to know to blend, contour, and conceal to make this application work for you. That's where these YouTube tutorials come in. Since the process of color correcting relies heavily on knowing where to place the different colors, it helps to first view someone else doing it correctly. So keep reading to discover the secret trick to looking like you actually got sleep last night!
City Color's Color-Correction First Impressions + Demo
This video focuses on the color correction palette from City Color ($8), which features four sticks of cream makeup in lipstick form, one each in yellow, purple, green, and orange. Alexisjayda's test run is incredibly helpful for beginners, as it is also her first attempt. It helps us get a realistic feel of what another newbie might get out of this process.
How to Use the NYX Color Correcting Palette
ModaMob takes a stab at the six-shade NYX concealer palette ($12), a product that's inexpensive and, thus, ideal for those feeling noncommittal about a more hefty investment. The duo does a great job of both breaking down the use of each color and demonstrating it on the model's face.
Top Tips For Colour Correcting
YouTube makeup maven pixiwoo covers everything from the basics to more advanced techniques in this long tutorial. Pay special attention to the part around 9:30, when she busts out the color wheel to help even the most novice color corrector understand how to achieve success in super basic and easy-to-understand terms.
Xtreme Color Correct, Highlight, and Contour
This tutorial is geared more towards those already comfortable with basic color correcting, highlighting, and contouring, as belladelune demonstrates a heavy and complex full-coverage look. Though maybe not appropriate for every day, her tutorial is ideal for a night out or other occasion where you want to give your makeup a little extra drama.
Foundation Routine For Acne Scars With Color Correcting
The stunning Vivian Mivu shows off her incredible before-and-after acne scar coverage routine — including all of the steps in between. Though she only uses a peachy-orange tone instead of a larger range of shades, the video's important enough based on its application of color correcting as a way to covering problematic skin issues.
Easy All-Over Color Correction, Highlight, and Contouring For Beginners
The supereasy "blanket" color correction method, displayed here by Destiny Godley, is ideal for those with more full-faced discoloration instead of more sporadic issues that can be fixed with spot coverage and color correction.
Makeup Color Correction
Kalei Lagunero makes color correcting seem easy and unintimidating, so her video is crucial for those just starting to dabble in it. She emphasizes the importance of finding a product that works well for your specific skin tone, and is refreshingly open about struggling with other palettes in the past.
Top Drugstore Color Correctors
This super thorough video from Zabrena is a combination of a straight vlog and a tutorial, as she explains the various elements, and then demonstrates each step. She also offers an in-depth rundown of her favorite tried-and-true drugstore products to keep the makeup technique within your budget.
How to Color Correct and Conceal
If you've ever wondered about the secrets behind the flawless makeup on Instagram, check out at this video from Kayla Hagey. In response to questions about her makeup regimen via Instagram, Kayla put together this informative demonstration of her color-correcting and foundation routine.
How to: Use NYX Color-Correcting Concealer Palette
In this video, Tiffany Leeanne proves that the multi-hued technique doesn't need to be reserved for heavier, more dramatic finished faces. Her look is light, bright, and fresh — ideal for any occasion or time of day.
Erase Your Dark Circles With Makeup
For those with purple-blue under-eye circles, this video from Carli Bybel is essential. This popular YouTuber focuses on just one element of color correction, but if you're struggling with these dark spots and you don't have other spots of discoloration, then this may be all you need.
Makeup Artist Series: Color Correction and Shade Matching
Ren Monteloyola explains the background info on what people did before color correcting became a buzz word. She marries the history with the product application information of today. She also talks through the methods of shade matching, an important element of ensuring your makeup doesn't catch eyes for the wrong reasons.