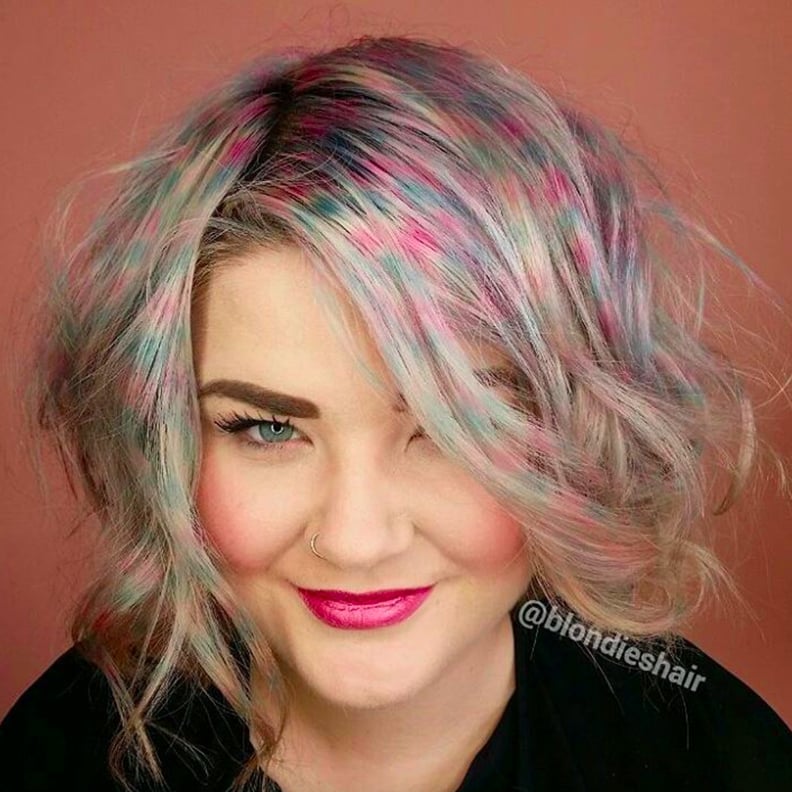 It's a fiesta for your follicles. A rager for your roots. A bash for your blowout. It's confetti hair, the newest wild hair color trend to take over our Instagram feeds, and you're gonna want to try it ASAP. Unlike the subtle elegance of pearl hair or the over-the-top trendiness that was Unicorn Frappuccino hair, confetti hair is a balance between eye-catching rainbow colors and wearable, everyday dye looks with a bit of optical illusion thrown into the mix, naturally.
Blondies of Melbourne salon owner Karen Lewis, who created the style, told Cosmopolitan that she chose to name it after confetti because "it's soft, pretty, happy, and it imparts little spots of pure joy on the hair like confetti!" We're inclined to agree; the style is undeniably fun.
The Australian colorist also shared instructions for how to create the style at home, and it actually seems relatively simple: paint stripes of color onto bleached hair, alternating colors between strands of hair. (Check out the full explanation here!) The finished effect is a playful, peppered, oh-so-trippy rainbow look.
Read on for photos of the colorful trend, then check out more wild beauty trends to inspire your routine.
Blondies of Melbourne has mastered the pixelated confetti dye style.
However, different iterations of confetti hair look incredible, too! Check out examples ahead.