How I Finally Cleared Up My Skin With 3 Simple Steps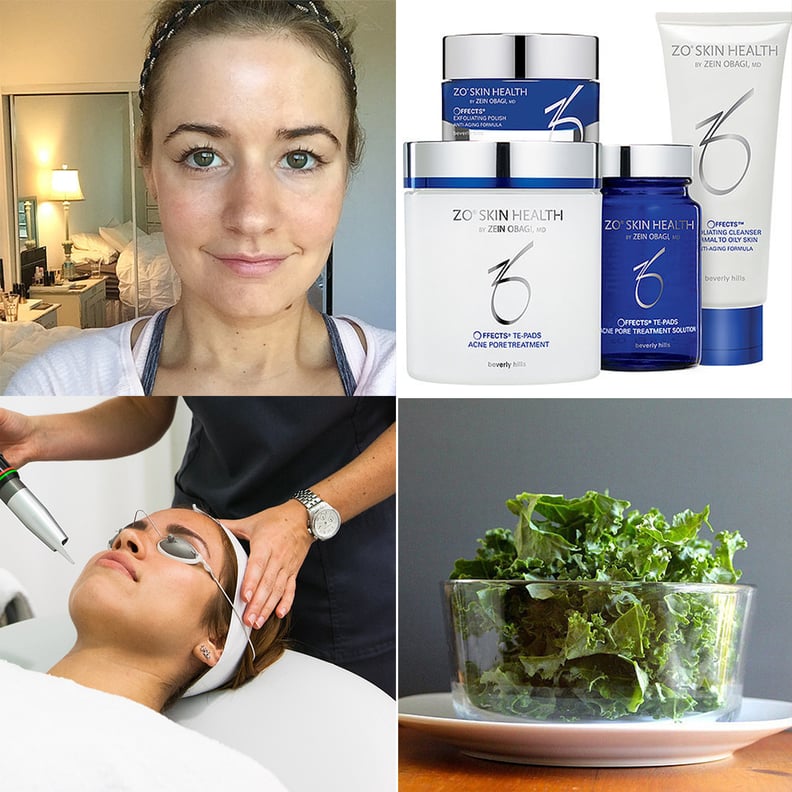 As POPSUGAR editors, we independently select and write about stuff we love and think you'll like too. If you buy a product we have recommended, we may receive affiliate commission, which in turn supports our work.
This post was originally published March 2015.
Hi, I'm Kirbie. I'm 28, and I have an obsession with skin care.
It all dates back to when I picked up my first magazine at the tender age of 11. These miracle monthlies gave me secrets from the stars! So-and-so uses night cream? Off I went to the drugstore to pick up Neutrogena's Copper Eye Cream. (Yes, at 12.) And ever since I read that Hilary Duff used Mario Badescu's Rose Water Facial Spray, I made sure I had one on me at all times. (One day, I vow to ask her if her affinity for rose water is true or not.)
That being said, I'm very aware of my changing skin. I've complained about my experience with melasma — a result of my birth control. I've talked about my facial hair and the surprising way I get rid of it. And I definitely dealt with a severe case of adult acne after getting off the pill. I am more concerned now with the texture, clarity, and strength of my skin — yes, thin skin isn't good — and I found that, even as a beauty reporter, I wasn't able to nail down the perfect formula.
That's why I feel compelled to share with everyone how I got my skin to a good place. Yes, I never had deep, cystic acne, but I empathize with those of you who experience it, given how I feel with my own breakouts. I believe making these changes really have had an amazing effect on my skin. So, what's the process?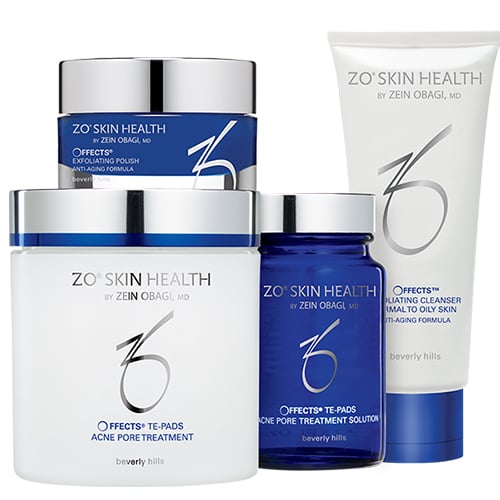 Kept My Product Family Consistent
I know that you can plateau with skin care, just like you can plateau with the same workout. But mixing and matching isn't ideal, either. As a beauty reporter, I'm constantly testing out new products on a daily basis — something I believe was taking its toll on my skin.
Skin care products are my weakness, so it's hard not to test a few different products at a time. It's like a science experiment for my skin! But last month, I decided to forgo testing new skin care products for a few weeks and stuck to one line of skin care. I noticed almost immediately that my skin was clearer, was smoother, and had a glow to it. Sure, the integrity of these particular products is strong, but using a cleanser, toner pads, and moisturizer within that family helped each ingredient to work to the best of its ability.
By avoiding mixing and matching products and sticking to one skin care family, I was able to get my oily skin under control and clarify my forehead and cheeks. I use a regimen from ZO Skin Health by Dr. Zein Obagi. My melasma has reduced, as well as my oil production. I use his range in the morning and evening, swapping products for what I'm trying to target but staying within his product family.
It's been about six weeks since I started Obagi's regimen; I've started testing other skin care items, but I introduce only one into my routine each time. I love the results I've experienced so far. But I'm eager to try out Rodial's Super Acids range next!
The products I use on a daily basis include:
A.M.
Offects Exfoliating Polish helps slough off dead skin.
TE-Pads Acne Pore Treatment keeps oil at bay.
Ossential Daily Power Defense moisturizes my skin throughout the day.
C-Bright 10% Vitamin C Serum helps with my melasma.
Oclipse Sunscreen + Primer SPF 30 protects my skin as well as blurs any imperfections.
P.M.
Offects Hydrating Cleanser is gentle but gets rid of dirt and residue.
Melamin Skin Bleaching and Correcting Creme works to take away the pigment of my dark spots.
Ommerse Renewal Creme keeps my skin hydrated overnight.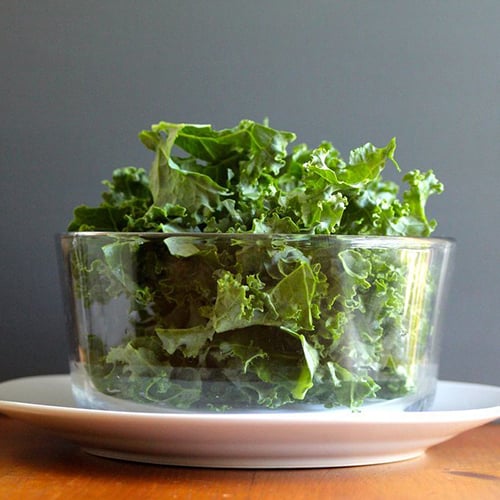 Cut Dairy and Sugar
I'm sure you're all rolling your eyes here. "Oh, you just cut out DAIRY? Let me hop on that! Not." I know. I knooooow. It was hard, but I needed something to jump-start my system, and I wanted to change my eating habits, too.
I am a sugar fiend, and I love cheese and lattes. Going to Starbucks puts me in a good mood. So giving the Whole30 diet a go and giving up my daily soy chai latte was a struggle. (Yes, soy is prohibited on this plan.) I wanted to be challenged, and boy, it was a doozy the first few days. Sugar is literally in my employer's name, so I couldn't leave any snack or meal unplanned; it forced me to prep my meals at the beginning of the week.
You realize how much sugar you actually consume when you're trying to avoid it. Sugar is in EVERYTHING, mind you. Even products you might not expect, like some ground turkey. Some dairy products, like ghee, are allowed on this plan; coconut milk and leafy greens became my best friends. I was able to indulge in fruit, but my daily intake of coffee was limited to a morning cold brew mixed with water.
The first three days were hell — I felt like I could be on an episode of Intervention. But after you get through the detox, you feel better and you feel empowered. My eating habits weren't the only thing that was changing! My waistline was slimmer, and my skin was glowing, too.
Because I ate so much sugar, I had inflamed, red skin that some doctors had associated with mild rosacea. But after cutting back on my sugar intake, the redness dissipated.
I'm not on the Whole30 currently, but I still replace my two cups of coffee with tea and try to maintain a stricter stance on added sugar.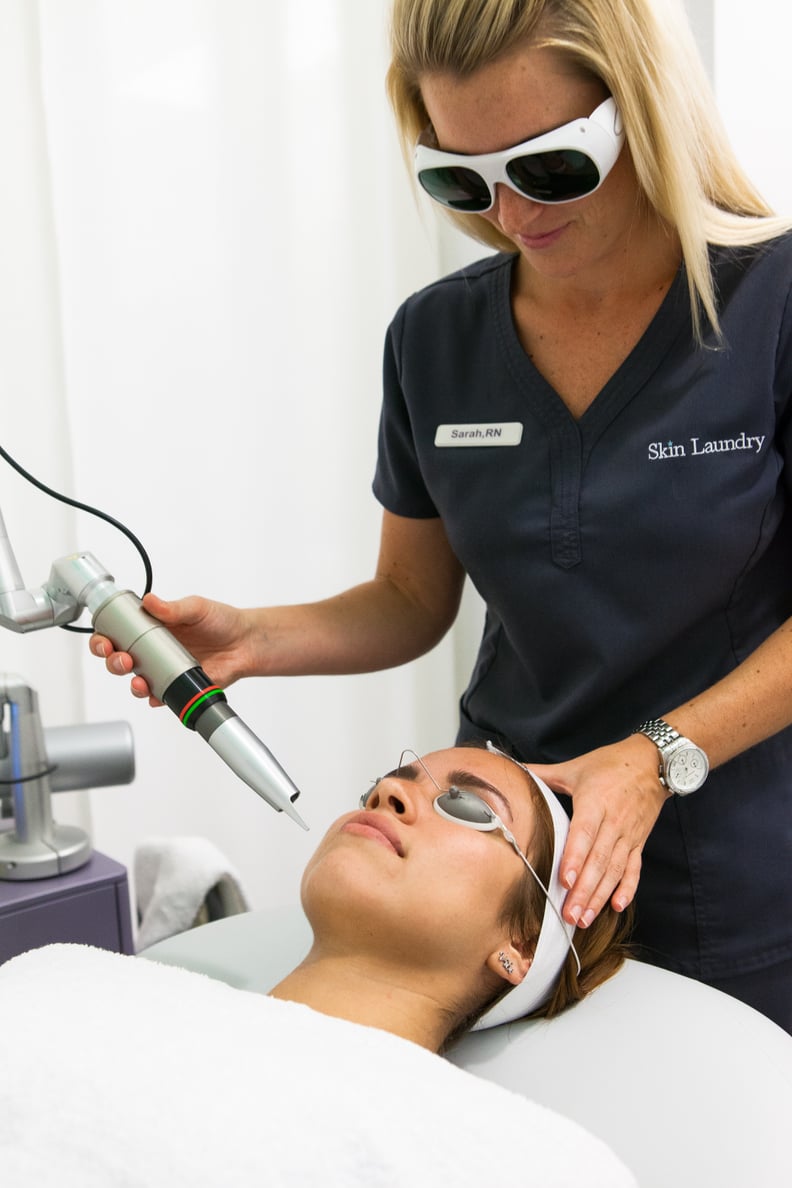 Consistent Facials
I know when celebrities insist their clear skin is attributed to "living a healthy lifestyle" that they must consider weekly facials a part of bettering their health. But hey, their skin does look amazing — and I decided that if I was determined to get clearer, even-toned skin, I would stop at nothing to get there.
Thing is, I could go a few months without a facial and not think twice about it. But Skin Laundry, a service that takes 10 minutes to cleanse and clarify your skin, is roughly two blocks away from my apartment, and since it takes about as long as getting a coffee at Starbucks during morning rush hour, I had plenty of time to accommodate.
I wrote about my first experience with Skin Laundry a few months back, but I didn't go religiously — maybe once every few months. But just like working out, the more you go, the better. I started getting these treatments once a week about three weeks into my new skin care regimen. (Individual, nonmember facials in LA start at $50; $65 in New York.) None of the products I use interfered with my skin's sensitivity to the laser. The cool thing about this laser and light treatment is that you can go as early as two days after your treatment — there's barely any downtime. It's a lunchtime facial that not only kills acne-causing bacteria, but also firms the skin and helps with issues like redness, melasma, and other dark spots. I am serious about evening out my skin tone, so for me, this is something I'm willing to invest in. Some girls want shoes; I want an even skin tone.
The laser doesn't hurt at all, and after each treatment, my skin looks tight and glowing. Plus, my melasma spots on my cheeks and forehead have been removed almost completely!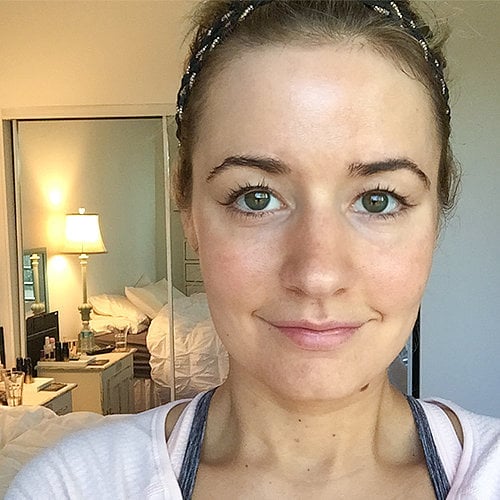 Makeup Free
Pardon the selfie, but I don't have a personal photographer to capture these shots. This is me: no filter, no makeup, right after an early a.m. workout. You can still see a little melasma on my forehead, but the clarity of my skin has improved in a few weeks, just from sticking to a regimen and being proactive about preserving my skin. As usual, I still slather on SPF 30 like it's my job, and I even got inspired to keep some sunblock on hand in my car after Khloé Kardashian told me she does the same.
While getting weekly laser treatments has improved my skin and cleared up my melasma, I have to say that sticking with one family of products and limiting my sugar and dairy intake made the most drastic change. My skin looked and felt better; I was more energized and happy, too.