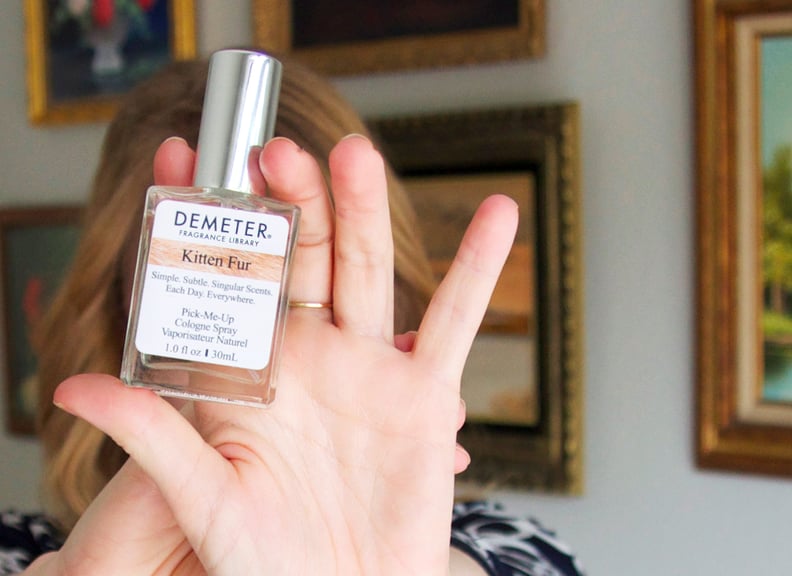 Wendy Gould
Wendy Gould
It's not every day you come across a perfume that's meant to smell like one of the cutest creatures in the entire galaxy, but Demeter has done it with the newest addition to its fragrance library. Meet Kitten Fur, a single-note cologne spray — or should we say purrrfume (sorry, not sorry) — that is a long time coming for the brand.
"In addition to being a most requested customer scent, Kitten Fur took me over 15 years to achieve because the materials that are approved for use on the skin are generally inadequate to achieve a representation of complex organic molecules," Mark Crames, Demeter's CEO and perfumer, told POPSUGAR. "At the end of the day, it was a happy laboratory accident that gave us this fragrance! I was targeting something else, but what I got was very close to Kitten Fur. I made a few modifications, and voila!"
I happen to be an avid cat-lover and the proud owner of two fur babes, so when I caught wind of the Kitten Fur "Pick Me Up" spray, I knew I wanted to make room for it in my already-overstocked perfume collection. I know what you're thinking, though: "Does it actually smell like kittens?" and "How in the world do you even capture such an abstract scent?" You're about to find out!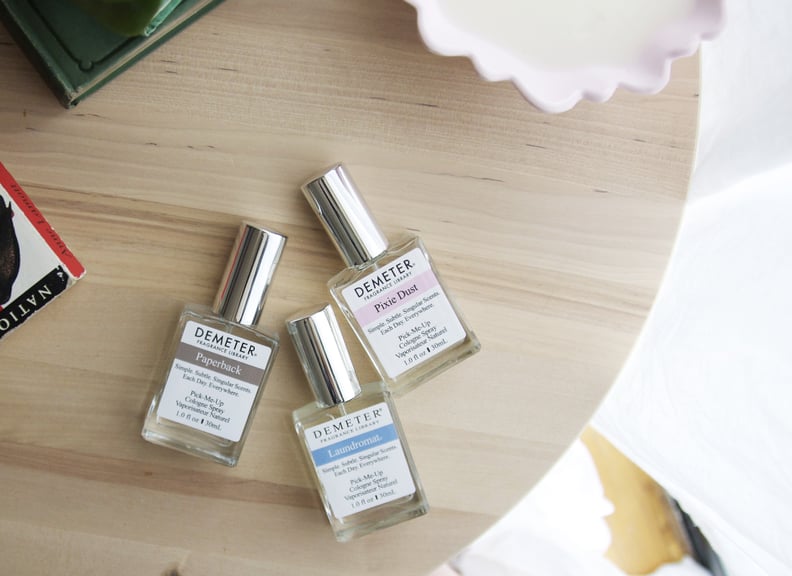 About the Brand
Let's start with a little background. The first time I came across Demeter was back in the 2000s while browsing online beauty and skincare forums (some of which still exist today, including Makeup Alley). I was instantly intrigued by the brand's collection, which offered some truly bizarre, very unique "single note" scents.
What I mean by "single note" is that the fragrances don't have a top, middle, or base, but rather exist as one note. Today the brand boasts over 300 single-note fragrances, ranging from side-eye odd (Funeral Home, Glue) to nostalgia-inducing (Paperback, Laundromat) to positively intriguing (Pixie Dust, Pizza, Moonbeam).
For the record, Pixie Dust smells like sugar and happiness, Paperback smells like a well-loved book, and Laundromat smells like warm, just-from-the-dryer towels. Let's see how Kitten Fur does!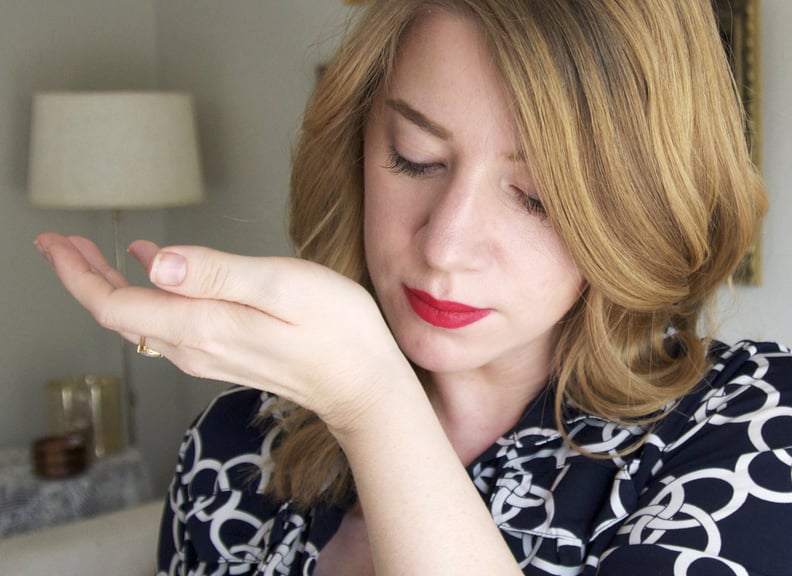 What It Smells Like to Me
As mentioned, Kitten Fur is a brand-new fragrance from Demeter, and I was determined to put it to the test by wearing it myself. At first spritz, I immediately got this feeling of being safe and at ease. It's a very girlie scent — not sweet, but powdery and musky.
I wouldn't say, outright, that it smells like a kitten, but it does evoke the same kind of feeling you get when picking up your dear feline or snuggling with her on the couch.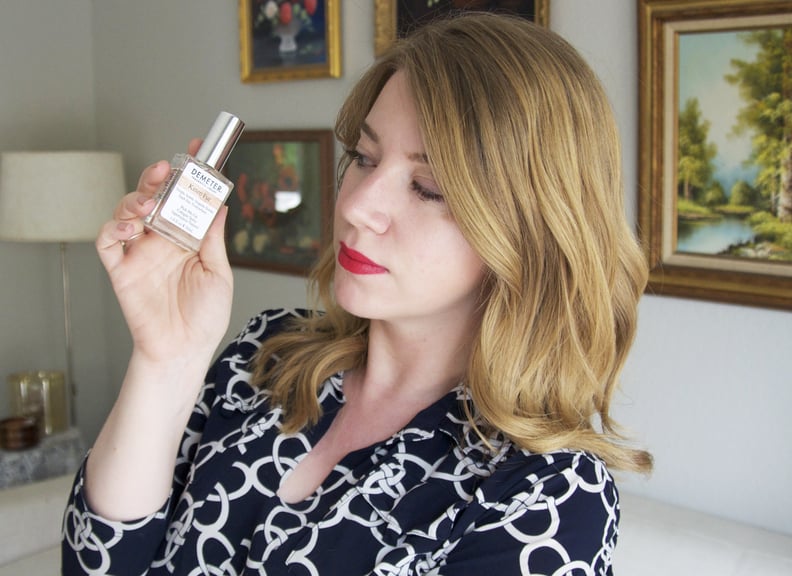 What It Smells Like to Others
I wanted to get some other opinions, so I blind-tested some friends. One person said that it made him feel happy and calm and like he "was around a fire, but not that it smelled like a fire." Maybe you can interpret that as feeling warm and cozy? He also said it had notes of that new-car smell — fresh and leathery. Another person described Kitten Fur as very clean-smelling, sort of like freshly shampooed hair, and someone else said it smelled like "syrup and baby powder."
On the Demeter website, one reviewer wrote, "It does not smell exactly like my cat after he's been in the sun, which is my favorite cat smell, but it is clean and sunshiny like his coat after sunbathing." Another wrote, "I have never smelled something so comforting in my life. Not too feminine, not too manly either. It's the perfect scent for someone like me who can't decide."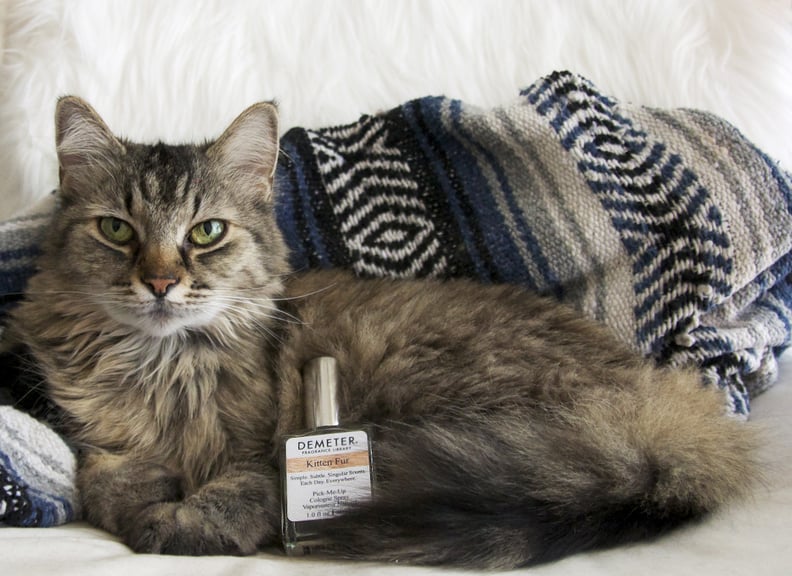 The Bottom Line
I don't think anyone would give your arm a whiff and say, "Wow! That smells exactly like a snuggly kitten!" when you're wearing this perfume. However, what Demeter has managed to capture is that warm and fuzzy, endorphin-boosting, "I'm safe" feeling that burrowing your head in a kitty belly evokes.