As POPSUGAR editors, we independently select and write about stuff we love and think you'll like too. If you buy a product we have recommended, we may receive affiliate commission, which in turn supports our work.
Since I was a wee child spending Summer watching daytime TV, I have been fascinated by infomercial products. I love to watch contraptions slice vegetables with ease, viscous liquids overpower stains, and tiny grills fry meats to greasy perfection. But my favorite products of all were the beauty ones. Among those, one item reigned supreme: the Turbie Twist.
While you dry your body with a big ol' bulky towel, the lightweight, terrycloth Turbie Twist was developed solely for your hair. The ad promised so much! Turbie Twist would stay on your head if you're sunning by the pool, upside-down, probably even if you're on a roller-coaster. It protects your hair from the dangerous rays of the sun, and you could even put a deep conditioning treatment on while you're getting dressed; Turbie Twist would ensure that none of that gunk gets on your clothes. It's dryer-safe, and as the ad promised, a great gift idea.
To my disappointment, no one ever gifted me a Turbie Twist. Years later, I bought a simple, blue-and-white polka dot one on a whim at a drugstore for $8. I was emotionally prepared for it to be something that I used once, then never again. But guess what?
I f*cking love it.
After I shower, I usually tousle my hair with a regular towel before securing on my Turbie Twist. Sadly, the product doesn't magically dry my hair. (I always imagined I would take it off and my hair would tumble out, perfectly styled like in an Herbal Essences ad.) What it does do is lightly dry my hair, and keep it perfectly in place while I put lotion on, go through my skin care routine, apply makeup, and get dressed. But, as they say in the world of infomercials, that's not all!
I use the Turbie Twist all the time, sometimes when my hair isn't even wet. For a while, my hair wasn't long enough to put into a ponytail, and I would put my handy Turbie on while making dinner. I've left it on for hours while I watch TV after a shower. I've slept in it to prevent my pillow from getting damp. I put it on whenever I take a bath. I brought it with me on my honeymoon. When I moved to a new state, I made sure that I knew where my Turbie Twist was at all times.
See this? This is the face of a satisfied customer.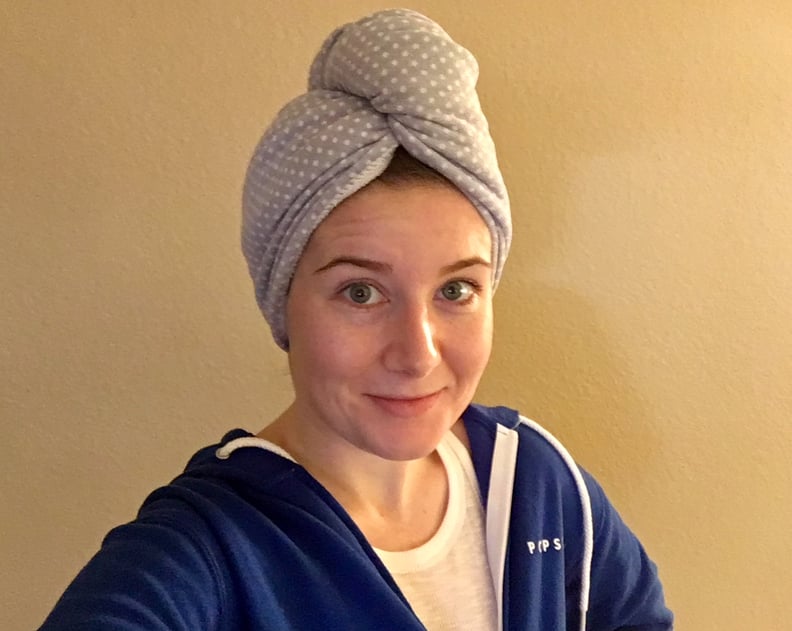 I can't tell you what to do with your $8. But if I could, I'd tell you to drive down to the pharmacy and pick up one of these babies. You won't regret it.