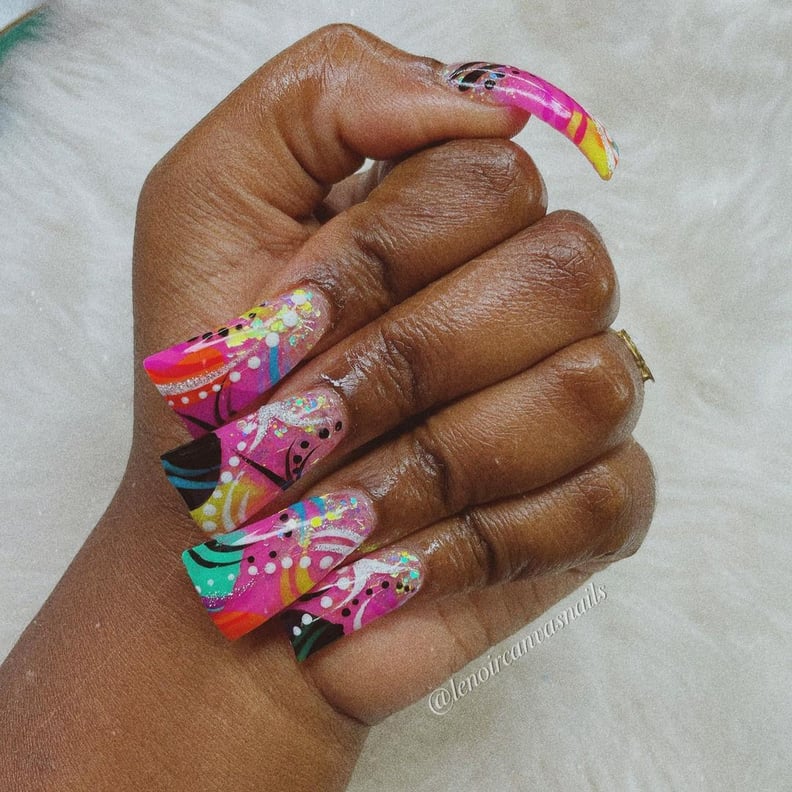 The nail community has a real flair for dazzling creations, but their talent extends past just trendy nail-art designs. It's more popular than ever to play with the shape of your nails — not just the color of the polish and design on top of them. From classics like square and oval tips to more uncommon shapes like edge, ballerina, and coffin, there are so many different nail styles awaiting your consideration for your next salon appointment, including one that's gaining a lot of attention on TikTok (and therefore, a lot of search on Google) recently: duck nails.
Also known as flared nails, this manicure style consists of an acrylic with a tip that is significantly broader than the width of the natural nail. The finished effect looks quite similar to the webbed foot of a duck, hence the name. While duck nails aren't by any means new, they're gaining new fans thanks to Gen Z, who've taken to the video-sharing app to show off their Y2K-reminiscent tips.
But if 2000s-inspired designs aren't your thing, the manicure looks great with all matters of nail art. Some of our favorite trends to wear with duck nails are the classic french manicure, water-droplet designs, glitter finishes, and Vivienne Westwood nail art.
If you're obsessed with duck nails, check out more examples of the underrated nail shape ahead.
Glitter Duck Nails
How cute are these glitter duck nails that have both bow detailing and a french manicure twist?
Milk-Bath Duck Nails
Milk-bath nails are still all the rage, and we love the way this set looks with the added gem stones.
Modern French Tip Duck Nails
Why stick with a regular french tip when you can add a fun design on top?
Pink Duck Nails
You can't go wrong with a pink manicure, but the nail-art on these makes them even better.
Ombré Duck Nails
Ombrê is always a classic nail choice.
Hello Kitty Duck Nails
Could these Hello Kitty duck nails be any cuter?
Colorful Duck Nails
These colorful duck nails are stunning.
Blue Glitter Duck Nails
If you want a step up from a plain color, why not add glitter on top?
Cheetah Print Duck Nails
We love the way the cheetah print makes the accent nails pop.
Blue Duck Nails
These blue duck nails look like the perfect take on mermaid nails
Pink French Duck Nails
Why stick with just one trend when you can do multiple? We love the french and glitter design on this manicure.
Pink French Duck Nails
You can never go wrong with a classic pink french manicure.
Marble Duck Nails
Spice up your manicure with a fun accent nail like this marble duck nail.
Neon Duck Nails
Brighten up your mood and your manicure with neon duck nails like these.