How to Detox Your Skin Like a Pro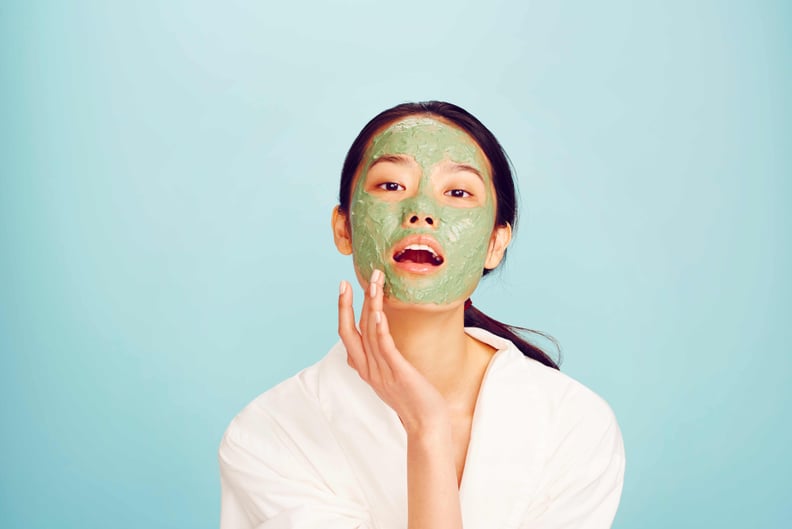 POPSUGAR Photography | Maria del Rio
POPSUGAR Photography | Maria del Rio
Every editorial product is independently selected by our editors. If you buy something through our links, we may earn commission.
It's not exactly pleasant to think about, but every day, our faces are bombarded with toxins and impurities. This pollution may be the culprit behind your most frustrating skin problems. Toxins can cause unsightly blackheads, below-the-skin bumps that seem like they never go away, and other blemishes. They lower our skin's ability to regenerate and turn over new skin cells, making your complexion look dull, tired, and dry. And finally, they also accelerate the aging process. In a word: eek!
If you're experiencing any of these issues, it might be time to take a few steps toward seriously detoxifying your skin. We consulted with pros to learn the best — and most affordable — ways to purify your complexion so you'll always look healthy and radiant. Read on!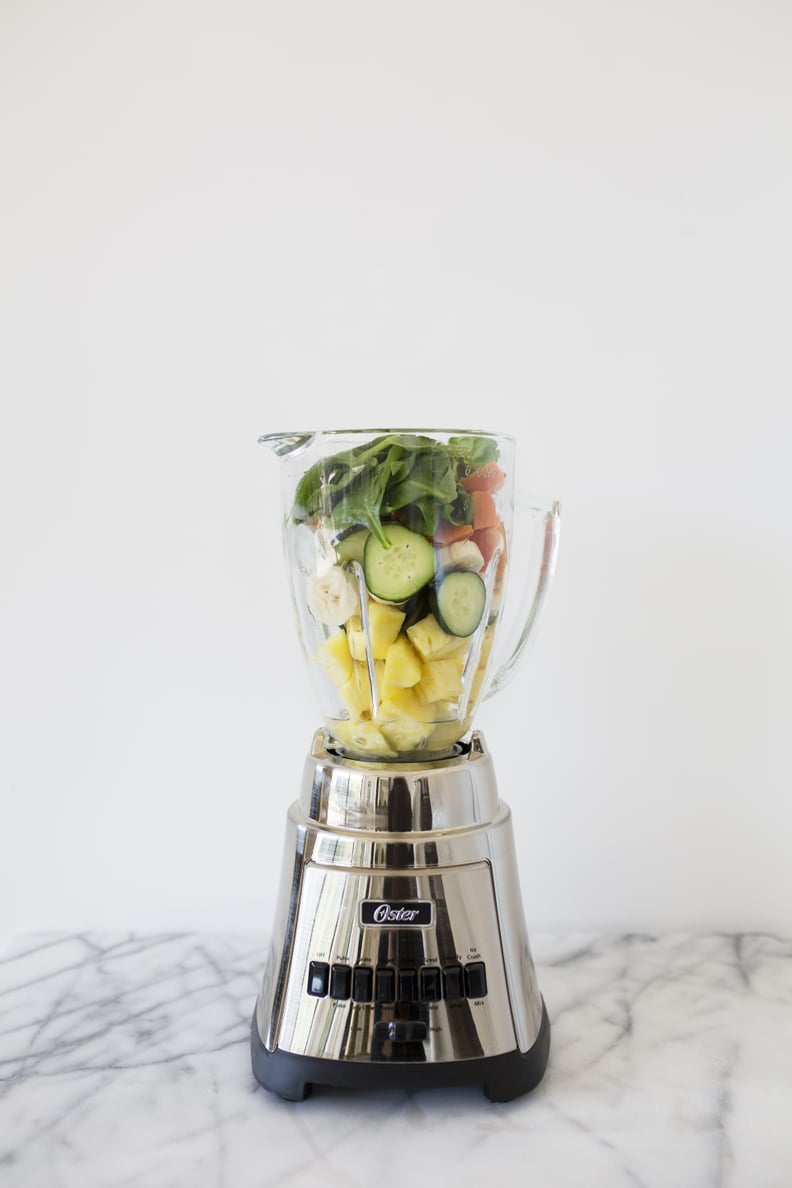 Omega-3 Fatty Acids For Your Face
The old adage "you are what you eat" doesn't just apply to your overall health. Science has continually proven that everything we ingest also has an effect on the biggest organ in our bodies, our skin. This means our food choices actually play a large role in what we see in the mirror every day.
If you want to improve your skin's natural hydration and suppleness, and promote healthy oil production, cosmetic dermatologist Christopher O'Connell, MD, says a key dietary ingredient to add to your diet is omega-3 fatty acids. Unfortunately, our bodies aren't capable of producing them on their own, so we have to make the effort to add them to our daily diet to reap the skin care rewards.
"Omega-3 fatty acids can be found in wild-caught salmon and veggies like spinach," he said. They can also be found in healthy snacks like walnuts and you can add them to smoothies, yogurt, or juices in the form of flax seeds. The recommended daily dose can range from 500 to 1,000 mg. For reference, one can of tuna fish provides just over 500 mg. Omega-3 supplements can also help achieve your skin care goals, but you should talk to your doctor before adding them to your routine.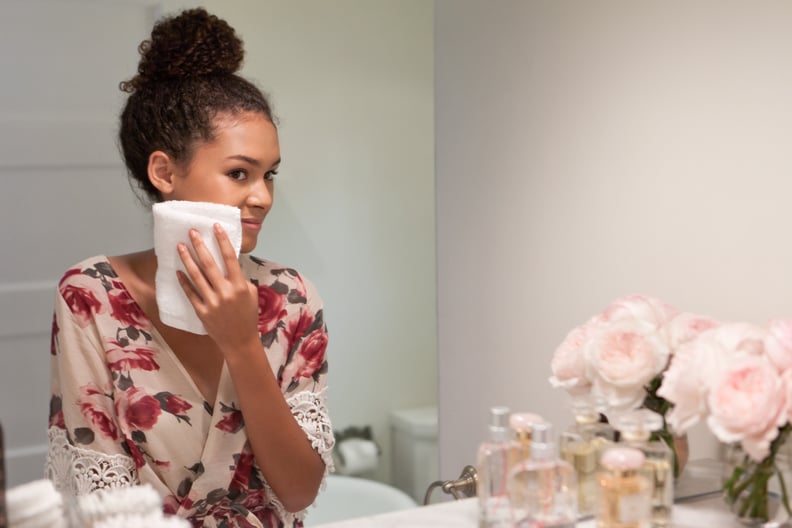 Aromatherapy For Your Skin
Celebrity makeup artist Tasha Brown said another great tip for detoxing tired, stressed skin is to steam your face with the help of essential oils.
"I like to prep the skin with a hot towel with a few drops of eucalyptus and peppermint oil to soothe and wake up skin," she explained. The effect of the steam along with the oils will open up pores and loosen debris and toxins they may be holding, making it easier to gently cleanse them away.
You can employ this method at night to aid in your skin's ability to absorb products for about five to 10 minutes before using your face wash, and you can do the same in the a.m. to achieve the perfect canvas for flawless makeup application. Just keep in mind that skin exposed to hot water too often can lead to dryness, so be sure to alternate your steaming days so you don't overdo it.
If your skin is sensitive or prone to dryness, there's an alternative way to steam. First, heat five cups of water. After it cools a bit, pour it into a bowl and add a few drops of your preferred oils (rose and jasmine are ideal when it comes to steaming sensitive skin). Place your head a few inches above the bowl, drape yourself with a towel, and let the steam work its magic.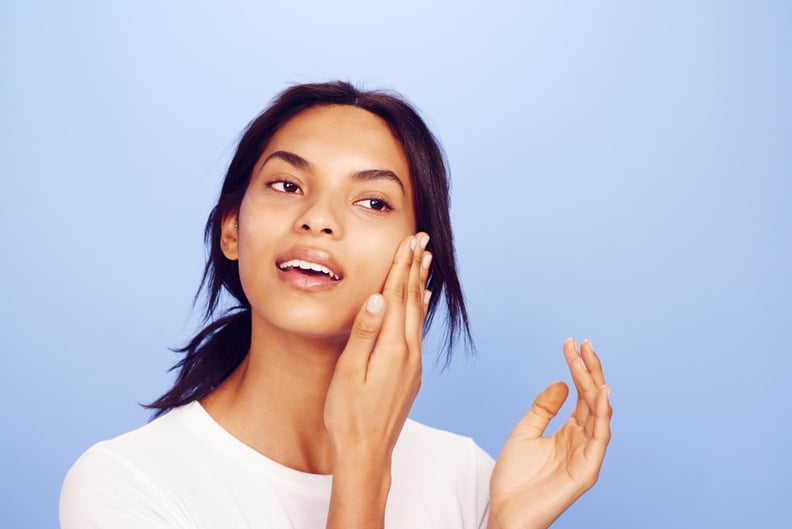 Stick to Your Routine
It's easy to stray from our usual skin care routines when our calendars are packed to the brim with social events and long work hours. Sometimes, it's just way easier (and much more enticing) to slip into bed than to wash the day away and apply your favorite potions. You might be able to get away with it occasionally, but if you make it a habit, your skin will soon be riddled with impurities and unwanted toxins.
To reset skin and ease back into your routine, RealSelf contributor Dr. Sejal Shah said you should start with the regular use of a gentle cleanser. "I often find double cleansing helpful," she added. Her suggestions included an oil-based cleanser to help melt off makeup residue, like Boscia's Makeup Breakup Cool Cleansing Oil ($32) or Tatcha's One Step Camellia Cleansing Oil ($48).
To ensure your face is completely clean, apply your favorite cleanser to dry skin in circular motions and wait for a minute or two before gently washing away with warm water. This downtime allows the cleanser to break down dirt, unwanted oil, and makeup so that it's easier to actually remove instead of just moving it around your face.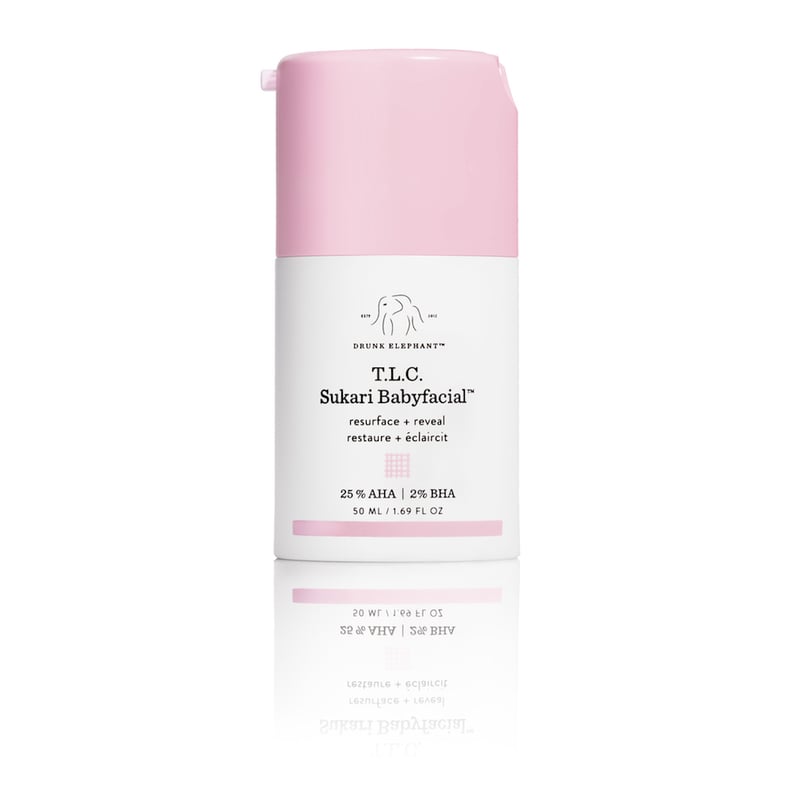 The Perks of At-Home Peels
Scrubs may tout the benefit of being able to rid skin of toxins and impurities, but many experts agree that scrubs are far too harsh for all skin types, especially with regular use. A scrub may feel more satisfying in the moment, but your skin will show much bigger signs of improvement with the regular use of at-home peels in the long run.
"The benefits of peels include improvements in texture, acne, sun damage, wrinkles, and hyperpigmentation," Dr. O'Connell said. He also noted that improvements are gradual and the degree of improvement varies with the strength and depth of the peel, so be patient! No matter which at-home peel you choose, they essentially work by utilizing different types of acids in order to get rid of dead cells and promote the turnover of new, fresh cells.
There are peels for every skin type, so if you have easily irritated, dry, or sensitive skin, you aren't necessarily left out of the at-home peel game. For example, Drunk Elephant's gentle T.L.C. Sukari Babyfacial ($80) is gentle enough to be used once a week for 20 minutes. It utilizes the popular exfoliant glycolic acid (an ingredient found in most at-home peels), acne-fighting salicylic acid, and soothing matcha tea to get rid of built-up cells and leave skin with a fresh, dewy complexion.
If the idea of more frequent use tickles your fancy, Dr. Dennis Gross's Alpha Beta Ultra Gentle Daily Peel For Sensitive Skin ($88) is a gentle solution for enlarged pores, fine lines, and uneven skin tone and texture. Dr. Gross was the original innovator behind daily at-home peels, so he knows a thing or two about getting his formulas just right. This two-step product takes just a couple of minutes a day and delivers results without inflaming or drying out sensitive skin.
Should you have normal to oily skin, start with some of the higher-strength versions Dr. O'Connell referred to. Some of my favorites include June Jacobs's all-natural Intensive Age Defying Peel Pads ($75) and Anti-Aging Blemish Control Peel Pads ($48). I also love M-61's antioxidant-rich Power Glow Peels ($28), and Skin Authority's gluten- and cruelty-free Instant Perfection Peel Pads ($49). Each brings different variations of ingredients to the table and addresses different concerns, so read up on what benefits they provide before making your pick.
Be aware that glycolic acid makes skin photosensitive, so it's essential to stay diligent when it comes to using sunscreen in tandem with whichever at-home peel you choose.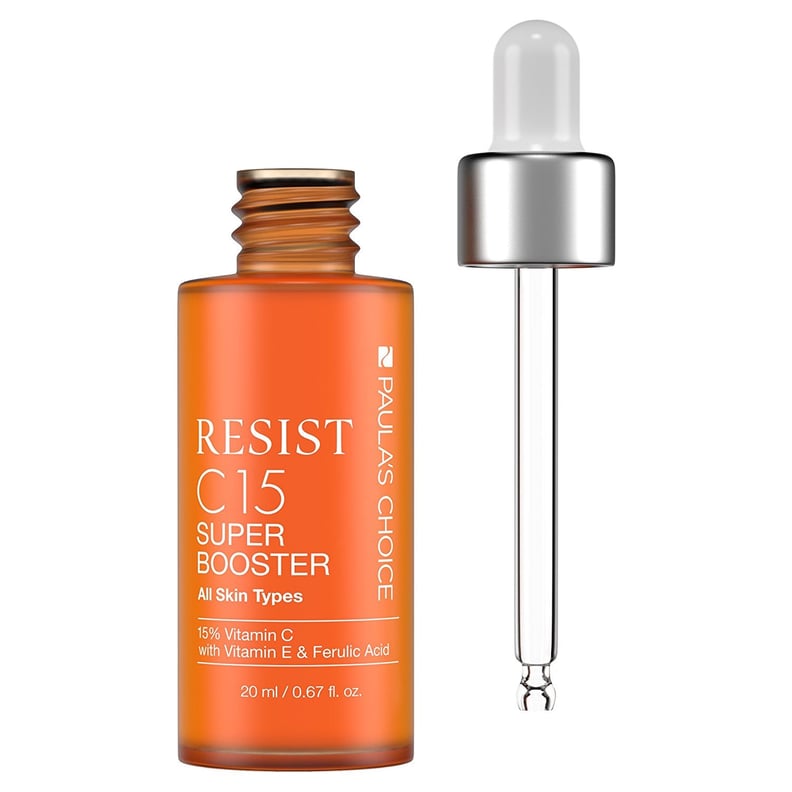 Protect Your Skin With Vitamin C
Antioxidants can be used to protect against all the pollution and toxins your skin encounters each day while brightening your complexion and fighting fine lines. Vitamin C is considered one of the most effective antioxidants in the beauty world.
This powerhouse ingredient can easily be added to your routine in the form of a booster like Paula's Choice Resist C15 Super Booster ($49). Its formula contains 15 percent vitamin C along with ferulic acid and vitamin E to fight against toxins, prevent sun damage in tandem with your SPF, and soften fine lines and wrinkles. Just adding a few drops to your morning serum or moisturizer every day will do wonders to protect your skin from harmful pollutants.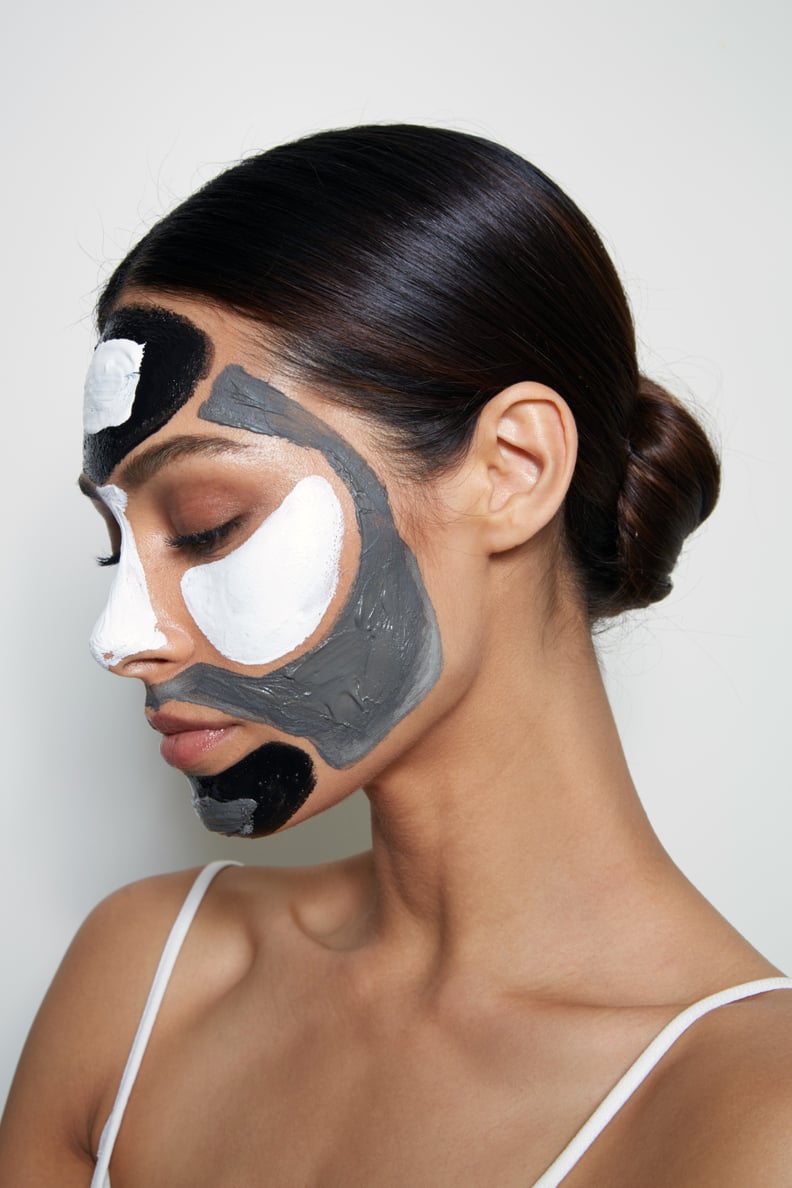 Get Blood Flowing With Salt and Mineral Masks
Although it may sound counterintuitive, sometimes we have to get skin a little dirty to detoxify it.
"Mud treatments can help detoxify skin by restoring pH balance and hydrating the skin and exfoliating," Dr. O'Connell said. Mud from areas like the Dead Sea has high concentrations of minerals and salts such as sodium, magnesium, potassium, chloride, iron, and calcium.
"These high-mineral concentrations can have an antioxidant effect on the skin and improve blood flow," he explained. Utilizing this type of mud in treatments has a long history of use for psoriasis, eczema, and acne. They can also help rejuvenate and improve the quality of aging skin.
Skin care brand Ahava is best known for incorporating active minerals found in Israel's famous Dead Sea. Essentially, using its products is the next best thing to being able to slather on the good stuff straight from the sea itself. The line of masks includes various detoxifying masks like the Time to Clear Purifying Mud Mask ($33) to help remove acne-causing impurities and its Mineral Radiance Instant Detox Mud Mask ($25) to quickly pull toxins from pores, leaving skin visibly refreshed.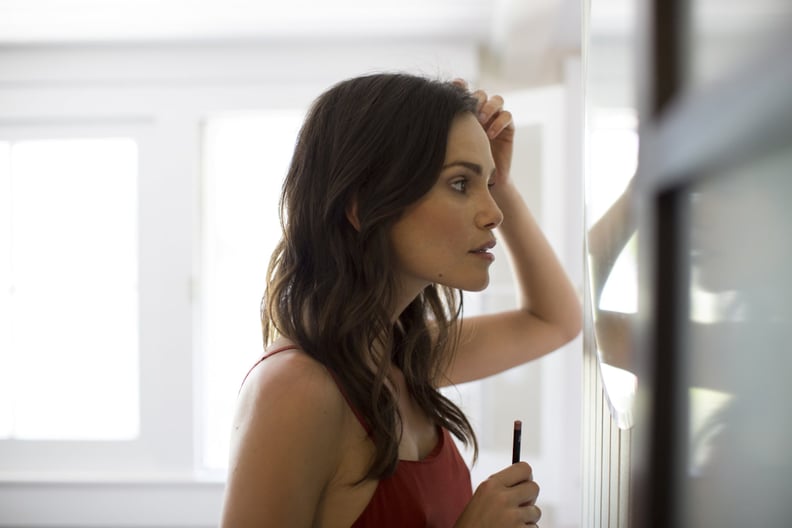 Good Old-Fashioned Extractions
If you've ever looked in the mirror and felt horrified by an onslaught of blackheads, whiteheads, bumps, or blemishes, it might be time to head the spa so a professional can give you a facial complete with extractions. Just remember, as tempting as it is to try to clear out your skin by yourself by picking or squeezing, you won't find one doctor or esthetician that will give this practice a thumbs up. Trying this at home can cause infections to penetrate deeper into the skin, increase the likelihood of scarring, and extend the life of your blemishes.
Hydrafacials are a nonirritating treatment that use special serums to soften and lift away toxins and impurities. This treatment will vary from spa to spa, but to give you an idea of what it entails, I'll share my Hydrafacial experience at Berenice's Beauty Center.
First, Berenice decided that I needed a massive round of extractions to rid my chin of unsightly bumps and whiteheads (which have bothered me for ages) and a whole lot of blackheads around my nose. As you can imagine, my skin was in pretty bad shape and clearly in need of some detoxifying.
Extractions can be somewhat uncomfortable. After all, it's the process of someone removing all the gunk from your pores! Ultimately, though, it's worth it when you look in the mirror and there isn't an impurity in sight.
After my extractions were complete, Berenice applied soothing serums to my face while using a tool with a crystallized head to loosen and pull away all the dead cells from my skin. After that, more serums were gently massaged onto my skin using a tool to ensure they penetrated as deeply as possible to leave my face completely hydrated.
Full disclosure: having extractions can leave your skin red and sometimes even a little broken out for a few days after your treatment, but if you follow the aftercare instructions of your esthetician, this will all settle down, leaving your skin clear, hydrated, and impurity-free.