As POPSUGAR editors, we independently select and write about stuff we love and think you'll like too. If you buy a product we have recommended, we may receive affiliate commission, which in turn supports our work.
Terms like Ballet Slippers, Fiji, and Mint Candy Apple are synonymous with Essie nail polish, just like the short, square glass bottles and white caps instantly identify the brand. Even as a silhouette, Essie's bottle is distinct.
That's why this news is pretty major! Essie debuted a new range of polishes last night at the Met Gala, with stars like Kate Bosworth, Katie Holmes, and Elle Fanning sporting the new Gel Couture collection. First things first: the packaging is totally chic and modern — a far cry from the classic Essie bottles we've owned and loved. According to the brand, they wanted to model the bottle after the "covetable, twirling dresses of the runway." (Which, I'm not kidding, is exactly what I thought of when I saw the bottle.) And that's not the only interesting part of the launch: it includes 42 brand-new shades. Plus, it's a two-step system, meant to act like a chip-resistant gel polish without a UV light. Just apply two coats of the new polish shade, then add the Gel Couture top coat.
There are four subcollections within this new line. Because this is couture, after all, each collection walks you through (puns, sorry!) the processes both before and after a fashion show: Atelier, which focuses of neutral shades inspired by lace and fishnets used to design a gown; First Look, a grouping of six pastels that embody the excitement, preparation, and jitters before walking down the catwalk; Fashion Show, 12 vivid bright shades that depict the gorgeous designs that are modeled, and After Party, which include rich, mysterious polishes that celebrate all of the hard work that went into the show.
Don't worry, the classic bottles and your favorite OG shades are still available. Check out the polishes and let us know which shade you can't wait to try once they're available in June 2016!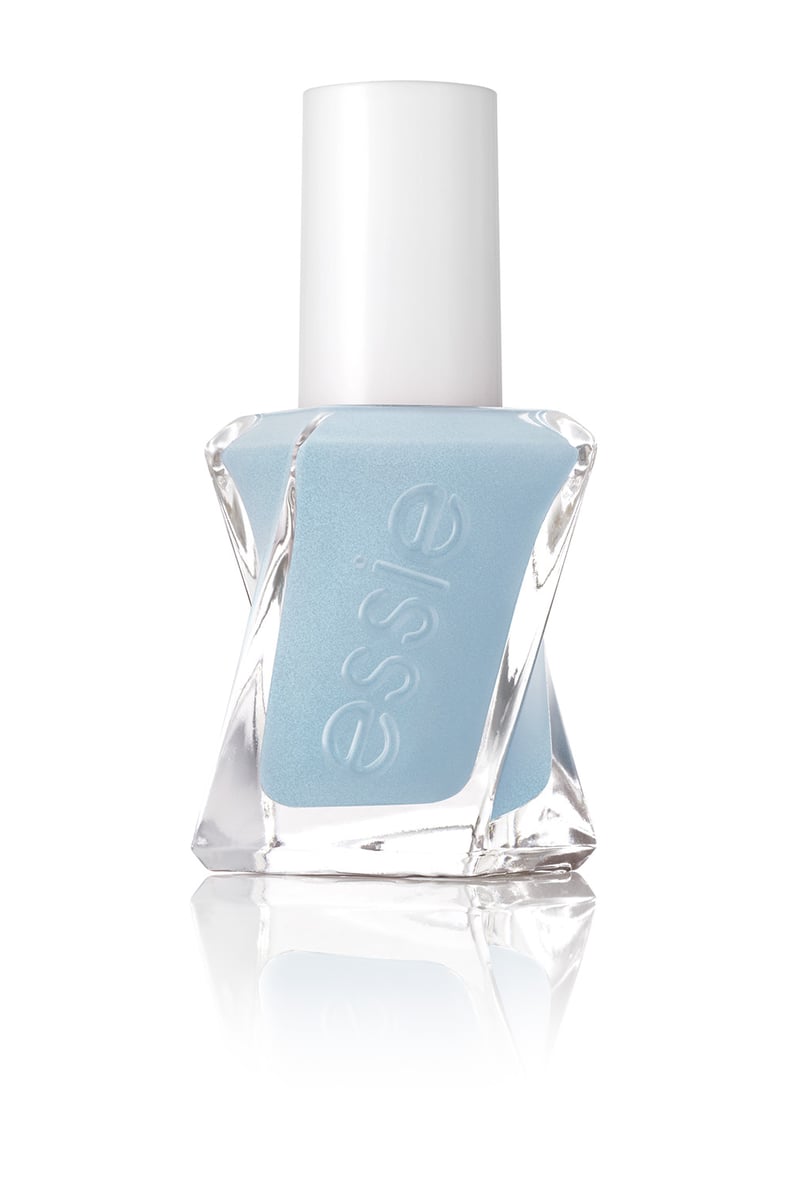 First View
First View is a "baby cashmere blue" from the Atelier collection. Katie Holmes was seen sporting it at the Met Gala.
Fairy Tailor
Both Elle Fanning and Kate Bosworth wore Fairy Tailor, a sheer nude pink, to the Met Gala. Elle layered hers, though, with Sparkle on Top, from the original Essie collection.

After Party
Deep, moody, and mysterious, these shades embody the celebration after walking down the runway.

Atelier
Meant to embody the meticulous design of a gown, the Atelier shades are all about craftmanship and artistry.