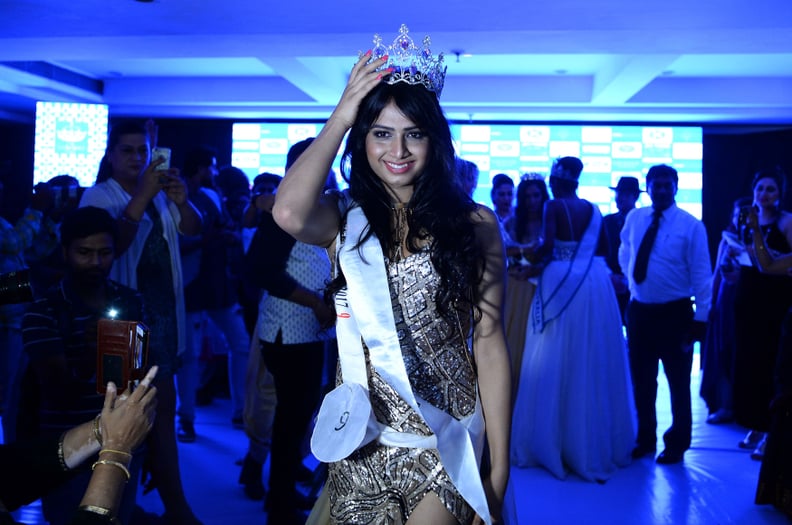 Getty | Sajjad Hussein
On Aug. 27 in Gurgaon, India, as Lady Gaga's "Born This Way" played over a loudspeaker, a woman named Nitasha Biswas made history. The 26 year-old fashion student has just become the inaugural winner of Miss Transqueen India, the country's first transgender beauty pageant.
For the most part, the night carried on like any normal pageant (because it was one!), but its social significance has reinvigorated India's dynamic yet complex LGBTQ+ community. As CNN noted, the hijra, or trans citizens of India, have played an important role in the country's past 3,000 years. During the 16th century, hijras served as respected government advisers, but the group has also been met with widespread discrimination. (In 2014, the Indian government voted to give hijras the legal right to identify as a third gender).
That's why business owner Reena Rai decided to start Miss Transqueen India and officially dubbed all contestants "winners." She almost went broke funding the pageant (Rai told CNN that at her lowest fiscal point, she had only $156 in her bank account). But Rai remained determined, widdling down 1,500 contestants to 16 finalists, who ranged in age from their early 20s to mid-50s. One hopeful was a lawyer, others were students.
Ultimately, Biswas took home the crown and later told The Indian Express that, "My journey was not easy. I feel very privileged to be where I am today and knowing so much of struggles and hardships that I've gone through." In March 2018, Biswas will go on to represent India at Miss International Transqueen in Thailand.
In pictures of the event, you can see the contestants doing their own makeup. Their hair was also on point, with equal representation of glamorous pageant girl curls and regal updos.
Biswas wore a peach lip and her hair down, so we're inclined to think there's something winning about that pairing. We will definitely try to replicate it at our next big event. Read on for stunning pictures from this historical event.