Floral Street Launches Perfume With Vincent Van Gogh Museum
Fine Art Meets Fine Fragrance With Floral Street's New Perfume Inspired by Vincent van Gogh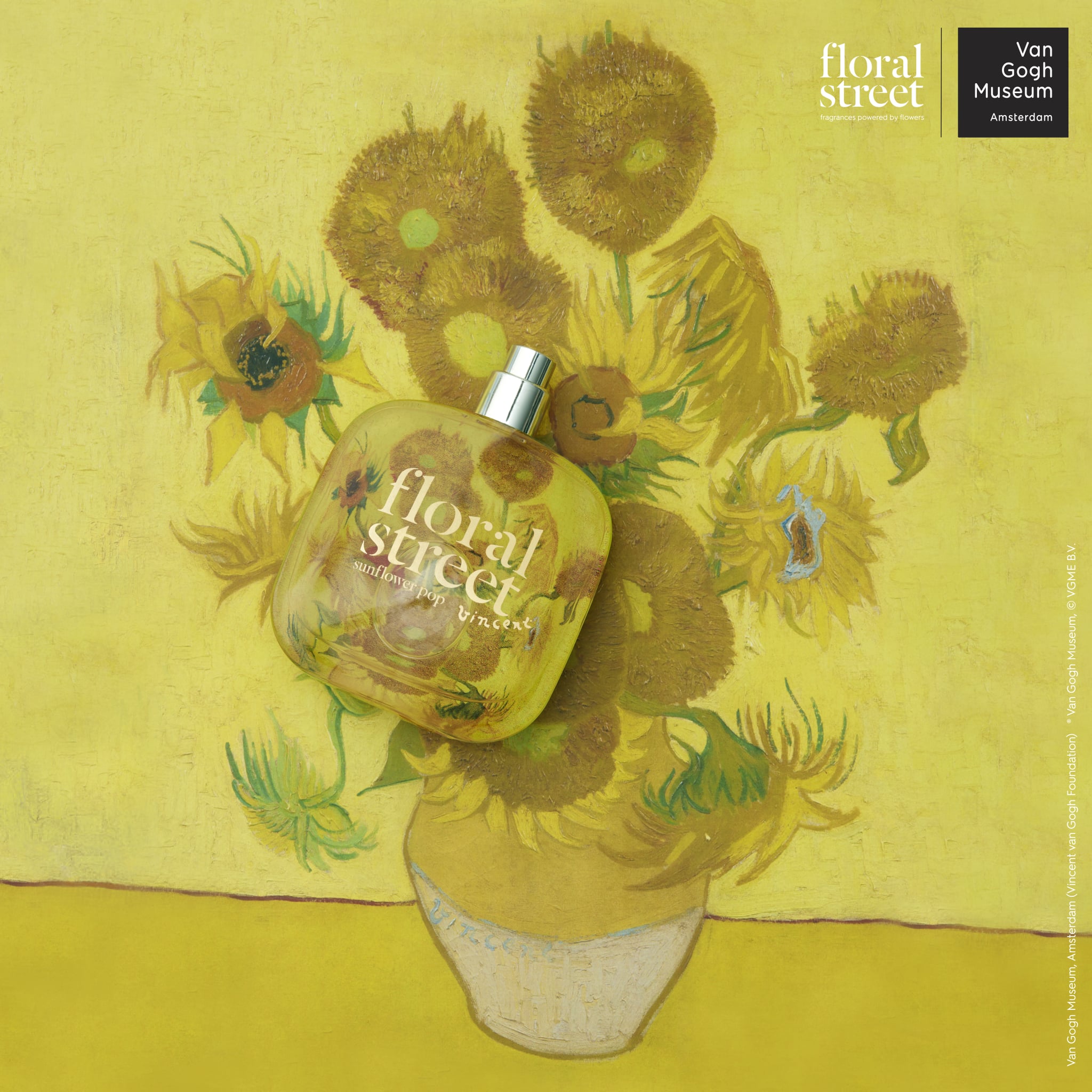 Vincent van Gogh is having quite a moment. The legendary 19th-century Dutch painter is everywhere in 2021, with immersive art exhibits of his work opening all over the United States in cities like Chicago, Las Vegas, Los Angeles, and New York. He's also, if you can believe it, getting his own fragrance after 131 years, courtesy of a collaboration between niche British fragrance brand Floral Street and the Van Gogh Museum in Amsterdam.
Floral Street Sunflower Pop eau de Parfum ($78) is a bright, citrusy scent created by perfumer Jerome Epinette and inspired by Van Gogh's iconic painting "Sunflowers" (1889), which he created whilst living in Arles in the South of France. Intrigued by Floral Street's unique fragrances and its commitment to sustainability, representatives from the Van Gogh Museum visited the brand's shop in Covent Garden (prepandemic) and requested a meeting to talk about developing fragrances together. "To be honest I was a bit scared," Floral Street founder Michelle Feeney told POPSUGAR over Zoom. "I was like, 'Oh my God, we're just this the small brand, how can we do this?'"
For anyone who is a fan of Floral Street fragrances, you won't be surprised to hear that Feeney pulled off the task with flying colors. The bottle features a print of "Sunflowers" on the back of the bottle, ensuring it fits seamlessly into the brand's existing lineup of perfumes, all of which have flacons decorated with colorful, high-def photographs of flowers.
"I wanted to bring fine fragrance at a more affordable level to people, and I think Van Gogh really did that with art — his work is timeless and ageless and it's easily accessible," Feeney said. "So after a lot of deliberation and going to the [Van Gogh] museum, and getting access to his letters and all sorts of things, I settled on [his painting of] sunflowers, because why not make that the first one? His sunflowers are very happy, and he painted them at a very happy time in his life. And it's just really come together as this wonderful piece of art."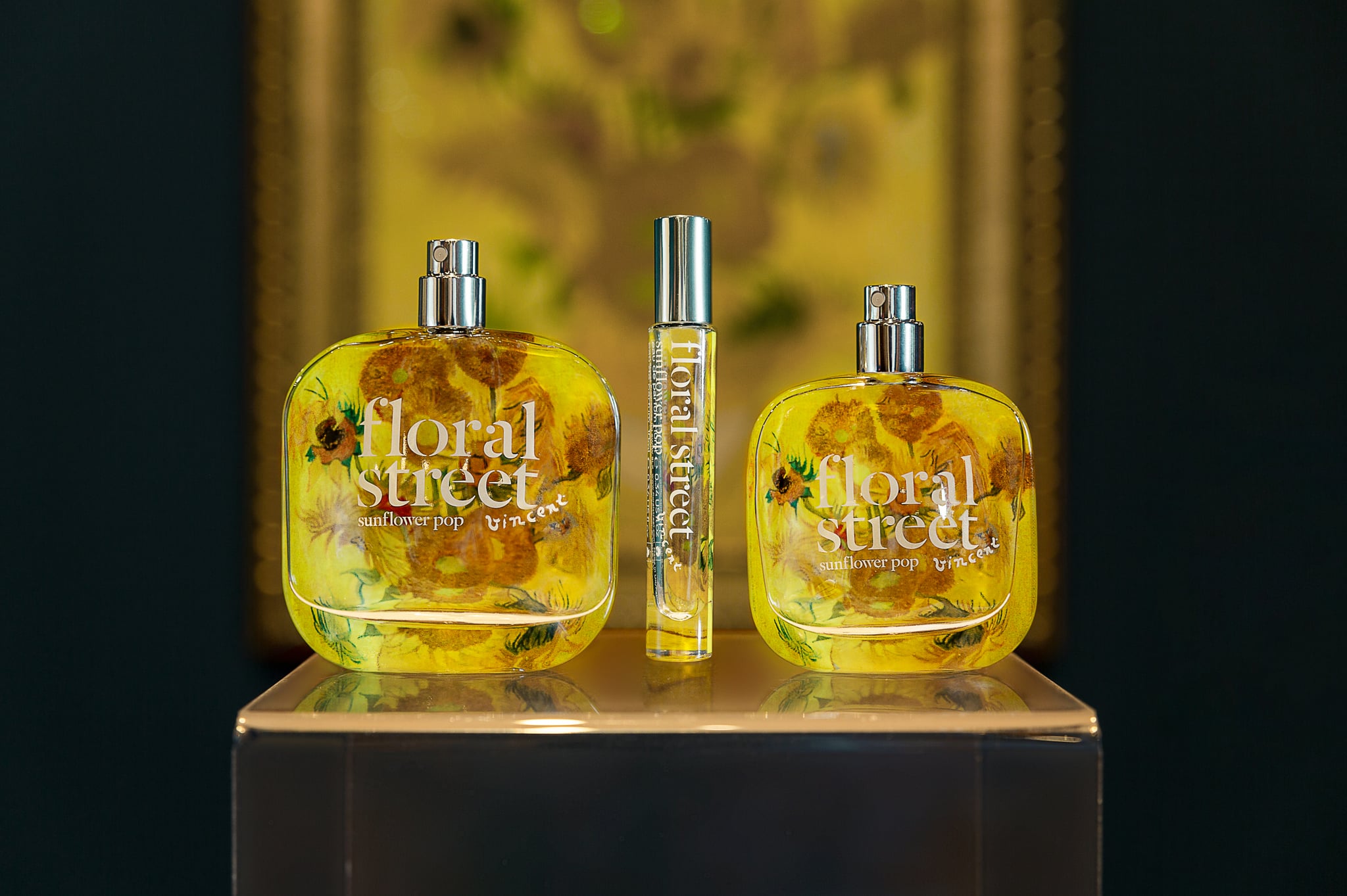 Image Source: Floral Street
As for the scent, it's juicy and citrusy, and on the first spritz puts a smile on your face. It's uplifting and radiates warmth in the same way that Van Gogh's vibrant, sunny painting does — which the artist did by using three different shades of yellow paint. Epinette, on the other hand, did it with notes of bergamot from Calabria, Italy (sourced from a family-owned company that's been in the business for generations), mandarin, a warm honey accord, and a Bellini accord, which gives the fragrance a light, effervescent quality. "The idea was to capture the vibrance and beauty of the south of France, while also somehow panting the passage of time," said Epinette in a press release. "I started with an impactful top where a burst of morning sun comes alive in the citrus and fruits, while the heart brings the heat of the afternoon with a rich and touch of unexpected warmth that makes it fun, yet truly luxurious."
For Feeney, she wanted the scent to evoke a feeling of happiness and optimism, but to also smell like a fine fragrance along the lines of the rest of the Floral Street range. "I wanted it to be accessible, however, so it couldn't be a very polarising scent," she said, adding that it was developed to be worn by anyone who loves how it smells. "You don't need to be male or female to wear this; that's what I've realized since I've started working in fragrance — that the only reason a fragrance is male or female is how it's marketed."
Before I learned about this fine art/fine fragrance collaboration, I never would have thought Van Gogh needed his own post-Impressionist fragrance (and I studied art history in collor . . . and wrote an entire 20-page essay on Van Gogh). But now that I've worn it and admired the bottle sitting on my vanity for a few weeks, the partnership just seems so natural and makes so much sense, even 131 years after the artist's death. Plus, as Feeney said: "It's also just so wonderful that people can have a little piece of art on their dressing table."
Floral Street Sunflower Pop is available on www.FloralStreet.com, in the Van Gogh Museum in Amsterdam, and at Sephora.
Image Source: Floral Street