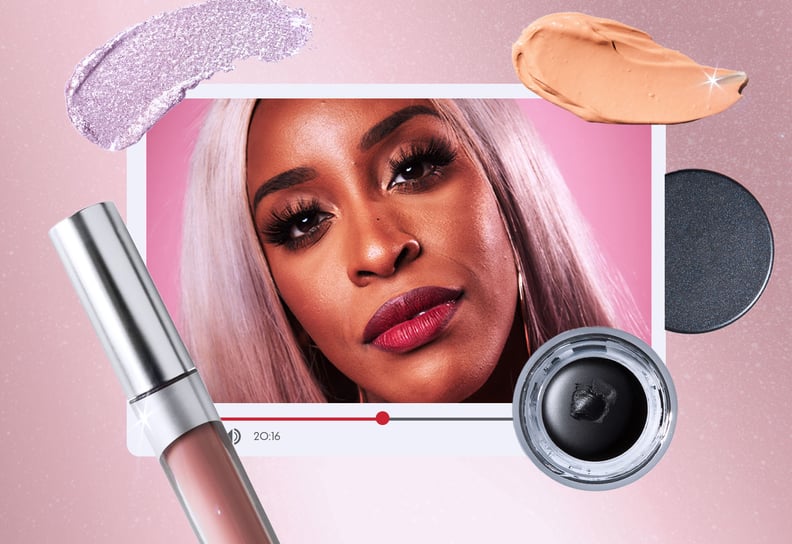 Design Elements: Getty | Variety; Anna Efetova; Tanja Ivanova; Tarzhanovam; moonHo Joe; Halina Pinchuk
Photo Illustration: Ava Cruz
Design Elements: Getty | Variety; Anna Efetova; Tanja Ivanova; Tarzhanovam; moonHo Joe; Halina Pinchuk
Photo Illustration: Ava Cruz
It's the fall of 2016. You just got back from a full day of classes and want nothing more than to lie on your tiny, twin-size mattress and decompress. You decide to romanticize your night, so you take a hot shower, order takeout, and do your full skin-care routine. Finally cozy, you're about to take the first bite of pizza when you suddenly remember: you need a show to watch — and you know the perfect thing.
As you open your "watch later" playlist on YouTube, makeup videos from Jackie Aina, Alissa Ashley, and Kirah Ominique await. The looks are not subtle; they are sculpting their cheekbones like they are an 18th-century statuette and baking their foundation with Martha Stewart-level finesse. A spark of creativity suddenly hits, and instead of biting down on that slice, you suddenly have on a full beat at 10 p.m. on a school night with no plans to go anywhere. But that's OK. Because you're one step closer to perfecting your 10-minute brow routine and that brand-new lipstick shade is a perfect match. This, you realize, is luxury.
Whether it's the slightly parasocial feeling of getting to see all the latest beauty products or the sheer awe of watching the creativity that seems to spill out of a makeup brush, it's impossible to look away from the artistry.
Now, come back to the present, and say it with me: "Why would we have ever given that up?" Today, you're more likely to see 75 back-to-back videos of "no-makeup makeup" or people claiming to have found the "perfect" dupe for an expensive peachy-toned blush. In 2016, we used to be a proper community — block brows and all. We would march into the grocery store at 9 a.m. armed with a full face of foundation, shoddy attempts at a cut-crease, and a nude lip that took us five separate products to achieve, with all the confidence in the world. What happened?
I'm all here for an occasional no-makeup look, but when did it become a way of life? Why are we applying a dot of concealer, tapping it out, and calling it the clean-girl aesthetic? You might as well not put anything on. Instead of makeup being a fun way to play with color and express creativity, it's almost as if it has become just another task in our daily routines. Gone are the rainbow eyeshadows and ridiculously shiny highlighters that seemed to add a bit of sparkle to the day. In its place? Skin tints and tinted lip balm.
Of course, what you do in your beauty routine is your business, but I think we can all agree that there was a magic in makeup that has somehow gotten lost over the years. Whether it was one too many versions of dramageddon or people are now just short on time, something changed. Still, this space has been a pivotal part of so many coming-of-age journeys, and we can't just let it slip away.
I know that in beauty, like in fashion, trends come and go. But I'm ready for 2016 makeup again. We can't carry on like this. Bring back the fun of glitter and glam. Yes, it's true that no one needs to cover up and contour and bake, but when you can, why not? Choose the unexpected lip color. Marvel at the eyeshadow palette. Wear the big lashes. Life is a little too short to turn doing your makeup into another monotonous chore to be checked off the to-do list.