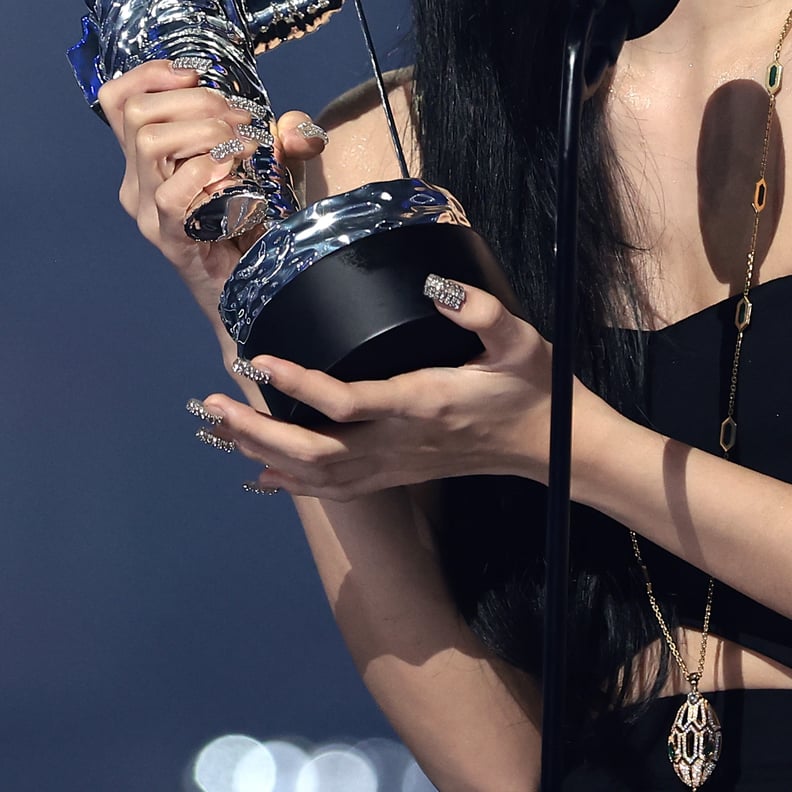 The world of nail art has evolved at an exceptionally fast pace. Gone are the days when swiping on a single-colored nail polish was standard. Manicurists create bona fide works of art on teeny-tiny fingernail canvases. Piercings, 3D charms, and chrome finishes all make for mesmerizing manicures, but none come close to glass nails.
The words "glass" and "nails" don't sound like they should go together in a sentence, but nail artists are finding ways to combine them, and the final result is nothing short of magical. Spoiler: there's no real glass involved, but with the technique made popular by Park Eunkyung, a celebrity manicurist who works with the K-pop group Blackpink, it almost looks like there is. The look has been around for years, but it's found itself back in the spotlight with Pinterest citing that the search for "glass nails" has increased 170 percent in the last year.
Ahead, Park goes into more detail about the glass-nails trend, including where it came from and how to do the manicure at home.
The Inspiration Behind Glass Nails
Park's inspiration for her first set of glass nails came from an unlikely place: a plate of oysters. "I thought the shells were so beautiful, [and] I wanted to express their colors and lights on my nails," Park tells POPSUGAR. "I went around and gathered a lot of different materials to make that possible." It wasn't an easy accomplishment. At first, she thought using candy wrappers would work because they have a similar light-reflecting effect, but they ended up feeling "uncomfortable on curved nails." That's when she had the idea of going right to the source. "I looked for the vendor that sells original sheets of candy wrappers and cut them up into little pieces," she says. "The resulting work looked stunning, like shattered glass."
How to Create Glass Nails
Park has the process for creating glass nails down to a science. "On a layer of clear or colored base gel, I lay small pieces of iridescent, transparent film and design the layout," she says. "Then I fix the pieces in place and finish it up with a top coat."
She prefers gel nails for the base over a traditional manicure because the glass film stands out even better over thicker nails. But if even that is a little too involved for your DIY nail skills, you can look for premade iridescent nail stickers.
No matter what route you go, keep scrolling to find glass-nails inspiration to get you started.