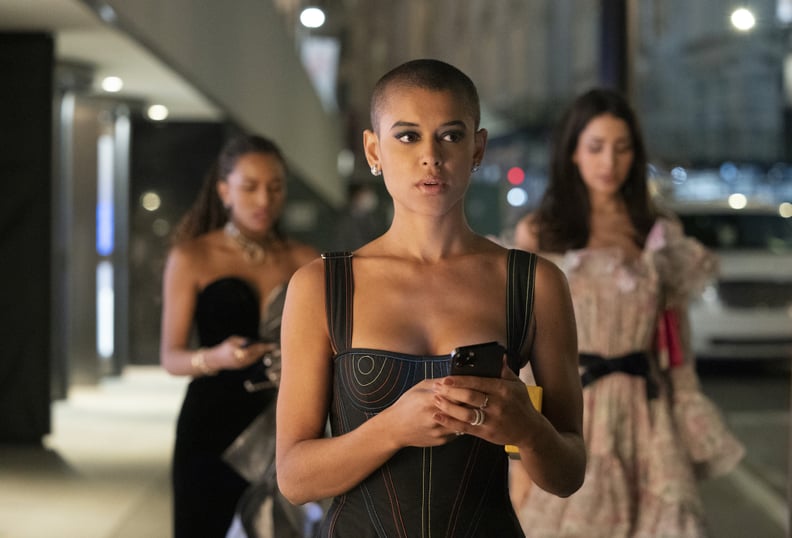 HBO Max | Karolina Wojtasik
HBO Max | Karolina Wojtasik
We have a clear picture of all the beauty products that were used to create the gorgeous hair and makeup looks seen on HBO Max's Gossip Girl reboot, but have you ever wondered what kind of beauty brands the characters themselves would be fans of if they existed in real life? For lead character Julien (played by Jordan Alexander), there are a few small details about her makeup collection that you may not have noticed in the first handful of episodes.
"For the first couple of episodes, we were a lot more general," the show's prop stylist, Marni Papadopoulos, told POPSUGAR. "You'll see [Julien] with a lot of Tom Ford, Chanel, or Dior beauty products because at first we were like, 'Oh this is a pretty thing and it makes sense.' Then if you watch episode three and four, you'll see that her main makeup brand is Pat McGrath. So as we went on, we were like, 'This is a pretty thing, it's pretty inexpensive, and it's also a Black-owned company.'"
This is to say that, as the show goes on and as her character begins to evolve, Julien's makeup choices become more intentional, shifting to brands that are more inexpensive without lacking in quality.
"I think that's an interesting evolution if you continue to watch the show," Papadopoulos said. "Not only will you as a viewer understand more about the story because of the acting and the characters, but you can also watch the details and be like, 'Oh, that's interesting. Now she's using a lot of Pat McGrath makeup.' As you go on further and further on any show, you just get more in tune with who the person really is, and who the character really is, and who you want to portray it as."
Julien may not be someone we'd ever be able to hang out with in real life, but at least we know that we have the same taste in beauty products.
— Additional reporting by Lindsay Miller