Hailey Bieber on Breaking Out From Birth Control and Learning to Talk About Her Feelings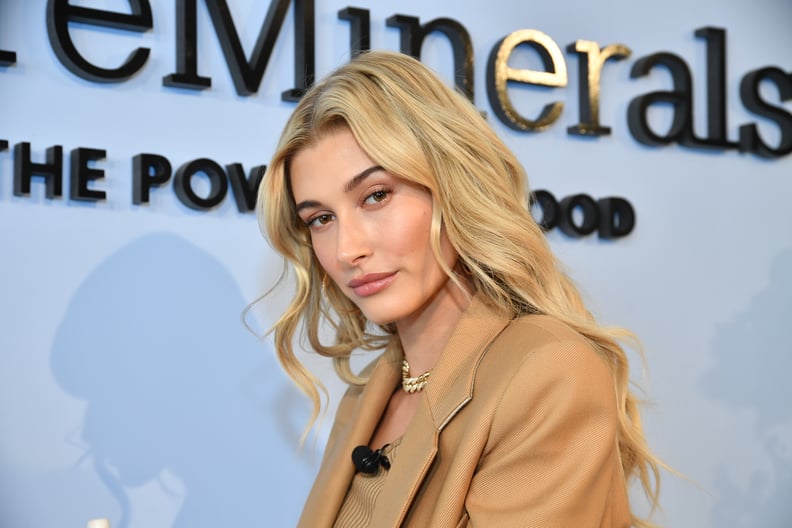 BareMinerals
BareMinerals
As POPSUGAR editors, we independently select and write about stuff we love and think you'll like too. If you buy a product we have recommended, we may receive affiliate commission, which in turn supports our work.
There's a different vibe when you walk into a room with Hailey Bieber (né Baldwin). It's less tense than most celebrity interviews. There's a welcoming feeling, not like you're an imposition or that she's just doing a job. She's warm, bubbly, and she surprisingly doesn't seem to have a wall up. The model and TV host is positioned on a couch at LA's Lombardi House, where she and makeup artist Nikki DeRoest will be breaking down how to use the new BareMinerals Complexion Rescue Hydrating Foundation Stick ($32) in a live tutorial with a gaggle of influencers there to follow along. (Bieber is a BareMinerals Clean Beauty brand ambassador).
After the initial hello, she skips pleasantries and gets right to the root of what's important.
"Let me tell you about something. This POPSUGAR Twinning thing never gave me myself!" said Bieber. She laments about how she tried and tried, but at the end of the day she never got herself as a match. Rest assured, Hailey, that's half the fun.
Our time is limited, and we've been instructed to avoid any wedding or Justin talk. But that doesn't stop her from bringing him up. We start with an easy beauty question: what's in your purse?
She points to the foundation stick displayed in abundance on the table. "The complexion stick. I always have lip balm with me, like Aquaphor, Vaseline. I hate chapped lips and that happens to me all the time because it's just cold or dry and I don't drink enough water or whatever it is. I always have scrunchies in my bag as Alice [Hampton, vice president of Global Communications BareMinerals & Shiseido Makeup, who is joining us] pointed out to me earlier."
She pauses as her phone lights up with a photo many Bieber fans are familiar with: it appears to be a school portrait of Justin as a child. "Isn't he so cute? A little heartbreaker," said Bieber.
Back to the beauty banter. Bieber doesn't offer anything truly revolutionary when it comes to her beauty routine, and favors a less-is-more makeup philosophy. ("I personally don't think I look good with a full beat face of makeup. I just think it doesn't work for my face. There's other people who look extraordinary with a full artistic beat on their face.") She confesses she hasn't really dealt with acne and had relatively good skin growing up. She'd break out here and there, but nothing monumental.
The girls really have to get the sh*t end of things sometimes. Why do we have to get the things put in? Why do we have to push the babies out? Why do we have to go through all this nonsense?
She has, however, dabbled in extreme beauty treatments, from Fraxel and PRP. "[I've done] things that probably sound really crazy, like the blood facial — the PRP thing — because if you think about it, it's kind of gross. I guess it's from your own body but still, kind of gross. That was probably one for me that I was super weirded out by and skeptical about, but then I ended up loving it because it's so good for your skin. And I'm always open to trying things, always open to trying. I've done lasers on my face, I've done fraxeling on my face. I've done it when I was younger because I had a really bad scar on my face one time from picking at my skin when I was a teenager. I believe in the light therapies and the lasers and I'm open to all of it."
As we continue the conversation, she reiterates she hasn't had what would be considered true acne, but did have a relatable moment when she got an IUD last year.
"Over the last six months of time, I went on birth control, which I'd never done for 21 years of my life, and I did an IUD which is hormonal," she said. "I'd never had any type of birth control in my body before, and I think that definitely threw off my skin a little bit from what its natural state was because your body has nothing in it that's foreign, no other hormones, and then you put this thing in your body, and your body's like, 'Wow, dude?'"
Getting an IUD has become a more interesting birth control option. It's less of a hassle because you don't have to take a daily pill, but many experience an intense amount of pain when it's inserted. "I made my sister come with me and hold my hand. The girls really have to get the sh*t end of things sometimes. Why do we have to get the things put in? Why do we have to push the babies out? Why do we have to go through all this nonsense?"
It was refreshing to hear about this aspect of life from a young woman in her position. She appears grounded and confident in herself, despite being the target tabloid fodder because of her high-profile relationship. She doesn't come off above anything or anyone. Her Instagram paints a portrait of a dream life: a doting husband, a cute dog, a career that takes her around the world, and access to people and experiences many can only fantasize about. In January, though, she posted how she is a woman experiencing real insecurities, who compares herself to others, who often feels inadequate. "Stepping into 2019 I want to be more open," she wrote. "I'm a 22-year-old, and the truth is no matter how amazing life may look from the outside I struggle… I'm insecure, I'm fragile, I'm hurting, I have fears, I have doubts, I have anxiety, I get sad, I get angry."
She explains that, like many of us, she scrolls through Instagram and constantly feels "not good enough." She says every day is a "confidence battle" and that it's difficult learning how to navigate this world and her feelings as a young woman.
"It's hard finding who you are, but what's even harder is being picked apart and compared to other women while trying to do that. There are days that I'm simply broken because of it," she continued. It's these genuine remarks that captivate her fans and strangers alike. There's an authenticity to her that doesn't feel manufactured for clicks or for money.
I was never one of those people that was super open about my emotions and how I was feeling until I realized what a relief it is to talk about those things.
"I do not care if you're the most drop-dead stunning gorgeous human being on this planet," she said passionately. "It doesn't matter. I think opening up that conversation means so much more and is so much healthier. Everybody feels —" she stops herself. "I felt better saying it and being honest, and I know that people felt better reading it and being like, 'Oh, well if she feels this, I'm good. I get it.'"
"I tried to hide those aspects of myself and my life for a long time because I wanted people to think . . . it's not that I wanted people to think I had a perfect life or anything. I just wanted to keep it together. Even personally with my friends and family, like, 'Are you okay?' 'Yeah. Yeah. I'm fine.' But then I'd be crying in my room and not be open to talk about it. That comes with time and maturity. I was never one of those people that was super open about my emotions and how I was feeling until I realized what a relief it is to talk about those things."