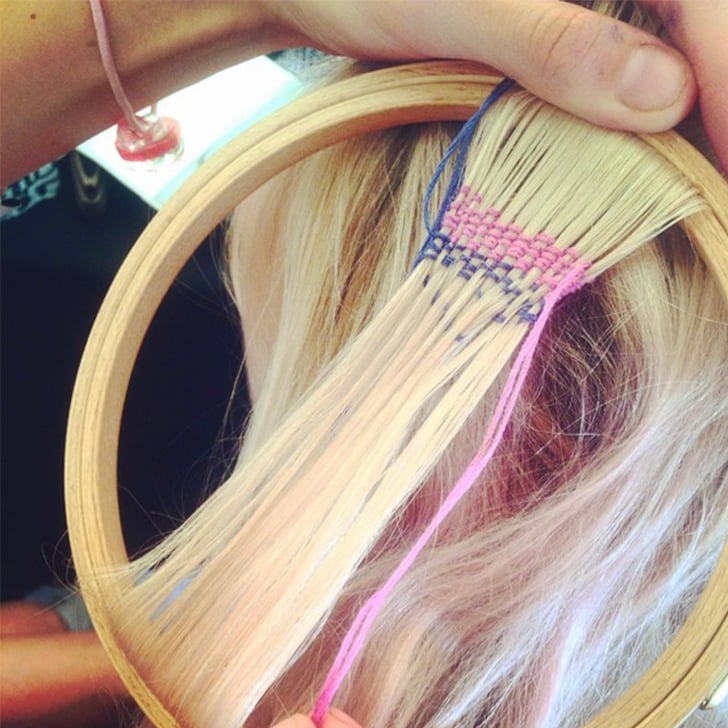 Bleach London is the go-to place for many of Britain's style stars, like Sienna Miller, Lily Allen, and Jessie J. The salon's Instagram has over 140,000 followers, largely due to the radical hair colors and beautiful braids it creates for its clients. The trends have become so beloved that the salon sells its own DIY color and maintenance products for at-home use — including the only pink shampoo and conditioner on the market. (I can't wait to get my hands on them!)


Exhibit A:
That's Harry Styles's sister, Gemma!
The British set tends to have no fear and loves to experiment when it comes to beauty trends. So forget the feathers, the hair chalk, and the festival braids, and behold hair tapestry!
Hair tapestry is offered by Bleach at its Hairy Tepees at select outdoor events in London. You can opt for a multicolored braid, or take a seat and get thread woven into a beautiful design like you're a real-life needlepoint. Recline in the chair as thread is woven into your lovely locks.
Personally, I'm eager to try this trend. I reached out to Bleach to learn more about how you can DIY this look at home:
You'll probably need an artistic friend to get this just right!
STEP 1: Secure a tapestry loom around the section of your hair you wish to weave
STEP 2: Separate the strands of hair to create a "warp"
STEP 3 : Then use a flat blunt needle with embroidery thread and weave it through the hair as a "weft", creating the width of tapestry you would like then weaving backwards and forwards to create the chosen length
STEP 4 : You can switch thread colors to create a pattern and create different shapes by tapering the embroidery if you wish
STEP 5 : Weave the final thread through the back of the work to finish
So yeah, you might need some needlepoint skills to make more intricate designs, but if you can patch up a hole in your jeans, you could attempt a simpler design.