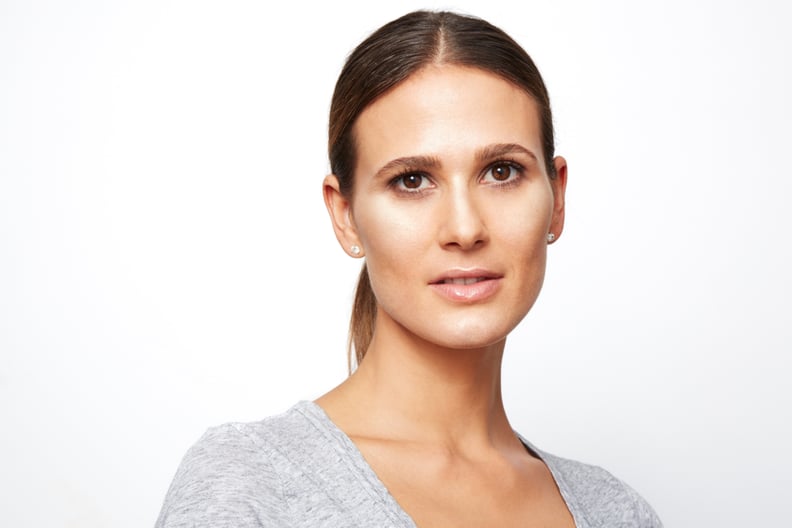 POPSUGAR Photography | Benjamin Stone
POPSUGAR Photography | Benjamin Stone
As POPSUGAR editors, we independently select and write about stuff we love and think you'll like too. If you buy a product we have recommended, we may receive affiliate commission, which in turn supports our work.
Most days we look at contouring tutorials and think, "We don't have time for this." The act of sculpting the face with concealer, corrector, bronzer, and highlighter is exhausting. Now, there is a new makeup trend infiltrating YouTube, and it's called strobing. The technique uses only highlighter to create a dewy yet chiseled complexion. In layman's terms, strobing is extreme highlighting.
At first we were skeptical. Can just highlighter give you the same effect as a full-out contour routine? Now, MAC Director of Makeup Artistry Romero Jennings has us convinced (check out the before-and-after photos ahead). The right placement of illuminator can plump your lips, sculpt your cheeks, and slim your nose. Romero reveals all his strobing secrets ahead. Plus, he gave us the inside scoop on two new makeup techniques: reverse contouring and #kittenpaws (which is going to be HUGE on social media). Curious? Keep reading.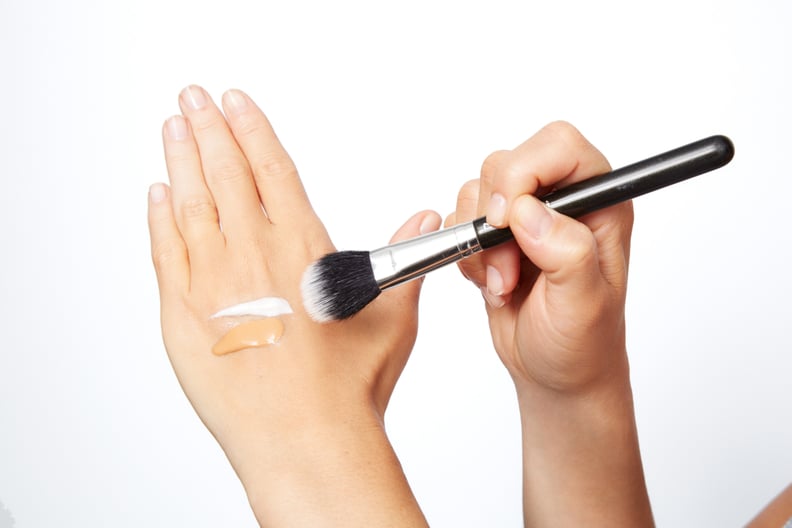 Strobing Hack #1: The 2-Minute Glow
If you've only got five minutes to put your makeup on in the morning, you can give your complexion an all-over glow by mixing an illuminating liquid with your foundation. Combine equal parts highlighter like MAC Strobe Cream ($33) and foundation on your hand. Then, use a brush to apply it all over your face. The illuminator will plump up your skin and give it a 3D effect.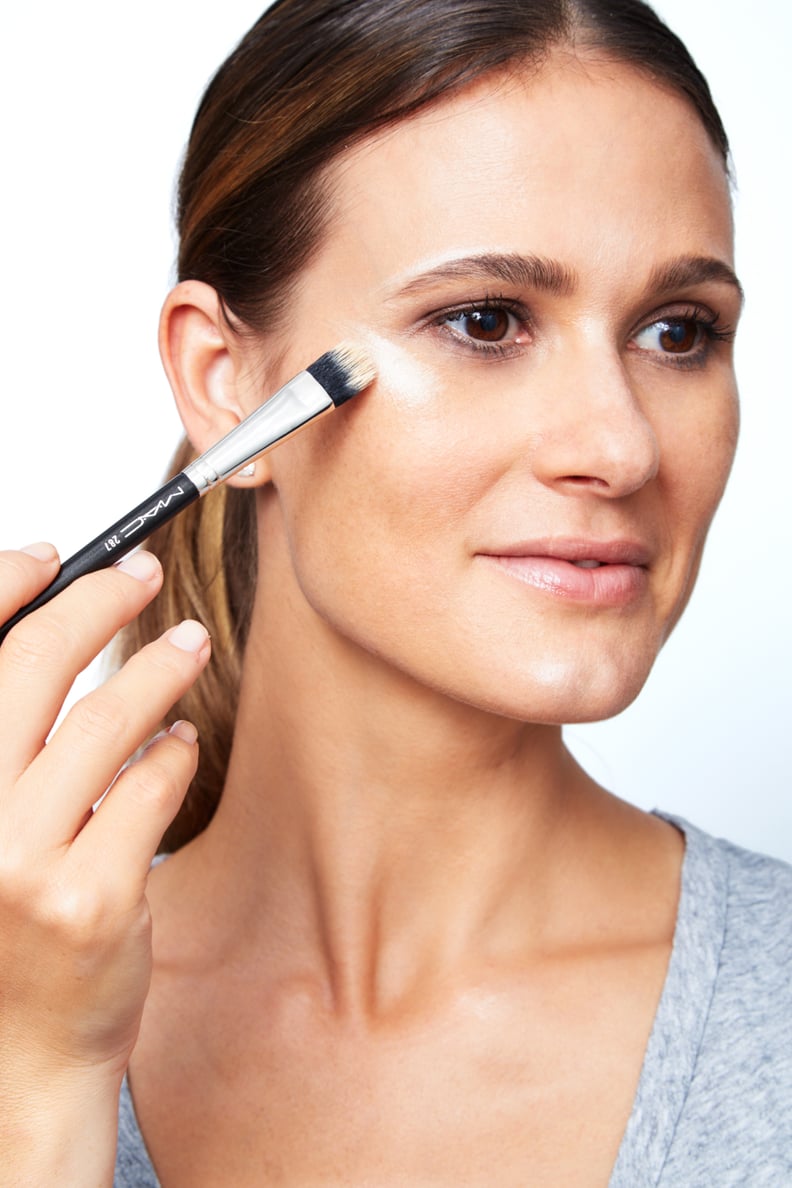 Strobing Hack #2: Cheeks on Fleek in 3 Steps
Strobing is all about layering products and perfect placement. Romero recommends piling on three different levels of illuminator. Start with a cream highlighter like MAC Cream Color Base in Pearl ($22). A balm formula is easier to control than powder. Look for a product with shimmering particles and a light-reflecting finish.
To get the perfect placement, stand under a bright light and look into a mirror. Notice all of the places that the light catches on your face, such as your cheekbones and nose. That is where your highlighter should go.
On your cheeks, the illuminator should be strongest on the apples and taper out near the tear ducts (similar to a teardrop shape). You can also accentuate the brow by adding a thin layer of shimmer just over the tail of your arches.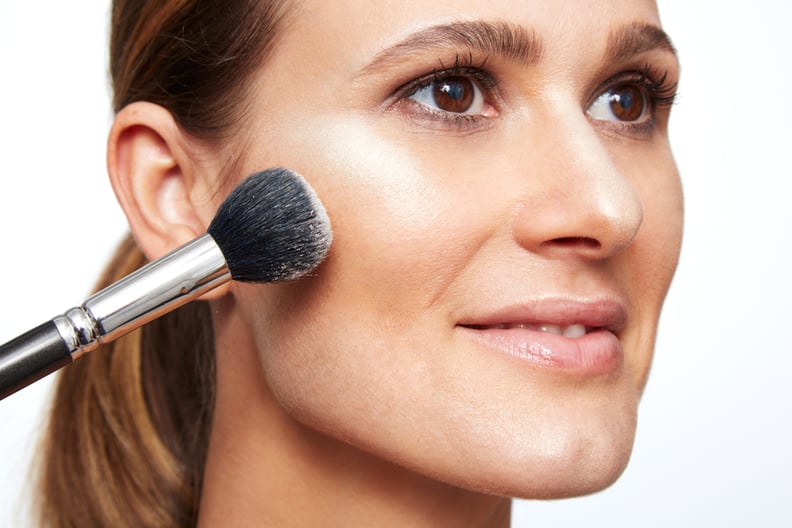 Strobing Hack #2: Cheeks on Fleek in 3 Steps
Add a layer of loose shimmering powder on top of your cheek highlight to keep it from looking too greasy. Try MAC Pigment in Vanilla ($22). The powder also intensifies the look to give you a mirror-like finish.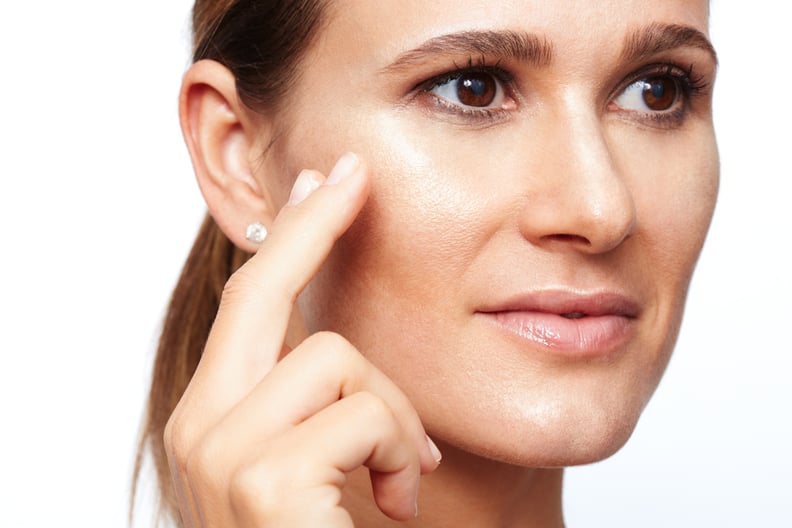 Strobing Hack #2: Cheeks on Fleek in 3 Steps
For the true strobing pro, you can add another element of shine with a clear gloss ($22). Use your fingers to layer the product on top of the cream and powder highlighter. The gel texture makes the skin look dewy and fresh.
Strobing Hack #3: The Nose Job
If you're anything like us, you've watched numerous YouTube videos on how to contour your nose but end up looking like a caricature instead of Kim Kardashian (#EpicFail). You can get a svelte snout without using dark bronzer. Just apply your highlighting product down the center of the nose, in between the brows, and on the center of the forehead.
The key to this highlight hack is having the right application brush. Romero recommends the MAC Brush #287 Eye Shadow Brush ($32). The straight edge and small size give you the precision you need.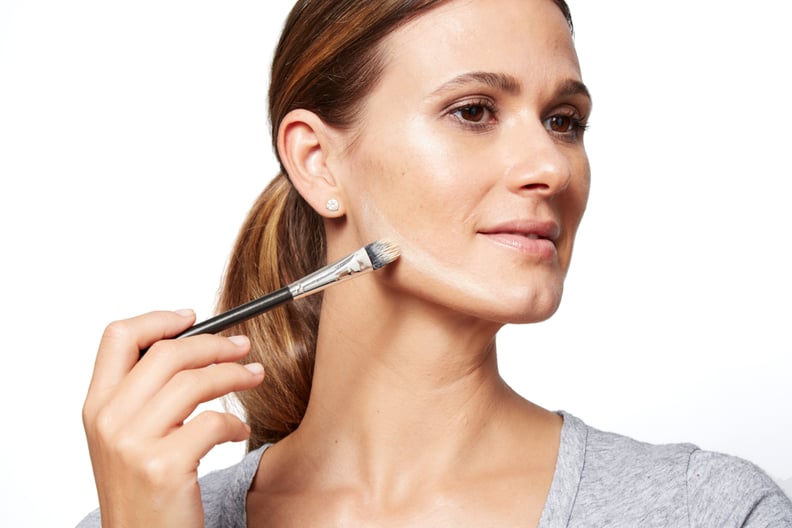 Strobing Hack #4: Reverse Contouring
Just when you thought you mastered contouring, reverse contouring is on the rise. This is the technique of applying highlighter on the jaw to accentuate the hollow of your cheeks (where you'd normally contour with bronzer).
Draw a tapered line from the outer corner of the jaw to the edge of the lip using MAC Cream Color Base in Pearl ($22) and the #287 brush ($32). The triangle should be largest near the ear and thinnest close to the chin. "It creates a shadow where the contour would normally go, so you don't need to contour." Romero explained.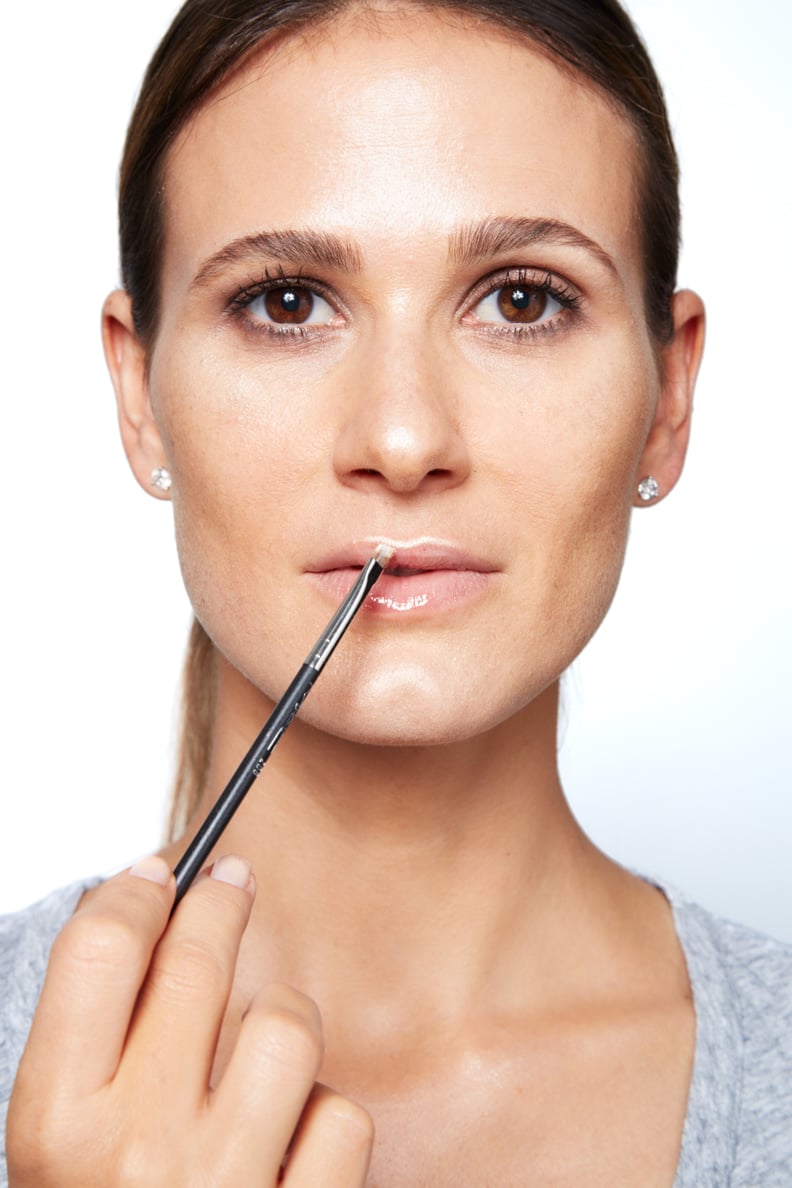 Strobing Hack #5: Kylie-Level Lips (Without Plumper)
Kylie Jenner's plumped pout has caused a flurry of lip enhancements to hit the beauty aisle. But you can get the illusion of larger lips with a bit of strategically placed luminizer.
Using an angled brush, apply a cream highlighter just above the Cupid's bow. Blend with a pointed or superskinny cotton swab. Finally, fill in the lips with a clear gloss. This will give the illusion of a fuller and curled mouth (like you had a lip lift!)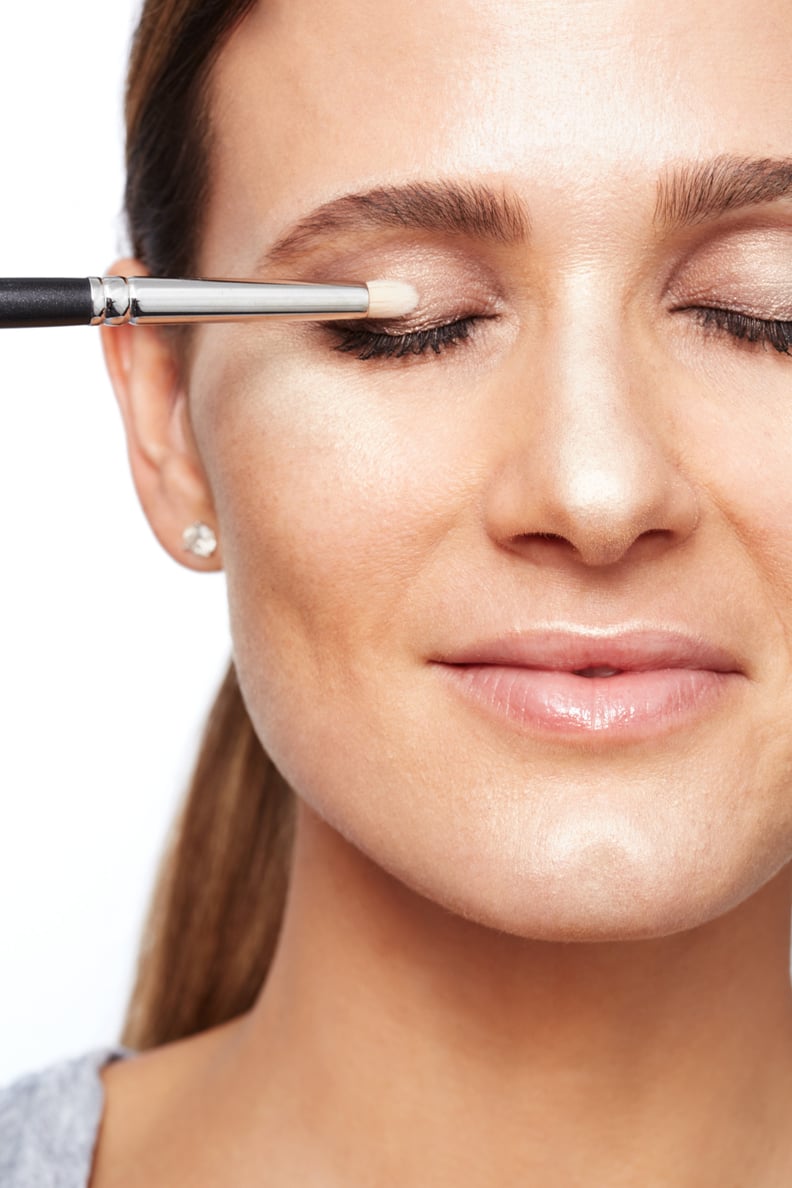 Strobing Hack #6: A Doe-Eyed Effect
When you don't have time to go through your five-shadow eye makeup routine, reach for the highlighter instead. You can apply a dot of illuminator to the center of lids and blend from side to side to create the illusion of a wide-eyed look.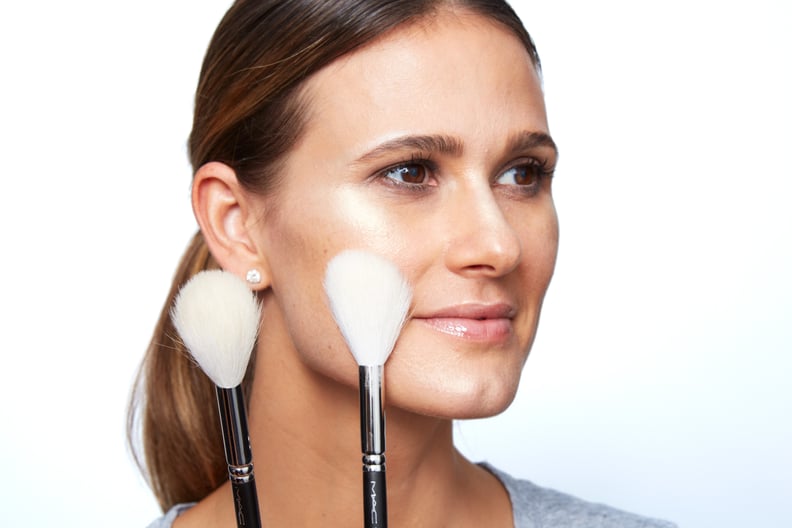 Strobing Hack #7: Kitten Paws
Once you've highlighted, apply a matte powder to the places you'd normally contour — the forehead, under the eyes, and hollow of the cheeks. It will make the illuminated areas stand out even more. Romero uses an effective technique called "kitten paws" to set makeup (plus, how cute is the name to say?!).
Romero uses two MAC #137 brushes ($42 each) — which look a lot like kitten paws — to apply Prep + Prime Translucent Finishing Powder ($26) to the entire face.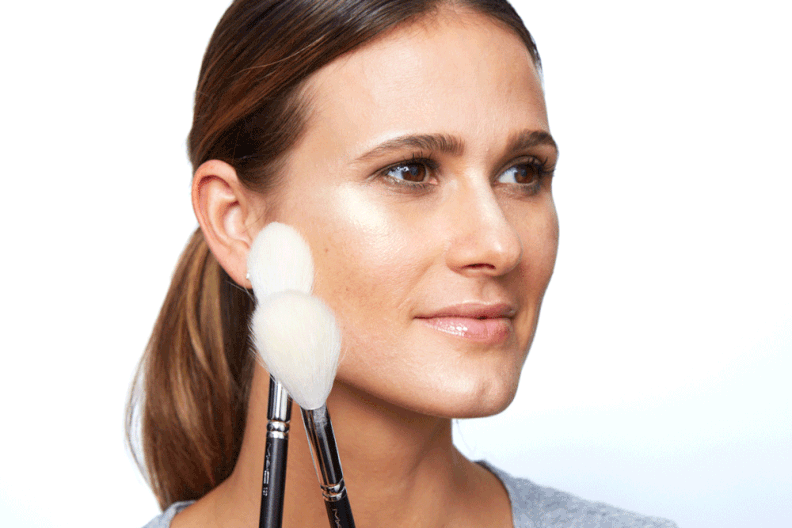 Strobing Hack #7: Kitten Paws
The kitten paws technique uses a light drumming motion to mattify the face. Hold the two brushes at the very ends as you alternate them back and forth on the skin. It should feel superlight, like playing with a kitten (hence the name). "Powdering with two brushes at the same time deposits the powder evenly," Romero explained.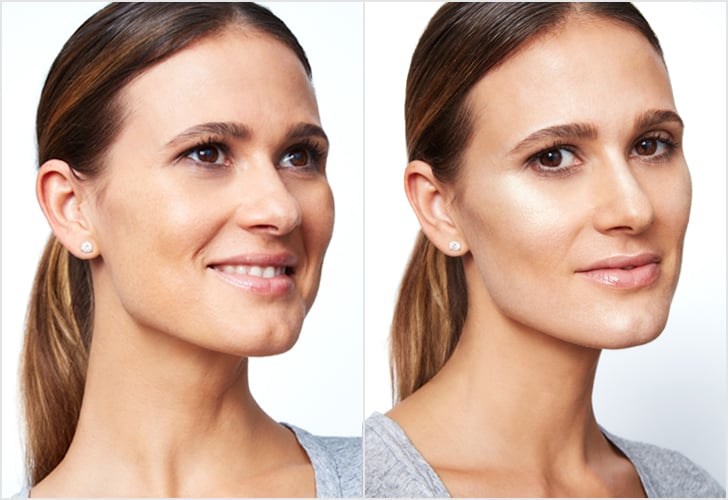 Before and After
While our model already has gorgeous cheekbones before adding highlighter, strobing made her entire face glow. Her nose appears more chiseled, her lips look fuller, and her brows stand out more. It even looks like her cheeks were contoured, and we promise no bronzer was used in the making of this tutorial.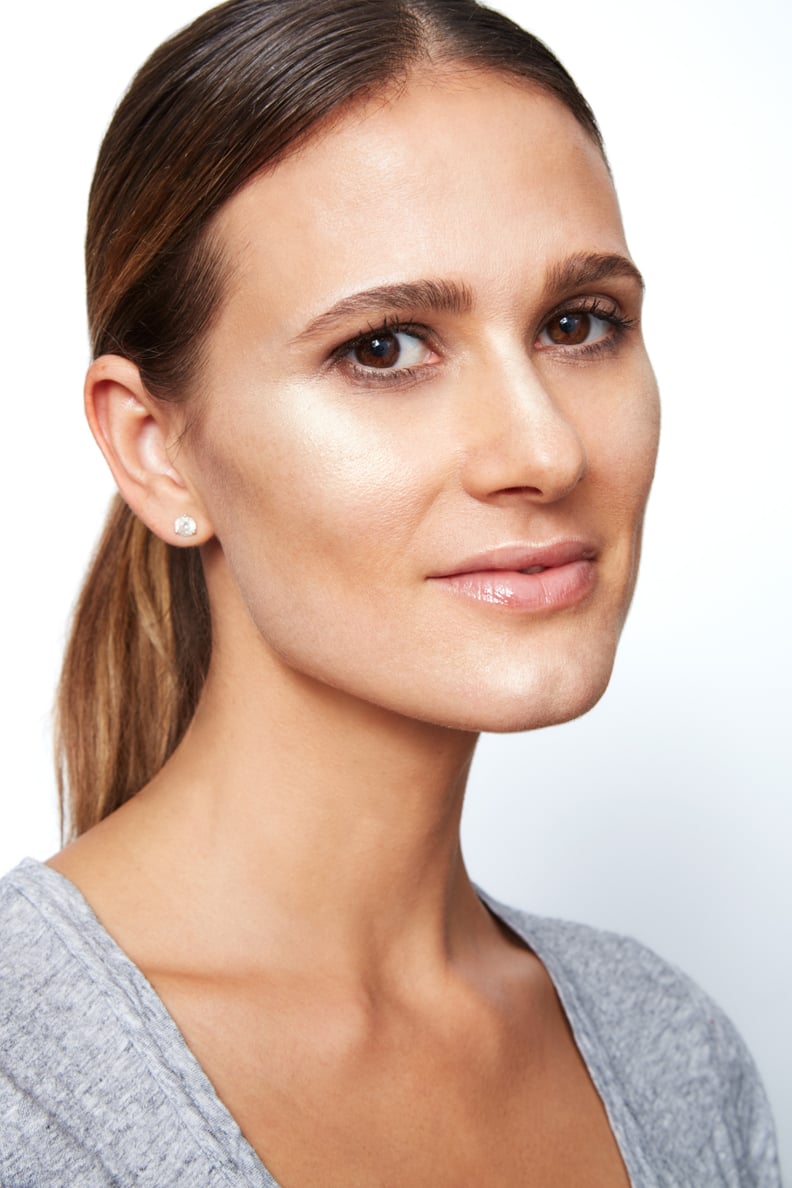 The Finished Look
When done right, strobing leaves your face glowing, not greasy. You might as well pack away your contouring kit altogether! Highlighter is more than enough to give your face a sculpted sheen.