As POPSUGAR editors, we independently select and write about stuff we love and think you'll like too. If you buy a product we have recommended, we may receive affiliate commission, which in turn supports our work.
For over a decade, I've had the honor of working as a makeup artist to some of today's leading supermodels, fashion houses, and entertainers. And throughout this time, I've definitely been put to the test to determine which foundations are best for my clients' skin type. Luckily, the methods that I've developed can also translate to choosing the right complexion product for your skin type — even when you're shopping at the drugstore!
Mass brands have made a huge splash this past year with some of the latest innovations in foundation formulations. They have really become comparable to high-end department store types — and for a fraction of the cost! From Neutrogena's skincare-infused options to L'Oréal's expansive shade range, drugstore foundations are, well, covering all bases.
There are various factors to consider when shopping for the right foundation, especially when you can't exactly try them on in-store. Perhaps you're used to working with a Sephora Pro for guidance, or maybe you shop for beauty in department stores, where testers are available. When you're on your own at a pharmacy (without those handy options), it's easy to end up accidentally choosing the wrong shade. You may select a shade that matches your hand or your arm or just the wrong color altogether, resulting in mask-face (you know, when your face is a completely different color than your neck). So let's get down to business; where do you start?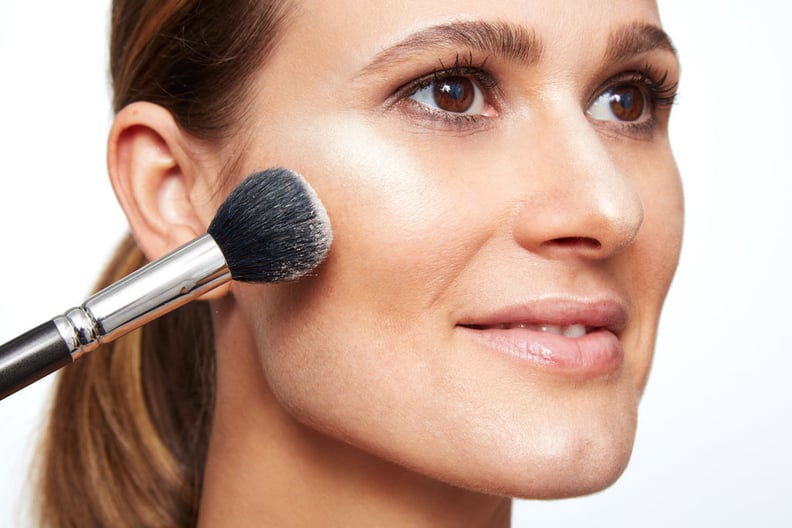 One of the first things that I take into consideration before applying any foundation on my client's skin is their skin's condition. Is their skin dry from traveling? Do I need an emollient, hydrating formula? Are they oily? Will they be under hot lighting for long periods of time? I always make sure to carry different foundation formulas in my kit so that I can make the best decisions after examining their skin.
For example, if your skin is on the dry side (especially during these Winter months), look for foundations that are water based and contain hydrating ingredients. Those will typically bind to the skin quicker, for a less "cakey," more skin-like finish. Neutrogena has done an amazing job with its Hydro Boost foundations, which offer moisturizing properties such as hyaluronic acid.
For normal to oily skin candidates who are looking for that long-lasting matte finish, I suggest trying Maybelline's Fit Me Matte & Poreless Foundation. This one has become a makeup artist favorite because it literally blurs imperfections, controls oil production throughout the day, and creates an airbrush finish to the skin. If you prefer a more dewy finish, check out the brand's Dewy & Smooth series.
Find the Correct Shade
Once you've determined the type of formula that would best suit your skin's condition, it's time to color-match. To land the perfect shade, it's important to test the foundation against the right area of your body. Our hands and arms can be different colors than our faces, since they usually receive less daily SPF protection. Avoid holding the bottle up to your arm or hands, and instead, aim for the jawline. The jawline is actually a great middle ground for a color-match, since foundation should transition seamlessly into your neck.
Foundations also have various undertones. You'll notice the yellows, the pinks, the neutrals, and so on. So what category of undertone do you fall into? Generally, we fall into the categories of cool, warm, or neutral. You'll notice that most pharmacy brands like CoverGirl, Maybelline, Neutrogena, and Almay (to name a few) offer foundations in those ranges of tones.
A quick and easy way to begin determining your undertone is by checking out your body's vein color. An accurate place to examine is the inner arm. The vein color that peeks through your skin can range in color, depending on your undertone, from blue to green.
Cooler skin tones tend to have more blue peeking through their skin, due to their more apparent blue-toned veins. Candidates with cool skin tones should steer away from foundations that are too yellow or orange. Instead, try looking for a foundation that appears to have slight pink undertones. The pink undertone will complement a cool undertone by neutralizing any blues that peek through the skin.
Neutrogena's Hydro Boost Foundation's Natural Ivory is one example of a hydrating, cool-tone color. For a matte finish, Maybelline's Fit Me Matte & Poreless line has a great range of cool tones like Ivory, Buff Beige, and Spicy Brown. CoverGirl's Outlast Stay Luminous Oil Free Foundation also includes similar cool tones, such as Creamy Natural.
Warmer skin tones tend to have hues of yellow or orange peeking through their complexion, with more of a green tone to their veins. If you find yourself in this category, you'll want to avoid any pink formulas, which can end up looking sallow, gray, and obvious on your skin. Instead, stick with a golden base to complement the already-existing olive tones in your complexion. Try CoverGirl's Outlast All-Day 3-in-1 Foundation in Warm Beige.
If your skin tone doesn't seem totally cool or warm, then you may fall in the neutral category. Neutral skin tones are made up of a combination of both, with less obvious blue or yellow undertones. In this case, shop for formulas that have a balance of both cool and warm tones or simply ones that actually say "neutral." If you find yourself mixing two colors together because you're neither too warm nor too cool, you may want to check out brands that are making "neutral" foundations like Almay, Neutrogena, and L'Oréal's entire neutral category of True Match foundations.
Still Feeling Overwhelmed?
Many of the brands you'll find at your local drugstore also have online shade finders, which can be a helpful preliminary shopping guide, such as this one by Neutrogena or this one from Maybelline.
These online "quizzes" are practical ways to familiarize yourself with the products that you may be on the market for — before overwhelming yourself in-store. Although I think it's important to eventually see the shades in person, online shade finders can be a great starting point.
And lastly, most commercial drugstores have a great refund/exchange policy. To be exact, CVS and Duane Reade actually have a 100 percent satisfaction guarantee policy on opened/used beauty products accompanied with a receipt. So, at the least, there's always room for trial and error!