As POPSUGAR editors, we independently select and write about stuff we love and think you'll like too. If you buy a product we have recommended, we may receive affiliate commission, which in turn supports our work.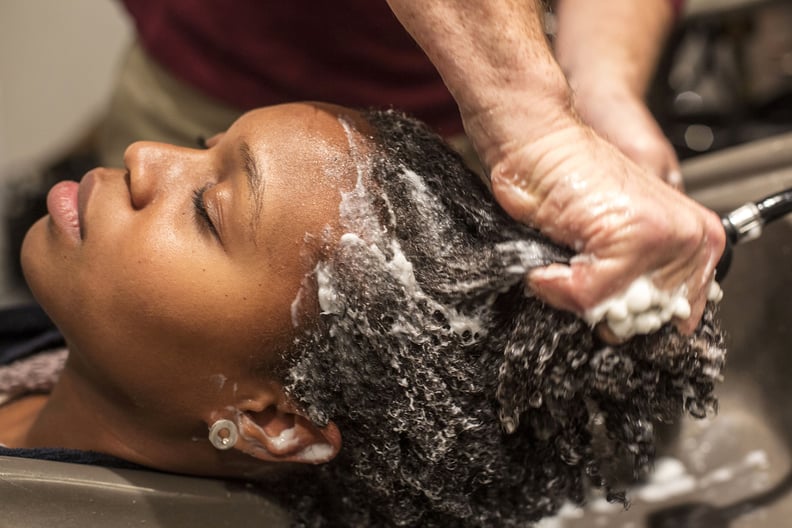 Getting elongated curls that are low on frizz and high on curl definition is every natural-haired woman's dream. But Dickey explained that the key to converting kinks to curls is styling while hair is soaking wet.
First, wash hair with a non-sudsing cream cleanser to keep it moisturized and frizz-free. Don't pile your strands on top of your head, though. Instead, pull all your hair back and scrub the roots and comb product through to the ends with your fingers. Follow with a conditioner, and begin the detangling (and stretching) process.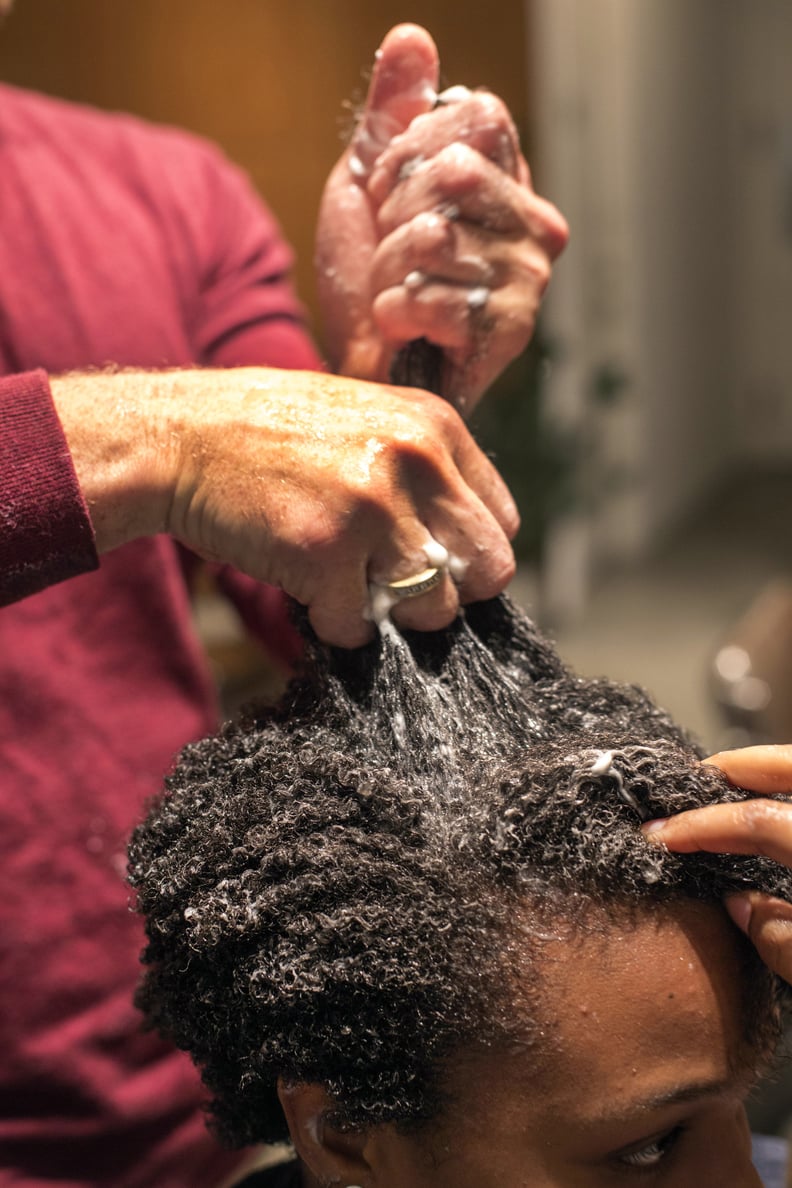 Kinky hair types often experience extreme shrinkage, but it turns out the process to long ringlets begins in the shower. "When women say they don't get salon results at home, we find out they're using quarter-sized amounts of product," Dickey said. For natural textures, he recommended using an amount more along the lines of golf and tennis ball proportions.
When it comes to applying conditioner, completely coat your strands with it. Use your fingers to detangle, pulling hair from roots to ends; this will help lengthen and clump curls together. You can also use this same technique when you put in a styling gel, such as the brand's Kinky Curling Cream ($26).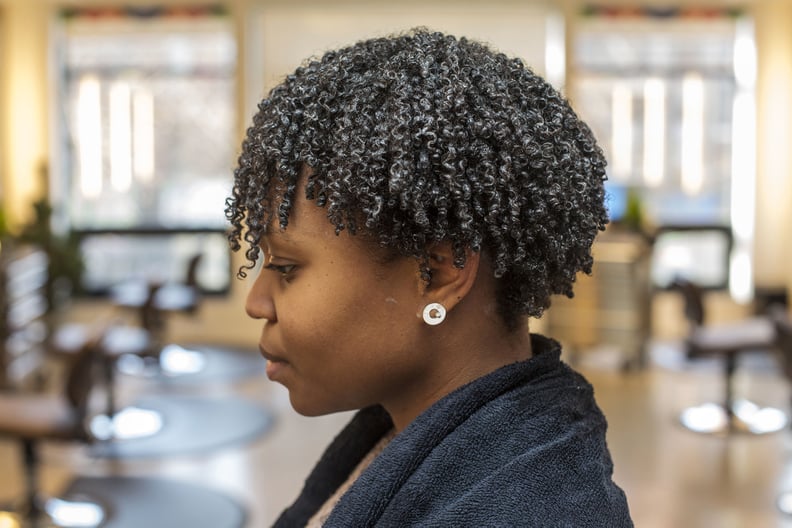 In order to distribute the product throughout the hair, rinse the entire head with a splash of water. Then, bend over and shake furiously. This will help separate curls, and each hair will fall naturally into place when you flip back over. Sit under a hood dryer until hair is completely dry (about 30 minutes).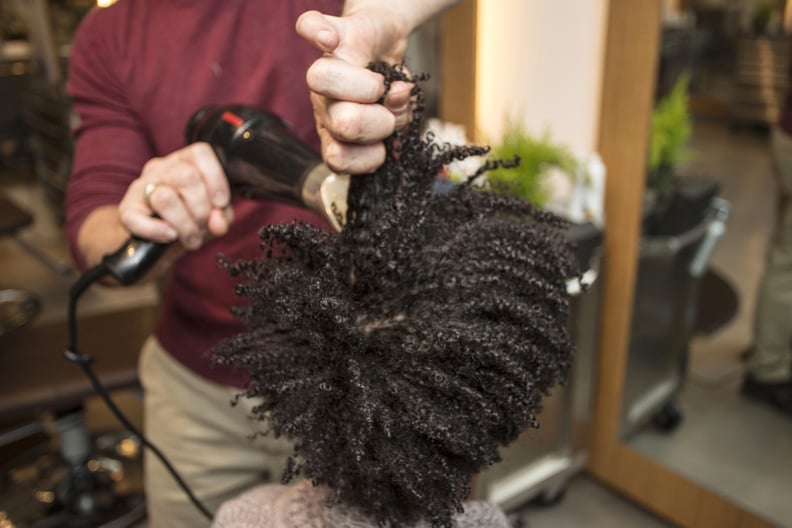 The next step to getting the big hair of your natural dreams is to stretch it with a blow dryer. Focus the heat at your roots while pulling hair from the mid-shaft. In order to prevent frizz, however, try to avoid combing hair with your fingers.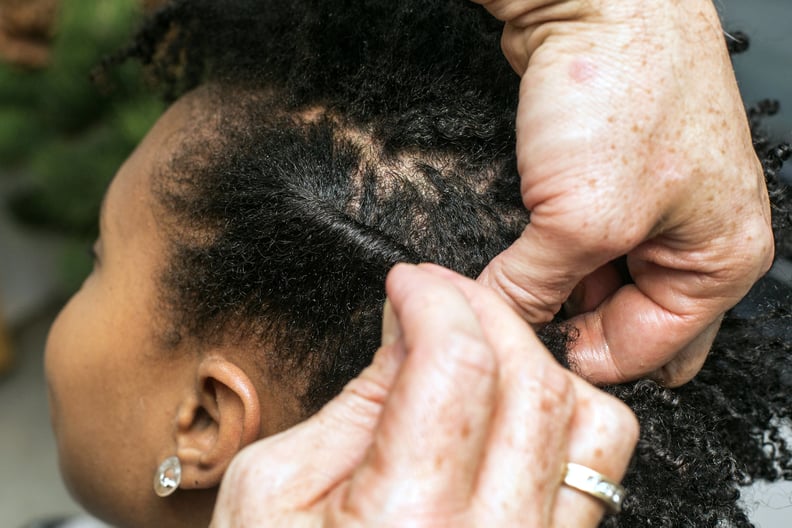 To transform your everyday curls into a night-out updo, make five sections (two horizontally on the sides and three vertically in the back). Twist hair upward on the sides, rolling it in itself while tucking in the ends. Secure with U-shaped hairpins as you go along. Make sure to insert each pin below the twist, and then flip it and push all the way in using a downward motion.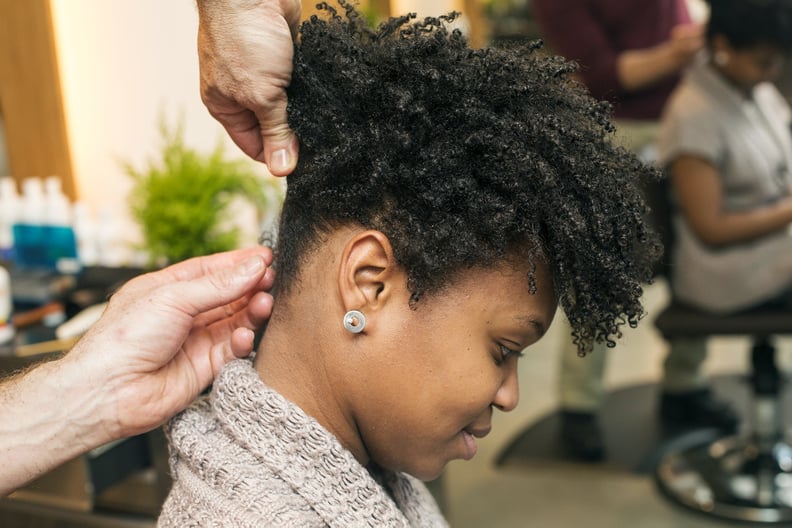 Continue to twist and pin the hair all around the head. Don't worry about parting hair perfectly; just grab and go. All the twists should end near one central point at the crown of the head. In order to keep the twists smooth and flyaways scarce, use a pomade on your fingers as you style.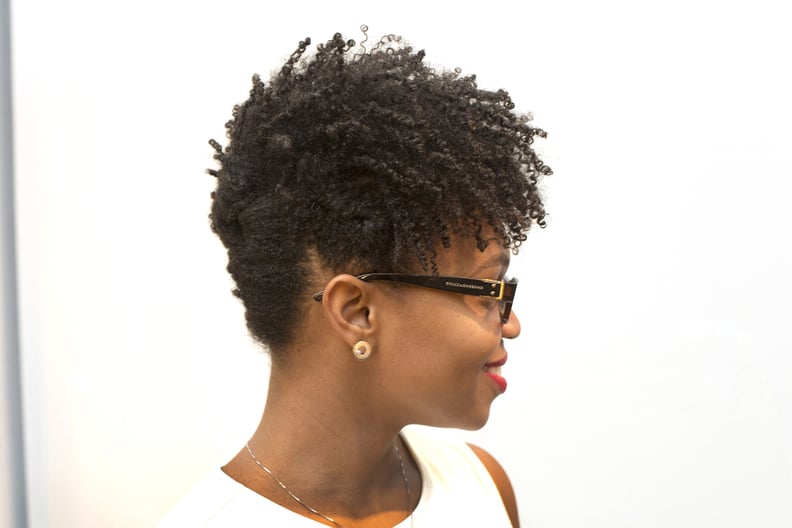 If your hair is continually flopping forward instead of standing up, then use Dickey's trick: take a wide-tooth comb (or hair pick) and lift hair at the roots. Then, spritz just the roots with a hair spray, like Hair Rules Volumizing Hair Spray ($12).
The finished look is fun and funky, yet sophisticated enough for a formal affair. To keep this style fresh after a long night on the dance floor, tie a scarf around the back and sides before bed.