When POPSUGAR Beauty editor Lauren Levinson pulled me aside after an editorial meeting and told me I made an eyebrow faux pas, I had no idea what she was talking about. "They're supposed to start here and here," she said, pointing to both sides of the bridge of her nose. If that was true, mine were far from perfect — beginning in the middle of my eye rather than at my nostril.
I was shocked and frankly pretty crushed. While I don't consider myself a beauty guru, I've always thought that eyebrows — from their distinctive shape to their thickness and color — were a big part of my persona. In fact, I had recently dyed my hair blond, and I'm all about the contrast of my light locks and my dark arches like Cara Delevingne or Margot Robbie in The Wolf of Wall Street.
Knowing that I was the reason my own brow line didn't dip at the right angles or flatter the rest of my facial features was upsetting to say the least. I felt panicked — as if people had been silently judging me for months — and I had to put an end to it. But at the same time, this wasn't as simple as getting a quick wax or pedicure. In the back of my mind, I was already counting how many weeks it'd take for my brows to grow back — how many weeks it'd take for me to appear "normal" again.
Lauren, who had visited Jared Bailey, Benefit's global brow expert, earlier this year, explained how to create the ultimate brow balance — and it's all about pinpointing the start, the arch, and the end points of your brow. To figure out where to start your brows, you should draw a line from the dimple of the nose to the beginning part of your brow (which actually makes your nose appear thinner). By drawing a diagonal line from the outer corner of your nose, through the pupil, to the top of the brow, you find where your arch should be at its highest point. Lastly, start at the same spot on your nose, but trace your waterline to figure out where your brows should end.
I was ready to let my hair grow back — but while that sounds easy, it was a pretty awkward process that took about seven weeks. On the flip side, I definitely learned a valuable beauty lesson, and arriving at my brand-new set of brows was totally rewarding. Below, a personal timeline filled with random patches of hair and failed fill-in attempts. Photo: Sarah Wasilak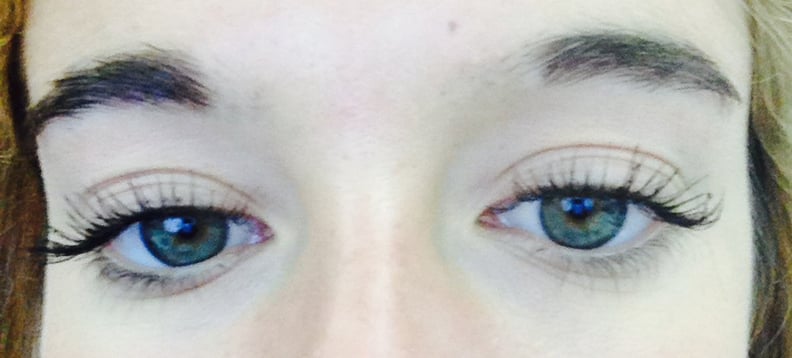 Step 1: Acceptance
There was no "denial" stage in my eyebrow journey — I had no idea I'd overplucked. But as soon as Lauren brought the "issue" to my attention, I asked my mom, sister, and best friend if they had noticed my barely there brows.
My crew responded that yes, they'd noticed my diminishing arches. But they thought I wanted to look that way. Ugh. Thanks, guys!
This photo was taken on July 24, just a few days after I decided to start documenting the process. At this point, I was a little nervous to put down the tweezer, but I knew it was the first step. Photo: Sarah Wasilak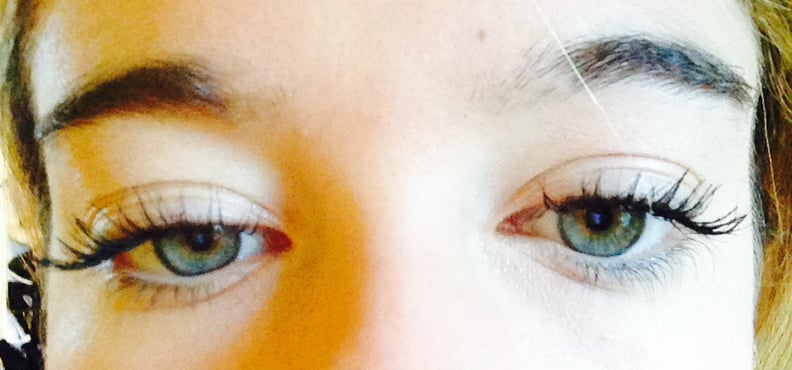 Step 2: The Awkward Phase
Just two weeks later, on Aug. 7, my brows were starting to grow, and I wanted so badly to pluck the darker hairs. The beauty team mentioned that I should try shading with a pencil, but I was hesitant at first as I felt the distinction between my hand-drawn line and the actual brow would be too obvious.
Separately, Lauren mentioned that she had visited Sania Vucetaj, a brow expert who offered her one very useful tip: rather than applying Latisse, it's actually more useful to let your brows breathe. Don't put anything — sunscreen, lotion, or foundation — on top of the spots where you want your hair to grow as formulas can block the hair follicle. Mind-blowing! She also told Lauren that shading in the area with a light pencil before you apply face lotion can act as a barrier.
This was my answer to maximum growth in minimal time — so you can be sure I wasn't playing around with products! Photo: Sarah Wasilak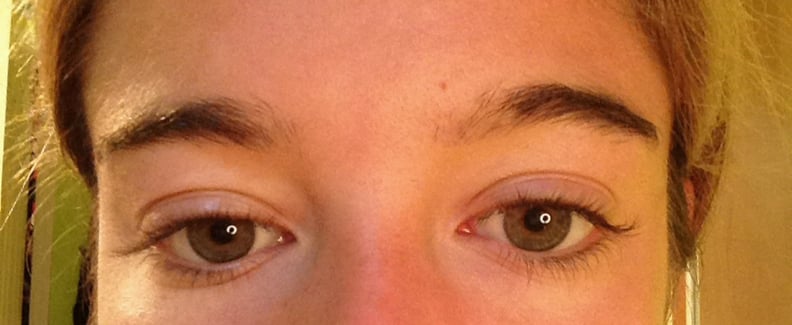 Step 3: The 5 O'Clock Shadow
On Aug. 13, I had high hopes for my brows because the hair was starting to grow in quickly. I didn't mind the "shadow" at this point — even if I did feel a bit self-conscious. Sometimes, I'd worry that whoever I was talking to was staring at the area. I still wasn't applying anything to the spots, and I wasn't even tweezing stray hairs beneath my brow. I figured I'd eventually need them to help me create shape and definition. Photo: Sarah Wasilak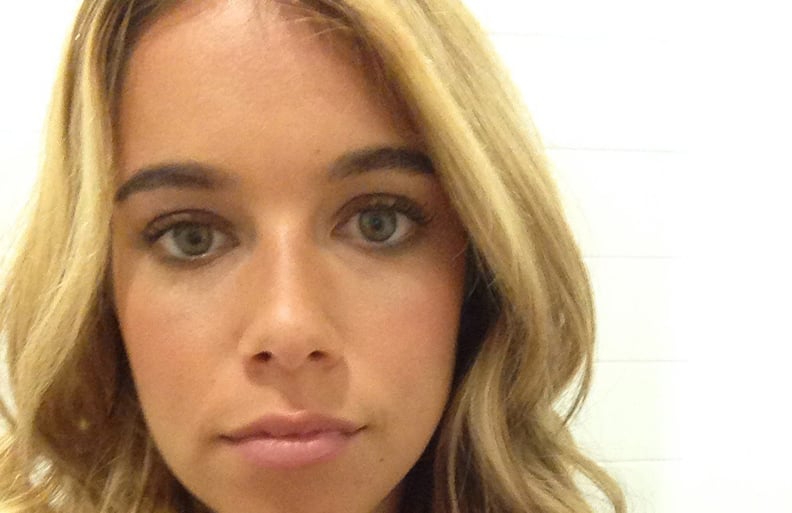 Step 4: Experimentation
On Aug. 15, makeup artist Luigi Trejo came to our office to give a few of the editors makeovers using the new Too Faced Cat Eyes Palette. He filled in my brows using both a powder and a primer, and I liked the way they looked. He made them thicker and darker (hello, Brooke Shields!). However, I didn't think I'd be able to master the same arch at home, so I continued to let my brows breathe and grow. Photo: Sarah Wasilak

Step 5: Shaping Up
On Sept. 13, I had an appointment at Americana Salon & Spa in Roseland, NJ, with Vincenza Jazenback. We talked about the process, she sculpted my arches, and we decided that while they aren't necessarily perfect (or completely grown-in), I would return for another shaping in a couple of weeks. I was very happy with the result and will always remember Vincenza's final words to me as I walked out of the room: "Your brows are going to make you feel so confident, you'll walk into the room like, 'What now b*tches?!'" That they did. Photo: Sarah Wasilak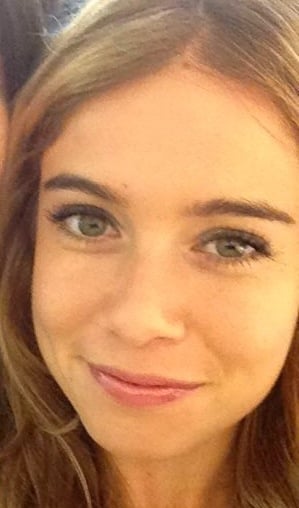 Step 6: The Full Reveal
Now that my face frames are back to "normal," I want to show them off! On Sept. 19 I played with purple eye shadow in an attempt to highlight my eyes and draw attention to my brand-new set of bold brows. Photo: Sarah Wasilak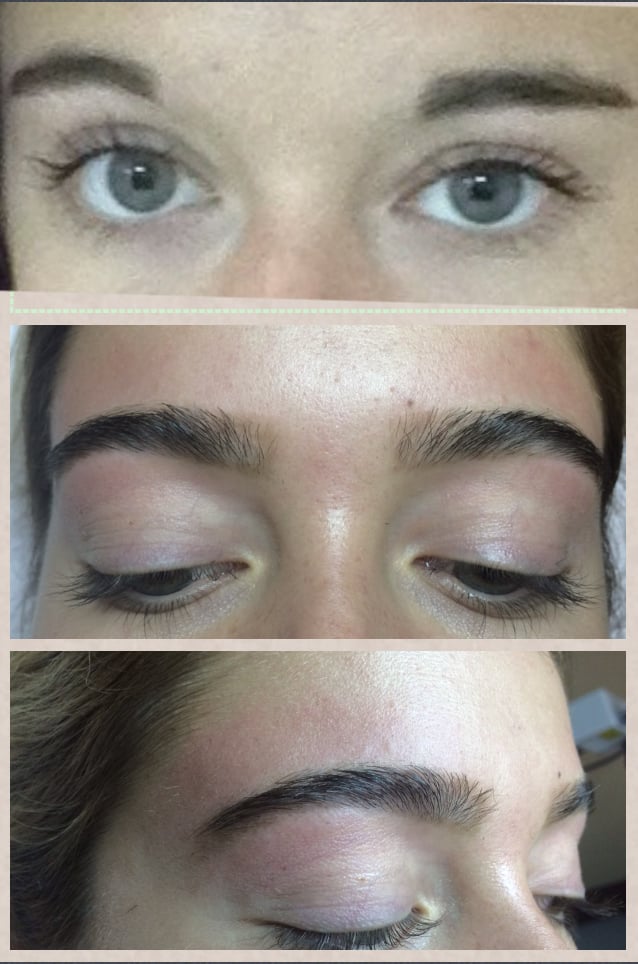 The Total Transformation
Here's what my brows looked like before I started my brow journey (top photo) and after my shaping appointment at the salon (middle and bottom photos).
Did you — uh — pluck up, too? Don't worry! Put down the tweezers and step away slowly. And then, just do nothing. Your dream brows can be yours, too, in just a few months.