As POPSUGAR editors, we independently select and write about stuff we love and think you'll like too. If you buy a product we have recommended, we may receive affiliate commission, which in turn supports our work.
Shaving your underarms should be a simple task, but for one reason or another many of us dread it. Time is always a factor, but the real reason so many of us hate shaving our armpits is because of the possibility of nicks and post-shaving irritation. You could be a seasoned groomer or just entering the delightful stage called puberty that we look back on so fondly (that's sarcasm) — everyone could benefit from a few expert tips.
Body hair, or the lack thereof, is a personal choice. So, if you're reading this, we can only assume you've made the conscious decision to get rid of yours in your underarm area. And with a few tips and the right tools, we have no doubt the experience will go smoothly. Ahead, shaving expert and Pacific Shaving Co. cofounder CC Sofronas explained step by step how to shave your armpits — the right way.
Step 1: Prep the Skin
"The steps required for a comfortable shaving experience are simple and straightforward," Sofronas said. To start, prep the skin by cleansing and exfoliating. "[This] will remove any deodorant, bacteria, and/or sweat."
We recommend using the The Body Exfoliator ($30) from Nécessaire or Herbivore's Coco Rose Exfoliating Body Scrub ($36).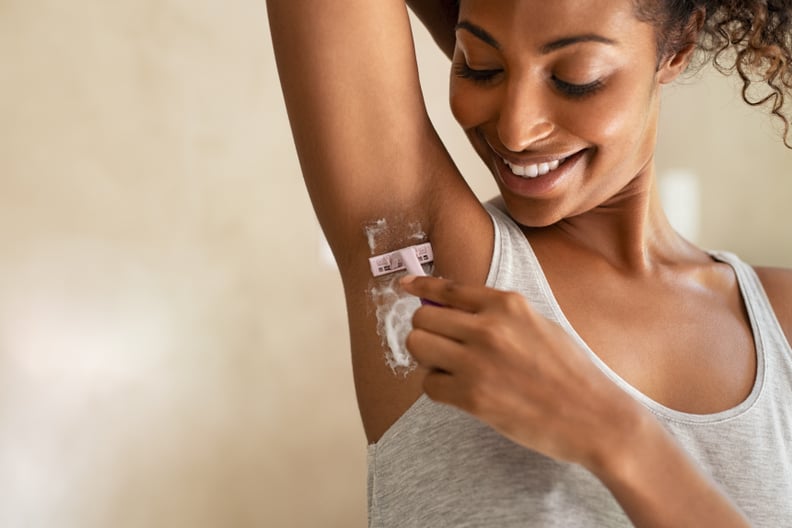 Step 2: Don't Skip on the Lubricant
If you're only using water to shave, you're doing it wrong. "A shaving lubricant will provide a layer of protection for your skin against the blades, minimizing friction, which can cause razor burn," Sofronas said. "Choose a shaving cream that is fragrance-free, because synthetic fragrance can also cause irritation."
We recommend the Pacific Shaving Co. Natural Shaving Cream ($8) or the Eos Shea Better Shave Cream For Sensitive Skin ($4).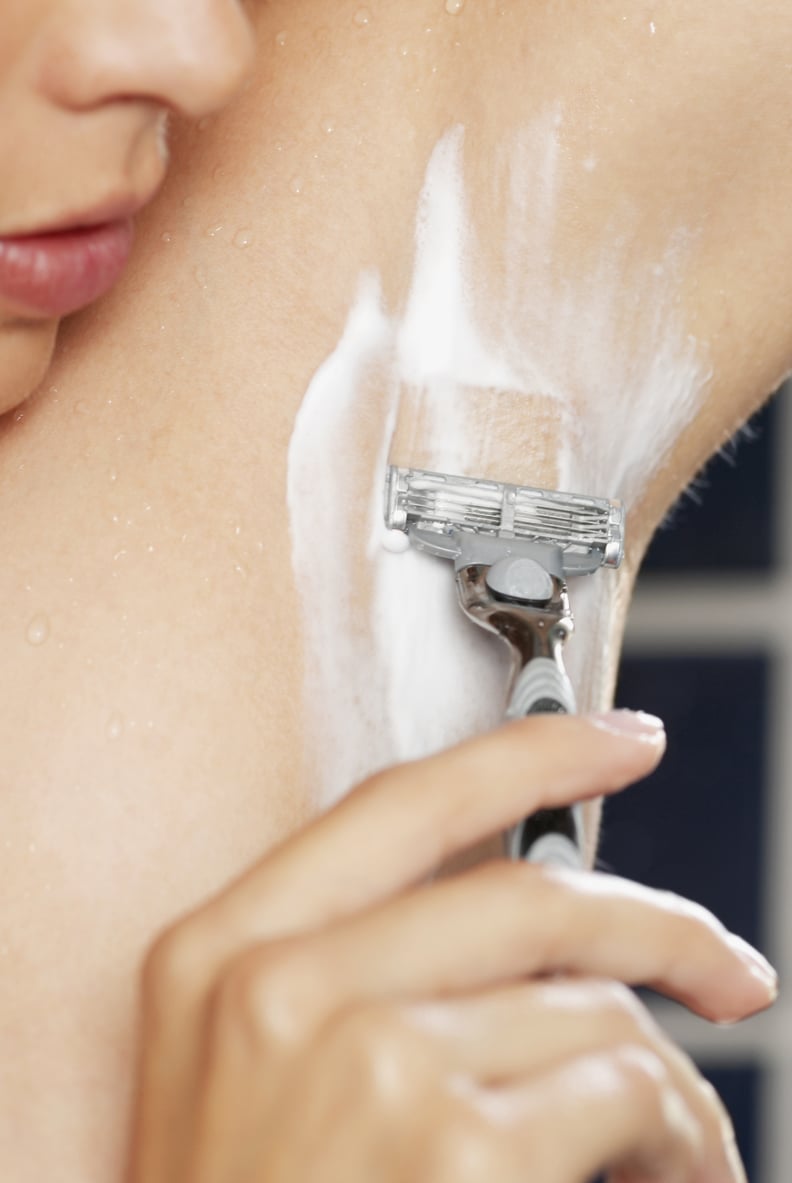 Step 3: Go Slow
You should take your time shaving any part of your body. "If you rush, you're more likely to nick yourself," Sofronas said. "And remember, armpit hair grows in several directions, so be mindful and try to shave only once in each direction, minimizing any irritation." Going over the same area of skin multiple times is a big no-no.
Thoroughly rinse your razor between each pass over the skin and after you finish shaving. "Bacteria can form on the blade if it's not clean, which in turn can cause razor burn."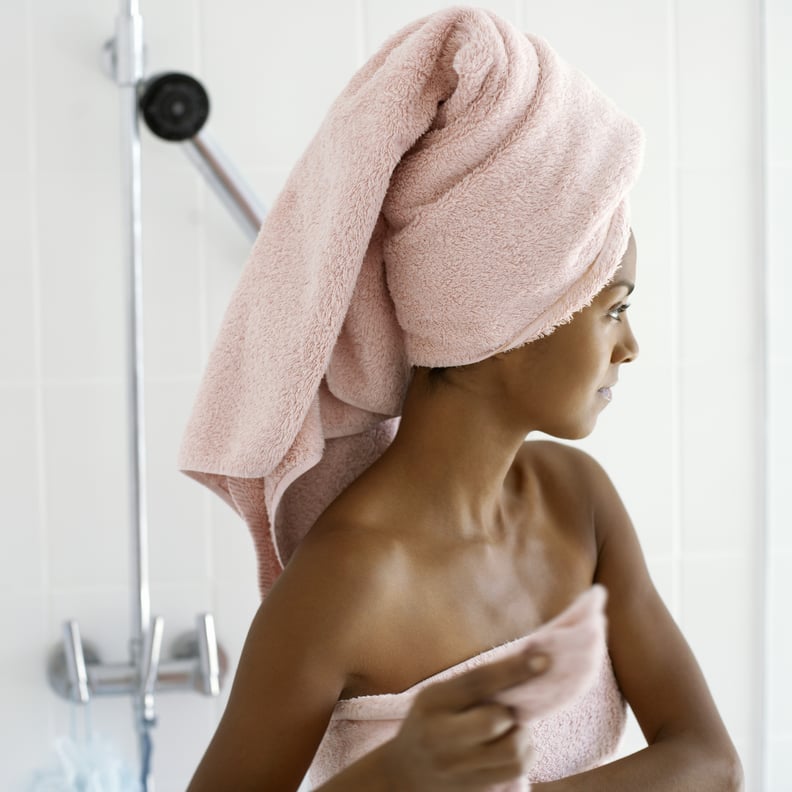 Step 4: Moisturize the Skin
The process doesn't end when you finish shaving. You'll want to moisturize the skin. "Applying a noncomedogenic shave oil will help soothe and moisturize your skin."
We recommend the Flamingo Mons Mist ($12) or the Fur Ingrown Concentrate ($28).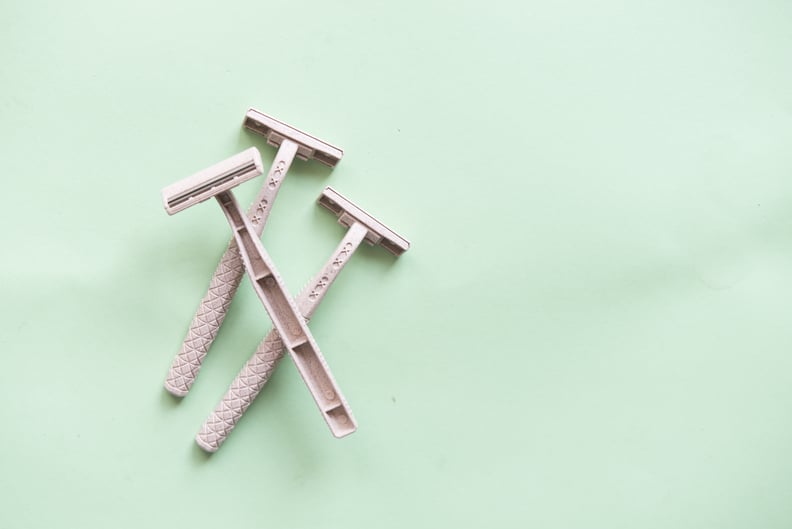 When Is the Best Time to Shave?
Even though the idea to shave usually hits us right before we're going somewhere, that's not the best time to do it. "If there is an important event on your calendar, don't wait to shave until right before, as you may inadvertently cause irritation, chafing, or razor burn, which will lead to discomfort and redness," Sofronas said. "Instead, shave the morning of or night before, giving your skin time to heal and recuperate."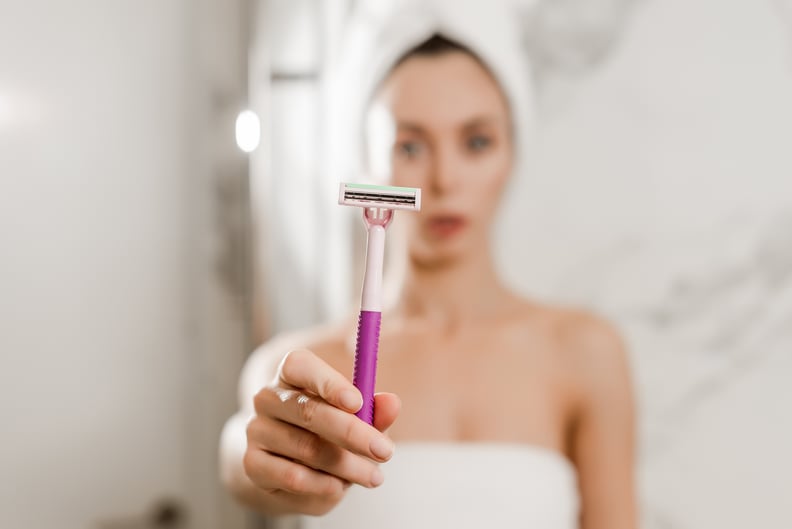 2 Common Shaving Mistakes to Avoid
The process for shaving your armpits isn't complicated, but there are still a couple of common mistakes you should be mindful of. First: don't shave right when you get in the shower. "It's always best to shave at the end of the shower, when your skin and hair will be hydrated and soft, ensuring a comfortable shave," Sofronas said. Second: remember to change your razor or the blade. "Think back to when you last changed your blade. If it has been a while, change it. You always want sharp blades, because a sharp blade will offer the cleanest cut while a dull blade can tug and irritate."
If you're in the market for a new razor, we recommend the Vera Bradley + Venus ComfortGlide Sugarberry Razor + 2 Razor Blade Refills ($13) or the Billie Razor Starter Kit ($9).