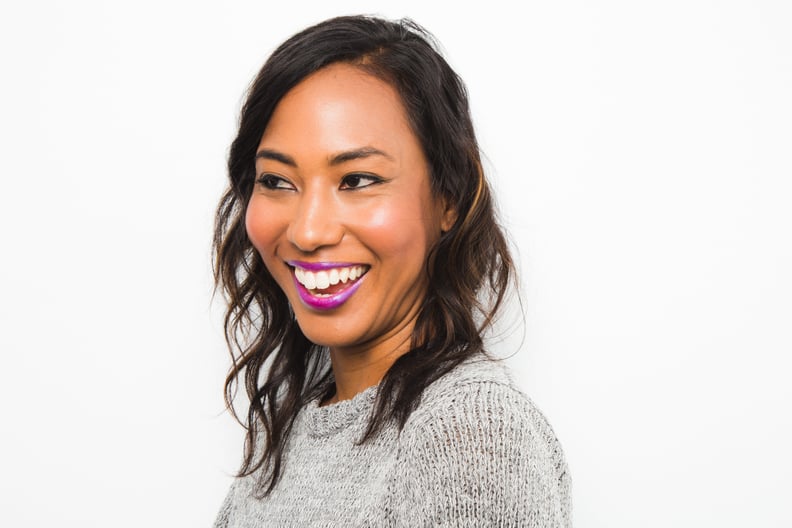 POPSUGAR Photography | Benjamin Stone
POPSUGAR Photography | Benjamin Stone
As POPSUGAR editors, we independently select and write about stuff we love and think you'll like too. If you buy a product we have recommended, we may receive affiliate commission, which in turn supports our work.
Typically we save our darkest plum lip shades for the moody months of Winter. There's something about wearing a matte black cherry hue with a parka in five feet of snow that says "badass." But this Summer we can't kick our vampy makeup habit — even when it's 90 degrees. So, we consulted Urban Decay makeup artist Pepper Bass for tips on how to pull off the look without it turning too goth. Her secret — use eye makeup on the lips! Eye shadow and eyeliner hues are high in pigment, which creates a lip look with vibrant color and texture. Read on to get the full step-by-step and a shopping list for this hot purple pout.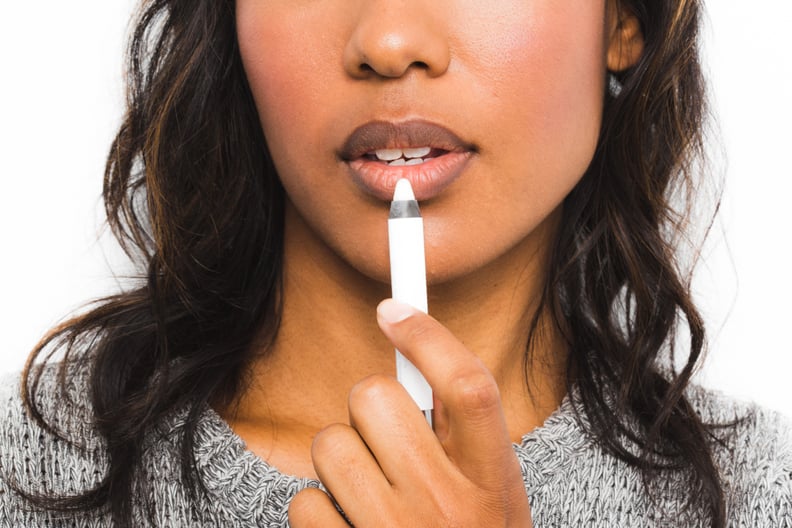 Step 1: Prime Lips
Saturate lips with Urban Decay Ozone Lip Primer ($20). It goes on like a lip balm, and Ozone helps fill in the vertical lines that make a bold lip look cracked. You can also apply the product over the lip line to keep the color from bleeding.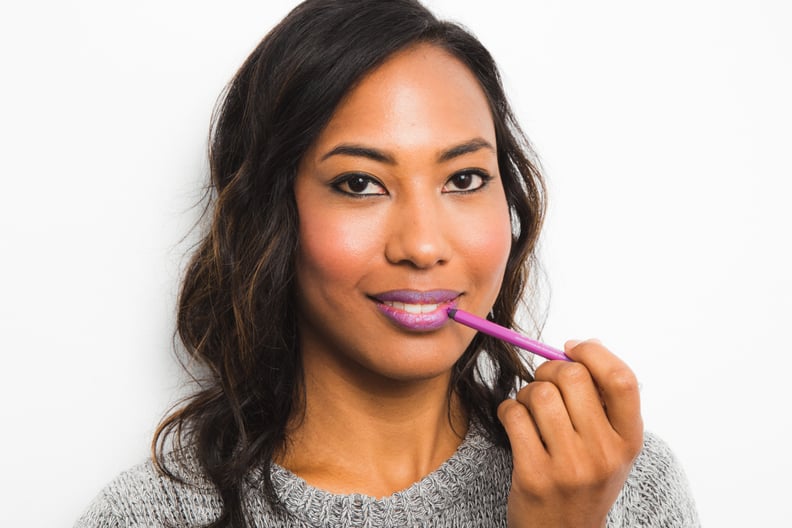 Step 2: Line Lips
Cover lips with Urban Decay Asphyxia Eyeliner ($20). Using an eyeliner as a lip liner gives you a powerful pigment payoff, but the texture is a little tougher. Smile softly into the mirror, which will help avoid any tugging on the skin.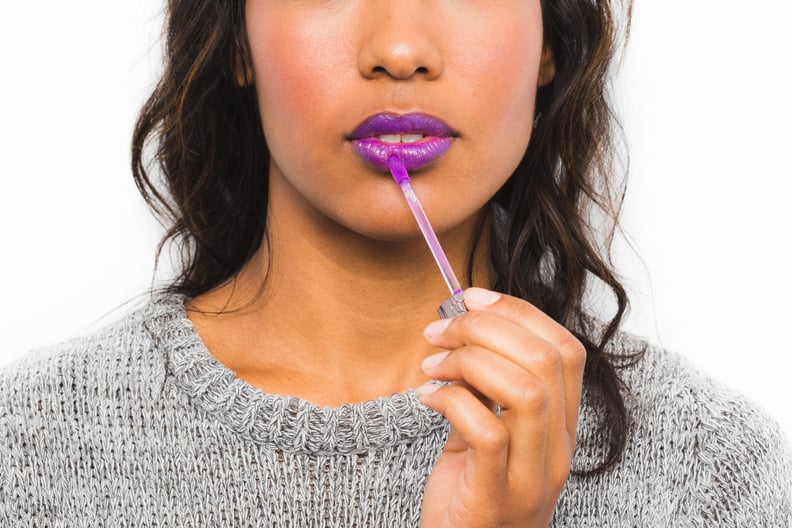 Step 3: Add Gloss
Give the lip a shiny lacquer with a layer of High Color Lipgloss in Bittersweet ($22). First, use the tip of the applicator to line lips. Then, use the flat surface to fill in the entire pout.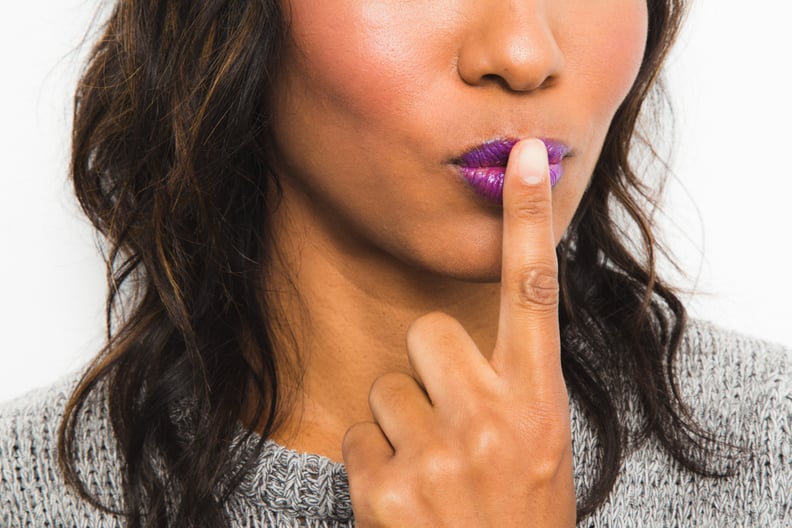 Step 4: Highlight With Shadow
Use the glittery Jilted shadow shade from the Urban Decay Electric Palette ($49) to add glitz. Dab it on with your fingers in the center of the top and bottom lips.
Step 5: Apply Blush
You can also use the purple eye shadow shade as a blush. Don't worry — the bright powder formula loses some of its saturation when you apply it to the cheeks. So it will appear more flushed than fuchsia on the face (like in the photo ahead).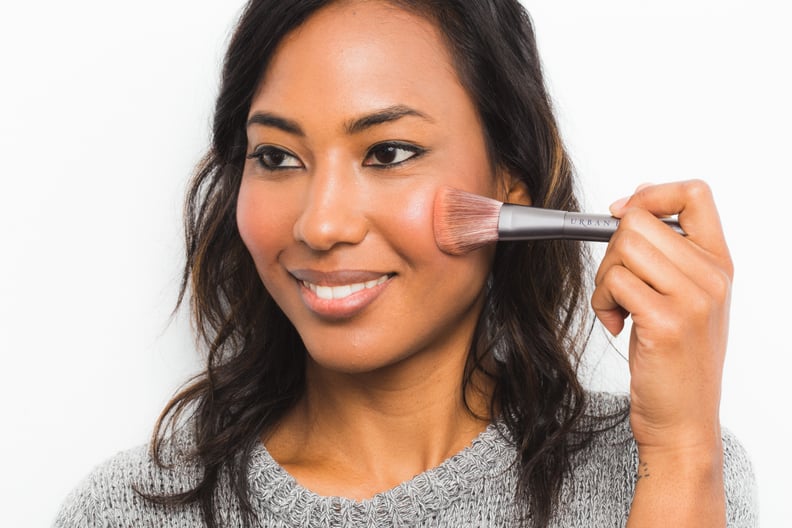 Step 5: Apply Blush
To use Jilted as blush, lightly dip a fluffy brush in the shadow and dab on your hand to get rid of excess product. Start with very little product, then layer on more if you need to. Even though it's the same violet color used on the lips, it looks muted on the cheeks.