I Never Wear Eye Shadow, So I Challenged Myself to Use a Colorful Palette For 1 Week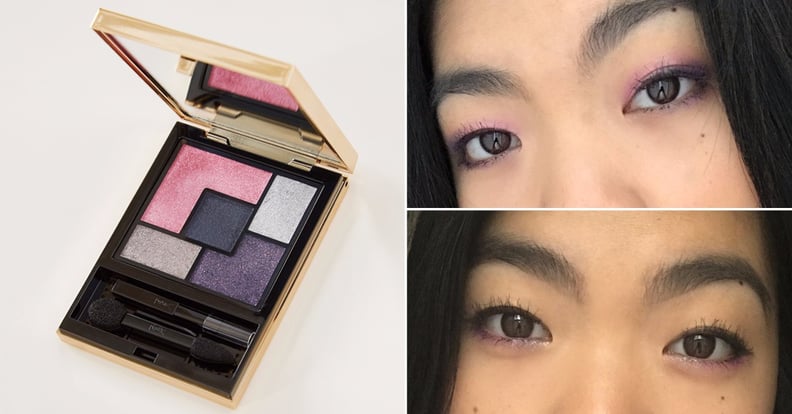 POPSUGAR Photography | Carrie Carrollo
POPSUGAR Photography | Carrie Carrollo
If Facebook could put a label on my relationship status with eye shadow, it would be "It's Complicated." It's not even that I can't apply it; I've played glam squad for events, dabbled in SFX makeup, and even had a brief gig as a Nordstrom makeup counter girl. The issue is, I just don't like doing it on myself. I've learned that a certain technique looks best on my Asian eye shape — deep, dark, and ultra-smoky — so I save it strictly for special occasions and nights out.
But I couldn't call myself a true beauty girl without being willing to step outside my comfort zone every once in awhile. As a preview for the Must Have x Neiman Marcus box (it's a REALLY good one, you guys), two beauty products recently arrived at my desk. The first: YSL's Limited Edition Neiman Marcus Exclusive Wild Illusion Palette for Holiday 2017. The second: a sample of their buzz-worthy The Shock mascara.
The Palette
Opening the metallic packaging, I was stunned to find that this luxe palette included shimmering shades of silver, pink, and plum. Eek! I immediately assumed it'd be one I saved for a night out or used almost exclusively as cute desk decor. But as an editor, guinea pig-ing products for the people of the internet is a given, and I was up for the challenge to make it work. For one full workweek, I exclusively wore this palette and mascara, getting more daring with my choices as the days went on. Keep reading to see all five looks, plus my final thoughts on wearing colorful shadow IRL.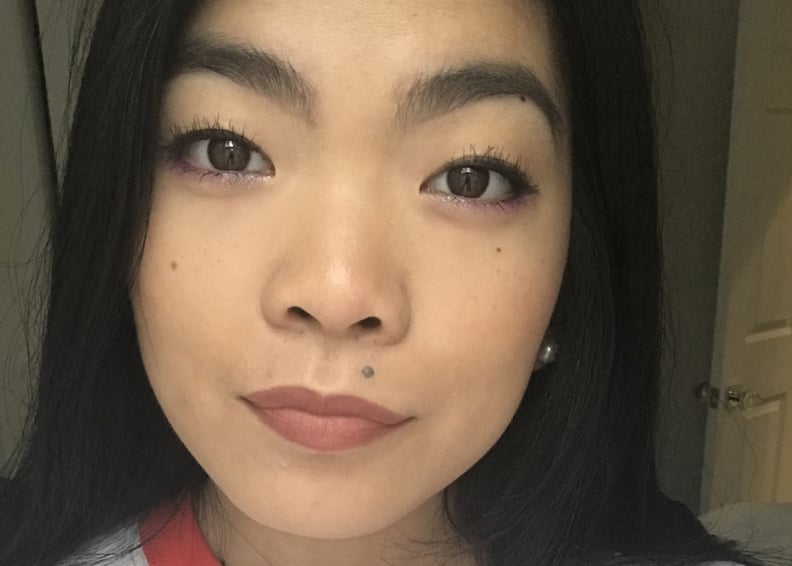 Day One
To lightly dip my toes into the world of pink and purple-tone possibilities, I played it extra safe on day one. My go-to eye look is a swipe of liquid liner — I change the thickness and add a wing depending on my mood . . . and how late I'm running — so I swapped that with a touch of color. For definition, I applied the center shade to my top lash line using an angled liner brush saturated with setting spray. Then, I used a pencil brush to buff the pink shade along my lower lash line and dusted the (very shimmery) silver shadow on the innermost part of my eye. This thankfully masked my lack of sleep, and the overall look was actually pretty normal looking! Onward we go.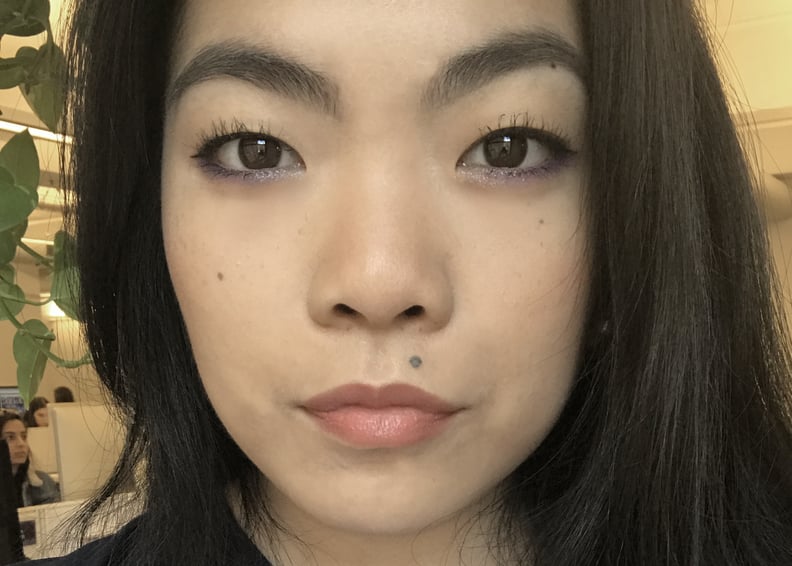 Day Two
I was content with my day one look, but the pressure was on to switch it up . . . with purple. Knowing I'd be doing my makeup in a crowded SoulCycle bathroom, I threw a handful of brushes and a few purple eyeliners in my makeup bag and jetted out the door at 7 a.m.
This was not the environment to attempt a sultry, colorful smoky eye, so I decided to focus the shadows on my lower lash line again. I first applied black liquid liner to both of my eyes as normal. Then, I used the palette's lower left shade (a greige with small pale pink reflects) and buffed it out completely. To prepare for the purple shadow, I took an electric purple-blue eyeliner and applied it in thin strokes. I softened the line using a fluffy brush and then added pink and silver using a tiny packer brush for some luminosity. Overall, this look was much more wearable and subtle than expected.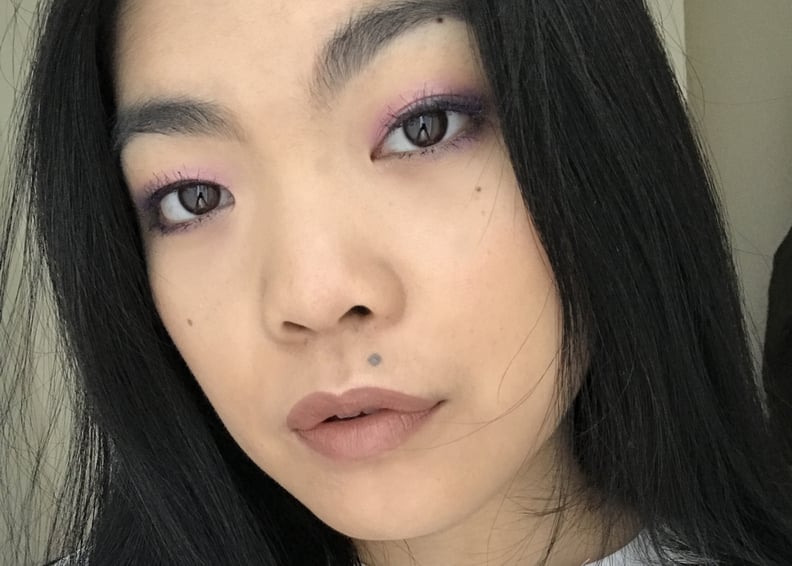 Day Three
I supposed I had played it safe enough the first two days. At a loss for inspiration to take things up a notch, I looked on the back of the palette box for directions — and I found some! They suggested using the pink shade as an all-over base and the silver as an "illuminator." The other three colors were open to interpretation.
To give the pink an extra punch, I used a pearly cream-to-powder highlighter as an all-over base. Then, I wet a packer brush with setting spray and pat pink shadows all over my lid, going up about an inch. I used a fluffy blending brush to add a bit of the shimmery greige color to my outer corner, and deepened it up with the palette's darkest shade. The final step was dusting a mix of shades on my lower lash line and adding silver to the center of my upper lid. In all honesty, I loved how this looked and received compliments throughout the day.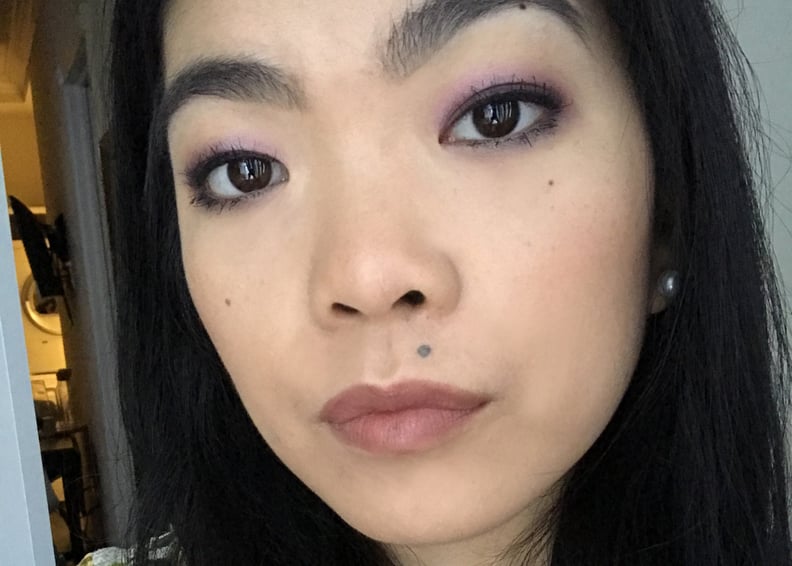 Day Four
Three words guided my look for day four: pink smoky eye. Graduating from the subtle pink shades I played with the day before, I was ready for a slightly more dramatic upgrade.
After priming my lids, I blended pink shadow all over my eyes in big, sweeping motions. Then, I mixed the greige and purple colors to add depth to my look, beginning from my lash line and moving up and toward my outer corners. I applied the same combination of shades on my lower lash line to balance it all out.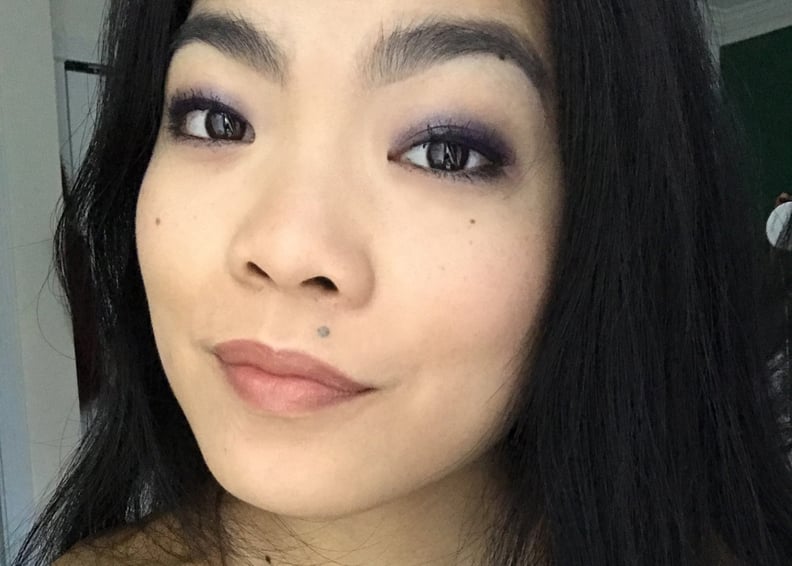 Day Five
Whoa, how'd we get here so fast?! Though part of me was breathing a sigh of relief that it was already day five, I wouldn't have minded if it wasn't. By now, I felt like an expert at navigating the palette's five shades, so it was time to go all out. I was taking matters to the dark side.
My first step involved generously blending the greige shade all over my eyelids. I used a lighter hand the further I went up so that it blended and transitioned into my skin tone. Then, I took the same purple eyeliner from day two and added it straight to my lids as a base for the darker shades. I buffed it out and applied the lower left purple shade over it, concentrating it in the center of my eye. A final sweep of the darkest shade in my outer corners and silver shades toward the latter half, and the look was complete.
The Final Verdict:
We have a winner, folks! (Technically two — the mascara lives up to the hype!) I've always liked eye shadows and believed that they're a total asset to any beauty look. That thought process, however, usually applied to more neural shades. Wearing this colorful palette for the week taught me how simple it was to make the bold, shimmery shades everyday-friendly and as nonintimidating as possible. Yes, it'll always have a spot on my desk as colorful decor, but I think I can make some room in makeup bag for it, too.