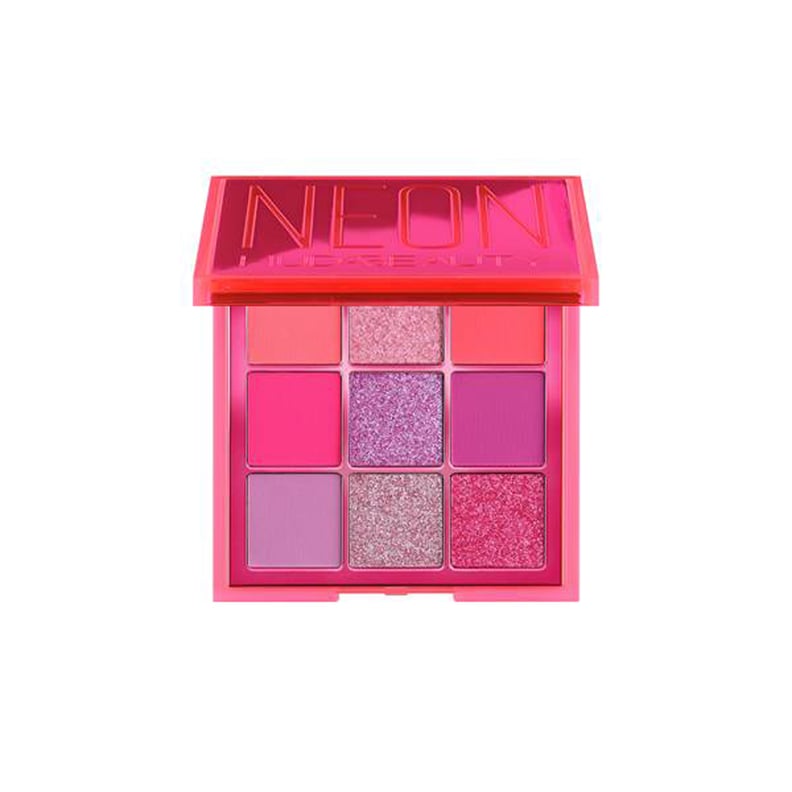 Huda Beauty's latest launches, the Huda Beauty Neon Obsessions Palettes ($29), are unlike any of its others. They're electric, they're highly pigmented, they're — in a word — neon.
The mix of shades in each of the three palettes — which come in Pink, Green, and Orange — were thoughtfully curated, according to the brand's cofounder, Huda Kattan. "For Neon, we knew that if we only included super-bright, matte pigments that it would limit versatility and potentially intimidate consumers, so we included a variety of bold matte colors and dimensional metallics and shimmers that could all stand alone but also complement other shades at the same time," she told POPSUGAR. "All of our shades look great on any and all skin tones — we test it to make sure." To help the colors really pop, Kattan suggested using a primer or the Overachiever Concealer as a base under the eye shadow.
If you're wondering what the vibrant mattes and high-shine duo-chrome eye shadows would look like on your lids — or how the hell you should begin using neon eye shadow — we've done the legwork for you. We asked three editors to create fluorescent looks, and the results were surprising. Check them out, along with close-ups of the palettes (which launch online on May 30), ahead.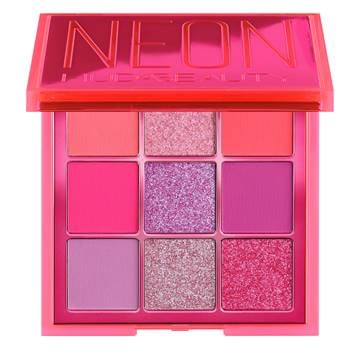 Huda Beauty Neon Obsessions Palette in Pink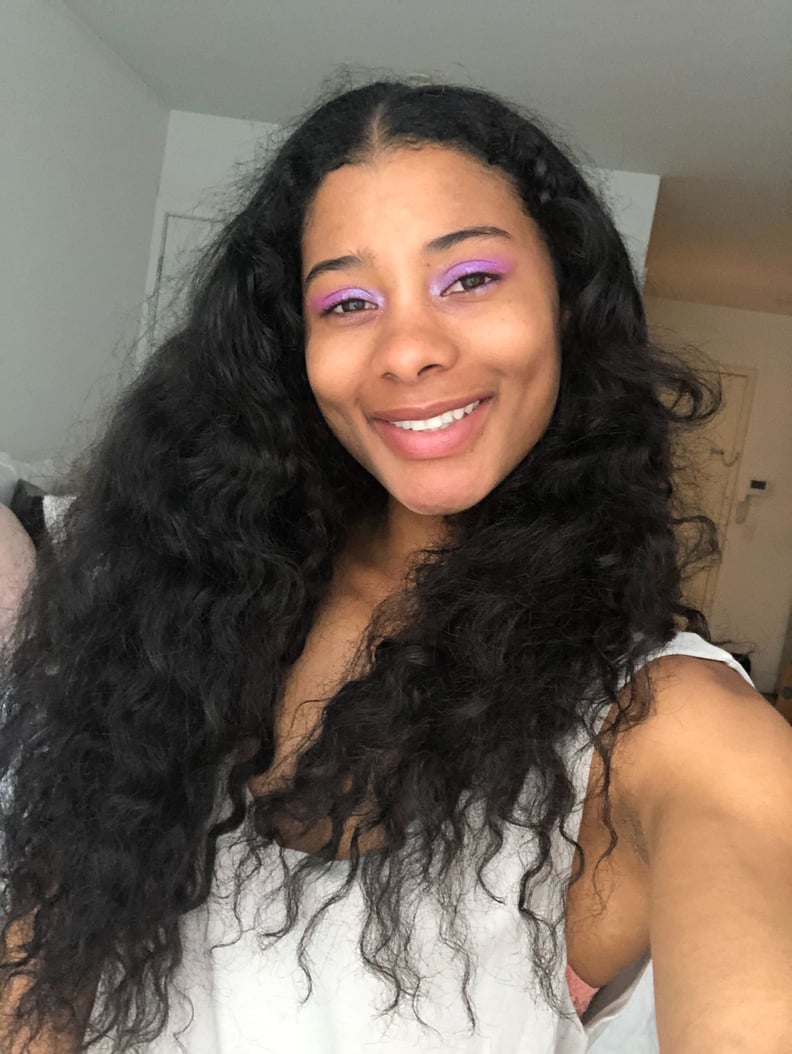 Tamara Pridgett in Huda Beauty Neon Obsessions Palette in Pink
"I'm no beauty guru (although, there was a period where I was really into YouTube makeup videos). To create this look, I first applied the matte magenta-purple onto my eyelids. Then, I put the lavender shimmer on top of that, and on the inner corners of my eyes (because I saw Rihanna do it once). Lastly, I put some hot pink shimmer on the outer corners of my eyes to create a gradient with the colors."
"I was extremely intimidated at first about the colors of neon because I rarely wear makeup and never wear eye shadow, let alone neon eye shadow. Instead of overthinking, I just played around with colors I liked to create this look. I don't look like a clown, and my friend had complimented my look nonstop after I showed it to her. I will definitely be experimenting with this neon palette again." — Tamara Pridgett, assistant editor, Fitness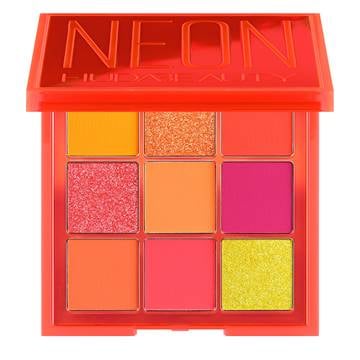 Huda Beauty Neon Obsessions Palette in Orange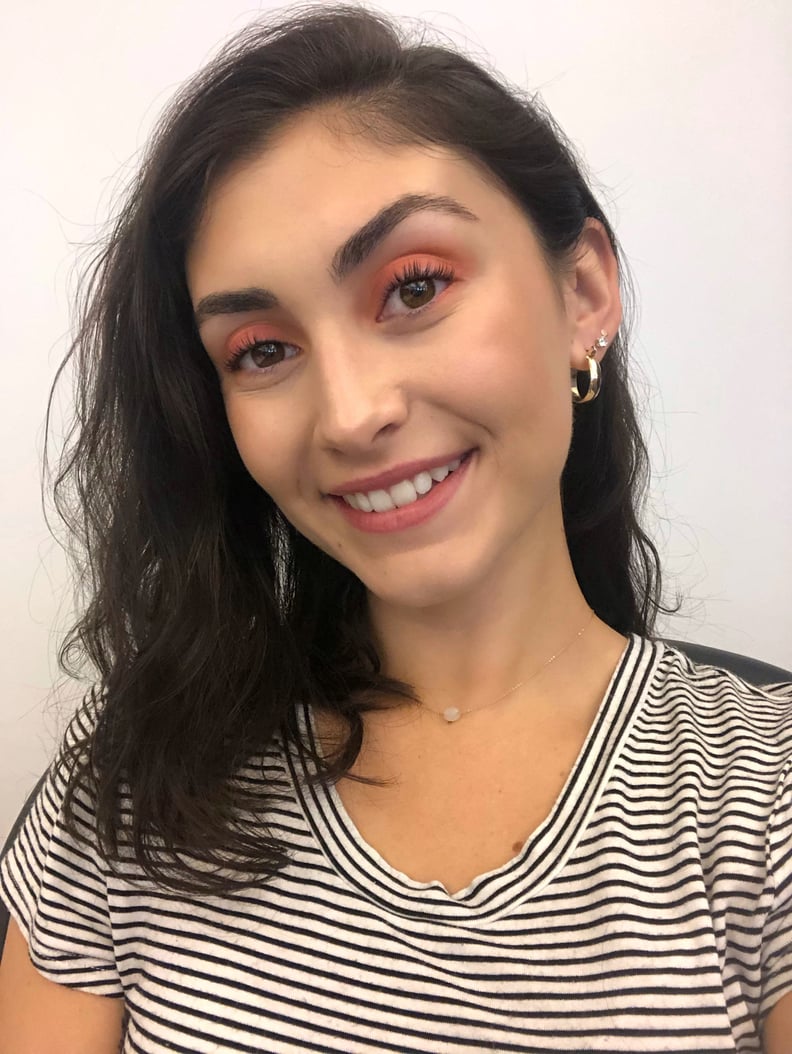 Jessica Harrington in Huda Beauty Neon Obsessions Palette in Orange
"The sheer brightness of the Neon Obessesions Palette in Orange by Huda Beauty intimidated me at first. I generally stick to more neutral eye shadow hues, but I was up for the challenge of making this neon eye look work. I applied the matte peach shade onto my entire lid and buffed it out into my crease. Then, I applied the matte hot pink shade right above my lash line. Lastly, I took a mix of the same two shades, and applied it onto the outer edge of my bottom lash line."
"While this certainly won't be my everyday makeup look, I'm no longer afraid of neon eye shadow. The hues are surprisingly wearable." — Jessica Harrington, assistant editor, Makeup.com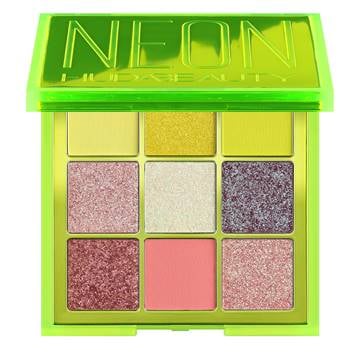 Huda Beauty Neon Obsessions Palette in Green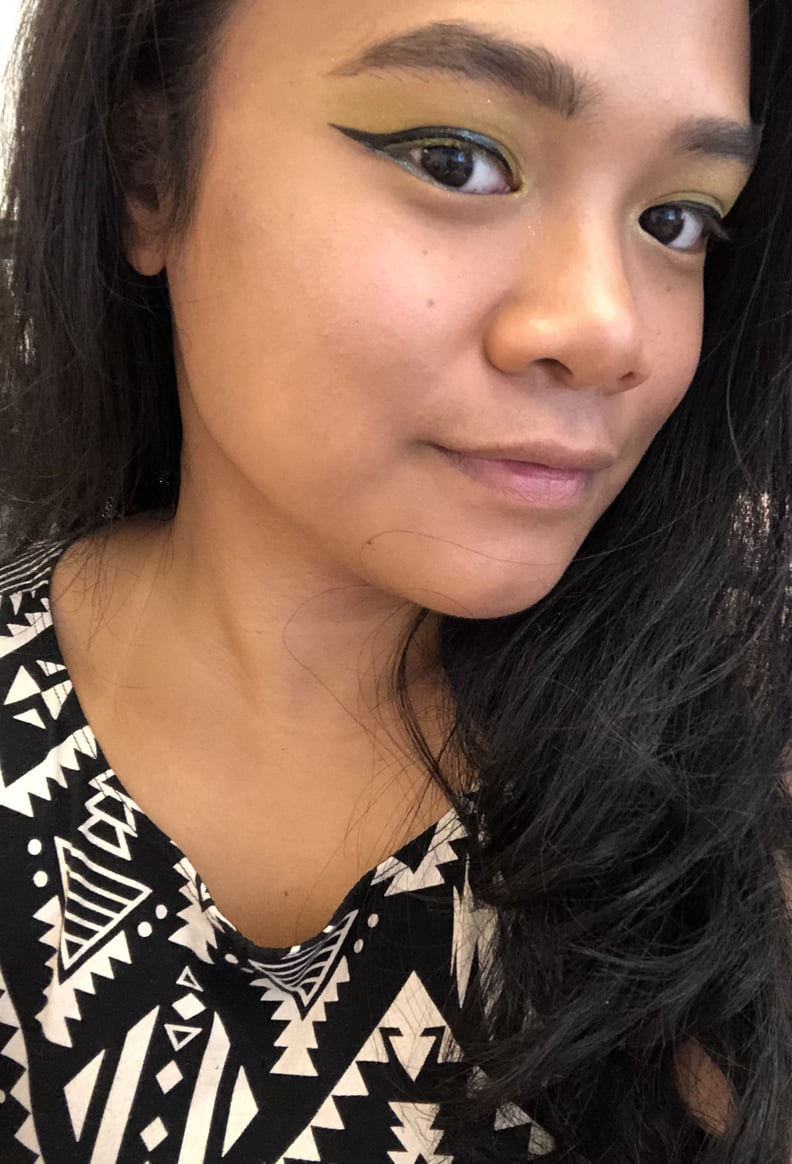 Jesa Marie Calaor in Huda Beauty Neon Obsessions Palette in Green
"Neon can be scary. Neon can also be freeing. That's what I learned after testing out the Huda Beauty Neon Obsessions Palette in Green, arguably the toughest of the brand's three Neon palettes to pull off. In an effort to completely throw myself out of my comfort zone, I jumped right into the two matte green shades, packing on the deeper of the two to my lid and dusted the lighter one closer to my brow bone. Then, I tapped the blue shimmer with the lavender shift onto the center of my lids, before sweeping it below my lower lashes."
"The result was that I was into it — and that was shocking to me. Admittedly, I thought I wouldn't be a huge fan of neon, but this palette's curated shades made it easy for me to throw a cohesive — and magical — eye look together." — Jesa Marie Calaor, assistant editor, Beauty