17 Songs That Will Make You Feel Beautiful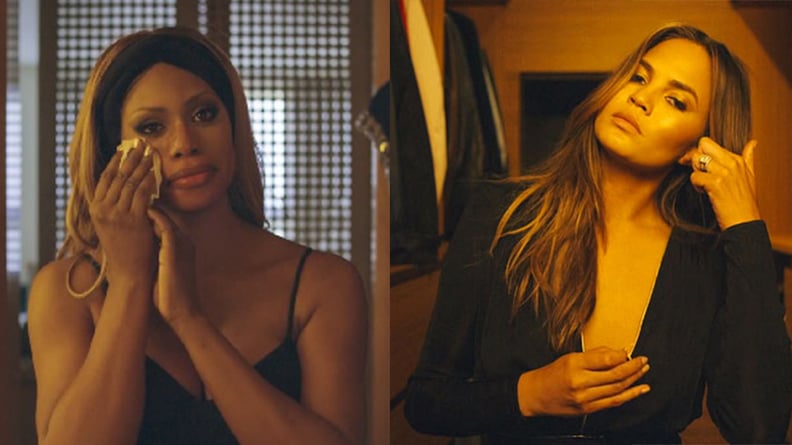 I, for one, am thrilled to see the blitz of empowering videos about being and appreciating yourself. As a beauty gal, I love makeup, skin care, and dabbling in a few bold hairstyles (I currently have a wash of blue in my hair), but at the end of the day, I am left with the woman without the mascara and the concealer. And as someone with a healthy dose of confidence, it wasn't until the past few years that I truly felt comfortable and pretty in my own skin.
This year has been chock-full of videos encouraging us to embrace our natural looks, which led me down memory lane's best beauty anthems. Check out some of the songs below — most capture the essence of being yourself, while others just make you feel good. And follow our You're Gorg playlist on Spotify! (Great for getting ready on a Friday night!)
"***Flawless," Beyoncé
"***Flawless" was the unofficial anthem of feminists all across the world in 2014, and while we might be sick of hearing everyone call out "I woke up like this" at the drop of a hat, it's hard not to feel empowered and hyped up while listening to Bey bust out "my daddy taught me to love my haters, my sister told me to speak my mind." And, of course, Chimamanda Ngozi Adichie's speech helps spell out exactly what the feminist movement embodies.
"You & I (Nobody in the World)," John Legend
As if you weren't already swooning for John with his megasmash "All of Me," which was written for his wife, Chrissy Teigen, you'll put your hands together for his new single. The video features women of all ages, races, shapes, and sizes showing off their most beautiful, vulnerable moments. (Chrissy, as well as Laverne Cox, make cameos.)
"Video," India.Arie
One of my all-time favorites. "Video" came out when I was breaking into high school, a time where we go through our most drastic physical changes. I remember thinking having boobs and a butt was more of a burden than a gift. My skin broke out for the first time. And why couldn't I have abs like Britney Spears? Hearing this song for the first time made me cry and feel good about myself at the same time. (Blame it on the hormones.)
"Marilyn Monroe," Pharrell Williams
Pharrell received acclaim from women everywhere when he dropped the "Dear Girl" video back in May, shortly after debuting his video for "Marilyn Monroe." Throwing around names of prominent women in history, Pharrell clarifies that he's not looking for the norm when it comes to his lady.
"All About That Bass," Meghan Trainor
Meghan just hit 1 million views with her first single, and it's not hard to hear why: a retro track with a toe-tapping bass line and catchy, sassy lyrics that state "every inch of you is perfect, from the bottom to the top" and "all the right junk in all the right places."
"Pretty Girl Rock," Keri Hilson
This was my guilty-pleasure song, until I recently decided that I shouldn't feel guilty at all. Why should I? We're all entitled to feel good about our looks. It's a great getting-ready song, and I'm shocked nobody has used it in an empowering movie montage yet.
"Try," Colbie Caillat
Colbie's MO is all about making people feel good with her music, but this single reaches a deeper emotional level for the singer. The video shows her in full Hollywood hair and makeup; then we see her remove extensions, faux lashes, and makeup to reveal her true self. I love that she wasn't afraid to show the Photoshop filters being removed, too.
"Beautiful," Christina Aguilera
Who didn't shed a tear listening to this song at one point? Whether you had a bad day in high school or were breaking up with your significant other, Christina belting out "words can't bring me down" is a sentiment most of us can and want to believe in.
"What Makes You Beautiful," One Direction
Considering the ultimate boy band of my time was singing about "why we can't be lovers?" and "so tell me what to do now" (*NSYNC, hello!), I found it sweet that a group of lads was singing about what every girl in their fandom had gone through at one point: not knowing she's beautiful. (And that is actually the reason she is beautiful! Aww.)
"Born This Way," Lady Gaga
Gaga might be kitschy and over the top at times, but discriminatory she is not. From the start, she's embraced everyone and has served as Mother Monster to those who felt like outsiders. I love that she made an empowering anthem of self-love that wasn't a slow ballad.
"Just the Way You Are," Bruno Mars
It seems increasingly harder to find songs performed by a male that aren't about how good we look in painted-on jeans or what they want to do with us after the club. (Yawn. Give it a rest, boys.) So when Bruno Mars's "Just the Way You Are" blew up on the charts, it was for a good reason.
"Who Says," Selena Gomez & The Scene
Selena put out "Who Says" with her band at the time, The Scene. As a teen pop star with millions of underage fans, releasing a song that encourages people to believe in themselves and not listen to the critics was a considerate, smart move. And it's dang catchy to boot.
"Show You Off," Dan + Shay
These country cuties acknowledge they have a prize and are lucky to be with "a girl like you" in this song. Who doesn't want their significant other to put them on a pedestal?
"I'm Every Woman," Whitney Houston
You didn't think you'd get through this list without a Whitney song, did you?
"Classic," MKTO
MKTO's "Classic" is sugary-sweet pop goodness. With a melody that's sure to be blaring from amusement park speakers across the globe, the boys want you to know your beauty stands the test of time.
"Oh, Pretty Woman," Roy Orbison
"Nobody Ever Told You," Carrie Underwood
From her album "Blown Away," Carrie belts about the lies the mirror can tell. "Tells you lies of vanity, doesn't care what's underneath." Set to upbeat strums of the guitar, it's hard not to dance around your room to this one.