Jennifer Aniston Talks Hair Care and Why You Shouldn't Get Botox
As POPSUGAR editors, we independently select and write about stuff we love and think you'll like too. If you buy a product we have recommended, we may receive affiliate commission, which in turn supports our work.
Jennifer Aniston is the definition of sexy and cute. There's a reason she's America's sweetheart. Since her days on Friends in the '90s, women aspire to copy her shiny gold-toned mane with its California cool-girl texture (hence, the sexy). And then there's her bright blue eyes, glowing skin, and Hollywood megawatt smile (the cute). She's proven to be both a red carpet siren and a savvy businesswoman.
When it comes to the latter, we have to give her props for jumping onto the Living Proof team as a co-owner and spokesperson. The hair-care label is known for its innovative, science-focused launches — dry shampoo that actually cleans hair, frizz-fighting products that can combat the most unruly curls, and now an antiaging offering that acts like a facelift for your head (minus the needles and all). Jen is behind the scenes helping along with her go-to mane man, Chris McMillan, who is Living Proof's celebrity stylist. It's a dream team developing formulas favored by beauty editors.
To help you get your Spring hair-care routine going, we chatted with Jen about how to make your blowout last longer, ways to get beach waves, and what to eat for shinier strands. She also shed light on why she is anti-Botox. Keep reading to learn more beauty secrets from the 47-year-old star we all want to be best friends with IRL.
POPSUGAR: How often do you wash your hair, and do you rely on dry shampoo after your workout?
Jennifer Aniston: Dry shampoo has kind of been my lifesaver in the last few months. After I work out I usually run a hair dryer through my hair just to kind of dry up the moisture. Then I add the dry shampoo as sort of an added cleanser. It sounds bizarre, but it's actually better day two and day three. It's weird with the dry shampoo, it just kind of gives it more texture and nice, beachy movement.
PS: Do you have a technique you use to spray it on?
JA: It's kind of hard to describe it . . . I'm acting it out with my hands. You kind of like part it, spray it, and keep parting it all over your crown and the sides of your head. Then I put a hair dryer through it to air it out and piece it out.
PS: Is there a hairstyle you rock when your hair is extra dirty?
JA: Well, honestly I really feel like my hair gets better the second and third day. But if I was to really try to be aggressive and go for a fourth, then we usually go for a low ponytail or a low knot. Or, always a hat.
PS: Your hair is perfect. I remember Chris McMillan one time told me to always wear my hair in a low ponytail. And he parted it and did it on me.
JA: On the side, right?
PS: Yes! Are there any other great tips you've learned from Chris? He's such a wealth of knowledge.
JA: He's obsessed with hair. Literally obsessed. For healthy hair, it's about letting it air dry. I have wavy hair, and he says, "Let it dry, you'll be tempted to touch it but don't touch it."
And then also, I've gone to sleep in braids to have more of a controlled wave in the morning. That's always a good one. You put it in three little braids, so then it has some nice texture to it.
The other thing is just try not to wash your hair every day. That's the number one aggressor in stripping your hair every single day, or building up hair products, or using too many hot irons or blow dryers that harm your hair.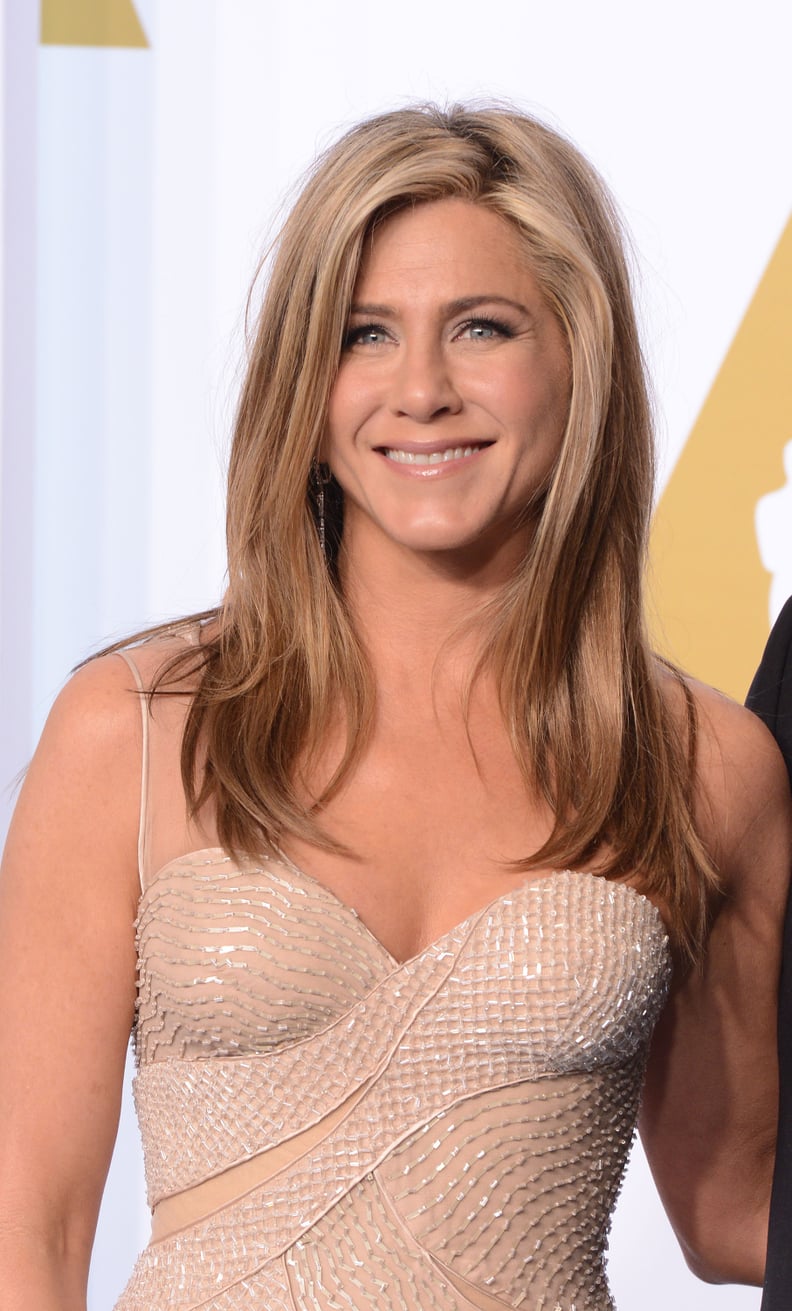 PS: What is your current shampoo method?
JA: I usually go No Frizz because of the texture of my hair. That one is really, really great. The No Frizz Shampoo and Conditioner, and then once a week that Restore Mask Treatment to give it a little lift. I add dry shampoo during the week.
PS: Have you tried the new Timeless Pre-Shampoo Treatment?
JA: Yes, I have. It feels odd and it sounds off, but you put it onto dry hair and it's like a cream. You apply from roots to ends and let it sit for about five minutes, and you go and shampoo and condition as normal. It coats the hair and protects the color so it lasts longer and stays fresher. It doesn't fade and oxidize.
PS: You have inspired so many women's haircuts and colors. Who inspires your look?
JA: I always love hair that looks healthy, thick, and natural. I think that Gisele [Bündchen] has gorgeous hair, I think Courteney Cox has the thickest head of hair on the planet, and it's in gorgeous condition. I just think healthy-looking hair is what I aspire to.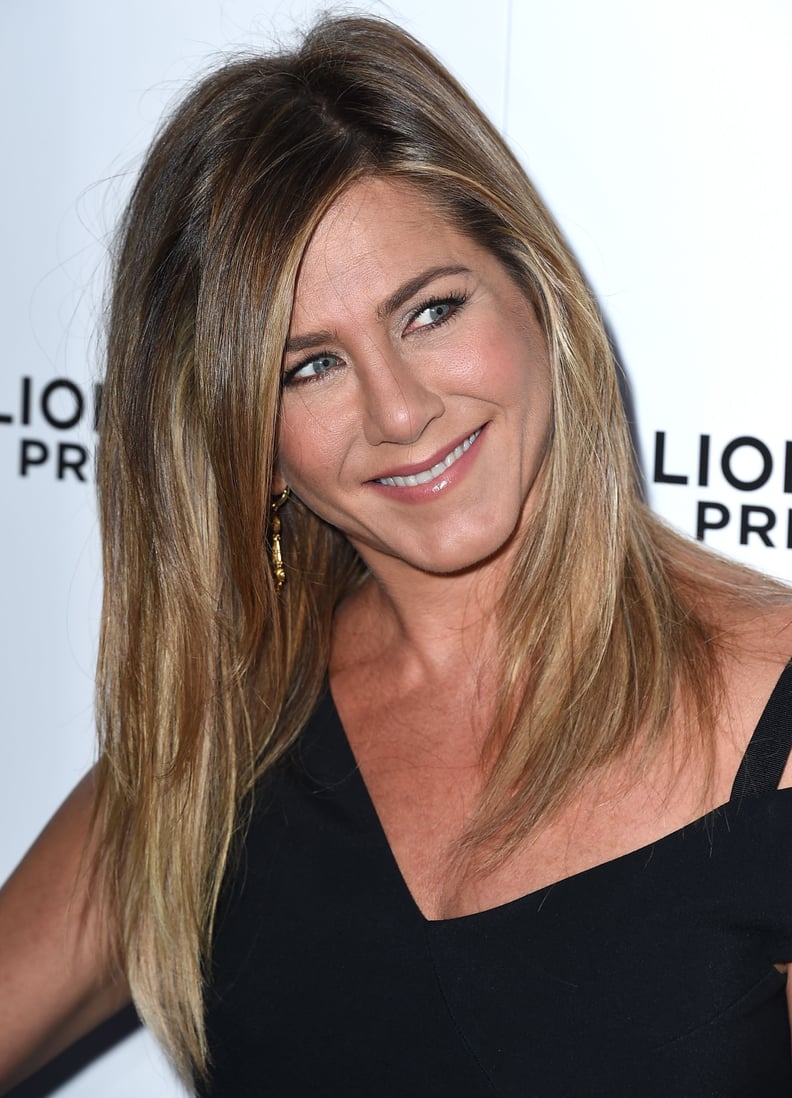 PS: How do you think that diet plays a role in healthy hair?
JA: Oh gosh. Extremely, a big role! Your hair, your skin, your nails, all of it! Whatever you put in your body, it reflects itself on the outside in hair and nails. So I think it's important. And if you're not drinking enough water, it shows in your skin and your hair. That's like the first indicator of how healthy a person is, their skin and the health of their hair.
PS: What are some of your favorite things to eat for healthy skin and hair?
JA: Well, avocados obviously are incredible. Anything that has really good fats — like nuts and avocados — and fruits. Always have a ton of greens for lunch or dinner. And beans, usually.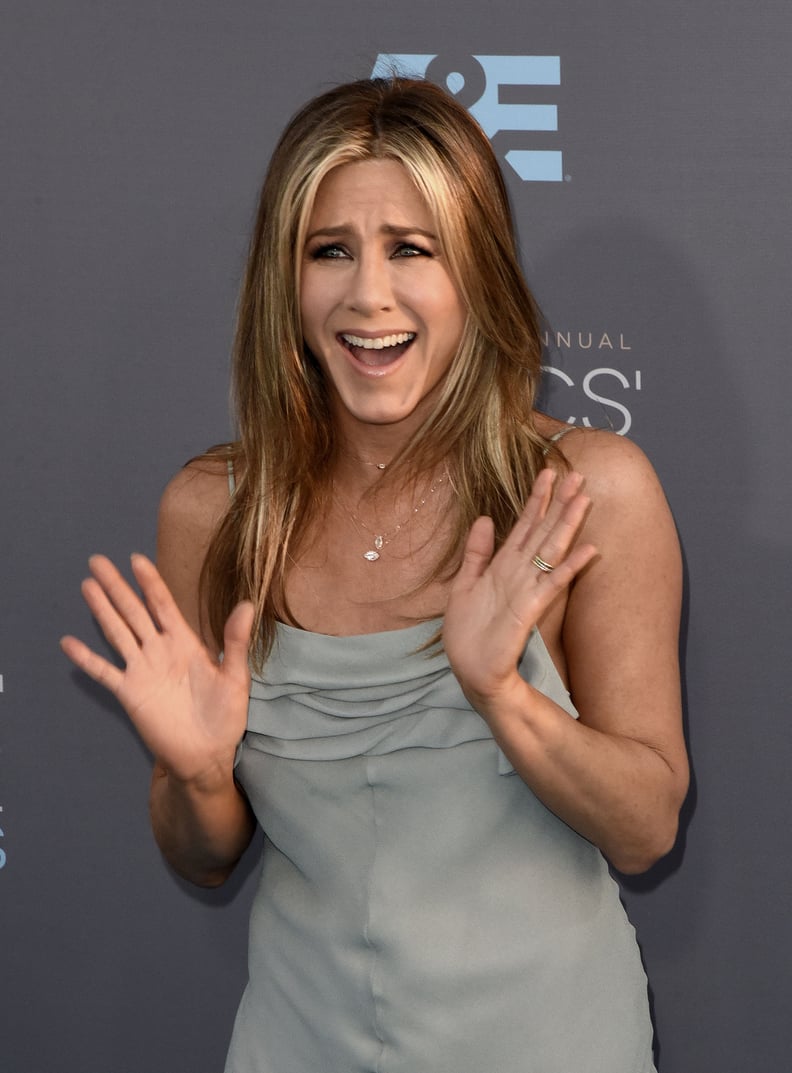 PS: I've read articles where you've had a strong anti-Botox stance. I was wondering if you had anything to add to the conversation when it comes to women in their 20s getting preventative Botox.
JA: Well obviously I think that's the way to go. I don't know who said for 20-year-olds to start doing Botox but it's beyond me. The muscles and our faces need to move, especially when they're 20! If I don't go to the gym for ever and my legs, my glutes, and my quads don't move, eventually they start to atrophy, which means they lose their natural ability to be strong. If anything you want the muscles in your face to sort of tighten and move.
Get facial massages or there are great lasers now — they have micro-current, radio frequency, and all of these thing that actually work out the muscles as opposed to freeze them. You don't want to freeze your muscles, you want to activate your muscles. People buy into Botox as a quick fix or magic bullet, but you want to be able to move the muscles in your face like you move your muscles in your body. If you don't move them, atrophy starts to set in and then skin gets saggy when the goal is to be up and lifted!