Jennifer Hudson Self-Care in 2020 Beauty Interview
How Jennifer Hudson Is Maintaining Positivity and Practicing Self-Care During 2020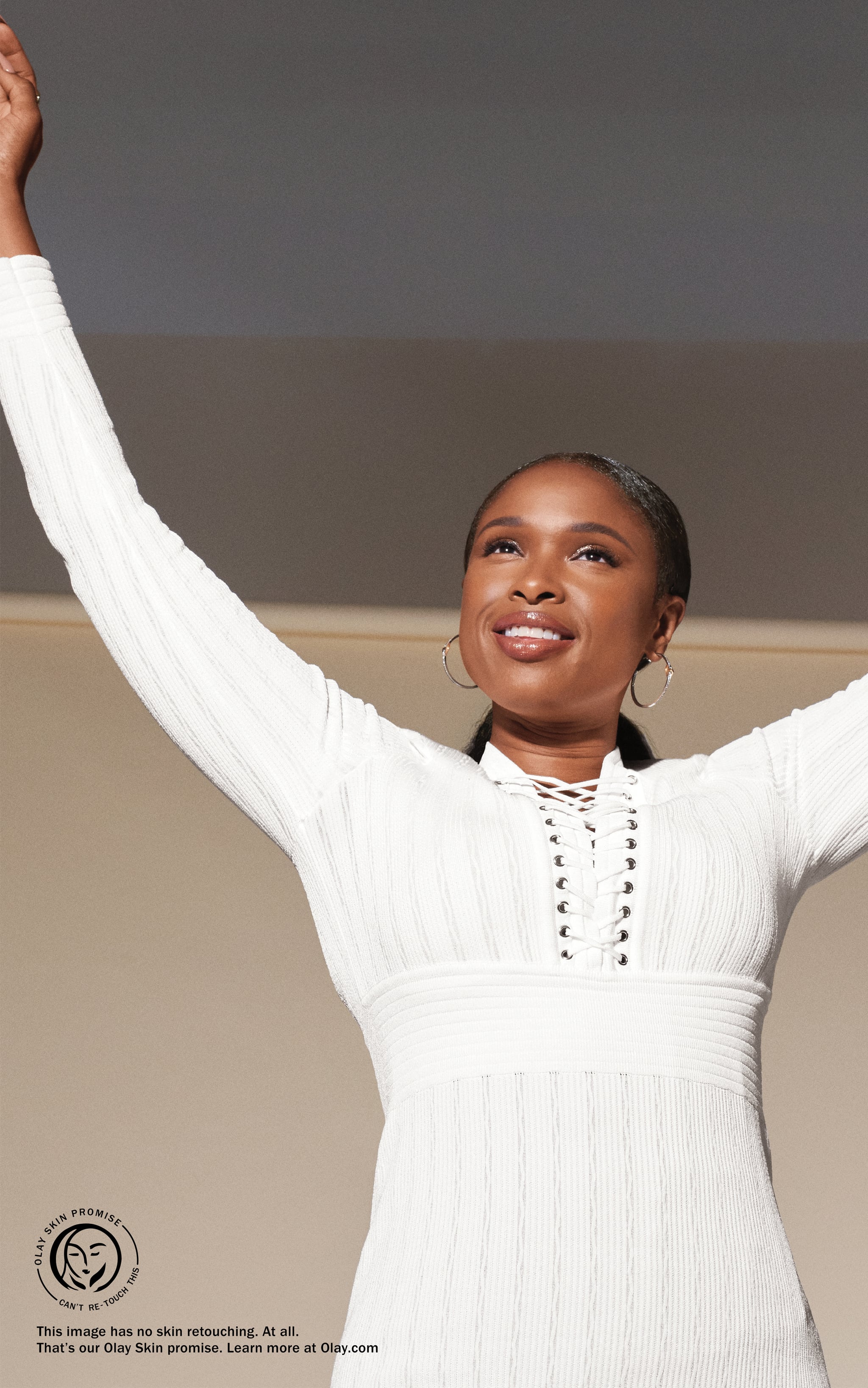 We don't need to tell you that 2020 has been a particularly challenging year. But even if you take this year out of the equation, keeping a positive attitude no matter what life throws at you is hard. Jennifer Hudson, however, is a pro at it, and during our quick phone conversation to discuss her latest partnership with Olay, that couldn't have been more apparent.
"My mother used to tell me, 'Jennifer, the thing I love most about you is no matter how negative things may be, you always seem to find the positive,' and I always see her in my head saying that to me and reminding me of that," Hudson told POPSUGAR. "We all dwell and focus on the negative and that doesn't benefit us. I like progress and growth, and the only way to do that is to look for the positive."
She even has a glass-half-full spin for 2020. She's calling it "golden time," instead of looking at it as being stuck at home. "Everyone is freaking out about this time, but it's like, 'No, no, no, no — it's a good time for us to reconnect with ourselves and regroup and refresh.'"
"It's a good time for us to reconnect with ourselves and regroup and refresh."
For Hudson, practicing self-care to refresh and regroup doesn't mean extravagant beauty treatments — it's pretty low-key. "I definitely keep my regimen of the things that I do to take care of myself," she said. "Whether it's having my chocolates in the days or my sip of coffee, or my Olay Regenerist Retinol24 Max Night Facial Serum at night — I always like to have a moment where I do something that comforts me."
But she stressed that it isn't just about the positive energy you put into yourself. The energy you put out into the world and the energy that you give to other people is just as important. That's why Hudson is so passionate about Olay's "Maximize, Don't Minimize Me" campaign, which empowers and champions women. "I love maximizing women, and women supporting each other, along with the product," Hudson said. "That helps me connect with myself more as a woman and to feel beautiful as a woman — just being surrounded by so many powerful women and the message of it. That's just what I live by."
To summarize it perfectly, she said, "What you put out is what you get back."
Image Source: Courtesy of Olay