Kaley Cuoco's Tattoo Collection is Loaded With Meaning
Kaley Cuoco may not have a lot of tattoos compared to some celebrities, but the ones she has are full of meaning. The "Big Bang Theory" alum has several known tattoos dating all the way back to when she got her first piece of ink — which she once called a "tramp stamp" — at 17 years old.
The actor's collection of ink consists of a few dedicated to her boyfriend, Tom Pelphrey and matching tattoos she got with her friend and "The Flight Attendant" costar Zosia Mamet. At her baby shower in early January, Cuoco, who's expecting a baby girl, offered a glimpse at a tiny tattoo on her finger that read "Tom." She previously showed off another dainty tattoo, a little heart on her pinky finger, a few days after confirming her romance with Pelphrey in May 2022.
In 2020, Cuoco and Mamet got identical paper-plane tattoos to commemorate the first season of their show and another pair in 2022. Cuoco's other tattoos include an illustration of a large moth and a Chinese character. Keep reading for a look at Cuoco's tiny collection and each tattoo's meaning.
Kaley Cuoco's "Tom" Tattoo
On Jan. 8, Cuoco debuted a tiny new tattoo on her finger honoring Pelphrey in photos of the couple's extravagant, horse-themed baby shower. In a close-up snap of the pair holding hands, "Tom" is inked in handwritten script across Cuoco's ring finger.
Kaley Cuoco's Paper-Plane Tattoo
In October 2020, Cuoco, Mamet, and a few members of "The Flight Attendant"'s production team all got matching tattoos of a paper plane. Cuoco got hers on the back of her ankle, while Mamet placed hers just above the ball of her foot. "After a full year and many adventures together we decided to get a little memento," Mamet wrote, thanking Evan Tattoo for the ink.
Kaley Cuoco's "Boop" Tattoo
For their second tattoo together, Cuoco and Mamet got matching "boop" ink on their biceps. "It all started with a 'boop,'" Mamet captioned photos of their script tattoos, done by tattoo artist Arbel in Apirl 2022. "@kaleycuoco I can't imagine life without you. @ar.bel thank you for this gorgeous permanent reminder. It's perfect," Mamet continued.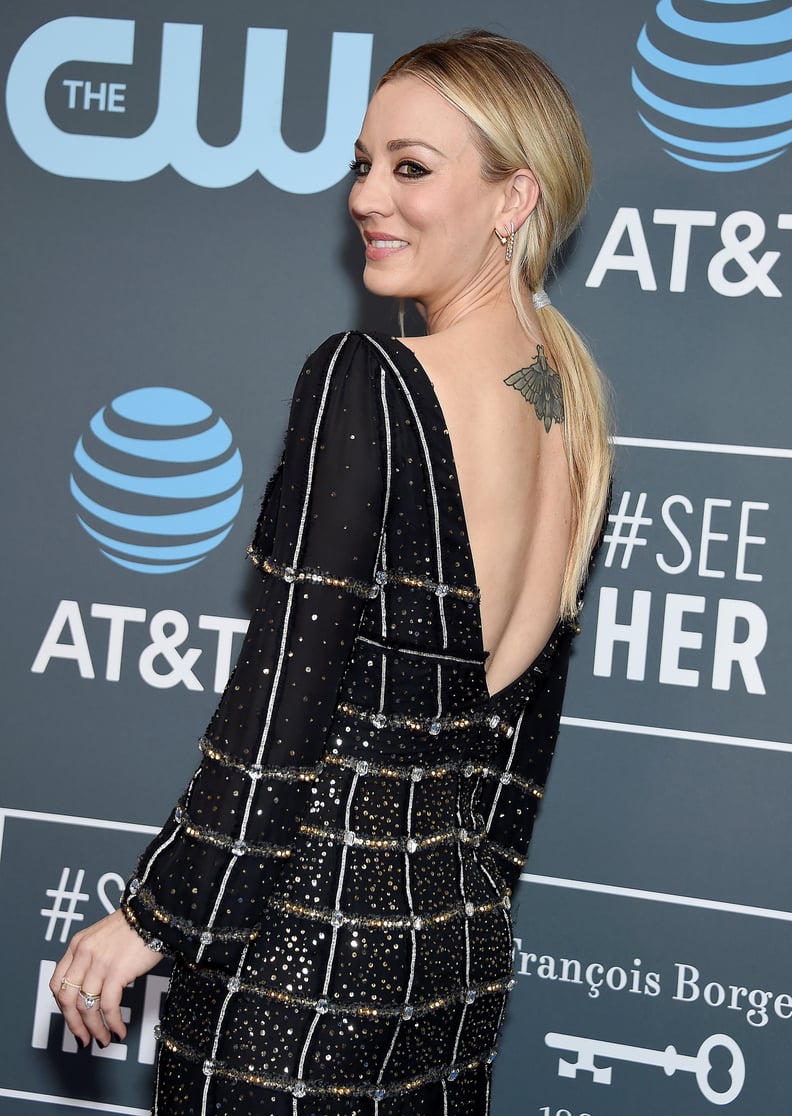 Kaley Cuoco's Moth Tattoo
Cuoco has a large moth tattoo located in between her shoulder blades. During an appearance on "The Ellen DeGeneres Show" in 2016, she explained that she got the moth to cover up another tattoo that was previously there: the date she and her ex-husband, Ryan Sweeting, got married in Roman numerals. Cuoco and Sweeting got married in December 2013, but they split up less than two years later.
"The significance is it was big enough to cover the numbers," she told the host, half joking. "It's just what I picked out when I was there."
Kaley Cuoco's Chinese-Symbol Tattoo
The actress has a Chinese-symbol design on her lower back. According to UPI, she once told Ellen DeGeneres that she got it when she was 17 because she wanted to be cool.
"It's a tramp stamp," she said. "I was trying to be cool. I know, so dumb. But I forgot I even had it. It's way far back there, it's kinda far back. It hurts my neck now to see back there."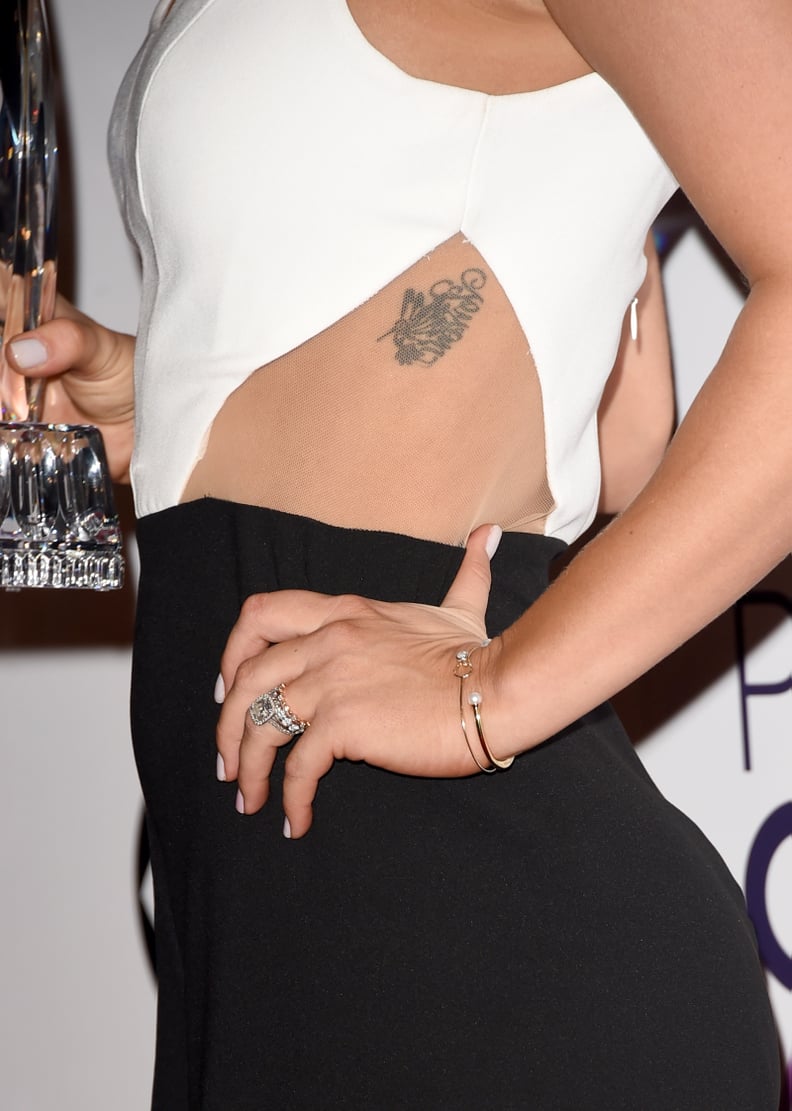 Kaley Cuoco's Bird Tattoo
Cuoco has a medium-size tattoo on her rib cage, though she's never quite made it clear what the design is. It looks a bit like a bird (a woodpecker, maybe?) merged into some cursive writing, but that has yet to be confirmed by the star.