It may be hard to believe, but this year marks Kate Moss's 15th anniversary working with Rimmel London — yes, the iconic supermodel has been encouraging you to "get the London look" for nearly two decades now. To commemorate the milestone, Kate designed six limited-edition shades of Lasting Finish lipstick — three reds, three nudes — and celebrated the launch with a high tea in London's elegant Fitzroy Square. We were there for all the fun, which included a chat with Kate the Great about her history with the Rimmel brand and inspiration for these chic, timeless shades.
The influences for the new collection actually came straight from Kate's closet; she designed each shade based on a look from her wardrobe (all of which capture her effortless, enviable style) and worked with the Rimmel team to create bespoke rose-gold packaging for her "all-time favorite reds and nudes," the colors she most loves to wear. Each one is made from Rimmel's eight-hour, lasting color formula containing light-reflecting Black Diamonds — which, according to makeup artist and global ambassador Kirstin Piggott, help to create the illusion of fuller lips. Kate's new shades will retail for $10 and hit stores on July 9, but you can get a look (and learn about the inspiration behind them) now.

Muse Red #51
A rich crimson with blue undertones that is Kate's go-to shade for a night out. "A bold red makes me feel 'done,'" she says. It was inspired by the custom-made red dress she wore to Mario Testino's 60th birthday party in 2014; when asked why she chose a sexy leopard bodysuit to wear underneath the sheer gown, Kate casually replied, "I just wanted more leg than a slit . . . more thigh."

Idol Red #52
A playful red-orange that channels Kate's rebellious, rocker-cool late-night style (artfully paired with a black latex dress and metallic silver leather jacket), , and the one she wore to the Rimmel launch event. Kate told us that the shade was inspired by the '80s, specifically "Blondie. . . Debbie Harry [and] those gorgeous, glamorous punk girls." She also said she wears it on "those days when I want to try something a bit edgier."

Retro Red #53
A dark berry red — inspired by Kate's emerald green Saint Laurent gown — that she wears when she wants to "go with a vintage look," adding, "It's a classic red. So chic and European."
The group let out a chorus of "ooh"s and "ahh"s when Kate gave us a closer look at the insanely sexy Tom Ford stilettos paired with the gown. "They have seen quite a few dances," she quipped.
Rock N Roll Nude #54
This peach-tinted neutral was matched with Kate's favorite pair of Balmain leather pants, and we learned that it's her go-to shade when checking out a concert. "You can't wear a red lip!" she said of going to a gig. "You're kissing loads of people backstage. It's got to be a nude."
And while she does own multiple pairs of leather trousers, the Balmains are her favorite ones. "They have been resewn a few times on the knee caps," she laughed. "You know, whatever, wear and tear."

My Nude #55
The name says it all: this beige shade is the one Kate wears every day with jeans, tees, fitted blazers, and black ankle boots. "It's my favorite classic nude shade," she said, before ensuring us that the color is the perfect "lift" for finishing off a look that's not really a look. "Put it on and you are done."

Boho Nude #56
Warm, earthy, and caramel-colored, this nude is Kate's go-to for "day events, like a wedding or music festival." It was matched with her favorite vintage Thea Porter dress, a "really weird find" that she got from a neighbor.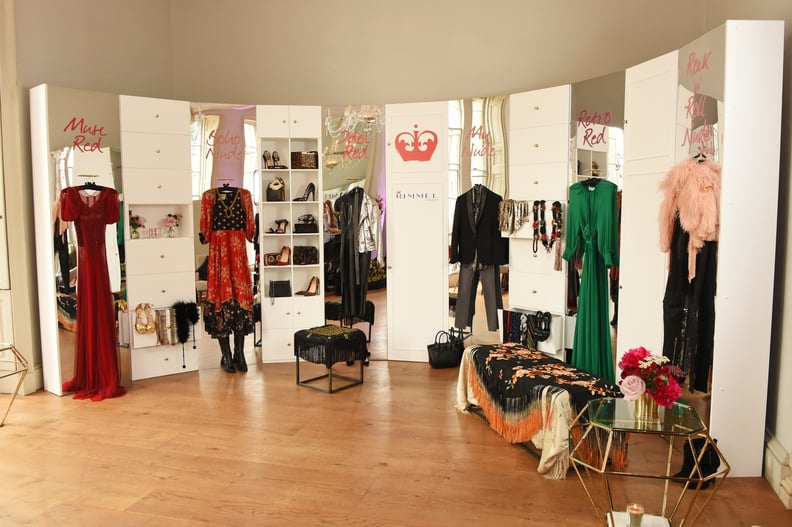 Each Rimmel shade was inspired by pieces from Kate's closet, ranging from everyday leather pants and a tee to glam red-carpet looks.