D.S. & Durga's Founders on How They Make Perfume
The Scent Masters: Kavi and David Moltz of D.S. & Durga
As POPSUGAR editors, we independently select and write about stuff we love and think you'll like too. If you buy a product we have recommended, we may receive affiliate commission, which in turn supports our work.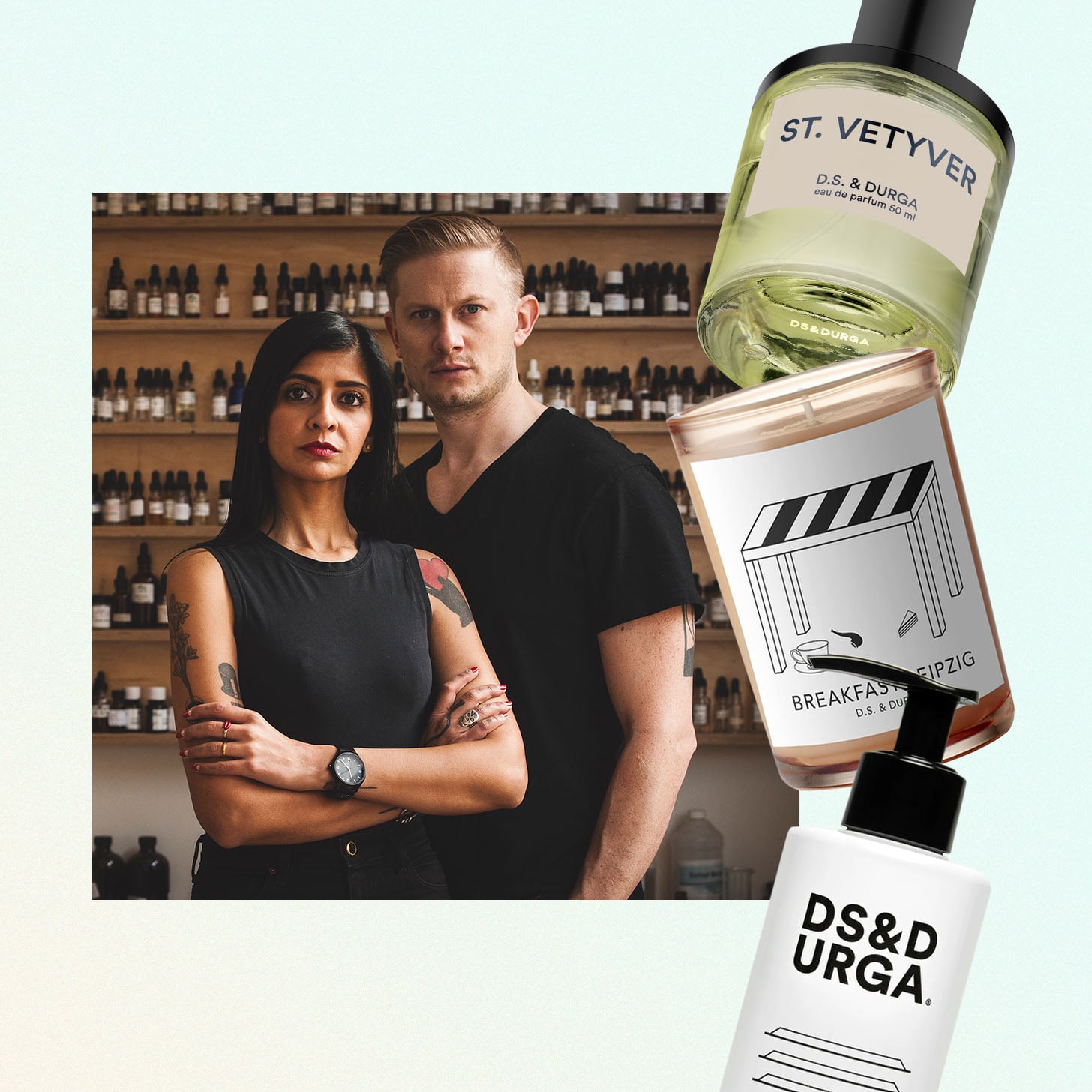 For Kavi and David Moltz, the wife and husband team behind D.S. & Durga, fragrance "is a keyhole into another realm — an invisible landscape that you can enter and explore any time." Kavi, a trained architect, is at the helm of creating the story that surrounds D.S. & Durga, from packaging to visuals to branding, while David, a musician and self-taught perfumer, makes the perfume itself.
For these two, creating scents doesn't just mean blending fragrance into a bottle and shipping it off; each perfume they create builds a narrative that taps into all the senses. In fact, all of the D.S. & Durga fragrances, scented candles, and body products are accompanied by liner notes alongside the typical list of scent top, heart, and base notes. These whimsical paragraphs come directly from Kavi or David and usually evoke a moment in time rather than a scent-specific description.
For example, for a scent called Bistro Waters (which, in case you missed it, just won a POPSUGAR Beauty Award), the notes read, "I need a savory perfume water on the fly! Six bell pepper specials all day chef! Lime blossom Peartini zhuzhed with nutmeg! Our 2-top VIP just arrived in a pea green coupe!" The duo have also created music playlists to accompany nearly all the perfumes.
All of that is to say: world building is at the heart of what Kavi and David hope to accomplish with D.S. & Durga. Keep reading to learn more about their creative process.
POPSUGAR: What led you to create D.S. & Durga?
David Moltz: We started making some 'fumes for our friends in 2007, and they all liked them. Kavi said we should make it a business.
Kavi Moltz: David and I wanted to create something together. Perfume was both accessible (we started by mixing essential oils from the health-food store) and totally mysterious at the same time. We loved the challenge of figuring the whole thing out from level zero.
PS: What's the story behind the name?
DM: I am David Seth Moltz (DS), and my nickname for Kavi was Durga, based on a character in a Satyajit Ray movie.
PS: You started the business in your apartment in Bushwick, and the perfumes are still made in NYC. How does the city of New York inspire your process?
DM: It's our home. It's a creatively free and inspiring place. There are always interesting people doing interesting things here.
KM: New York City never stops being exciting. The people are cool, stylish, challenging, and bright. I love walking everywhere. I love soaking it all in. Spring in NYC is coming, and it is magical. We've all been through winter together, and the streets just buzz with excitement. We feed off that energy in all ways.
PS: What's your creative process when creating scents?
DM: I work on things all the time — either trying to build an aromatic world from an idea in a book, song, etc., or wanting to make a certain kind of scent, like a "leather" or a deep red patchouli, for example. I continue to modify them until I think they are just right and wearable, not just a cool idea.
PS: What are your favorite D.S. & Durga scents? What are your favorite smells in general?
DM: I made them all, so it's tough to say. I personally love old-fashioned scents redone for the modern nose — like St. Vetyver ($190) and D.S. ($350). But I am always wearing things I am working on. I personally love patchouli, vetiver, the ocean, and roses.
PS: You create playlists to go along with each of your fragrances. How does music play into your creative process?
DM: I'm a musician first and foremost. I feel very comfortable translating one art form to another. The playlists are the soundtrack to the world of the perfume and help build out its overall vibe.
PS: Kavi, how do you translate your architecture training into building D.S. & Durga?
KM: Architecture school and subsequently working at a firm taught me how to have a critical eye and, importantly, the language with which to critique. Especially when leading a team, it's important to express my ideas succinctly so that the visual identity of the brand has continuity.
PS: David, how did you teach yourself to be a perfumer?
DM: I bought a bunch of materials, started mixing them, and wrote everything down. I tried to make copies of everyday plants and objects I came across.
PS: What's next for the brand?
DM: We're opening our first store in LA in May.
KM: Opening the LA store, creating more beautiful fragrances, and a few other fun ideas.
Image Sources: Marvin Scott Powell, D.S. & Durga and Photo Illustration: Ava Cruz