As POPSUGAR editors, we independently select and write about stuff we love and think you'll like too. If you buy a product we have recommended, we may receive affiliate commission, which in turn supports our work.
Keratosis pilaris, known as KP for short, is a skin condition that manifests in tiny red bumps that appear on the body, like the backs of arms and legs. It's not widely understood why some people experience KP while others don't, but it's not at all uncommon: the Cleveland Clinic has estimated that the condition impacts up to 50 percent to 80 percent of teenagers and 40 percent of adults. While it's something that people experience year-round, it's especially top of mind as the weather warms up. When the shorts and tank tops go on, smooth, bump-free skin might become a priority, but KP poses some difficulties.
Occasionally referred to as chicken skin (and we'll let you use your imagination as to why), KP is caused by keratin plugs inside of hair follicles, resulting in tiny, inflamed, hard bumps. They're not pimples, though they're often mistaken as such, and they don't really go away on their own until around middle age. Still, while the condition is harmless and painless, many people consider the bumps not ideal. If you fall into that category, luckily, there are a handful of treatment options available to you, from topical lotions to body scrubs.
Keratosis Pilaris Treatment
KP requires a slightly different treatment approach to acne (because remember: they're not the same). Because the condition is caused by keratin buildup on the surface of skin, you need to focus on exfoliation — either chemical or physical — to keep skin smooth. Then, because dry skin can exacerbate the situation, hydration is another key component of KP treatment.
"Lactic-acid-based chemical peels can be a good starting point to smooth the skin," Jennifer Linder, MD, dermatologist and PCA Skin chief scientific officer, previously told POPSUGAR. What you don't want to do is attempt to pop the bumps. "Avoid picking at keratosis pilaris — it causes inflammation and irritation."
Again, the skin condition is not an uncommon one. If you're on the hunt for the best keratosis pilaris treatments, keep scrolling to shop for products specifically designed to tackle these tiny red bumps.
— Additional reporting by Emily Orofino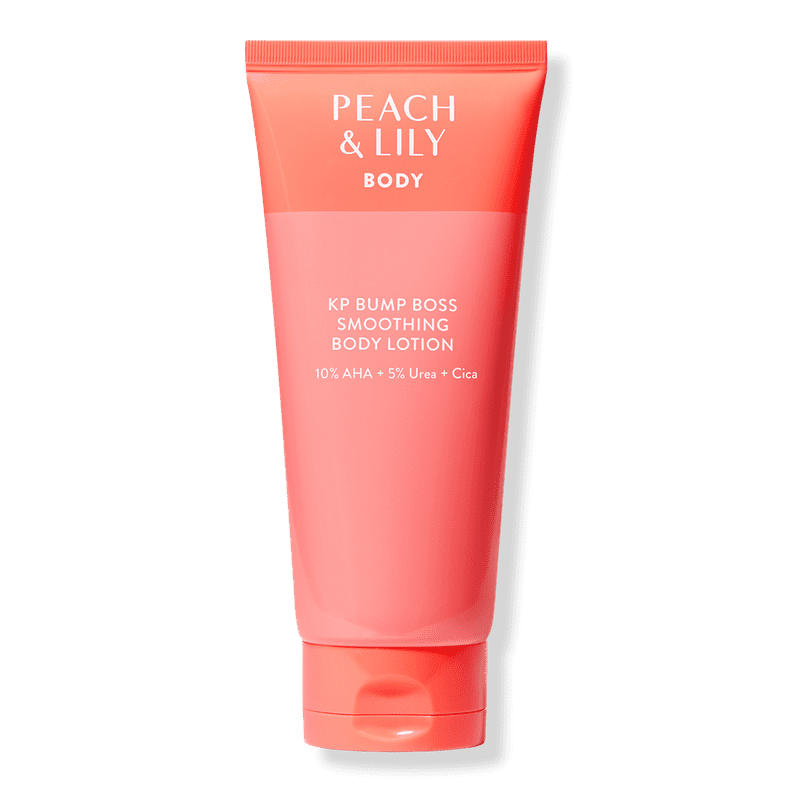 Best KP Body Lotion
Peach & Lily KP Bump Boss Smoothing Body Lotion ($32)
Peach & Lily has a KP Bump Boss Scrub that works wonders and recently expanded the line with the KP Bump Boss Smoothing Body Lotion. It's packed with good-for-skin ingredients to smooth, resurface, and hydrate. It has a blend of 10 percent AHAs for exfoliation; papaya, apple, plum, and grape extracts to resurface; urea to moisturize; centella asiatica to soothe; squalane and hyaluronic acid to hydrate; and shea butter to soften skin.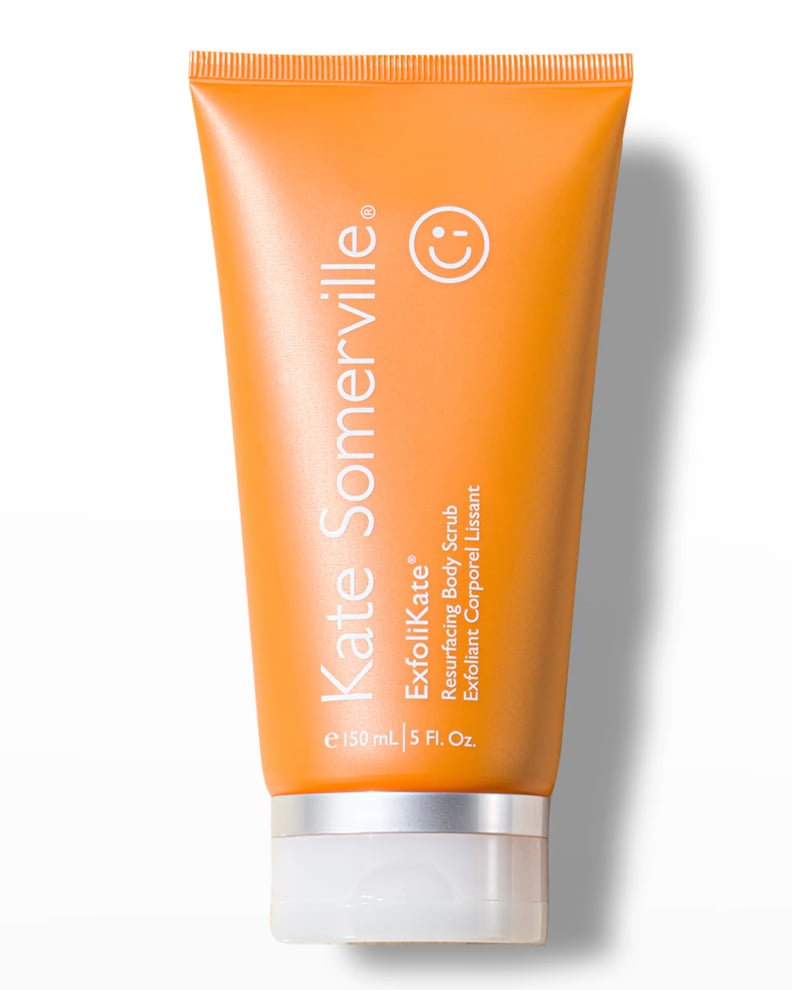 Best KP Body Scrub
Kate Somerville ExfoliKate Resurfacing Body Scrub ($56)
This heavy hitter combines chemical exfoliants (lactic acid and salicylic acid, plus fruit enzymes) with physical exfoliants (pumice beads) for an as-good-as-it-gets body buff. One POPSUGAR editor with KP swears it's one of the most effective topical treatments on the market that treats bumps without irritating sensitive skin.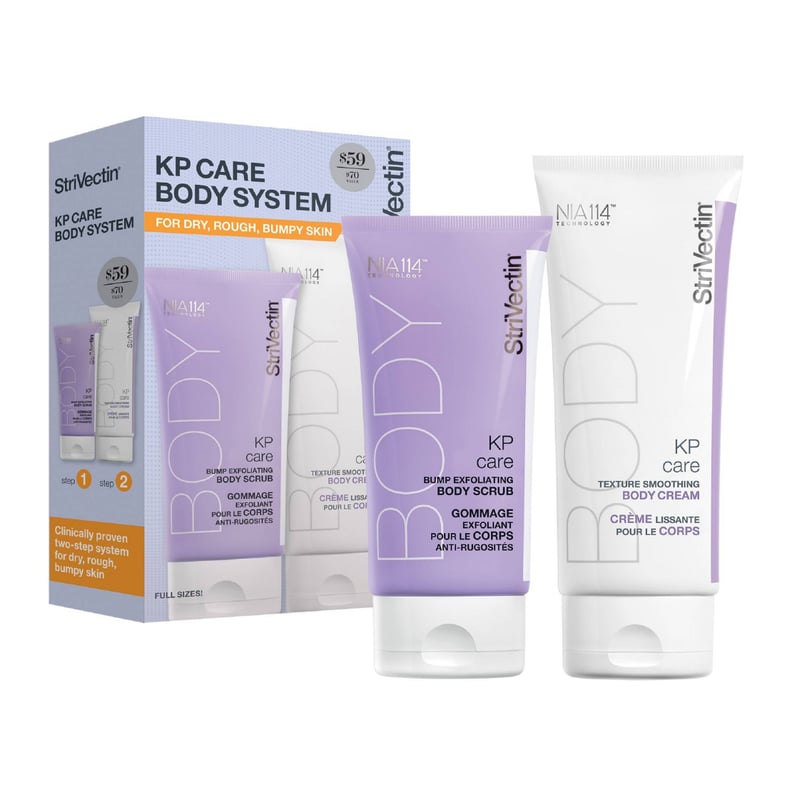 Best KP Treatment System
Strivectin KP Care System ($59)
Treating KP involves two key steps: exfoliation and hydration. With that in mind, Strivectin created a two-part care system to help you banish your chicken skin once and for all. This kit includes the brand's in-shower scrub, formulated with lactic acid and physical exfoliants to clear skin of any blockages, and the KP body cream, which also provides light exfoliation with a blend of PHAs/AHAs.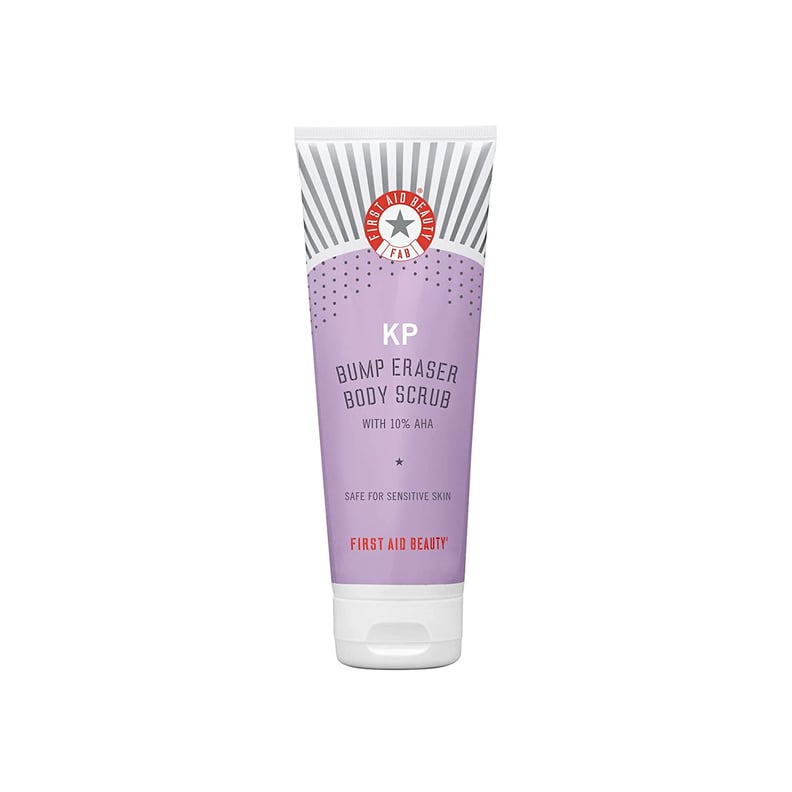 Best Fast-Acting KP Scrub
First Aid Beauty KP Bump Eraser Body Scrub Exfoliant ($30)
The First Aid Beauty KP Bump Eraser Body Scrub Exfoliant features both glycolic acid and lactic acid, as well as pumice beads, to remove dead skin cells and buff away any rough patches. Use it in the shower on areas where you experience KP, like your arms and legs, to reveal smooth skin.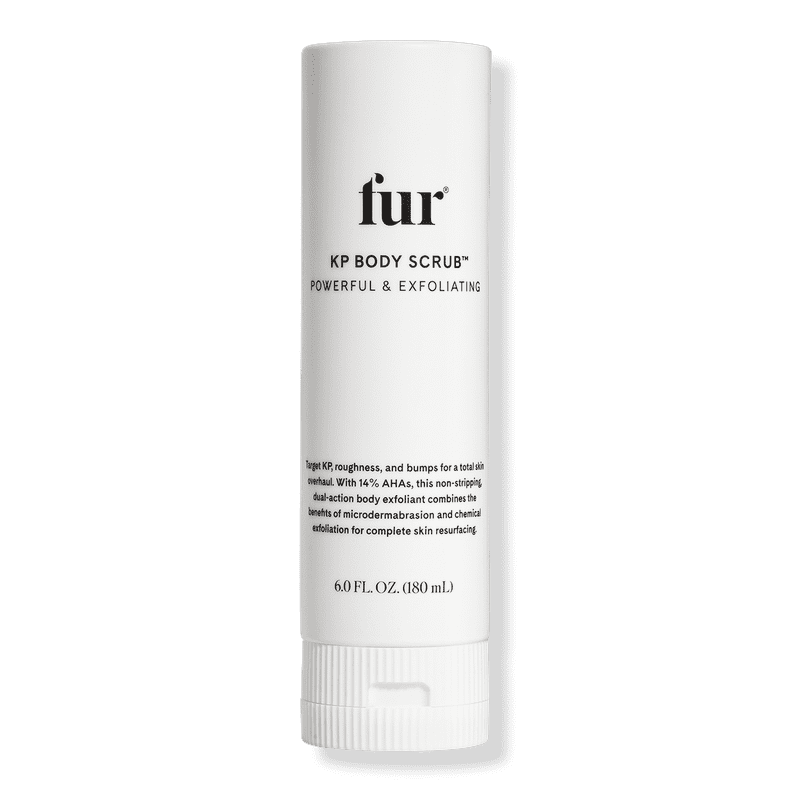 Most Powerful KP Body Scrub
Fur KP Body Scrub ($38)
Fur's KP Body Scrub utilizes dual-action chemical and physical exfoliation with a blend of 14 percent AHAs and perlite, a naturally occurring mineral derived from volcanic rock. Use it in the shower to buff away buildup and clogged hair follicles.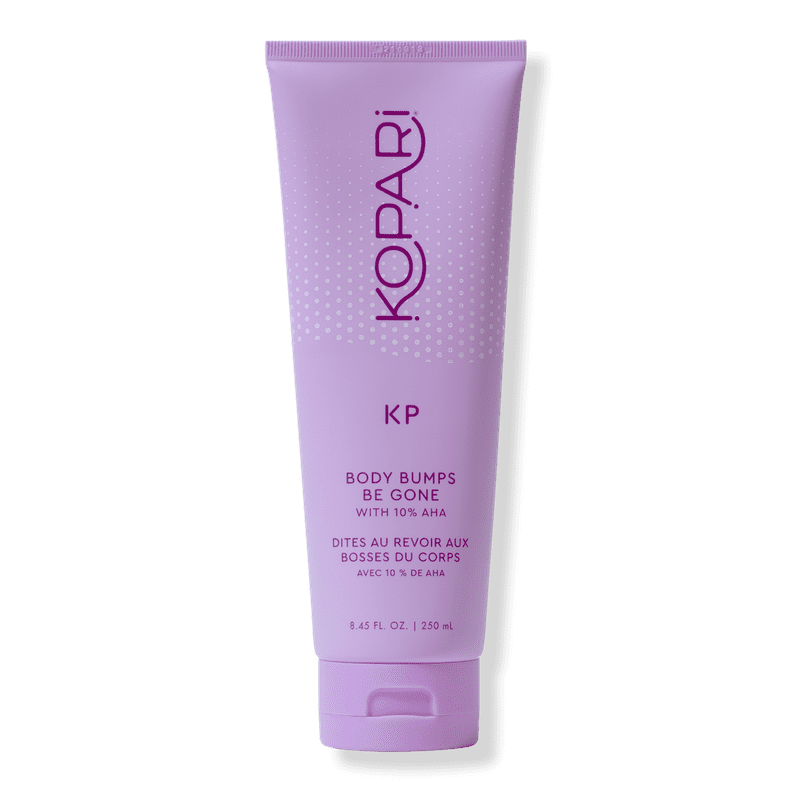 Best Gentle KP Scrub
Kopari Beauty KP Body Bumps Be Gone With 10% AHA ($26)
If you're looking for a KP treatment that's gentle yet still effective, look no further than the Kopari Beauty KP Body Bumps Be Gone With 10% AHA. It contains chemical exfoliants to smooth skin, while jojoba seed oil provides deep hydration and nourishes dry skin.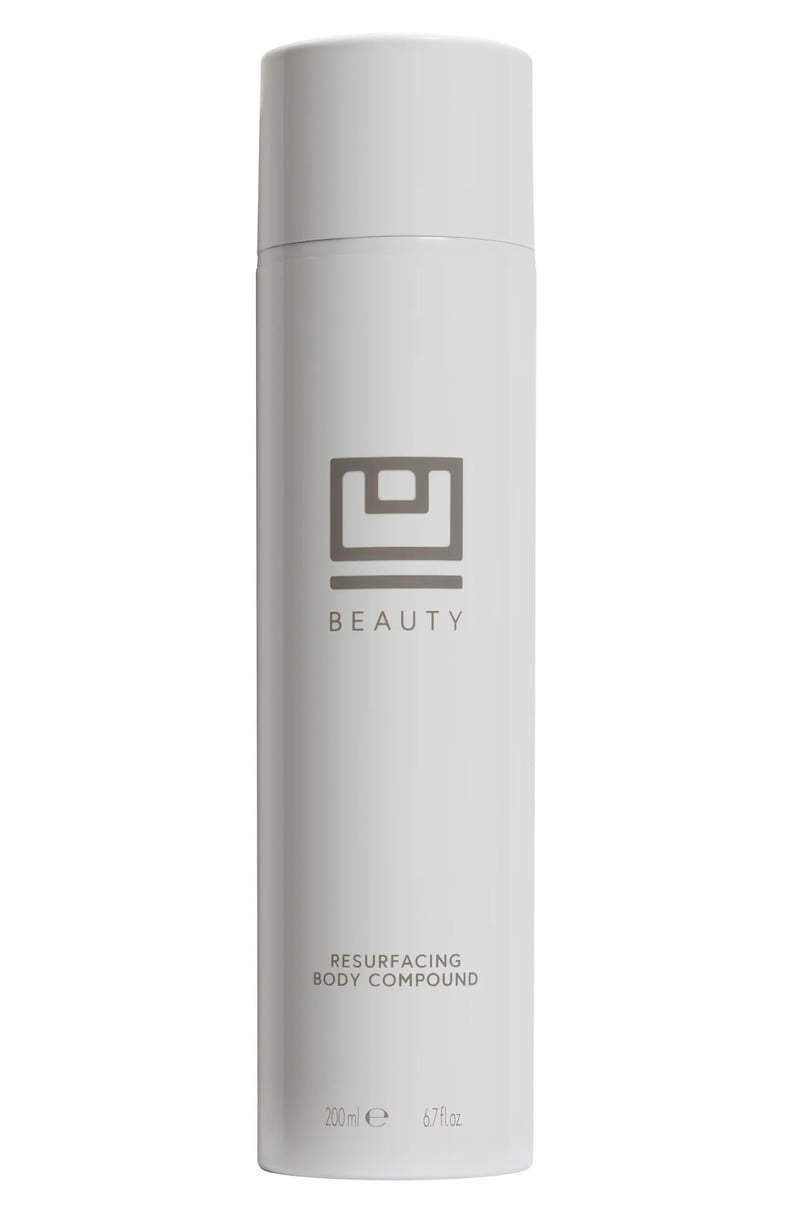 Best KP Serum
U Beauty Resurfacing Body Compound ($128)
The U Beauty Resurfacing Body Compound may not be marketed as a KP treatment, but it works to resurface skin through cellular turnover and chemical exfoliation just the same. It was formulated to treat bumpy, rough skin, which are key characteristics of keratosis pilaris. It brightens, resurfaces, and renews with vitamin C, vitamin E, retinol, hyaluronic acid, and AHAs.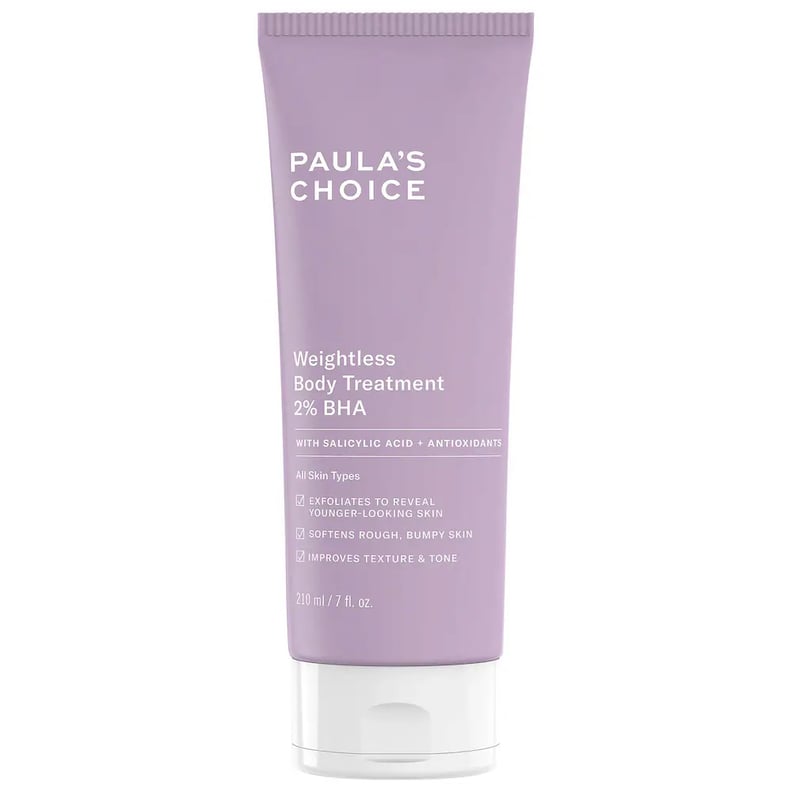 Best Leave-On KP Treatment
Paula's Choice Weightless Body Treatment 2% BHA ($29)
If an in-shower scrub isn't really your thing, try the Paula's Choice Weightless Body Treatment 2% BHA. It's a leave-on chemical exfoliating treatment formulated with two percent BHA (salicylic acid), vitamin E to soften, and green tea to soothe. Apply it on freshly cleaned skin straight out of the shower or before bed.