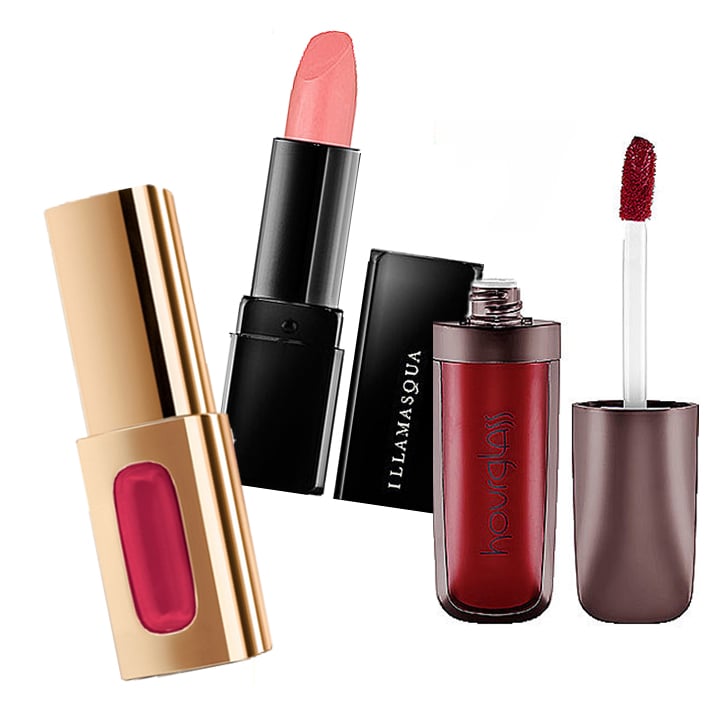 Every editorial product is independently selected by our editors. If you buy something through our links, we may earn commission.
We've all been there. You carefully apply a bright lip color before your big date (yeah, that date with that guy), you leave the door feeling confident, and then an hour into dinner, when you check your face in the bathroom, you realize it's smeared below your lip line and has gotten on your teeth. Worse yet, it's postdate and he finally leans in for the goodnight kiss (fireworks!), but when he pulls away, you're horrified to see your cranberry lip stain all over his chin.
Ladies, we're here to help. With Valentine's Day happening in less than 24 hours, we wanted to ensure you all have perfectly colored puckers for the evening of love. So we rounded up real women to test six rockin' lip products from glosses to traditional lipsticks to something called a lip tar (but more on that later). We wore the shades, and then we even made out with our guys — and got them to weigh in on the taste, texture, and smell of the lippies. Ahead, find six lipsticks perfect for that goodnight smooch . . . and beyond.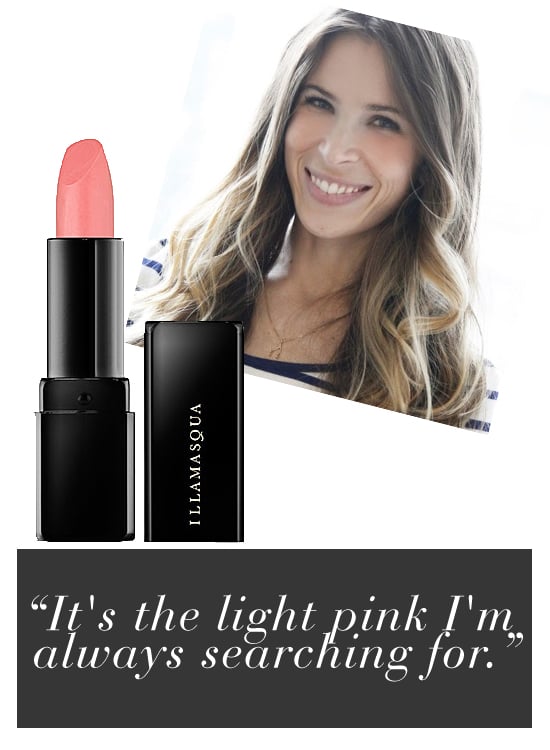 Illamasqua Lipstick
Leah:
"I applied lip balm first, and it glided on really easily. It's matte, not sticky at all. The light color helped me avoid that awkward stage when you can tell it's wearing off, and you either need to refresh it or completely wipe off. After three or four hours of drinking, eating, etc., I finally added a bit more."
Doug:
"It's pretty and subtle — why are you asking me? Did you do something? It doesn't have a specific taste, but it has a dry texture. As far as lipsticks go, this one isn't too bad. It doesn't leave a mess and doesn't feel, taste, or smell any different than Leah's lips do normally."
Leah:
"Would I wear it again? Yes, yes, yes! It's the light pink I'm always searching for. The shade is enhancing and pretty, and it makes me feel romantic. I love that it feels more like a balm rather than classic slick lipstick. I'd rate this a 5!"
Final score: 5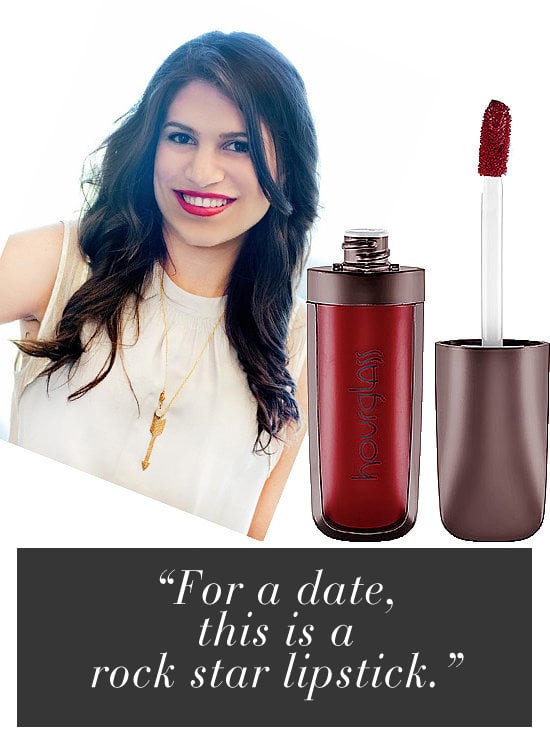 Hourglass Opaque Rouge Lipstick
Lauren:
"Don't be fooled by the fact that this formula comes in a gloss tube — it's very matte and dries instantly to create a satin finish. The texture is slightly sticky but not in a typical gloss way. Since the color really sinks in, you may need to apply a few layers to get it even. This color stains your pout. When I took a sip from my Diet Coke can, there wasn't even a smudge of red on it."
Michael:
"A deep dark red, this lipstick has attitude. It doesn't have a taste, but it's a great balance between shine and matte, and it's easy to kiss. I'd rate this a 5 — a definite winner!"
Lauren:
"I'd absolutely wear it again. It's a really sexy color. It made my lips look fuller, and the deep color is sultry. I'd rate this a 5. For a date, this is a rock star lipstick. Because it stains your lips, you don't have to worry about reapplying — or getting it on him. You may want to wear a lip balm under it for extra hydration, but that might make it come off easier."
Final score: 5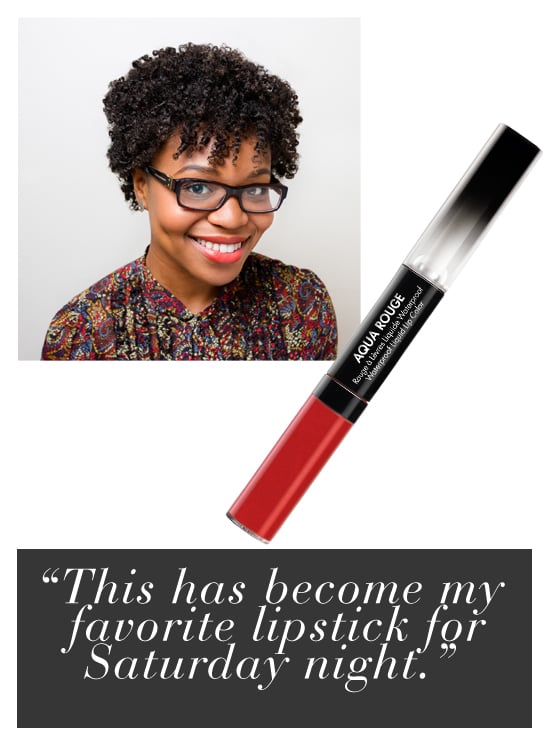 Make Up For Ever Aqua Rouge
Jessica:
"It's easy to put on, but you have to be careful because if you layer it too much, it starts to flake a bit. It goes on smooth, and then dries down to a sticky texture; but then you add the gloss side, and it's smooth and shiny. It stays on about eight hours — if you don't use oil-based makeup remover, you will wake up with it still on in the morning."
Stevie:
"It looks like lipstick. It's more like a warm red than a bright red. I didn't taste anything specific that I could remember. Definitely wasn't chalky or nasty. The texture was medium bodied, meaning not too liquidy like lip gloss, but not too much like Chapstick, which feels heavy. I would say it's in the middle. I'd rate this a 4. I like it because it didn't leave a stain on my lips."
Jessica:
"This has become my favorite lipstick for Saturday night, because it lasts through multiple glasses of wine and appetizers (and kissing, if my boyfriend gets lucky). I'd give this a 4 because it's dependable, but I have to take off a point for flaking after the reapplication."
Final score: 4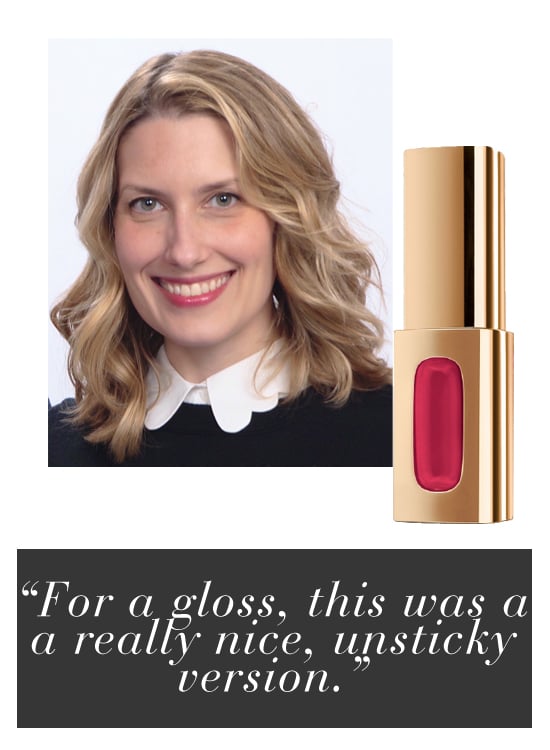 L'Oreal Paris Colour Riche Liquid Lipstick
Melissa:
"It's an easy application with a wand that helps it glide on. Despite being highly pigmented, it didn't feel like I was going to end up with too much on or go outside the lip line. My lips are chapped with Winter weather, and it felt like you couldn't see any of the roughness through it. But it came off on John! Not all of it, but definitely some came off on the first smooch (although he looked adorable with it)."
John:
"It looks shiny, and the color looks more reddish than the packaging. It tastes a little sweet, and it's not sticky. It's got a smooth texture. I'd rate it a 4."
Melissa:
"I would wear this again. I might pick a different shade to try out next, but I liked the formula. I'd rate it a 4. I'm more of a stain or balm kind of girl, but for a gloss, this was a really nice, unsticky, and saturated version."
Final score: 4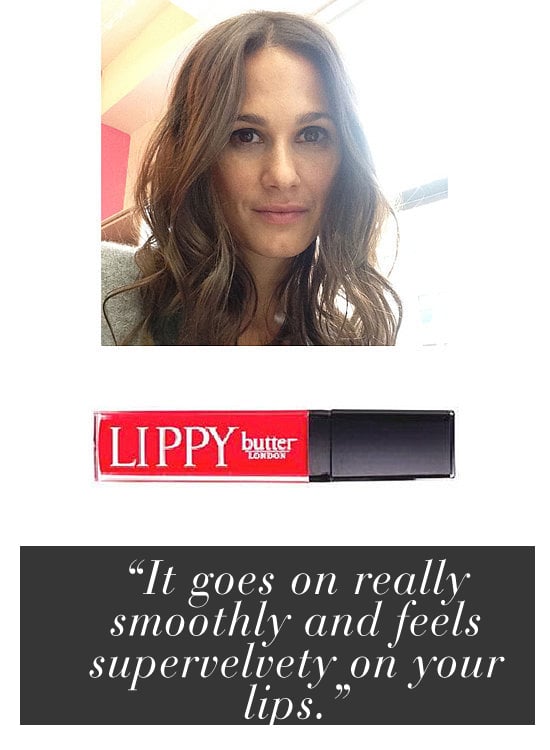 Butter London Lippy Liquid Lipstick
Hannah:
"It goes on really smoothly and feels supervelvety on your lips. If it's sticky at all when you first apply it, then just blot it and add a Chapstick to help smooth it out. And it's up to you how dark you want the color to go — just keep layering it on for a more dramatic effect. It stayed on for a decent amount of time, maybe a couple of hours without reapplication. Of course, it rubbed off some on water glasses, and while I was eating . . . and kissing! But if you are careful, it could definitely last a few hours."
Thomas:
"It's bright — very bright. It kind of tastes like cherry, I don't know . . . maybe licorice? It's not bad. It's super glossy! It's smooth, but it definitely sticks on me a bit. I give it a 3. I'm not used to Hannah wearing lipstick, so the color is really intense, but it does taste and smell a lot better than I ever expected — and it's kind of cute that it rubs off a little when she kisses me."
Hannah:
"I totally would wear this lipstick again. I'm not a lipstick kind of girl, but I love that this is more glossy than 'lipstick-y.' It's a lot less intimidating. I'd probably rate this a 3.5. I'm into the texture and the gloss factor, but the color might be a shade too bright for me."
Final score: 3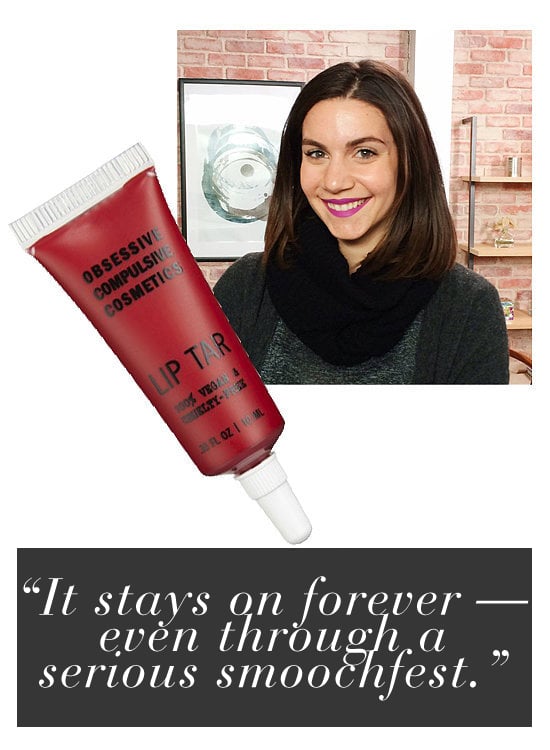 Obsessive Compulsive Cosmetics Lip Tar
Maria:
"The thing I love about lip tar is that once you apply it, you almost forget that it's on. It doesn't have a dry or tacky texture, although you really need to take the time to apply it. Use the brush that's included, or else you'll wind up with lips like a clown. Not cute. So lip tar stays on forever — even through a meal or a serious smoochfest. But it's tough to remove if you're rushing to get your makeup off at the end of the night. I always try to use a face oil to remove it quicker."
Ryan:
"I'm used to Maria wearing lipstick, so it's not a huge change. This is definitely a more intense color, though. It has a minty taste, actually, and it does't feel any different than kissing her without lipstick. I'd rate this a 4. It doesn't come off on me, and I think it looks good on her. I like the fact that it doesn't smell super fruity or girlie."
Maria:
"Lip tar is one of my favorite lip pigments. I wear it more often than any of my other lipsticks, simply because I can put it on and forget about it. I suggest it to everyone, but am going to give it a 4, just because the application takes a steady hand — not exactly conducive to reapplying on the go."
Final score: 4