The mother of three made the personal political by speaking about what kind of safe options she uses on her children. "When I had my first son, I started really learning so much about the foods that I was feeding him and it just kind of all snowballed," she said at the hearing. "As a mom, you really take so much interest in the products . . . and it's so crazy."
She went on to recall, "I would get so many baby gifts and a lot of it was products, skincare products for my kids. And I would use the things that people sent me just assuming these are baby products and that they should be safe. And it's really amazing that the best products that you can buy . . . and I remember learning from my mom friends that these were not healthy at all. Some of them had a lot of toxic chemicals, so I just started researching myself."
Since Kourtney is a working mother, she noted that she doesn't always "have the time" to research every single product she uses. As she said, "I do feel like it's time for Congress to do its job," and update cosmetics regulations.
When asked about her own family's beauty empire and the ingredients their brands use, Kourtney got candid. "My sisters' products have been checked by EWG and they scored well," she said. "Those are their companies, but I think it would be nice if there were laws to regulate cosmetics so that the people running these businesses and these companies can have some standard of what to use. Right now it's like a guessing game."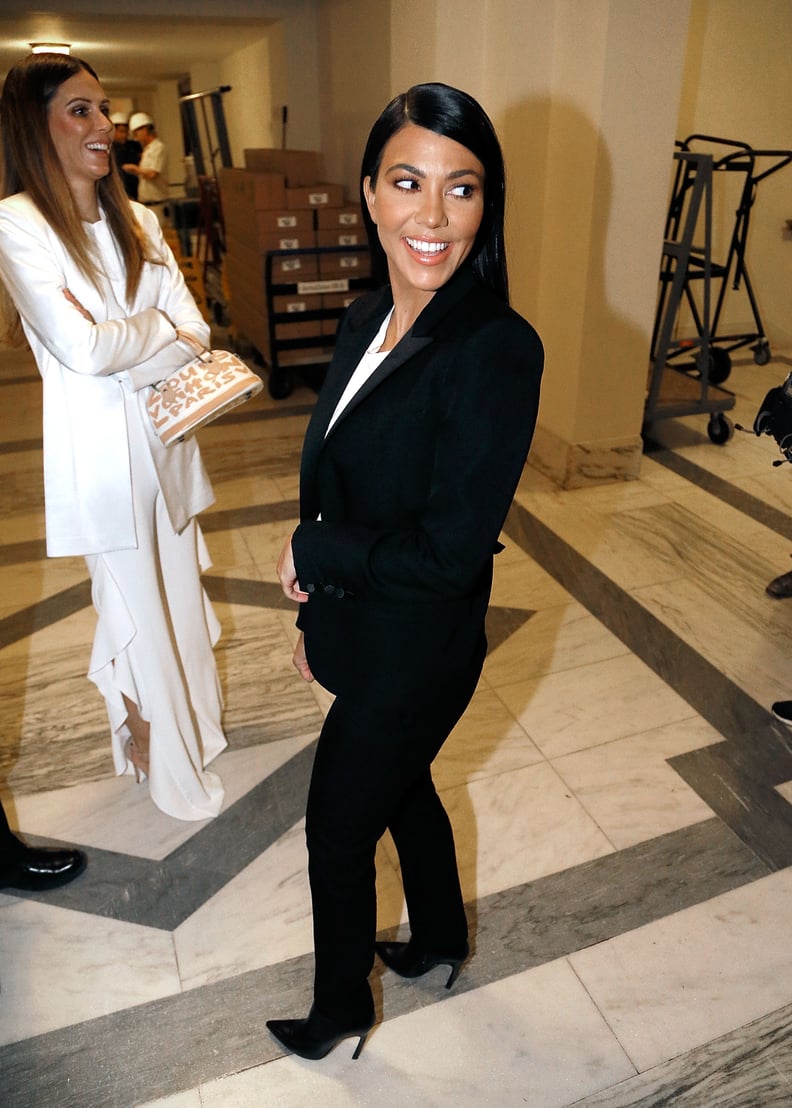 In the past, Kourtney has written on her app that she only wears natural deodorants. "Changing over to an all-natural deodorant seemed like an important thing to do when I heard that when people are diagnosed with breast cancer, they are told to immediately discontinue using conventional antiperspirants and deodorants," she wrote. "Although research connecting the parabens and aluminum from these product directly with breast cancer is inconclusive, I like to play it safe."
Kourtney is also an ambassador for Manuka Doctor, an Australian brand that creates products made with cruelty-free honey and bee venom.
Along with speaking like a total pro, Kourtney rocked a simple, black pantsuit that made us wonder — are politics in her future? That certainly would make upcoming episodes of Keeping Up with the Kardashians very juicy, indeed.