I Got Kourtney Kardashian's Supermodel Manicure: See Photos
I Re-Created Kourtney Kardashian's Wedding Manicure in Just 3 Steps
As POPSUGAR editors, we independently select and write about stuff we love and think you'll like too. If you buy a product we have recommended, we may receive affiliate commission, which in turn supports our work.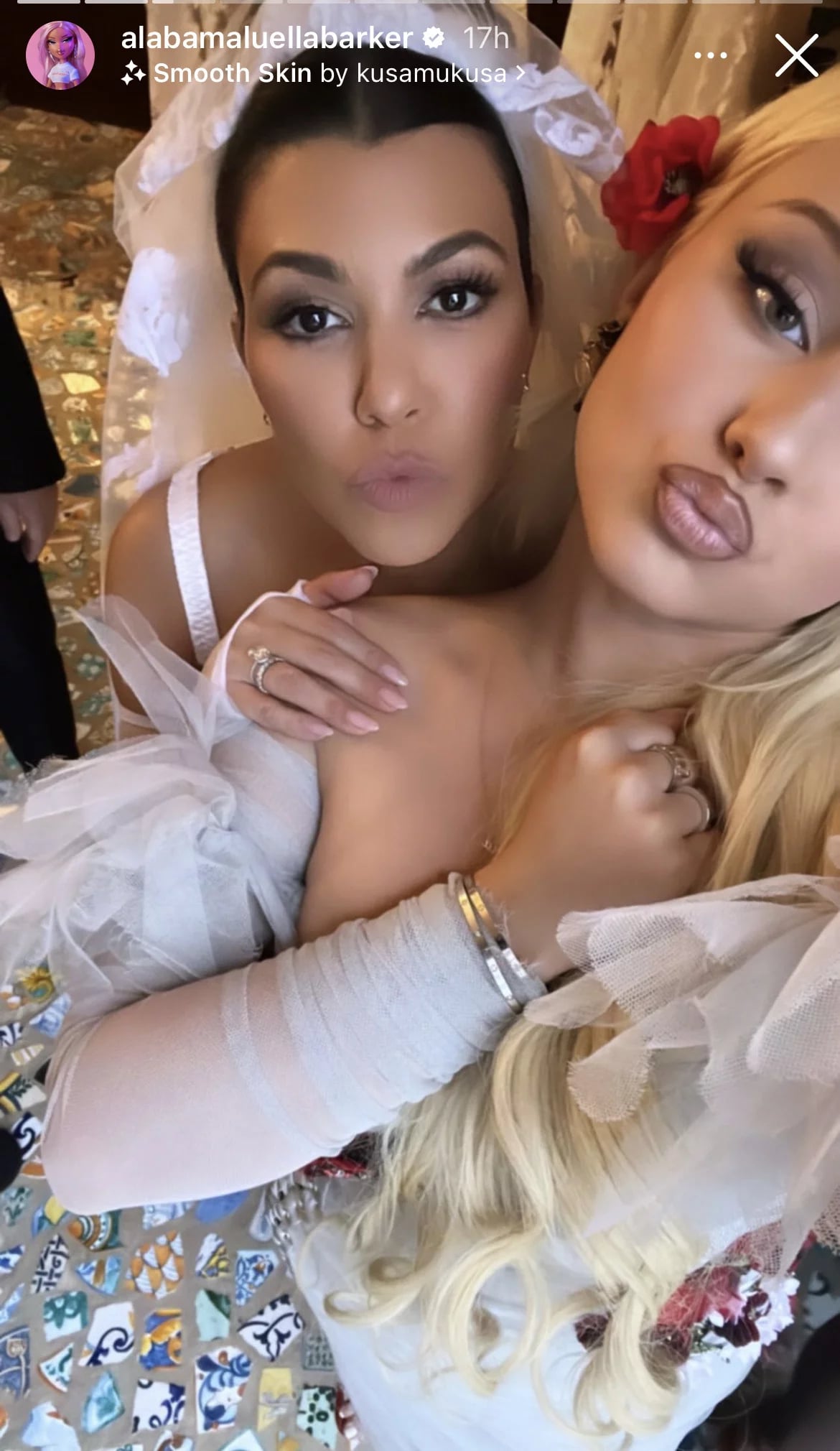 Image Source: Instagram user alabamaluellabarker
I'm very into minimalist everything right now, and anything that screams '90s supermodel, whether it's a manicure or haircut, is going to grab my attention. When I saw the photos from Kourtney Kardashian's wedding, I have to admit: while the fashion was beautiful, it wasn't really my style. Then I spotted her wedding manicure — a chic, minimalist sheer look — and I immediately fell in love, deciding right then and there to re-create something similar for myself. I booked a nail appointment ASAP, and the results might just be my favorite yet.
The '90s supermodel manicure has been gaining popularity over the last few months, and we've seen tons of celebrities like Margot Robbie and Hailey Bieber wearing the trend. To achieve the look, I knew I needed to change up my shape and make sure I picked the perfect color combination. I'm in the process of growing out my nails, and when I arrived at the salon, my shape was round and looking a little funky. To get Kardashian's look, I asked the technician to file my nails into an almond shape and to make the tips skinnier than the rest of my nails. Once the technician was finished prepping my nails, it was time to get to work on the color.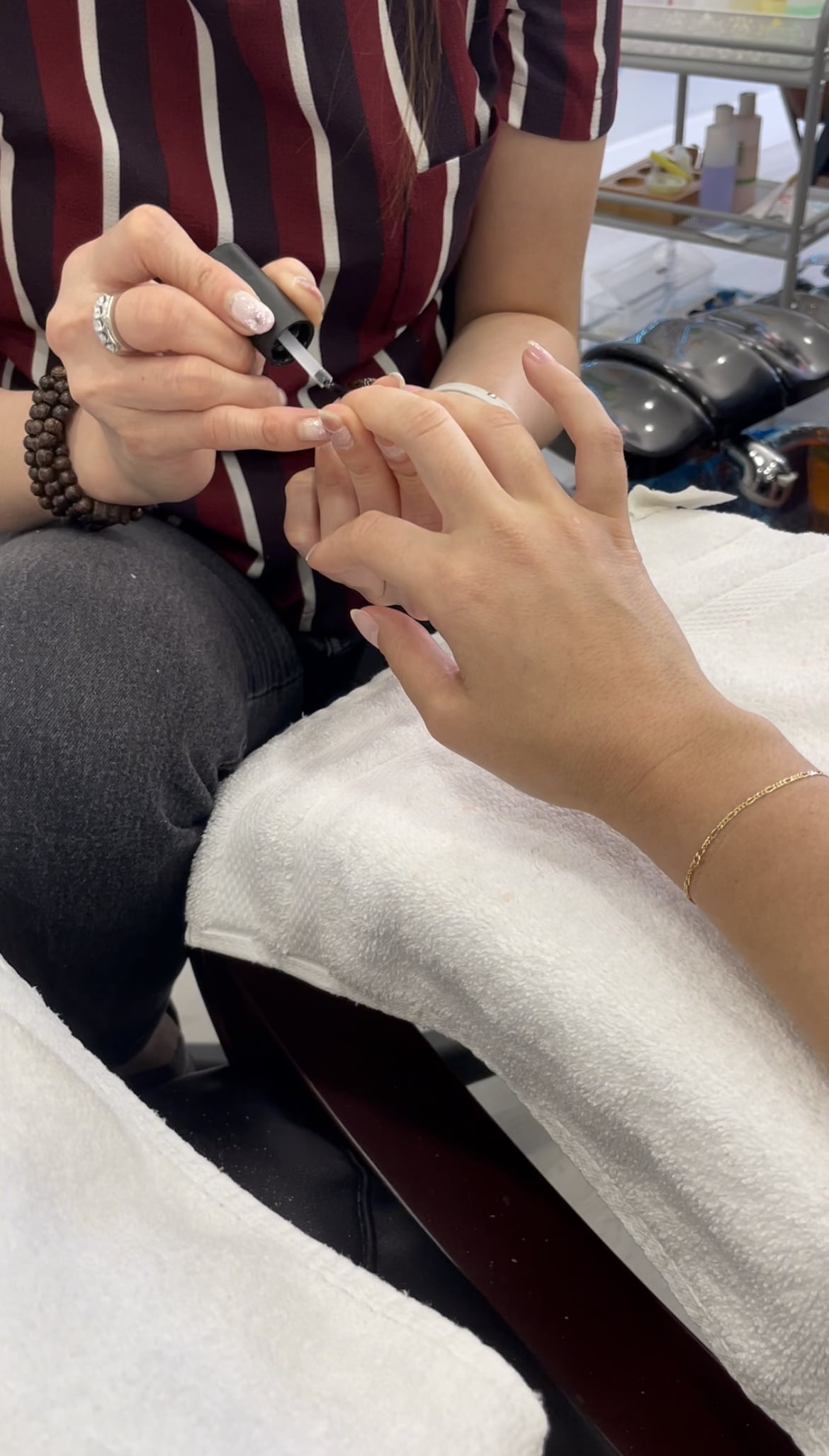 Image Source: POPSUGAR Photography / Renee Rodriguez
To achieve a similar look color-wise, after applying a base coat, the technician started out by applying one thin coat of OPI Funny Bunny Gel ($21). After letting it cure under an LED lamp for 30 seconds, she then applied one coat of OPI Chrome Effects No Cleanse Top Coat ($14).
After letting the Chrome Effects topcoat cure, she applied a small amount of the OPI Chrome Effects in Tin Man Can ($14) to give my nails extra shine and a pearlescent finish. The Chrome Effects product is a mirror-shine nail powder that comes with a tiny applicator that looks similar to a makeup brush. She rubbed a tiny bit over each nail and then used a fluffy brush to remove any lingering powder around my cuticles. To finish everything off, she applied the OPI Stay Shiny Top Coat ($18) and then let it cure.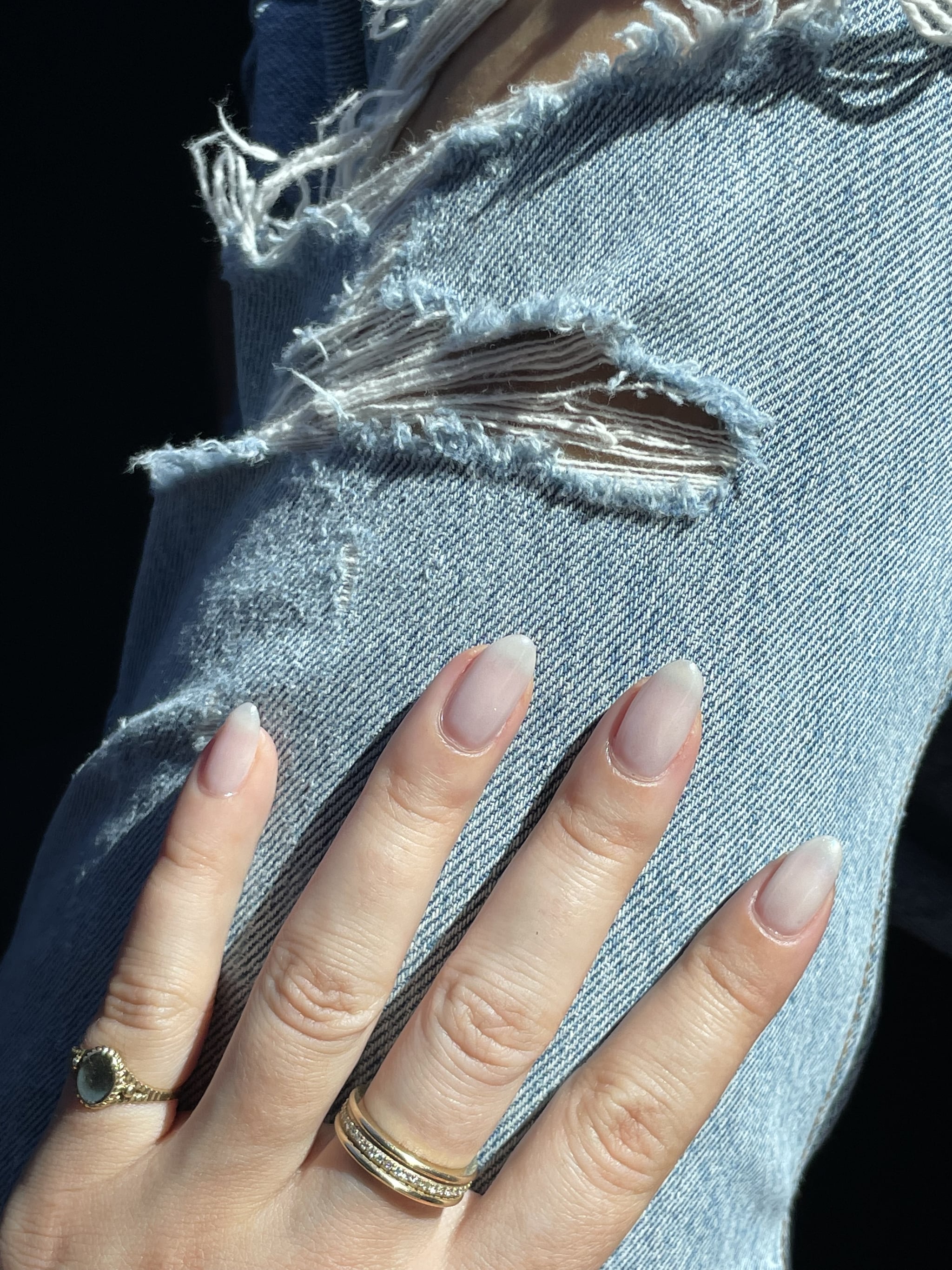 Image Source: POPSUGAR Photography / Renee Rodriguez
Once my nails were finished, I honestly couldn't stop staring at them. I haven't been this in love with my nails in a long time, and it's easily become my most-complimented manicure ever. Everyone who sees them asks about the color. I opted for my nail color just a teensy more white than Kardashian's, which is why I went with OPI Funny Bunny. However, if you wanted to go for more of a pink look, your best option would be to do a thin coat of OPI Bubble Bath ($33) as your base, similar to how my nail tech used OPI Funny Bunny.
The key product in achieving this minimalist manicure is the OPI Chrome Effects Powder. It can be paired with any nail color to give them an iridescent, milky look, and it adds a ton of shine so your nails will be sure to catch the eye of anyone in the vicinity.