Kristen Bell on Having a Lob, Being a Mom, and Loving Lipstick
As POPSUGAR editors, we independently select and write about stuff we love and think you'll like too. If you buy a product we have recommended, we may receive affiliate commission, which in turn supports our work.
Kristen Bell may look like the California girl next door, but she's a siren when it comes to her red carpet style. You know her from her roles in Veronica Mars, House of Lies, and Forgetting Sarah Marshall — and then there's the fact that she was the voice of Gossip Girl and Anna from Frozen. To add to her star quality, she's married to fellow actor Dax Shepard, with whom she has a baby daughter, Lincoln Bell Shepard. Yet in between all of these family and work commitments, she makes time to be the brand ambassador for Neutrogena Naturals. After speaking with Kristen, we learned how pregnancy inspired her on-trend haircut, the way she got her body in postbaby shape, and her quirky bathroom trick for fixing melted makeup.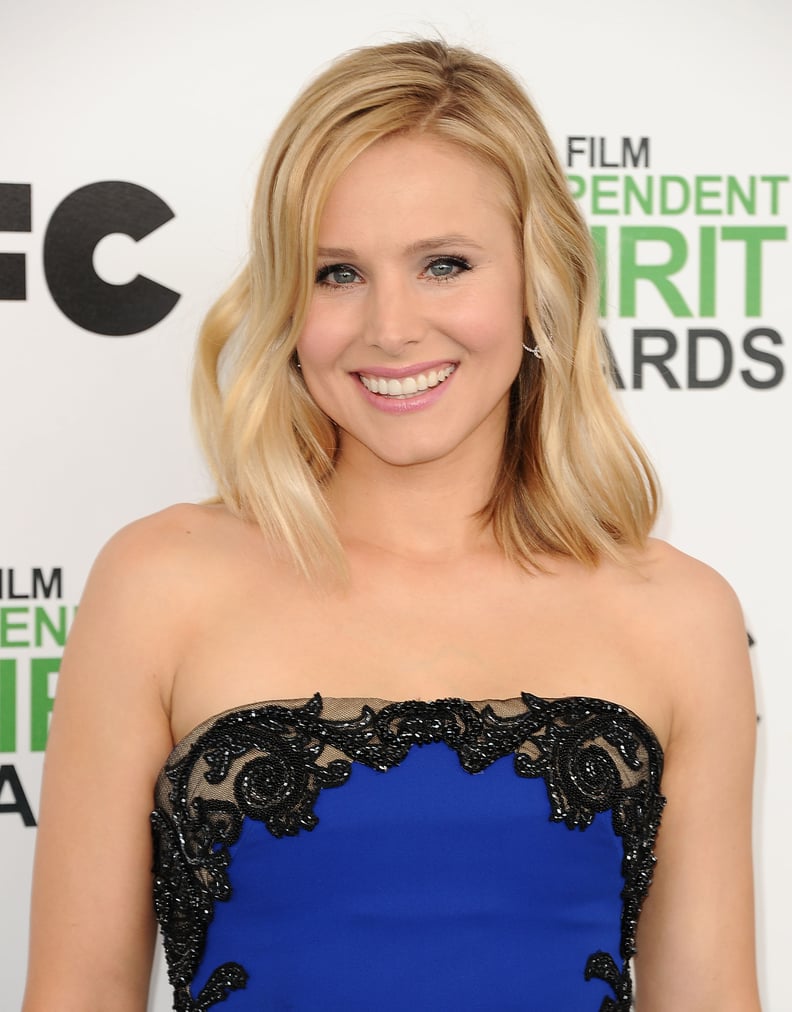 POPSUGAR: You have amazing skin. Walk us through your skin care routine.
Kristen Bell: It's a whole lifestyle routine. I eat very well. It's not that I don't cheat, but I assess my protein intake and make sure I have enough omega fatty acids to retain moisture. And I eat a lot of colorful fruits and vegetables. I drink a ton of water — usually lemon water. I feel better when my body gets more alkaline. As for skin products, I come from a less is more perspective. I really like the Neutrogena Naturals line because there's a minimal amount of ingredients. It's really pure and natural. I live by the Purifying Facial Cleanser ($6) — I use it every single night. I use it either with my fingertips or a little wooden natural bristle brush, and then I use the multivitamin nourishing moisturizer. And that's pretty much it.
PS: How has your beauty routine changed since becoming a mom?
KB: Since becoming a mom, I look a lot more at the ingredients. My skin is a huge, absorbing organ, and I pay attention to when I'm sitting in smog and make sure I'm drinking enough water. As far as beauty goes, I look at the ingredients of everything I put on my skin. I like to be able to pronounce everything. I do research on where it comes from, because as a mom, I don't really have a ton of time. So I want everything to be simple.
PS: You also have the It haircut right now: the lob (a long bob). Are you happy with your hair right now?
KB: I couldn't be happier with this cut. It was in response to having had a lot of dry ends after being pregnant. So, I needed a change and wanted to feel fresh, and I have never had an easier hairstyle, because it's supposed to look messy but it's not really long enough to get tangled. So I take a shower the night before, sleep on it, and just walk around with bedhead all day and feel great. Also, I used to have pin-straight hair before I was pregnant. I now have wavy hair.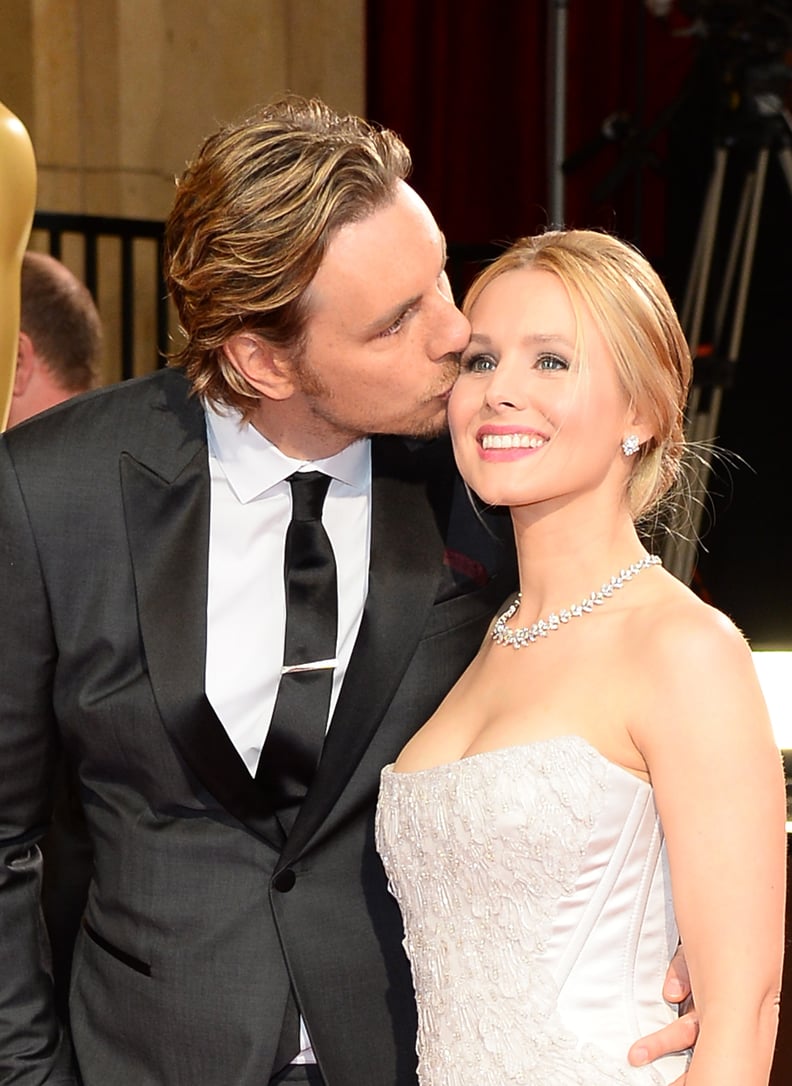 PS: Do you use any new products in it or are you product-free with your hair?
KB: No, I use a dry shampoo every day. My favorite would probably be the Klorane because it's silky enough to not make your hair feel too dirty, but it roughs my fine hair up just enough.
PS: You've been doing a lot of fun hairstyles for the Veronica Mars tour and makeup looks for the red carpet. Have a favorite look?
KB: My favorite look this Spring has been when I've done really bold lips. I recently fell in love with lipstick. Experimenting with lip colors has been really fascinating. Also I think I used to be insecure to pull my hair all the way back off my face. I wore it slicked back like that for the LA Veronica Mars premiere. Recently, I've been loving the ease of just pulling it all back and feeling open and vulnerable — instead of hiding underneath a bunch of waves.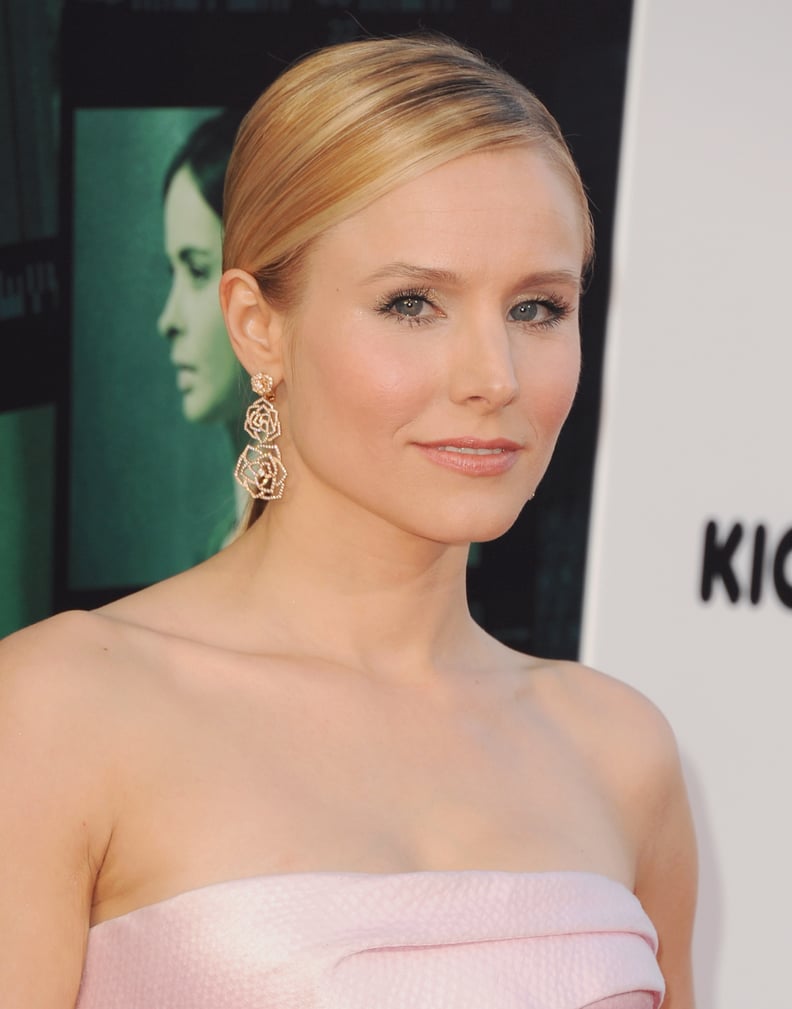 PS: What's one of your favorite beauty looks that you've worn for any role that you've played?
KB: I really liked the liquid wing eyeliner that I wear on House of Lies. I especially wear it in season two. It's really clean and sharp, and the makeup look complements my character's attitude in the business world.
PS: Were there any other standouts?
KB: Yeah, throughout the Veronica Mars series, which was also echoed in the movie, I wore a taupe smoky eye. Because she was in high school, I couldn't wear a blunt smoky eye and I couldn't wear too much makeup. But, I do often think that as an actress, the makeup you choose can be representative of your character's armor and insecurity. So I wanted Veronica to have a tougher, smokier eye. Even though it was very, very pale smoky, it made her feel more confident and less naked.
PS: Would you try the braid from Frozen?
KB: Yes and funnily enough, when I was recording the character I had much longer hair. Subconsciously, one day, I came in with it braided. And then for the rest of my recording, it just felt right. It was just a silly little way I was able to get into character.
PS: Did you think that braid would take off the way it has? There are a lot of girls re-creating it.
KB: No. I was just as shocked as everyone that people liked it so much. But it's cool. It must be flattering to the animators because they created such a cool look, and I like Anna just as much as anyone else.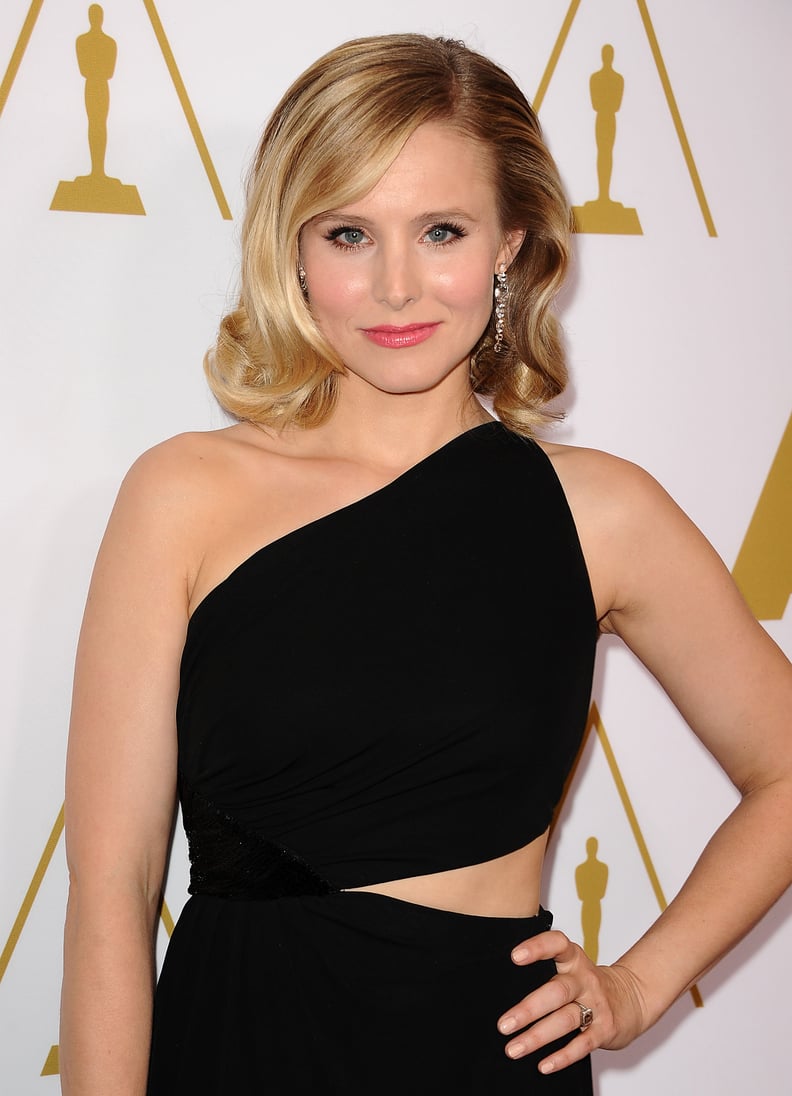 PS: Are there any quirky beauty habits you've picked up along the years?
KB: Instead of using eyeliner, I will apply a liner with either a fan brush or a flat thin brush right at the base on the inside of my eyelashes and paint underneath the line of my lashes. The appearance is that I'm not wearing eyeliner at all but I've absolutely darkened the ring of lashes. It just makes my eyes pop without making me look like I've had any fluffy makeup done.
PS: How do you get your makeup to stay when it's hot on the red carpet?
KB: Spray starch works really well on hair for a hot environment. It can contend with almost any type of weather. A really basic sort of hillbilly makeup trick is that the toilet seat covers in restrooms are the same material as oil blotters. If you're in a pinch you can rip up a toilet seat cover and blot your T-zone. And then guess what? You're fresh as a daisy again.
PS: Are you a nail-art girl?
KB: Yes. I do my gels at home. I love getting little brushes and experimenting. I really like doing . . . how would I describe it . . . like a point over the crest of my cuticle.
PS: What's the best beauty advice your mom ever gave you?
KB: When I was 16, my mom told me that everything I would do to my skin from that point on would affect how I look as an adult and that reminded me to be less reckless with my skin as a teenager because I knew what I was doing would influence me in later years. She always reminded me to stay out of the sun or wear SPF, so that my skin would not be too wrinkly when I was an old lady.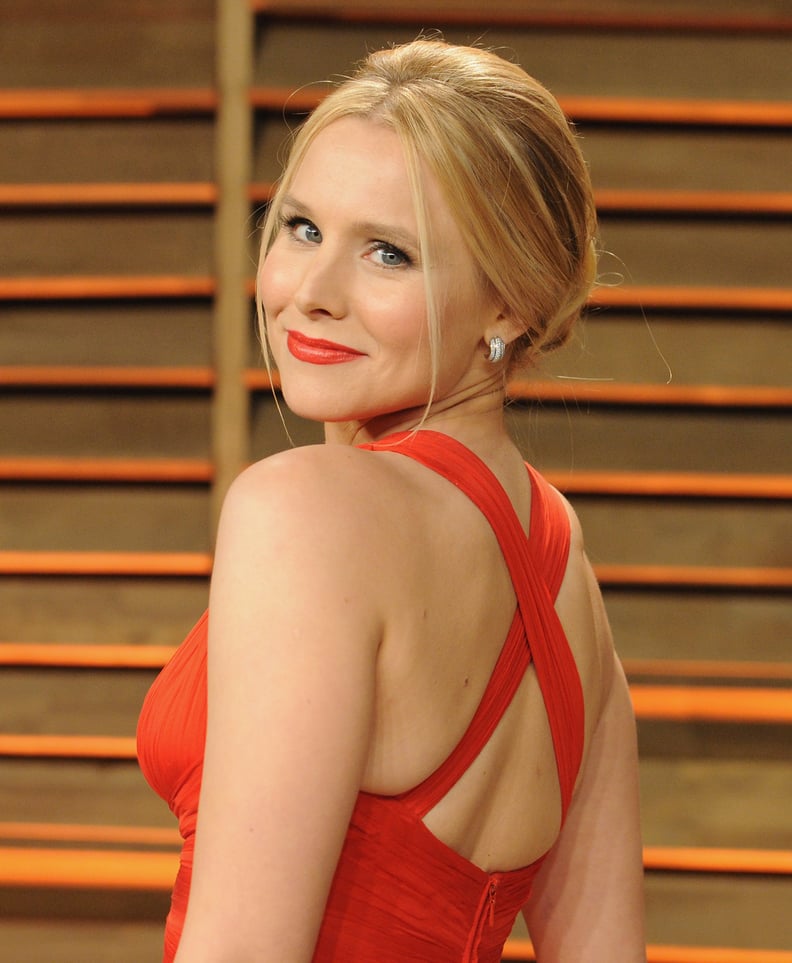 PS: And now you're the mother! Fill in the blank: you know you're a mom when ________?
KB: There's a food stain on every shirt you own.
PS: What did you do to get your body in shape after the pregnancy?
KB: Pilates. Over the past six weeks, I did it four times a week, which helped a ton because normally I wouldn't have the time to do that much training. But I really wanted to kick it into high gear and feel good about my body this Summer. So I did for six weeks, four times a week. I changed my eating habits and gave up sugar for 30 days, which helped a ton.
PS: People say when you give up sugar you stop craving it. Did that happen to you?
KB: Yeah, it did. After about day four, I stopped craving it and there were moments of remembering the high I would get off sugar when I wanted it. But for the most part, it was easy after about day four. And to be honest with you, I just ended my 30 days and I just had some sugar two days ago, and I felt terrible.
PS: What did it feel like when you reintroduced sugar?
KB: It felt like . . . God I don't even know how to describe it. It felt like I was overtired but jittery at the same time. It felt like taking a shot of coffee in the middle of the night. Also, within an hour of having dessert, I started itching from eczema. I'm not a doctor officially, I'm not recognized by the United States medical community, but I do think there's a direct correlation between my sugar intake and my eczema flare-ups.
PS: Is there anything else you do to control eczema flare-ups?
KB: Dairy also. I stay away from sugar and dairy, and I find my eczema is completely under control. But if I have either one of them, I notice it immediately. Ice cream is a nightmare for me.