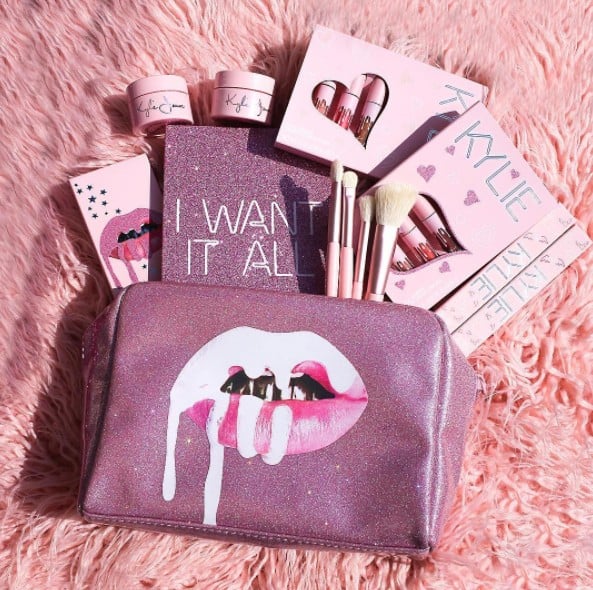 Update We have good news for anyone who missed their chance to shop Kylie's Birthday collection during its initial release. The full line will be restocked on Friday, Aug. 4, at 12 p.m. PST. Perhaps this will be the first of a few re-dos, since Kylie's actual birthday isn't until Aug. 10. But we don't know that for a fact, so be sure to set your calendar alerts accordingly!
Original post Kylie Jenner's 20th birthday is on Aug. 10, but at 3 p.m. PST on Aug. 1, we all get a present. After days of teases, Kylie will release her annual Birthday Collection. The all-pink-everything collection is chock-full of swag. Think of it as the party favor you've always wanted. Included in the bundle are brushes, a palette, new Ultra Glow highlighters, and — of course — lipsticks.
The new highlighters come in King, a regal gold, and Queen, a rosy pink. For lip sets, Kylie's giving us liquid lipsticks that come in mini matte and velvet finishes. The shades look like an eclectic mix of Jenner-approved peach and neutral tones.
Kylie fans will love that the mini matte set is all old favorites: Angel, August Bug, All Nighter, Baby Girl, Gorg, and One Wish, which all came in previous collections.
If we had to sum up this whole collection in one product, it would be the "I Want It All Palette" because we want everything in this line. Made up of two highlighters and nine eye shadows, this pretty pièce de résistance comes with a Kylie Cosmetics signature dripping-mouth mirror.
We've learned from past Kylie Birthday Collections that when Kylie gets another year older, we get another set of products to cram into our vanities. And we wouldn't want it any other way. Read on for more pictures, and don't forget to shop it all on Aug. 1 at 3 p.m.