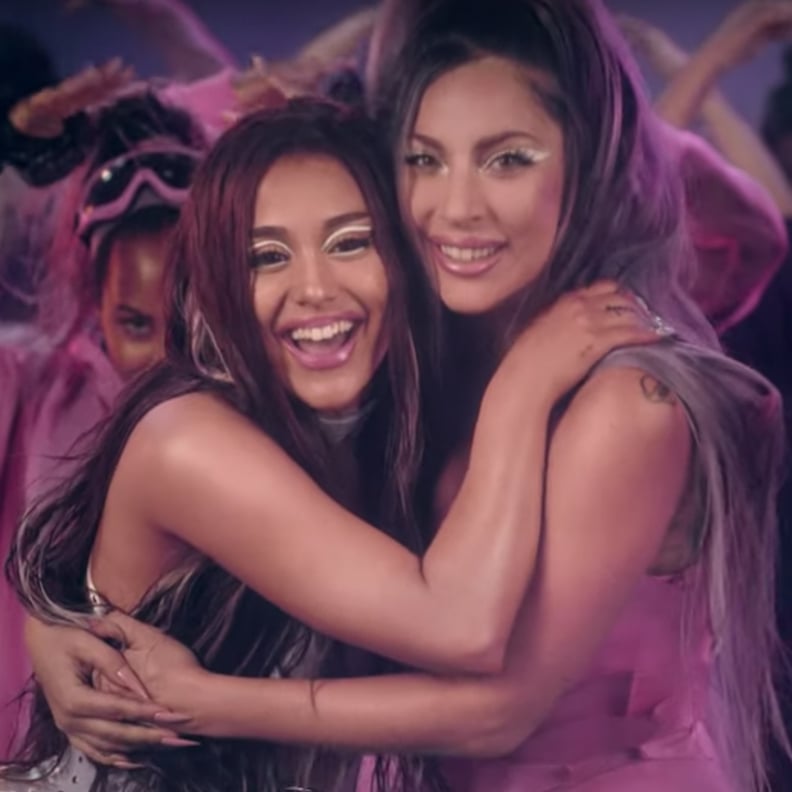 Lady Gaga is an IRL shapeshifter and nobody can tell us otherwise. From glitter and flowers to leather and meat dresses, Gaga knows how to pull. It. Off. ICYMI, Gaga dropped the music video for "Rain on Me," her collaboration with Ariana Grande, on May 22, and her beauty game gets more fierce with every new frame. Funky hairstyles, exaggerated eyeshadow, and Gaga's dangerously gorgeous six-inch nails are just a few standouts in the video. At one point, she fully transforms into Grande, high ponytail and all.
In an Instagram post, makeup artist Sarah Tanno-Stewart revealed that she created Gaga's solid white wing using Lady Gaga's Haus Laboratories Stupid Love Palette in the shade 911. Tanno-Stewart added definition to the look with Gaga's Liquid Punk Eye-Lie-Ner ($20). For Gaga's lips, she used Haus Laboratories Rip Lip Liner in the color Myth ($16), Haus Laboratories Dust Le Monster Matte Lip Crayon ($18), and a little bit of Haus Laboratories Le Riot Lip Gloss ($18).
The rain-soaked bubblegum-punk costumes are the perfect combination of Ariana's adorable yet bold style and Gaga's sci-fi, punk-rock Chromatica look. In total, the duo pulls off about six looks throughout the video that have me ready to jump into whatever universe this is set in and stay there just for the style. Take a closer look at each of each of Grande and Gaga's killer beauty moments during the video, and listen to the full song for yourself here.
Watch the Video For "Rain on Me" by Lady Gaga and Ariana Grande Here