Lana Del Rey's Tattoos Are as Poetic as She Is
Lana Del Rey is widely revered for her soulful vocals and ruminating poetic lyrical style, but what many might not be as familiar with is the musician's tattoo collection, which features eleven known designs scattered across her upper body. Despite each ink being individually meaningful, the Grammy-nominated artist's body artwork exhibits a cohesive theme where each piece is a script design done in beautiful cursive handwriting to add an extra personal touch.
The "Norman F*cking Rockwell" creator has opened up about the reason behind getting only meaningful textual inks, saying that the body art she owns helps her feel less lonely while away from home for extended periods. "I've been touring for the last three years, and it gets lonely," she said in an interview. "I just like the idea of carrying someone with me on the road."
For her sophisticated ink collection, the 38-year-old has carefully chosen her long-admired artistic influences who heavily inspired her niche body of work. "That's the reason I really only have script on my body; I've got Nabokov and Whitman and things like that."
While Del Rey has previously expressed her desire to get a couple of tattoos removed, we've rounded up all her known designs with their meanings ahead. From a touching tribute to her grandmother to beautiful odes to her all-time favorite artists, Del Rey's ink collection serves as an intimate window into her unique artistry and personality. Read on to learn more about the "Lust for Life" musician's tattoos and their significance.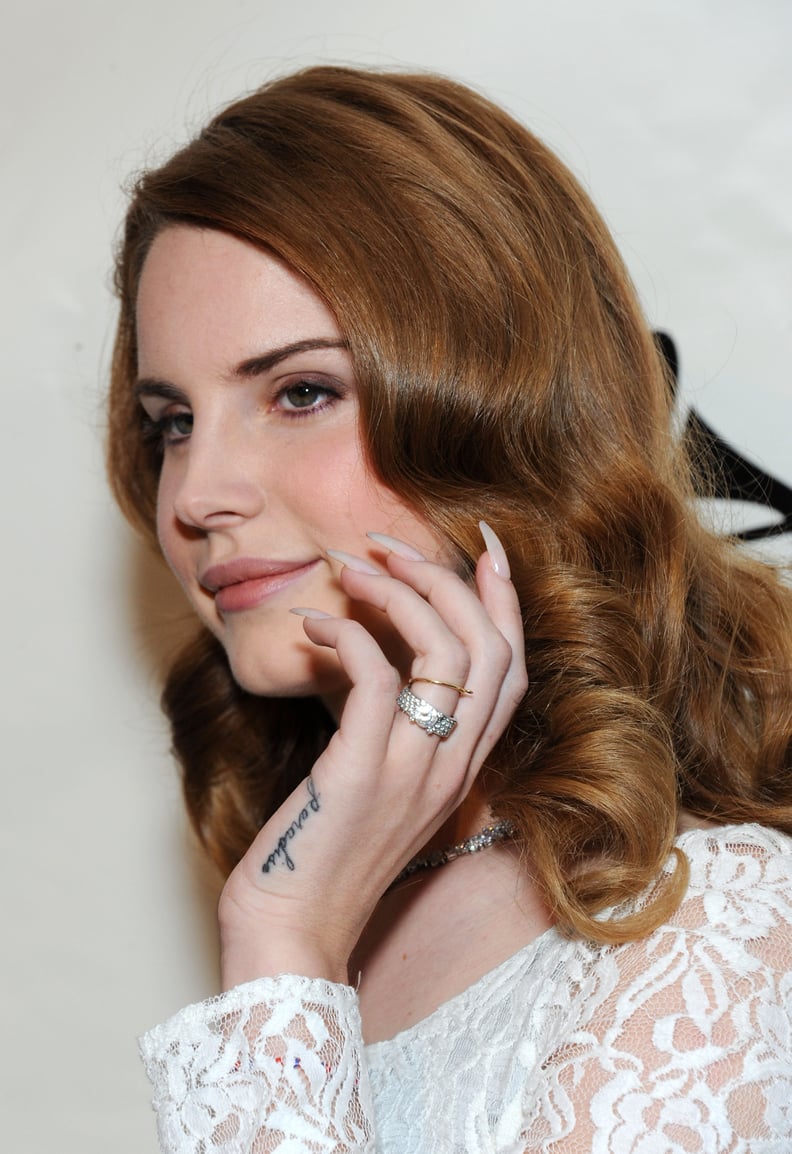 Lana Del Rey's "Paradise" Hand Tattoo
In honor of her third studio album of the same name, Del Rey got the word "Paradise" tattooed on the side of her left hand in cursive calligraphy in 2012. The singer further delved into the inspiration behind this ink in an interview with the German magazine Der Spiegel. "Death and paradise for me are linked," she said.
"I expect after my death, something that is very calm and relaxed. This can already be described as paradise. It is so loaded with meaning. I just like the word "Paradise". I even tattooed it on my hand."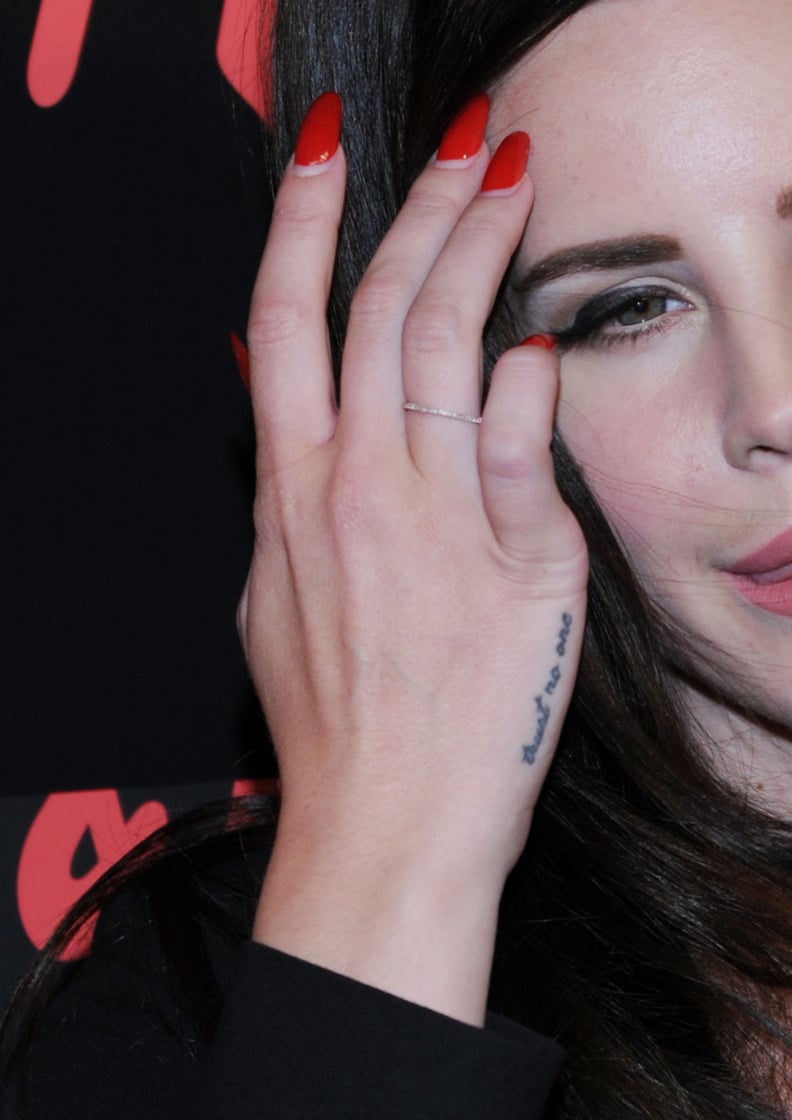 Lana Del Rey's "Trust No One" Hand Tattoo
On the outside of her right hand, Del Rey has the phrase "Trust No One" inked in a dainty cursive font. The piece represents the cynical outlook on life that she's earned through hard experiences. Speaking with Les Inrocks in 2017, Del Rey shared that she was thinking about having it removed, adding that "deep down, I still agree with the message." However, she may have changed her mind since then, as she still appears to have the ink intact, recently appearing on the cover art of her latest single, "Say Yes to Heaven."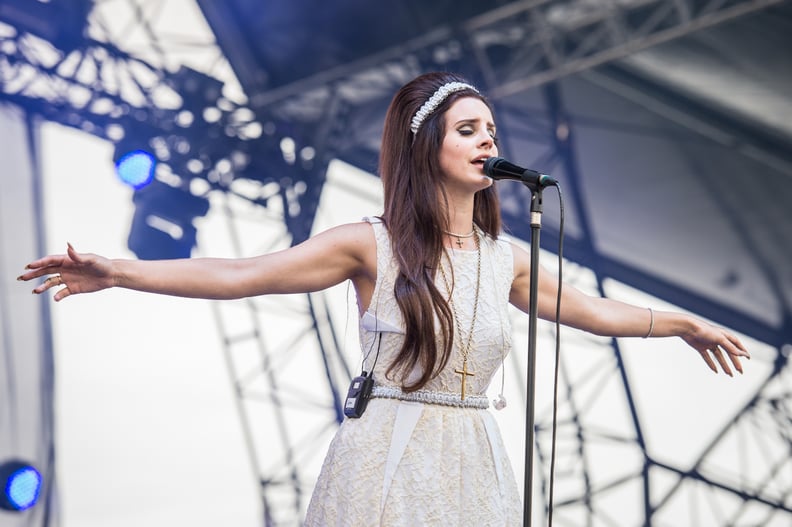 Lana Del Rey's "Die Young" Finger Tattoo
The singer has another fine cursive script tattoo on the side of her right ring finger that reads "Die Young." During a 2014 interview with The Guardian, Del Rey revealed she isn't afraid of dying young, much like her heroes — Amy Winehouse and Kurt Cobain. She echoed a similar sentiment in her 2017 title track "Lust For Life."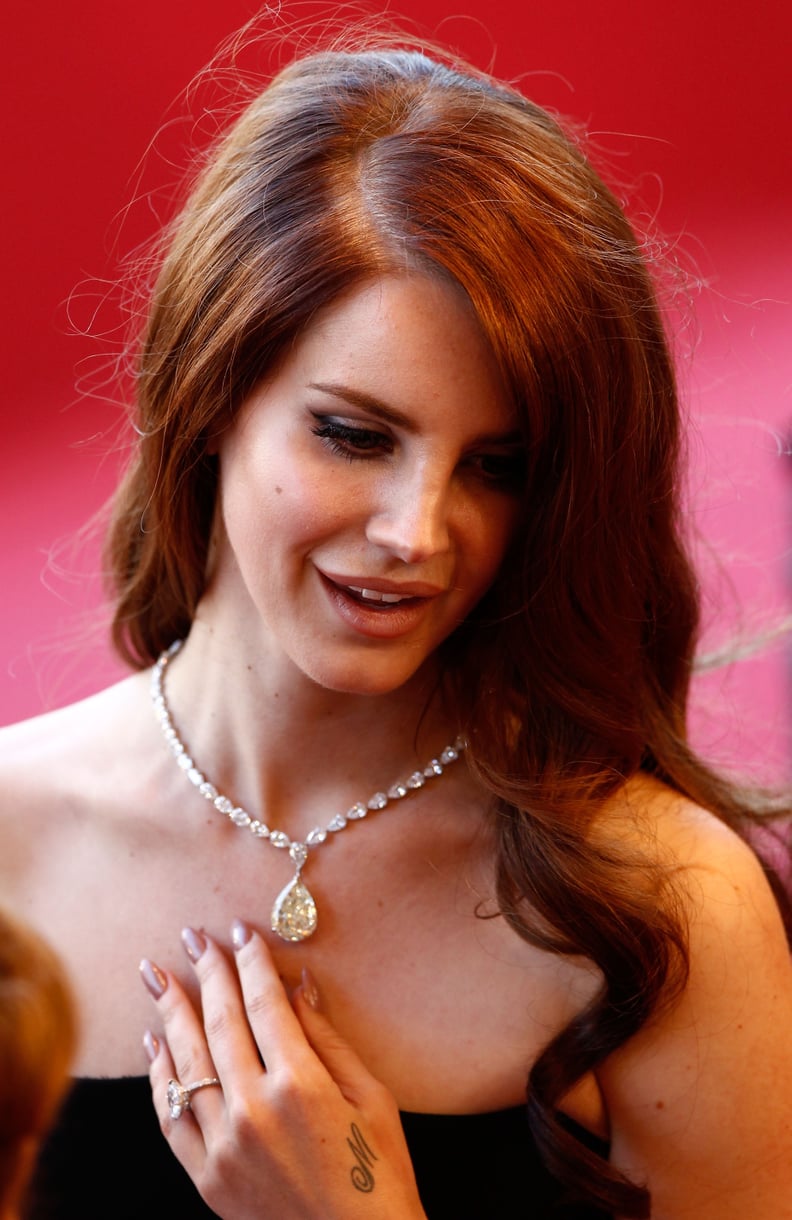 Lana Del Rey's "M" Hand Tattoo
In honor of her grandmother, Madeleine, Del Rey got her initial "M" inked on the back of her left hand, near her thumb. The design is in a beautiful cursive font.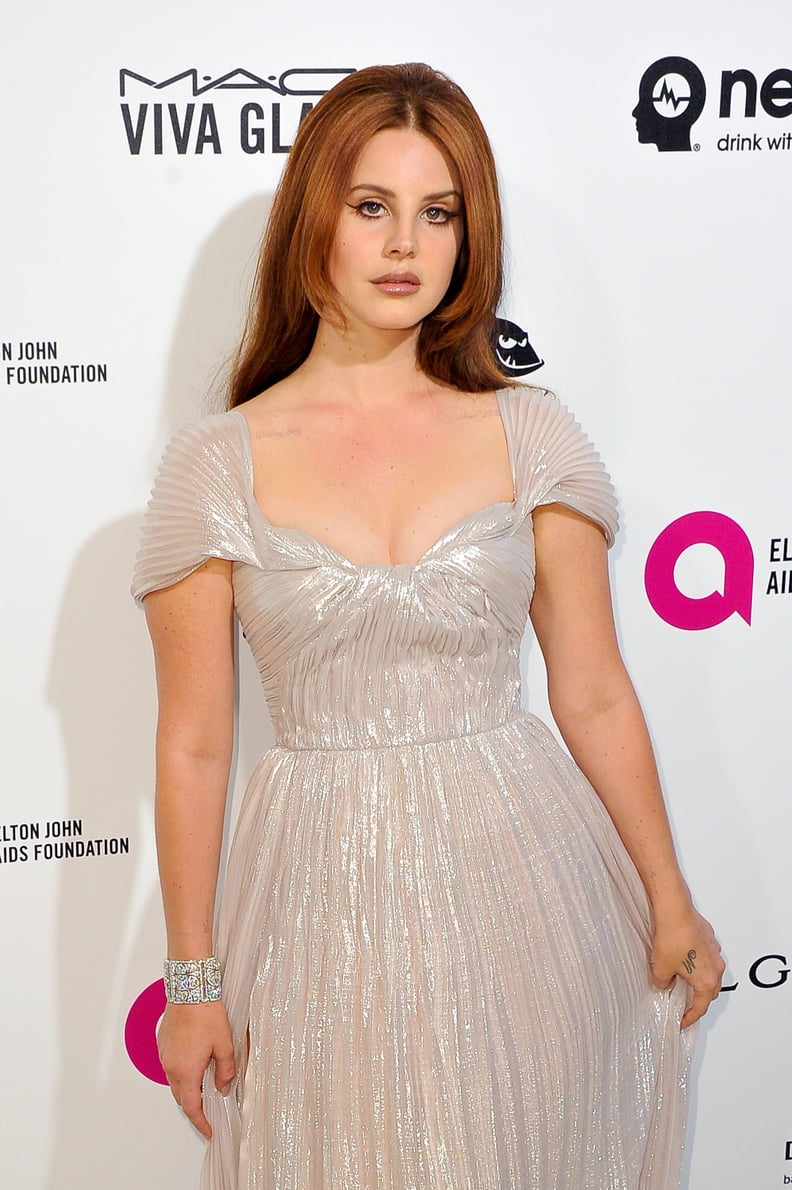 Lana Del Rey's "Nabokov Whitman" Arm Tattoo
Del Rey has the last names of her most-admired authors, Vladimir Nabokov and Walt Whitman, emblazoned vertically on her right forearm in fine cursive letters. "I have tattooed on my arm the names of my favorite authors, "Whitman" and "Nabokov." Whenever I look at it, I remember that life can be great," she said, explaining the sentimental meaning behind her tattoos.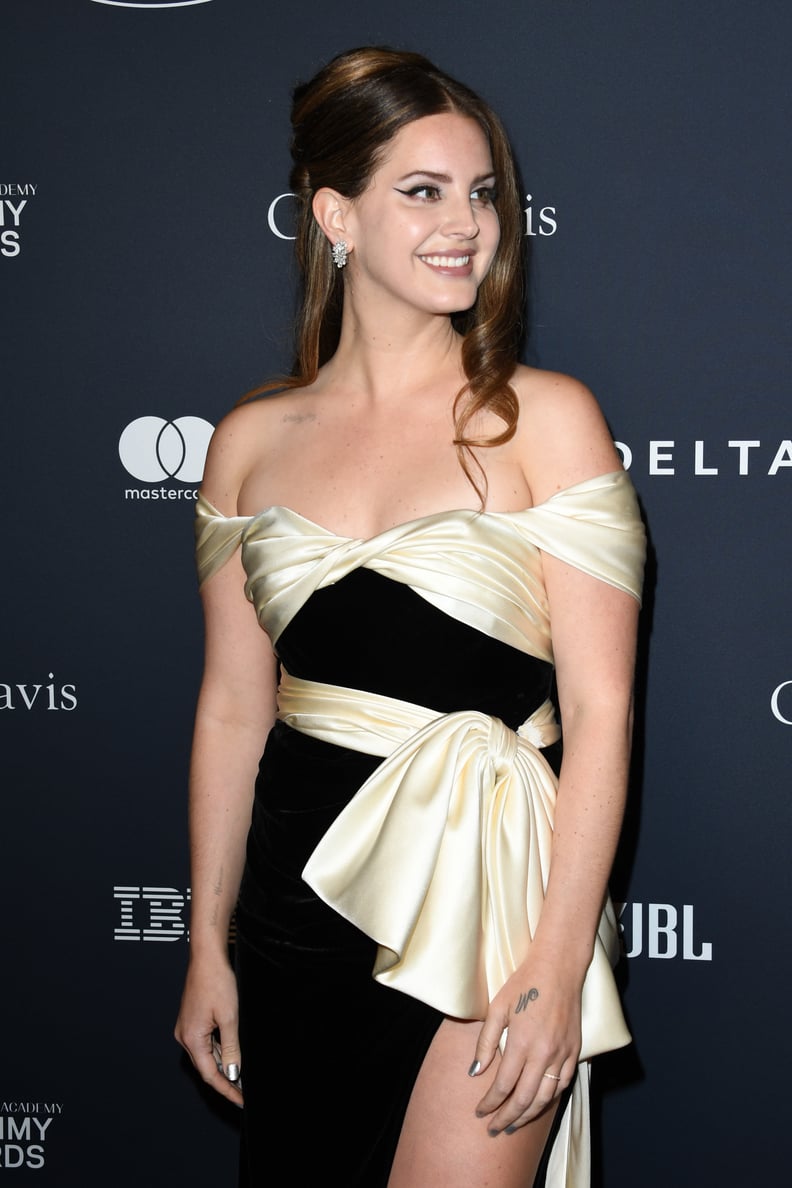 Lana Del Rey's "Chateau Marmont" Arm Tattoo
The musician has a "Chateau Marmont" ink etched vertically across her left forearm. It's the name of an LA-based luxurious hotel that has been referenced in some of her lyrics, including "Heavy Hitter" and "Off to the Races."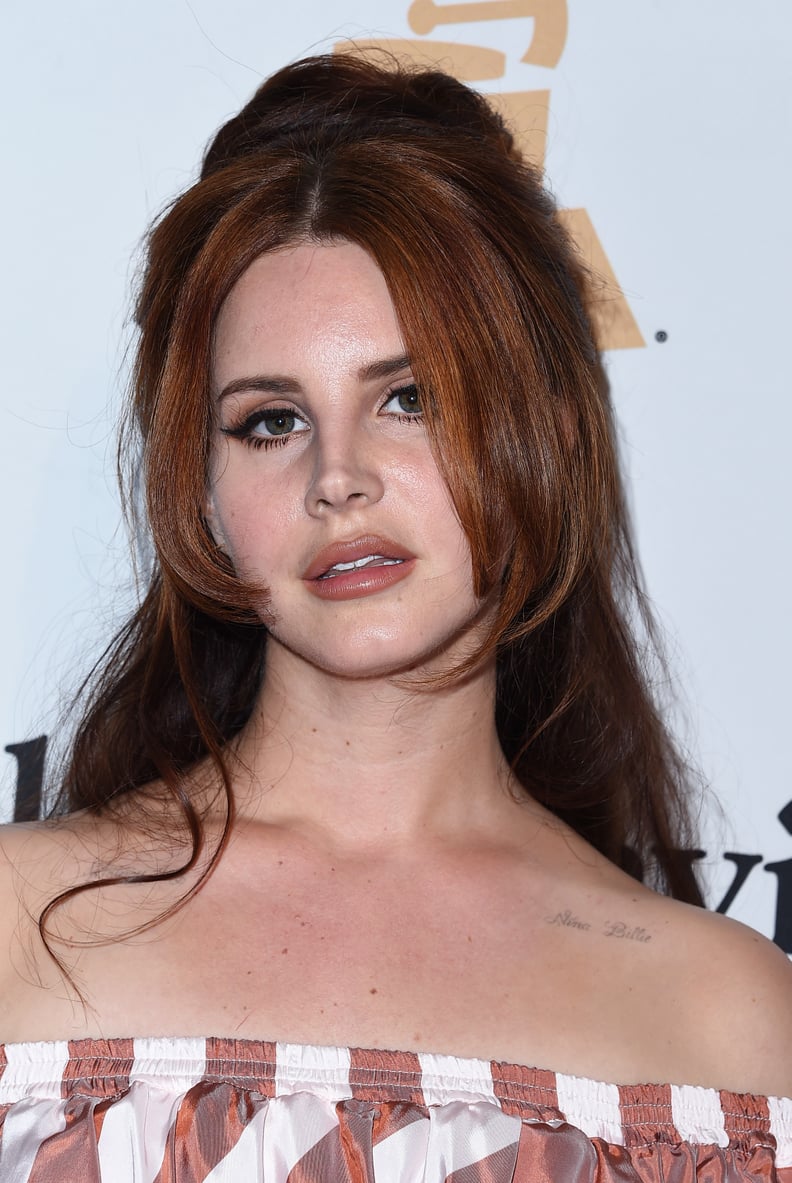 Lana Del Rey's "Nina Billie" Chest Tattoo
Inscribed on her upper left chest are the names "Nina" and "Billie." The script is done in a delicate cursive font and light ink, and refers to the first names of two of her most revered musicians — Nina Simone and Billie Holiday.
Del Rey also paid tribute to Simone by beautifully covering her songs "Don't Let Me Be Misunderstood" on her 2015 record "Honeymoon" and "The Other Woman" for her 2014 album "Ultraviolence." She also mentioned Holiday in her 2016 song "The Blackest Day," as she sings in the wistful chorus, "All I hear is Billie Holiday."

Lana Del Rey's "Whitney Amy" Chest Tattoo
The "Summertime Sadness" singer also paid homage to two other inspiring women in the music industry that she looks up to by getting their names inked on her left collarbone. "Whitney" and "Amy" are the names placed on Del Rey's clavicle and refer to the iconic artists Whitney Houston and Amy Winehouse.
While performing the a capella version of her 2017 single "Get Free" live in NYC on Oct. 23, 2017, Del Rey sang Winehouse and Houston's names that are censored in the pre-chorus of the studio version, revealing they are the inspiration behind the track.