Lime Crime's New Nails Made Me a Press-On Manicure Convert
As a kid, my mom would take me to get manis and pedis at the local nail salon, and I always wondered why people wasted money on a manicure when the pedicure was worth every cent. They're long-lasting — some say they could outlast the apocalypse — and hello, foot rubs!
As a true Texas woman, I was also raised to believe that it was a cardinal sin if your nails weren't "done," which started my obsession with gel manicures. And then, after moving to Los Angeles, I became enamored with nail art of all kinds: drawings, sequins, 3D art. In 2014, hard gel and acrylics (sometimes at the same time) were able to help me achieve the long, claw-like nails of my Instagram dreams. This obsession wreaked havoc on my natural nails, which were once strong and grew long without the help of a plastic attachment.
Sick of having to go to the nail salon to get my works of art removed, or worse, repaired, I decided to quit acrylics and gels cold-turkey. I loved that I could properly type on any and all keyboards, but I missed how dainty lengthy nails made my fingers look.
I've been sent many, many press-on nails, but like most people my age, I scoffed initially. Press-on nails? These were popular in my days of Caboodles and too much hair gel. Then I was sent Lime Crime's Pop On Nails and decided to give them a go. It wasn't a hard sell, either: they come in gorgeous chrome shades like Black Magic (a black and red oil-slick finish), Oyster (opal), Baby Baby (champagne), Storm (gray), Camel (tan/beige), and Lizard (green). These nails perfectly fit my own, meaning I didn't need to sand them down to make them look natural. I did some light filing to create a pointed tip, but the entire process — from adhesion to filing — takes about five minutes max.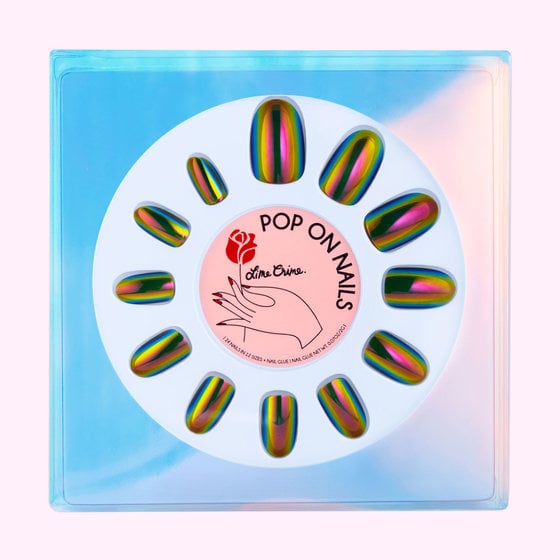 Most press-on nails come with glue stickers that can be a bit of a pain to work with. These include a nail glue, but it's not as aggressive as most nail adhesives. If a nail comes off, it's not destroyed by the glue, thank God. And really, it's a rarity that a nail comes off — these babies have lasted me well over two weeks. I like to reapply them every 10-14 days, though, as my nails grow out and as the finish of the nails starts to dull.
I could probably stop wearing them and start getting my natural nails done up again, but given that I only have to pay for the most basic of manicures now, I think I'll save my money and keep sporting these beauties. People ask me all the time where I get my nails done, and I have to say seeing the confusion and then complete shock on their face when I say "They're press-ons!" hasn't gotten old just yet.