I Got a "Lip Blush" Tattoo For the First Time, and the Results Are Life-Changing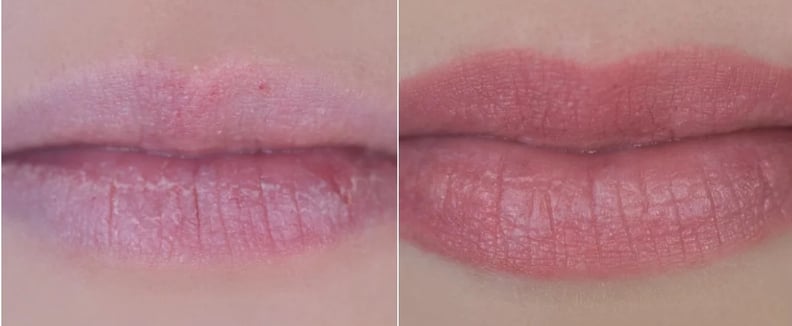 POPSUGAR Photography | Kristin Harris
For as long as I can remember, I've been constantly wearing lip color: to the grocery store, to school, to the gym — everywhere. The only time of day I didn't was when I was sleeping. With my extremely pale skin and light features, without a brush of color on my lips I felt like a corpse whenever I looked in the mirror. So in an effort to look, um, alive, lipstick became my daily sidekick.
Things finally changed one day when I was scrolling Instagram and came across an unbelievable before and after of "lip blushing," a form of semipermanent makeup that transforms your lips by enhancing your natural color and providing more shape and definition. (You've also probably seen those viral TikTok videos circulating lately, in which an influencer travels abroad for the treatment.) As for me, I knew about semipermanent cosmetic tattooing, but the first time I heard that phrase, I imagined an awkward, badly drawn lip liner tattoo. This new procedure was far from that; after falling down a rabbit hole of #LipBlushing photos on Instagram, I realized this form of semipermanent makeup was basically just a beautifully enhanced version of your natural lips, so I decided to take the plunge and try it out myself.
A few weeks later, I made an appointment with Savannah Kondratyev from First Class Cosmetics in New York City. Now, it's been a year since my lip blushing experience, and I'll never go back. I'm completely hooked — every time I look in the mirror, I still can't believe that I'm not wearing lipstick. If you're wondering what lip blushing is all about, read on for my experience and before and after photos.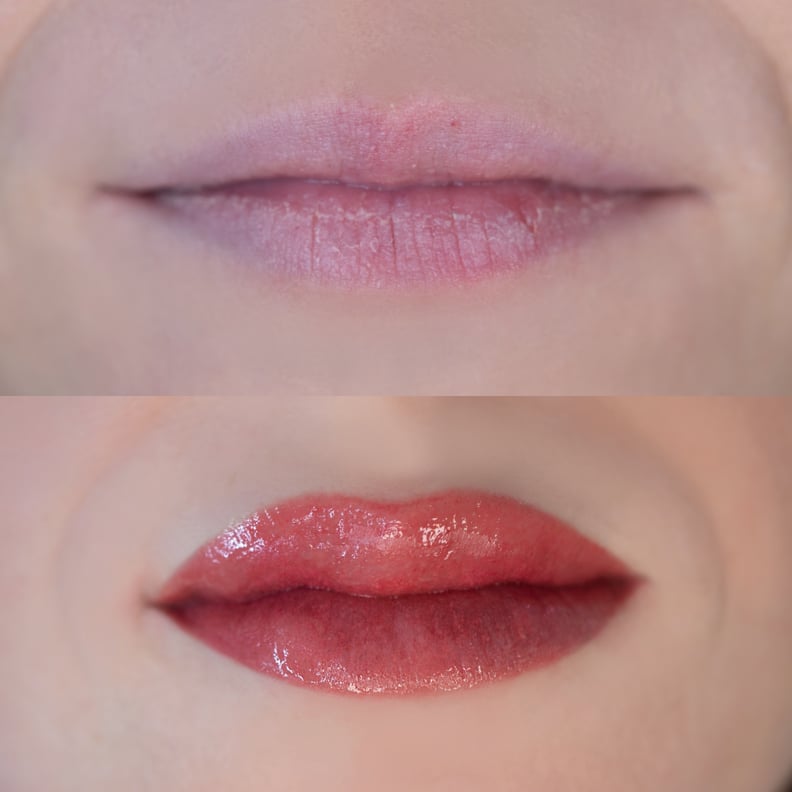 Before and Immediately After Lip Blushing
As you probably noticed in another viral TikTok clip, the immediate results of the treatment can seem severe. The first photo is right before my lip blushing tattoo, featuring my extremely dry, flaky, pale lips that practically disappear into my fair skin. The second photo is after the 2.5-hour tattooing session. Immediately after, my lips were super swollen, and felt numb for a few hours. I went straight home and decided to avoid looking in the mirror for the remainder of the day, put an ice pack on my lips, and applied Aquaphor as directed. By the next day, the swelling had almost completely disappeared and I was so excited to see the color come to life.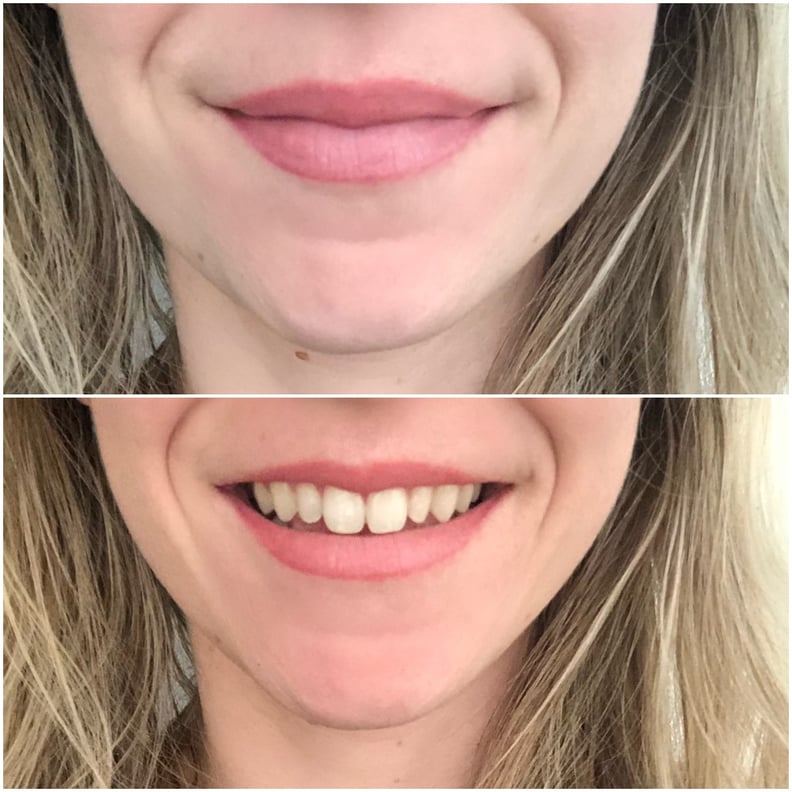 7 Days After Lip Blushing
This is exactly one week after my first lip blushing, when your lips are technically "healed." Over the course of the week my lips felt extremely dry, and the skin had peeled and flaked off, revealing a much lighter color. Throughout the next 30 days the color begins to bloom, resulting in a shade that's about 50 percent lighter than glossy color on day one.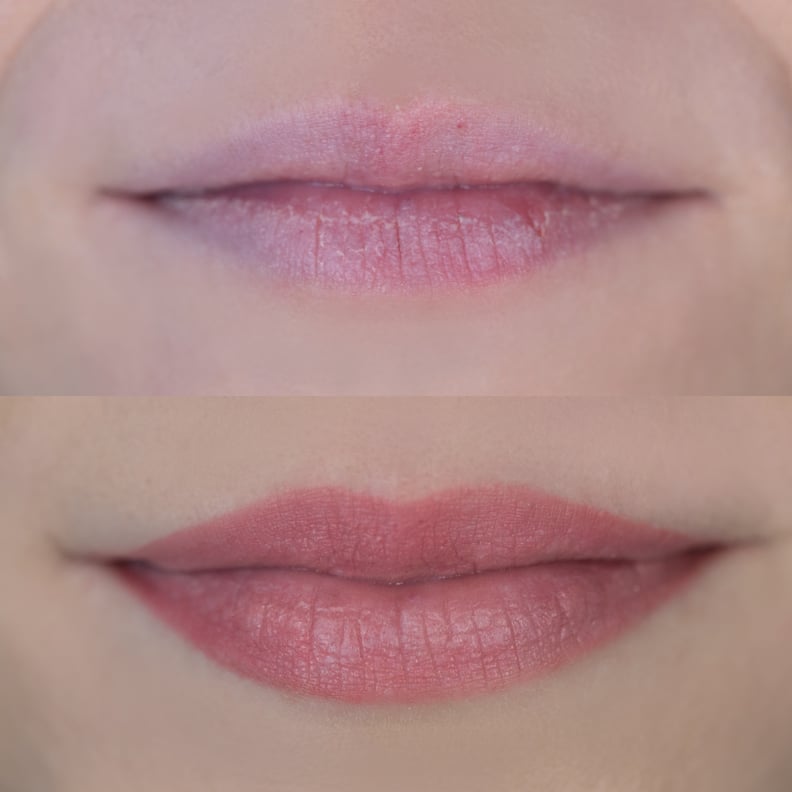 Before and 30 Days After Lip Blushing
The first photo is right before my lip blushing, and the second photo is my official healed results, 30 days later. My upper lip was a big focus for me, as it practically disappeared when I smiled. With lip blushing, it created more definition, color, and shape, and it turned out even better than I imagined. With my extremely dry lips, I noticed I lost some color, particularly toward the top of my bottom lip where my lips tend to peel most often. So I scheduled a second session for two weeks later.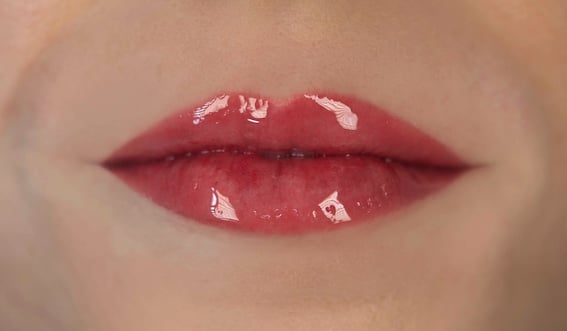 Immediately After Second Lip Blushing
This photo was taken immediately after my second lip blushing session, which was a lot shorter, taking just a little over an hour. I had significantly less swelling this time around, less numbness, and overall less pain during the tattooing. For the second session, I went for a bit of a brighter, pinker tone to amp up the color slightly.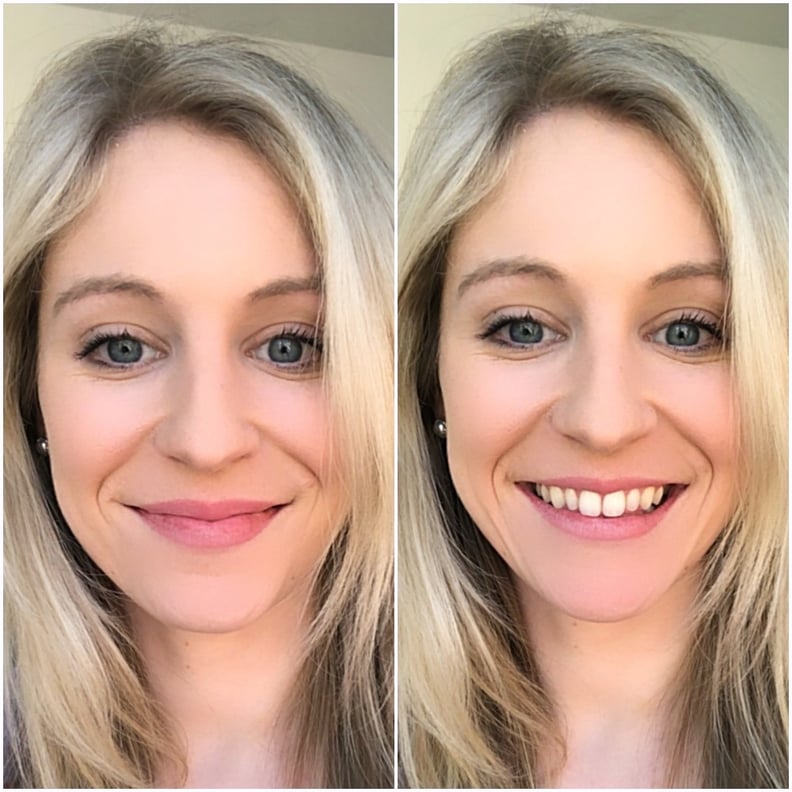 This is one month after my second lip blushing. My lips have fully healed, and the color has settled to a natural pink. I truly can't believe it, but I haven't touched lipstick or lip balm in two months. Waking up every morning and seeing the natural color on my lips has dramatically brightened my day, and I no longer reach for lip balm before I hop on a last minute Zoom meeting.
Sometimes I still can't believe I tattooed my lips, and the process was admittedly a little nerve-wracking. But to me, the results are beyond worth it. I'm saying RIP to my massive lipstick collection, and putting a reminder in my calendar to make my yearly refresh appointment.