As POPSUGAR editors, we independently select and write about stuff we love and think you'll like too. If you buy a product we have recommended, we may receive affiliate commission, which in turn supports our work.
By now, you know that Lupita Nyong'o is a magical human. She's got brains (check Yale University off of her résumé), beauty (um, hi, just look at her!), and everything it takes to be a positive role model (remember the time she was the sixth black woman to win a best supporting actress Oscar?). As her stardom continues to rise, we've been cheering her on along on the sidelines.
And then I met Lupita IRL! And here's what I can tell you that you may not know: the woman physically glows — as in light just reflects off her gorgeous complexion. According to the Lancome spokesmodel, getting her skin in mint condition is what makes her feel confident.
"For me, getting to a place where I love my naked skin has been the most empowering thing," she said. "It means that everything else is just bonus. I can be adventurous and curious and humorous and still come back to me. The way in which I use beauty products is always as a celebration of just naked me."
I quizzed her on every beauty question I've ever had, from who she wants to trade beauty bags with (hint: it's a rather famous model) to the one hairstyle she'd never try. Read on for more inspiring and informative beauty advice from Lupita!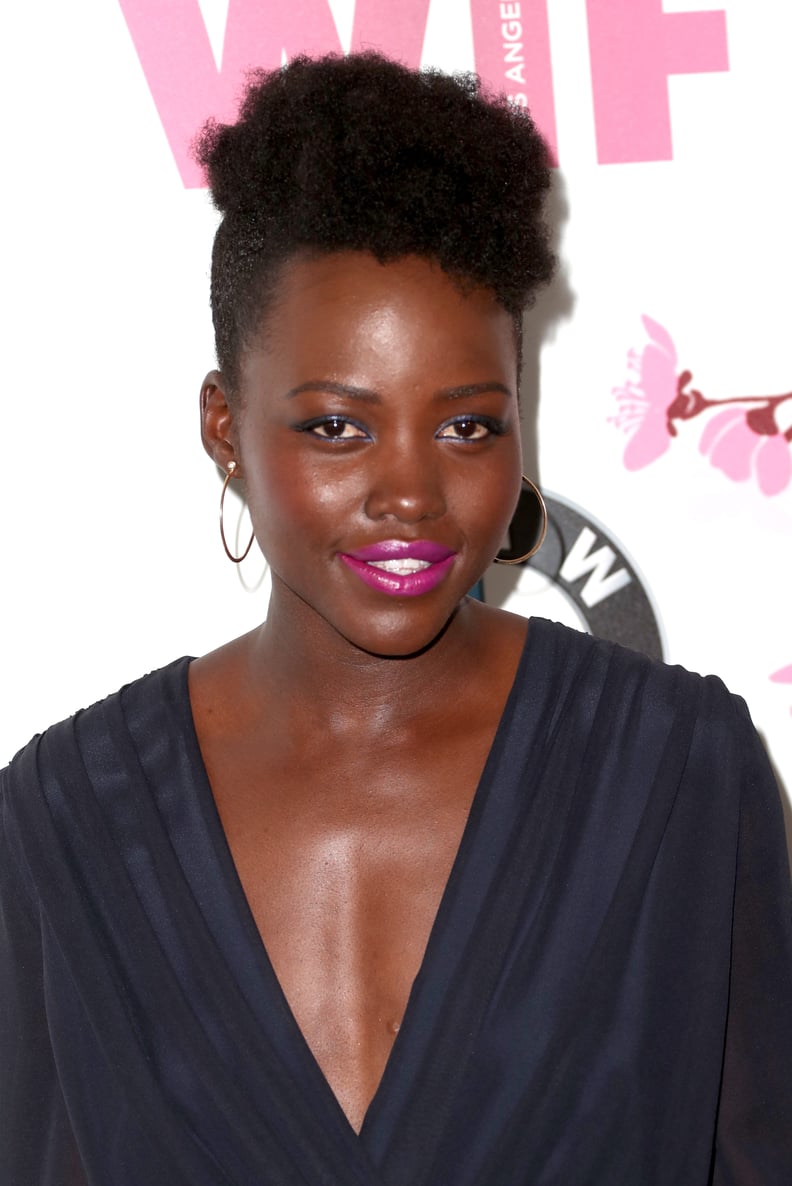 First Lancome memory:
"Using one of its blushes for my first big red carpet at the Toronto Film Festival. I just remember thinking, 'Wow.' Blush can often be a rather foreign idea for dark skin. It can also look kind of contrived or forced, because we don't blush naturally. It gave a rosiness, a warmth, to my face without being too obvious or too conspicuous, and I liked that."
Specific color recommendations for wearing blush if you have a deeper skin tone?
"I would say that you want to go with the plumier colors more so than the peachier colors. It just needs to be a little deeper."
What inspires her bold-colored makeup choices on the red carpet?
"I want to have fun, and I am lucky enough to get to play dress-up very often. It's a moment of experimentation and of whimsy and fantasy, really. And I just like to embrace that."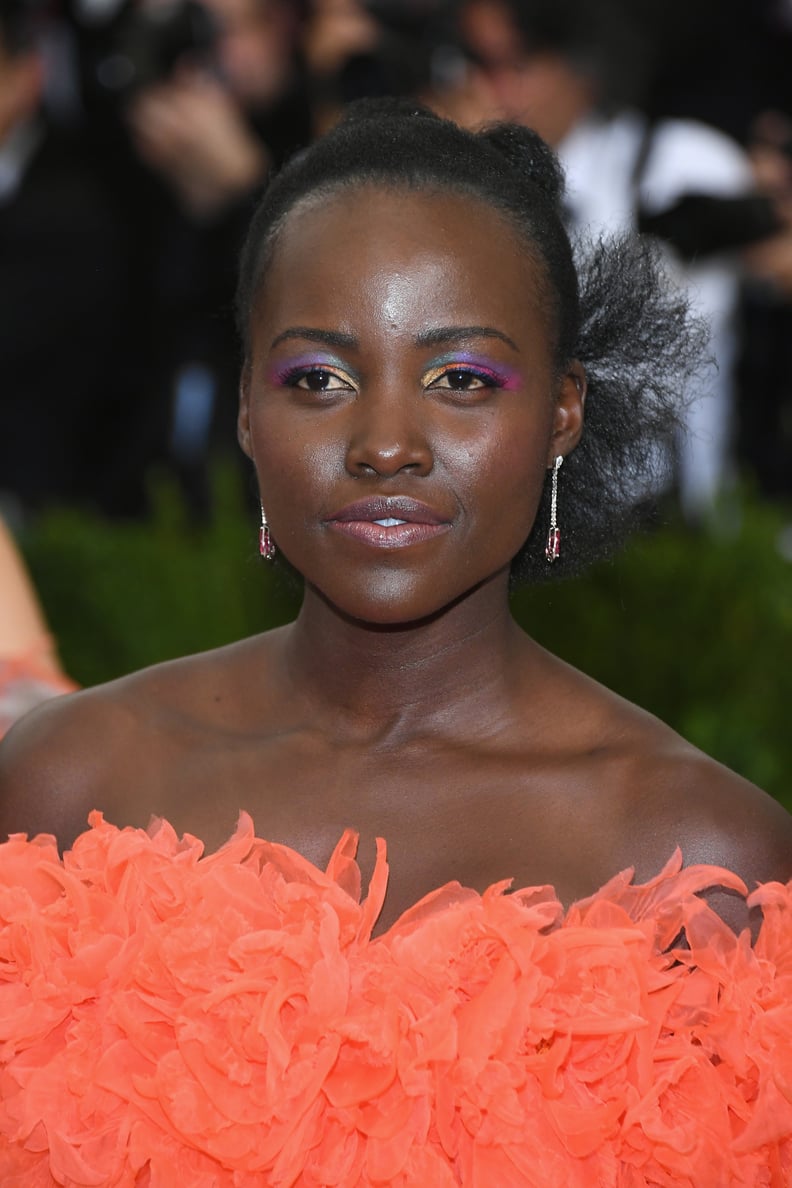 The unexpected makeup color she hopes to try next:
"I need to find a way to wear green lipstick. I don't know if that's ever going to happen, but I'd like to try that."
Amazing makeup tricks she's learned from her makeup artist, Nick Barose:
"He taught me to apply lipstick from the center out — just using the tube and working from the center out, rather than out to in, which is my instinct. Start from the widest part of your lip is usually the center. I've also learned to do my eye pencil with my eye open because you can be more precise. You want to look down and do it that way rather than trying to shut one eye. It's more precise because you can see. You can always see better through two eyes."
Her top skincare tips:
"Water, water, water, water, water. I also like to let my skin fallow — leave it alone. I don't like to wear makeup every day. I think that's very helpful to allow your skin to revive itself."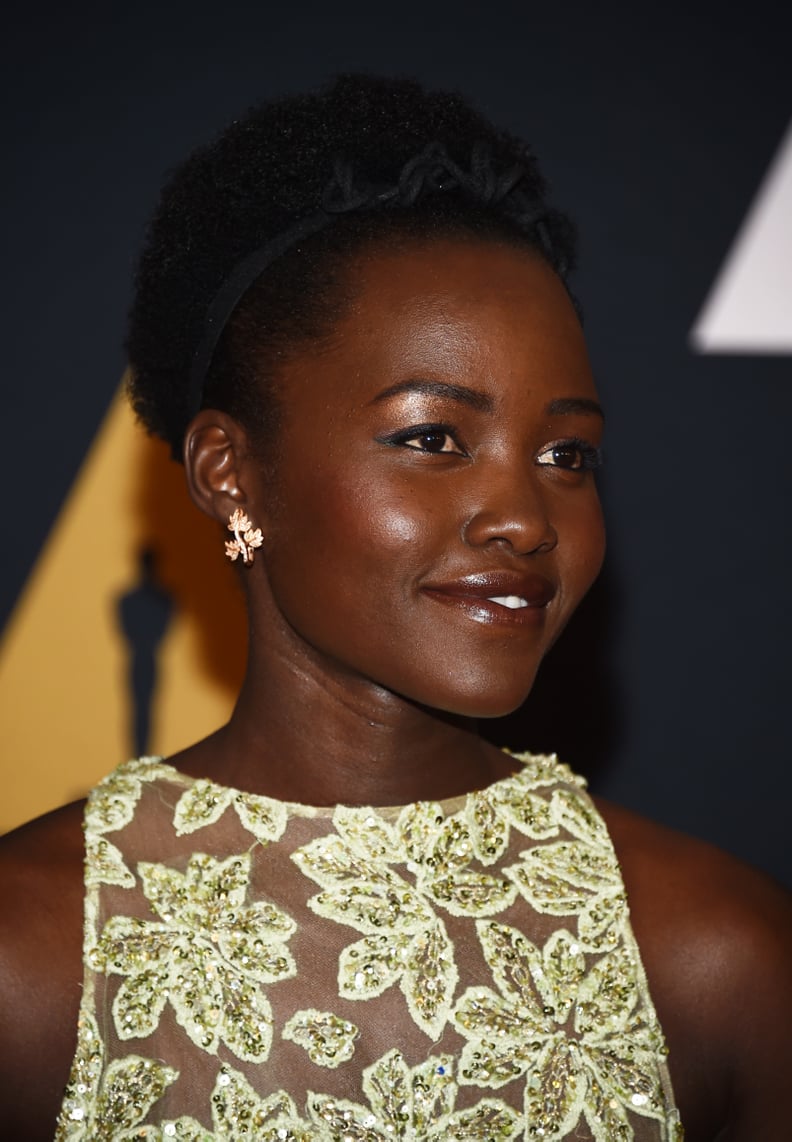 What she puts on her skin when she goes makeup-free:
"I put on a light, natural oil, like an argan oil or avocado oil. And then I use Lancome Energie de Vie — it has a day and a night cream. And I really like that. I just use that first thing in the morning and the night cream at night. It's a little thicker and really hydrates the skin."
Travel skincare advice for dealing with dehydration:
"On flights, it's especially so hard to hydrate because you can't get up, so every time you have to call the flight attendant and all that. I use the Lancome Advanced Génifique Youth Activating Serum. It's great because you can use it with or without makeup. So that's a good hydrator.
I also use humidifiers to restore [the air]. That's very, very helpful. It's also good for jet lag. With jet lag, your body is totally disoriented, so it uses up its store of moisture. So when you rehydrate in all matters — you drink water, you put moisturizer on your face — you also allow for the pore to directly absorb moisture. That's very, very helpful."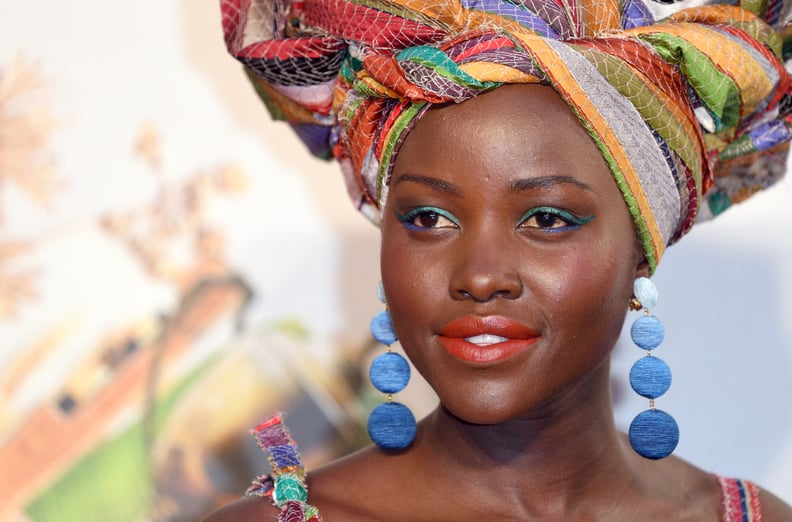 Her go-to lipstick on a "blah" day:
"I really love to use light translucent glosses. I like to add a little tszuj without overwhelming my face. There's a Juicy Shaker that is translucent that I use."
Her favorite protective hairstyle:
"Braids. I love braids."
One hairstyle she'd love to try that she hasn't:
"Big Afro. I'd love to try that, because I don't have one. You want what you don't have. It's just fabulous. The thing is, I have a small face, so I don't do well with lots of hair. But it's just so beautiful to see someone carrying a big crown of hair on her head. Hopefully a role will call for it one of these days."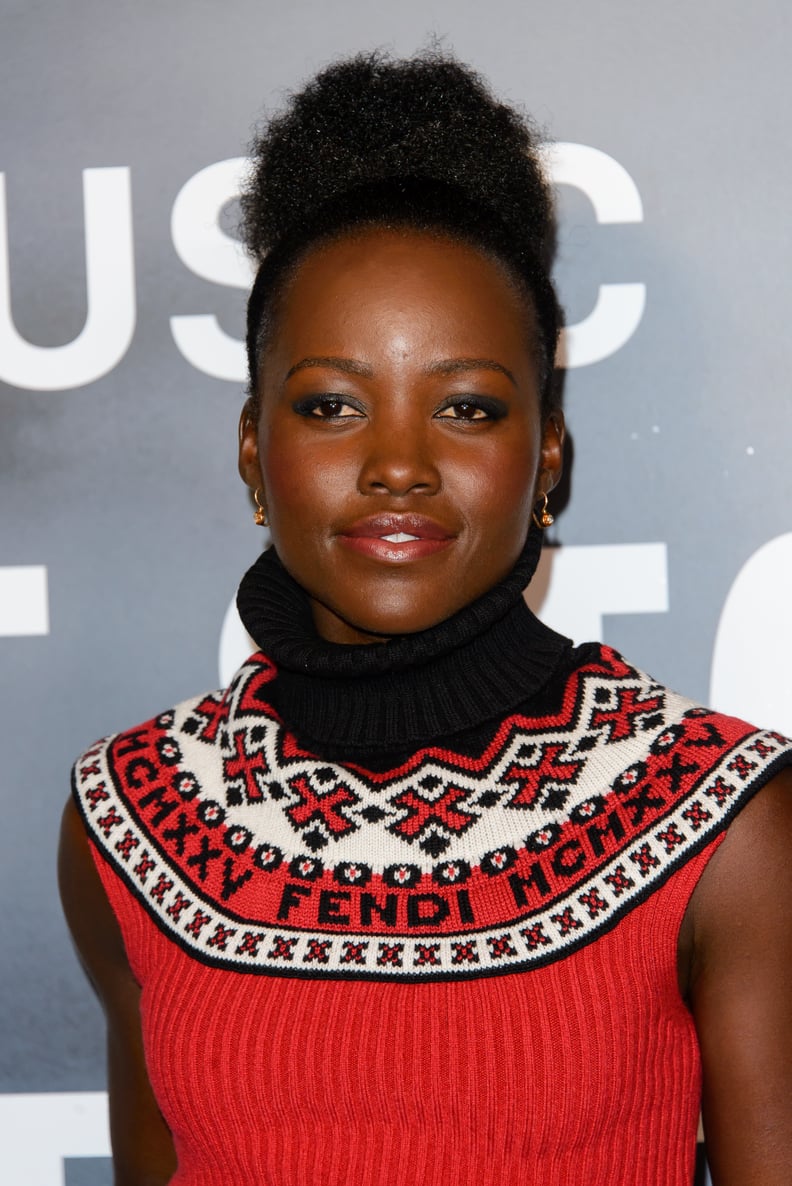 The one beauty thing she'd never do:
"I don't think I would ever dye my hair blond, because I don't think I would look particularly good with it. You know, it would be very bright for a very dark person [laughs]. I don't think I could sell that look, although there are plenty who do."
Who she'd like to swap beauty bags with:
"I would want to raid . . . maybe Iman's. She's so elegant and chic. She knows how to put a face together."
Her Halloween costume plans:
"I've never really gone all out for Halloween, which is really interesting because I do love playing dress-up. But maybe. New things . . . I never dress-up. I'm always the one with the sheet wrapped around me. I'm a DIY Halloweener."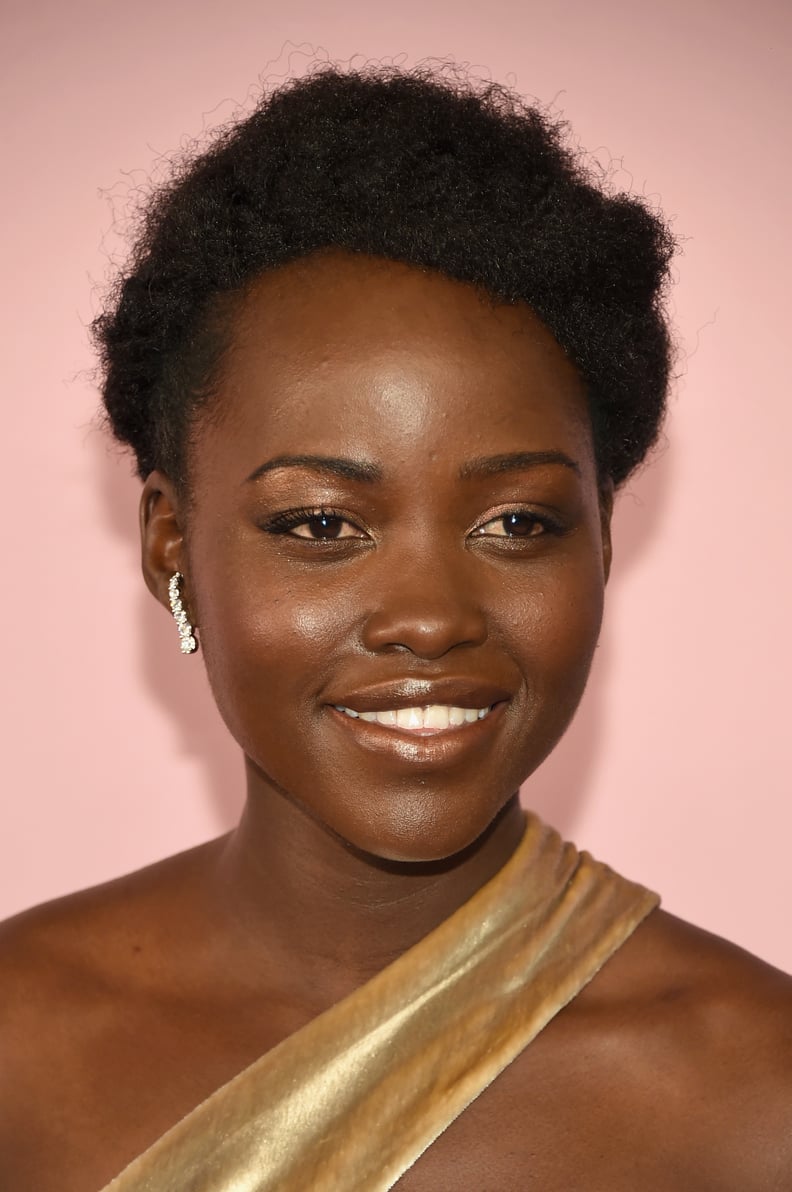 The most inspiring beauty advice she's ever been given:
"This person did not mean it as beauty advice, but I always remember it. When you look in the mirror, give them everything, give them nothing. [Laughs.] One of my friends, Brian Lewis, he was saying that about some expression — we were on the dance floor or something. And he yelled it at a wedding. That's it. That's what beauty is about. You definitely want to come correct and all that, but you also want mystique."
What makes her feel truly empowered:
"For me, getting to a place where I love my naked skin has been the most empowering thing. It means that everything else is just bonus. I can be adventurous and curious and humorous and still come back to me. The way in which I use beauty products is always as a celebration of just naked me. Naked skin is your bare skin with all its blemishes . . . [my blemishes] are in secret places."
The beauty we can expect from Black Panther:
"Watching the trailer, I just forgot that I was there when it was happening because the final product was so grand and astounding. And honestly, the creative team behind it gave us everything. It's flooring — it was flooring when I was there, and I know it will be flooring when people see it. Because it's Afro imagination at 197 percent. So yeah, the world should get ready."